The August 2010 Daring Bakers' challenge was hosted by Elissa of 17 and Baking. For the first time, The Daring Bakers partnered with Sugar High Fridays for a co-event and Elissa was the gracious hostess of both.
Using the theme of beurre noisette, or browned butter, Elissa chose to challenge Daring Bakers to make a pound cake to be used in either a Baked Alaska or in Ice Cream Petit Fours. The sources for Elissa's challenge were Gourmet magazine and David Lebovitz's "The Perfect Scoop".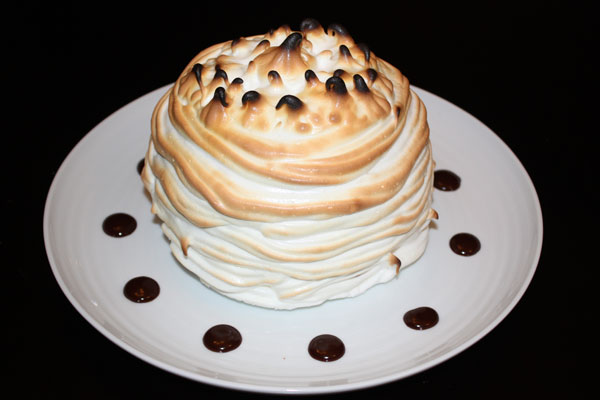 I can't believe my first blog post on Building a Tractor Cake was one year ago. I still feel like this blogging thing is so new to me and am only just getting the hang of it. If you are returning reader, then thank you for sticking with me. If this is your first time here, then I hope you like what you see and keep on reading because I plan to keep on blogging.
This seems to be an appropriate time to start on some new adventures so I finally joined the Daring Bakers community. It's basically a group of bakers and cooks who come together once a month to try something new in the kitchen. I joined because I'm always looking to try new things and am curious about how others create their own dessert art.
I've never made a Baked Alaska before and it has been on my to do list for a while now. Its basically a cake topped with ice cream and covered with a meringue that gets toasted. I find putting ice cream into a deep fryer or hot oven without it melting fascinating. So when it came up as my first challenge I was really excited. Here's how it all turned out...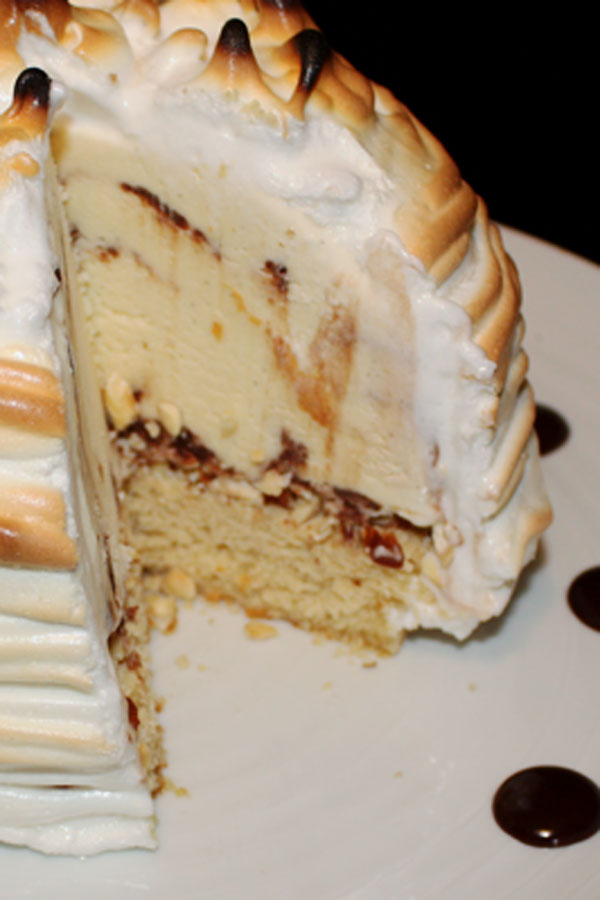 I have to say I was slightly skeptical of the brown butter  pound cake. Turns out I really like the nutty brown butter flavor. It was not overly sweet either and this worked out really well when eaten with the ice cream. I made a vanilla bean ice cream but I added a fudge swirl to it. It was originally going to be Nutella swirl but I realized at the last moment that I had no more Nutella! Instead, I added a layer of toasted crushed hazelnuts between the ice cream and the cake. The ice cream turned out excellent and I would definitely use this recipe again.
Ahhh. Meringue! It's been a really long time since I've worked with meringue. Getting it to the right amount of stiffness and piping it perfectly definitely takes some patience. I think I got lazy on this end and the meringue was slightly looser than I wanted which made it difficult to pipe. Although not perfect, I think it turned out alright in the end. I might just have to invest in a kitchen torch now.
All in all, it was a fun first challenge and I am looking forward to more from the Daring Bakers! This is going to be a fun year.
Recipes:
The brown butter pound cake recipe is adapted from the October 2009 edition of Gourmet. The vanilla ice cream is from David Lebovitz, adapted from The Perfect Scoop.
Meringue:
8 large egg whites
½ teaspoon (3g) cream of tartar
½ teaspoon (3g) salt
1 cup (220g) sugar
Beat the egg whites, cream of tartar, and salt on high speed in an electric mixer until soft peaks form. Beat in the sugar gradually in a slow stream until stiff peaks form.
Assembly:
Line a bowl with plastic  and pack your ice cream into this bowl. This bowl is the size of your dessert. You can use several small bowls or one larger bowl. Cover it with more plastic wrap and freeze for several hours. Level your cake and cut out a circle from your cake the same size as the diameter of the top of your bowl. Make the meringue. Unwrap the ice cream and invert it on top of your cake. Pipe the meringue over the ice cream and freeze for one hour or up to a day. Burn the meringue tips with a kitchen torch or bake the whole thing in a 500°F oven for 5 minutes or until the meringue has toasted. Use a rimmed baking sheet just in case there is any ice cream melting!
SaveSave