Three Bean Vegetarian Chili is bursting with flavor. A comforting and delicious dinner!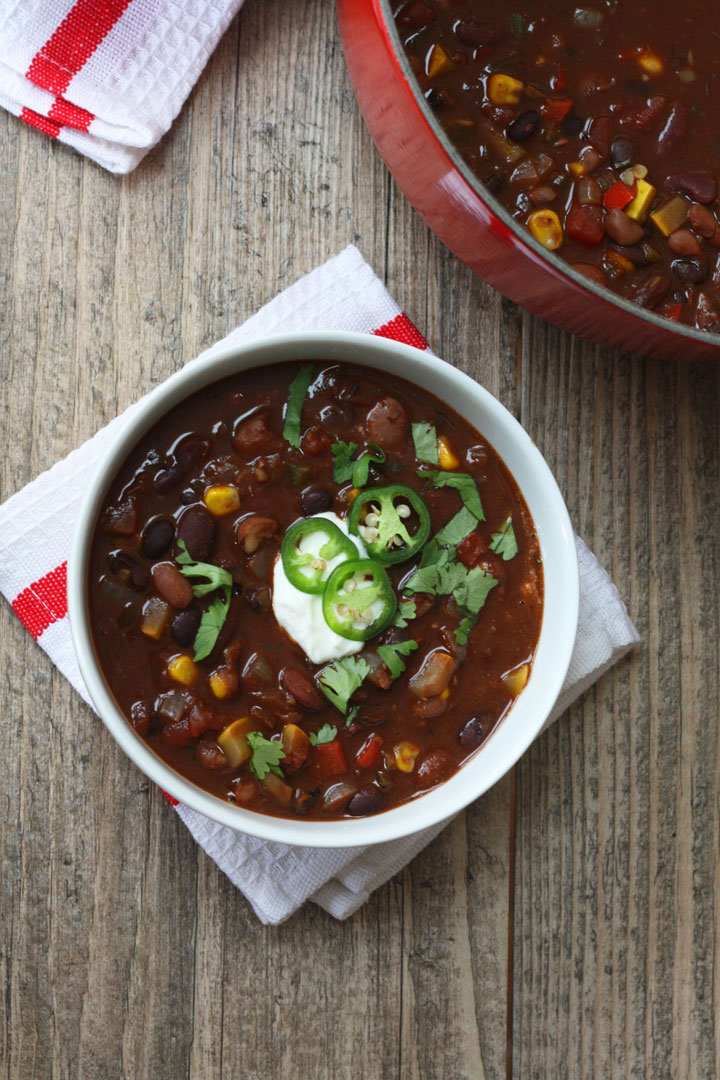 I don't own a slow cooker. Crazy right? I feel like everyone owns a slow cooker. It's been on my list of things to explore for a while now.
There's something about cooking food longer and letting flavors seep in really slowly. (Not to mention the convenience of coming home to a meal that's ready to go!) But for now, I have my trusty Le Creuset pot that I use almost daily.
This 3 bean vegetarian chili recipe has plenty of flavor without having to simmer in a slow cooker all day. The general tips I'm about to describe apply to this recipe and many other stovetop cooked dishes.
Get the Most Flavor Out of Your Spices
I take a lot of Indian cooking techniques and incorporate them into my non-Indian food. One of the ways that we infuse more flavor into Indian cooking is by a process called tadka, which best translates into tempering.
I use this method in a lot cooking, including this three bean vegetarian chili.
The process involves frying whole spices in hot oil or ghee. The heat and oil help release the flavors of the spices and create a nice aroma.
Tadka can be done at the beginning of cooking where the spices are heated and the rest of the ingredients are added after it. It can also be done separately and drizzled over a dish that is already cooked.
Either way, you get the benefit of getting all the essence out of your spices.
This chili uses whole cumin and cinnamon in a tadka, and the rest of the ingredients follow. You will immediately smell how fragrant the spices are once they hit the oil and really start to sizzle.
If you're worried about the cinnamon, the flavor is subtle and not strong. Once the chili is done, you can also remove the cinnamon stick if you want.
This way no one accidently takes a big bite of it!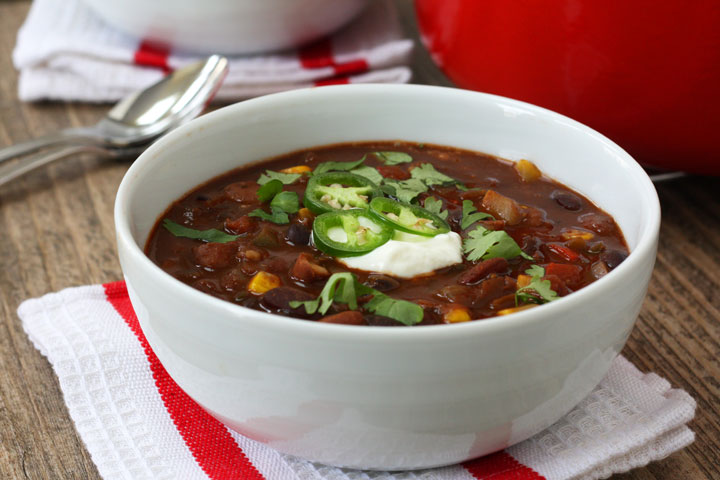 Let Your Vegetables Cook Slowly
I also make sure I give vegetables ample time to cook down. The onions and garlic are given their time first and then the peppers.
This gives these ingredients time not only to cook but also for their flavors to really mix into the oil before we add all the beans. Finally, we let the whole pot simmer for a good 30 minutes to really let it thicken and get those deep flavors.
3 Bean Chili Secret Ingredient
Oh, and there's one more secret to this three bean chili. Adding unsweetened cocoa powder makes a big difference.
It does not taste chocolaty at all, but it really masks the slightly metallic sour taste of canned tomatoes and adds a slight smokiness to the chili. Cocoa powder is also one of my key ingredients in my homemade enchilada sauce. A true game changer!
So what are you waiting for? This is the perfect time to enjoy some delicious warm comfort food.
Add toppings like some sour cream, tortilla chips and your favorite cheese, unless you're keeping it vegan. Then just stick to guacamole on top!
For a great side dish for this chili you can also make quesadillas with mango salsa.
I first shared this three bean vegetarian chili on Food Fanatic so be sure to visit there along with my other recipes.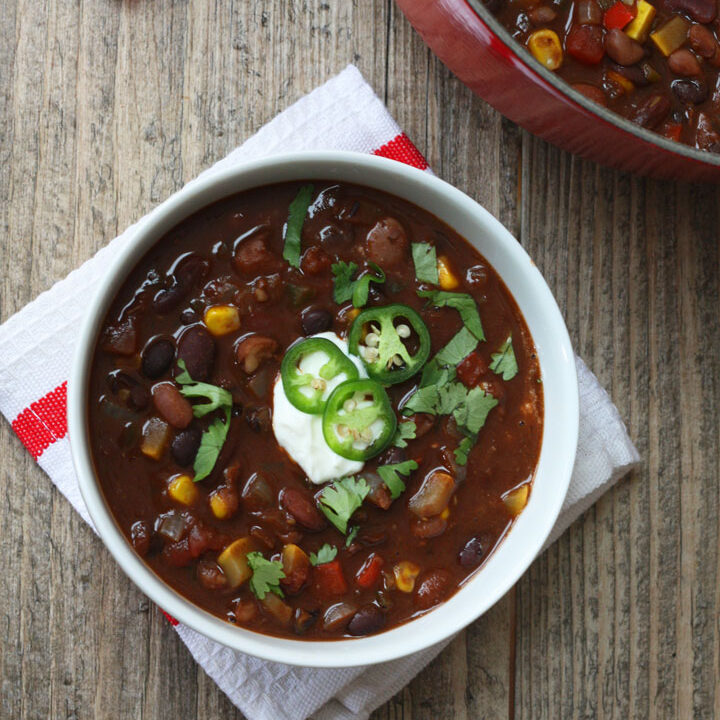 3 Bean Vegetarian Chili
Total Time:
1 hour
5 minutes
Ingredients
1 15 oz can Black Beans
1 15 ounce can Red Kidney Beans
1 15 ounce can Pinto Beans
2 tablespoons Vegetable Oil
½ teaspoon Cumin Seeds
1-inch piece of Cinnamon Stick
1 cup Diced Onion
2 cloves Garlic, Large, minced
½ cup Diced Poblano Peppers
¾ cup Diced Red Bell Pepper
1 jalapeños Jalapeño, Seeded and minced
1 small Zucchini Squash, Diced
½ cup Corn
1 14.5 ounce can Diced Tomatoes
1 teaspoon Ancho Chili Powder
½ teaspoon Ground Cumin
¼ teaspoon Ground Cayenne Pepper, Or to taste
¼ teaspoon Allspice
1 teaspoon Oregano
2 cups Vegetable Broth
1 ½ tablespoons Unsweetened Cocoa Powder
Instructions
Heat oil in a large pot over medium high heat. Add the cumin seeds and cinnamon. Let them change color (not burn) and become fragrant for about less than a minute.
Add the onions and garlic. Lower the heat to medium and mix. Cook until the onions begin to soften.
Add the poblanos, red peppers, jalapeno, and zucchini. Stir and let the vegetables cook for 10 minutes, covered. Salt to taste.
Add the corn, tomatoes, spices and remaining ingredients. Salt to taste.
Bring it to a boil and then let it simmer for 20-30 minutes.
Notes
If you are using dry beans instead of canned, you can soak ½ cup of each bean, and cook them all together before making the chili.
Nutrition Information:
Yield:

5
Serving Size:

`1
Amount Per Serving:
Calories:

385
Total Fat:

8g
Saturated Fat:

1g
Trans Fat:

0g
Unsaturated Fat:

6g
Cholesterol:

0mg
Sodium:

943mg
Carbohydrates:

64g
Fiber:

20g
Sugar:

9g
Protein:

20g
This nutrition information is only an approximate provided for convenience and as a courtesy only. Information comes from Nutritionix, an automated nutrition calculator.