This vegetarian enchilada casserole is perfect for your meatless Monday! It's so easy to make and the whole family will love it.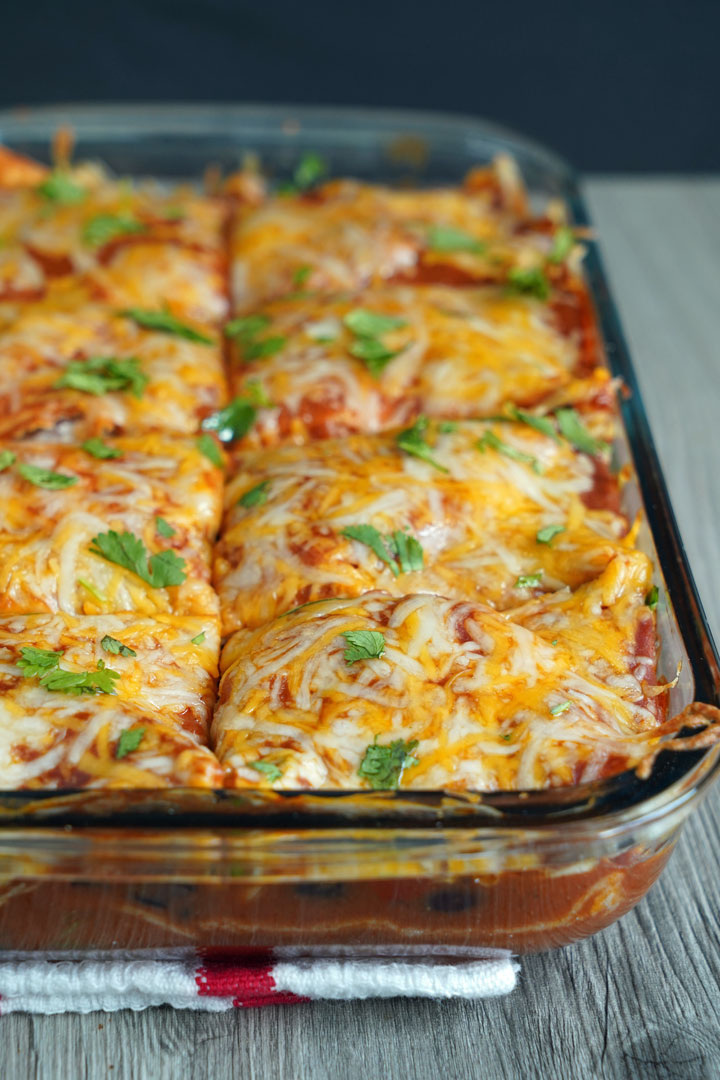 Why I like enchilada casseroles
This is my favorite vegetarian casserole. That's not surprising since cheese enchiladas are one of my favorite foods! So what could be better than a vegetarian enchilada casserole?
Making an enchilada casserole is not that different from just making enchiladas. They taste practically the same. So when I'm feeling too lazy to roll, this casserole is the way to go.
It also transports easily, so it makes a perfect potluck dish as well. Now let's get to it!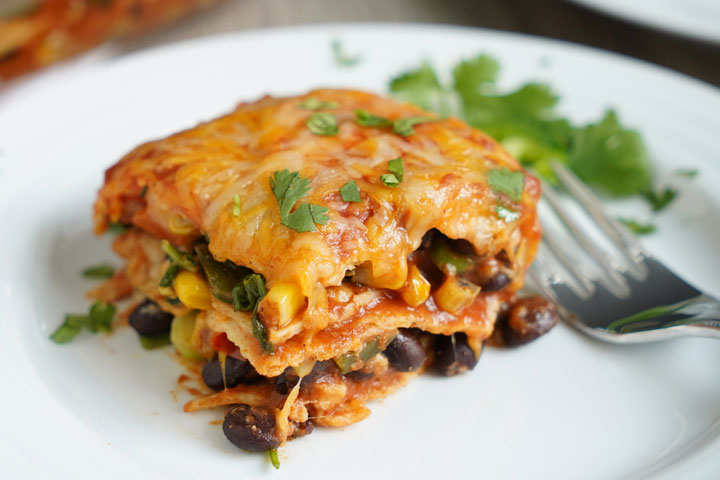 How to Make a Vegetarian Enchilada Casserole:
The most work you have to do for this casserole dish is cutting up the veggies and sautéing them. That's really not too bad right? It's especially easy when you have a batch of taco seasoning on hand like I always do!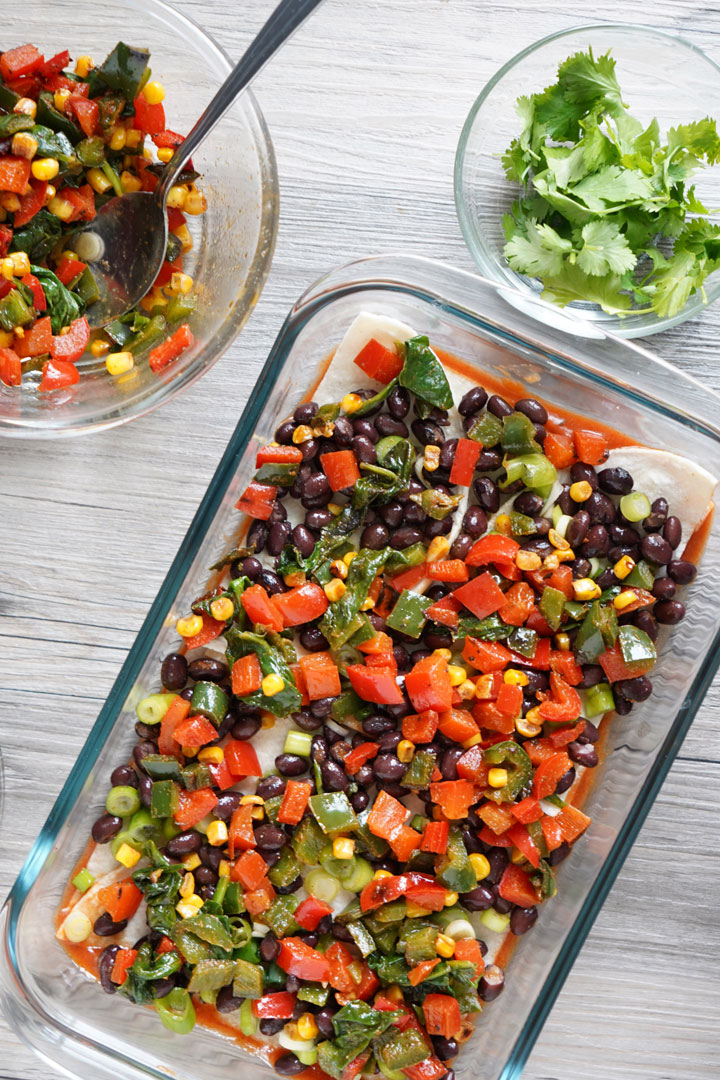 Simply add oil to a pan, sauté your vegetables and toss in some taco seasoning. If you are using greens such as spinach, add them last and cook until wilted.
Next, get your black beans ready by seasoning them with salt and more taco seasoning (of course) and some scallions. You can also substitute sofritas for black beans or create an additional layer of them.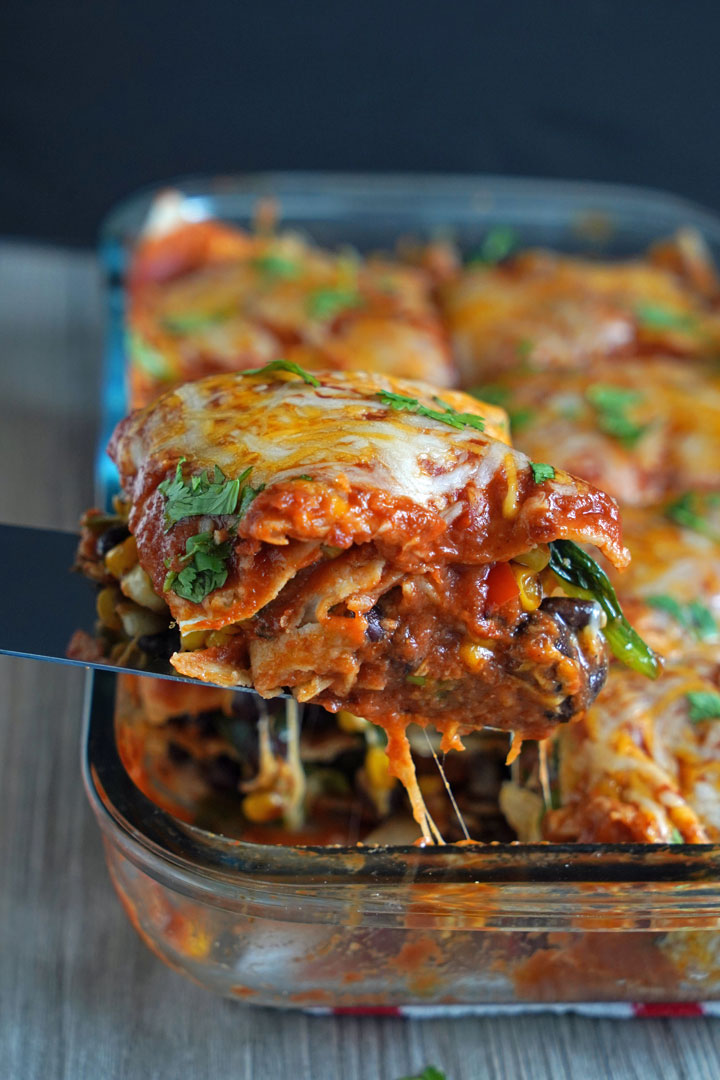 Now comes the fun part. Grab your favorite enchilada sauce, tortillas and cheese and get ready to layer your casserole. I make a homemade enchilada sauce that I absolutely love but you can use a store bought version as well.
Add some sauce as your base to the bottom of a casserole tray. Next, spread out a tortilla layer over the sauce followed by a bean layer, veggie layer and finally cheese. Repeat again but this time add sauce between the tortilla and bean layer.
Finally top it off with a layer of tortillas, sauce and cheese. Cover and bake for 20 minutes. Easy peasy!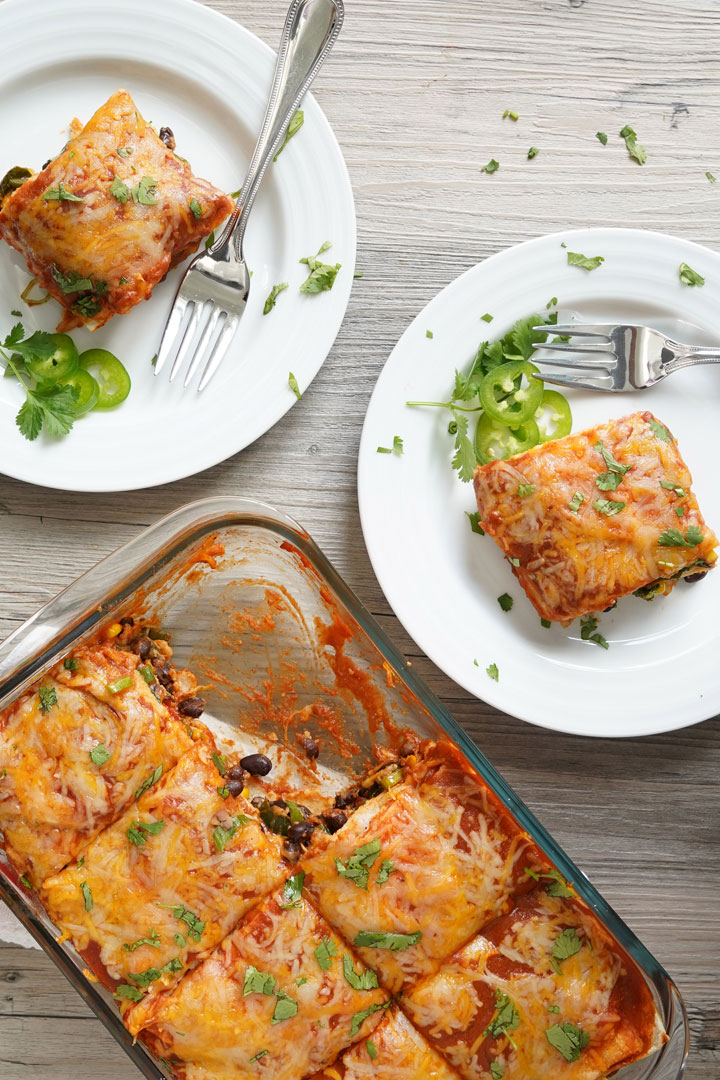 Variations for Vegetarian Enchilada Casserole:
Make a vegan enchilada casserole by skipping the cheese or drizzling vegan queso over the baked casserole.
Refried beans can be substituted for black beans.
Don't feel obligated or limited to the vegetables I have used. Feel free to add mushrooms, squash or whatever else you like.
Not only is this an easy weeknight meal, but, it's also great for entertaining. Why not complete the menu with a side of Mexican rice and my make ahead fried ice cream dessert?
I originally shared this Vegetarian Enchilada Casserole on Food Fanatic, so be sure to check it out there.