Vegetarian Refried Beans are super easy to make, and way more flavorful than from a can. Skip the can entirely, and make your own!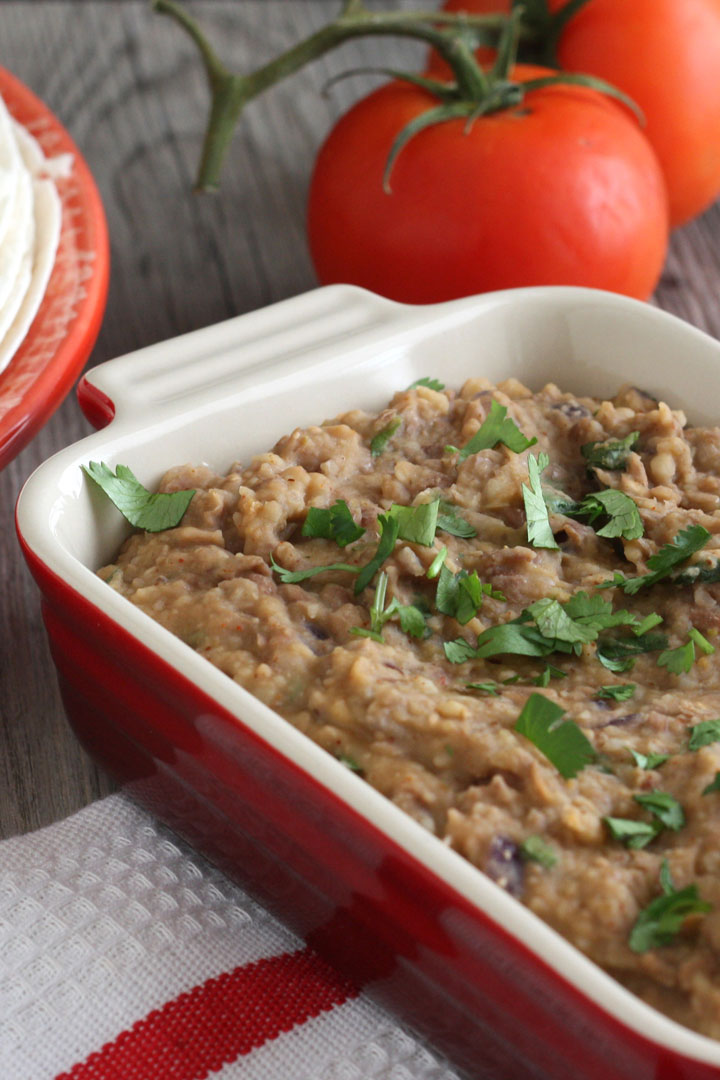 When I go out for Mexican food, I'm usually all about the black beans. Over the years, I've discovered that more times than not, restaurant refried pinto beans are not vegetarian.
Recently, I found that this is the case with enchilada sauce too. Ugh! Not to worry though, I have a homemade enchilada sauce recipe mastered.
I used to ask myself why it's so necessary to add bacon fat or chicken fat to things until I accidentally did it at home. Yes, I'm a vegetarian, so let me explain.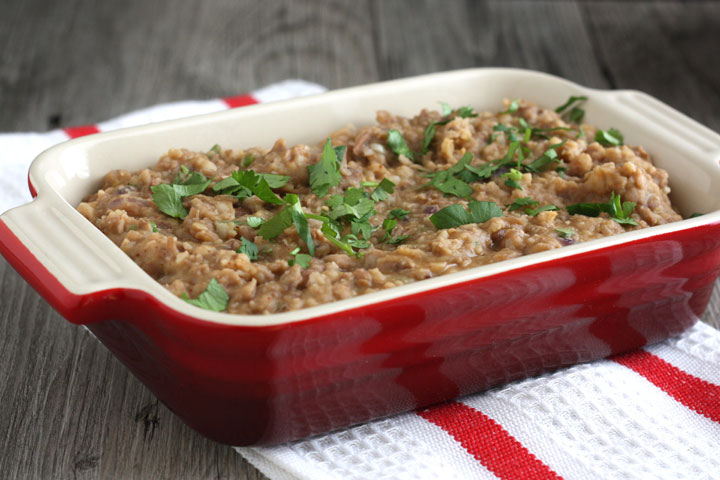 I made a package of Spanish rice mix one night. As I was eating it, I thought - wow this is really good. Wait a minute, this is too good… and then I checked the packet ingredients- chicken fat. This has happened to me more than once. So even though I'm a vegetarian, I do get it. It can make a big difference in flavor.
I like black beans but decided I needed some variety in my food so I made my own tasty vegetarian refried beans recipe. This beats any canned variety because it's lower in fat and doesn't come with extra sodium and whatever else may be in a can.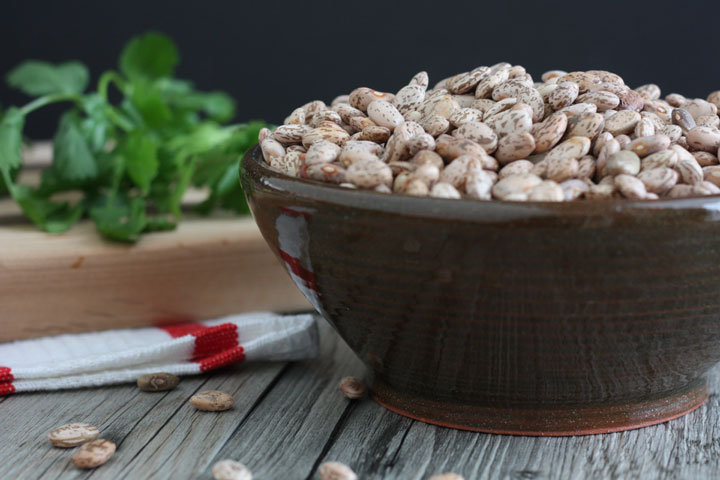 Speaking of cans, I prefer to use dry beans. (I keep cans for emergency situations like last minute cooking or extra guests at the table.) It's less expensive and less packaging waste.
I can also control how much I need in a recipe and there are no extra preservatives going into my food. It's a little extra work to remember to soak them the night before but it's worth it.
Also, cooking the beans isn't actual work either. The stove does all the work. I sometimes wake up and put the soaked beans to cook first thing. By the time I've had my coffee, those beans are done. It makes dinner preparation later in the day go a lot faster.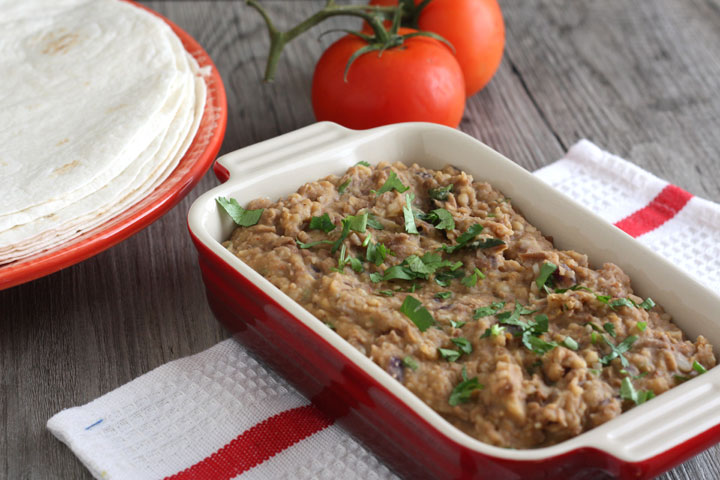 Make a small batch of these refried beans and serve it with your favorite Mexican dish or try it on some tostadas. Vegetarian tacos, enchilada casseroles, burrito bowls… the possibilities are endless. Better yet, make more and freeze it for an easy dinner another day!
I first shared this vegetarian refried beans recipe on Food Fanatic so be sure to visit it there with my other recipes.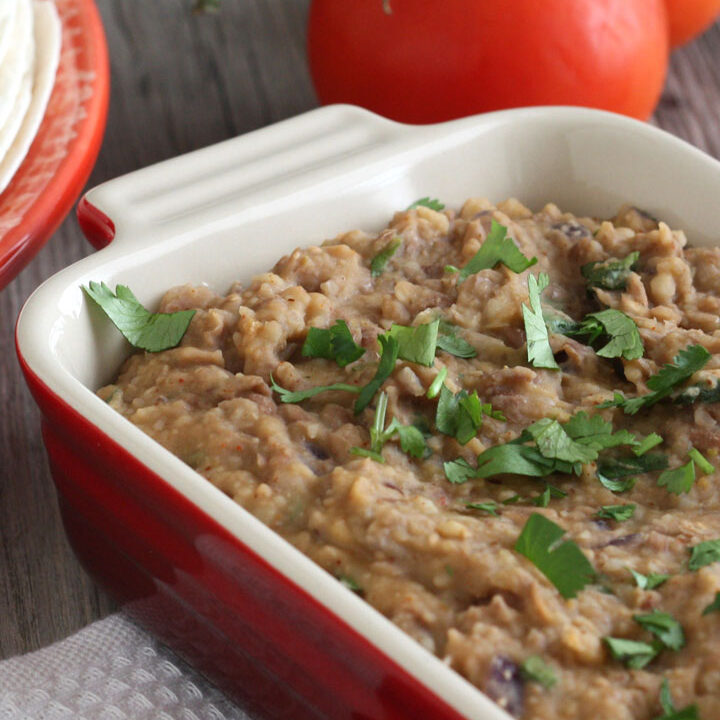 Vegetarian Refried Beans
Vegetarian Refried Beans are super easy to make, and way more flavorful than from a can. Skip the can entirely, and make your own!
Ingredients
1 cup Dried Pinto Beans, soaked overnight
1 tablespoon Olive Oil
¼ cup Onion, diced
½ tablespoon Garlic, minced
1 jalapeños Jalapeño, seeded and minced
½ teaspoon Cumin
1 teaspoon Red Chili Powder
2 tablespoons Fresh Cilantro, chopped (optional)
Instructions
Drain and rinse the beans. In a large pot, combine the beans with 2 ½ cups of water and bring to a boil. Lower the heat and simmer with lid slightly open until the beans are tender, about 45 minutes.
Drain the beans and reserve the water. Mash the beans with a potato masher.
In a large pan, heat the oil. Add the onions and garlic and sauté over medium heat until the onions soften.
Add the jalapeno and sauté another 1-2 minutes.
Stir in about half of the mashed beans along with a ¼ cup of the reserved bean water. mix until it becomes pasty and then add the rest of the beans and another ¼ cup of the water. (Use plain water or vegetable broth if you don't have enough of the bean broth.)
Stir in the cumin and chili powder and salt to taste.
Remove from heat, add the cilantro and serve immediately.