Strawberry Spinach Buckwheat Crepes are the perfect answer when you can't decide between sweet and savory. They can even be made ahead!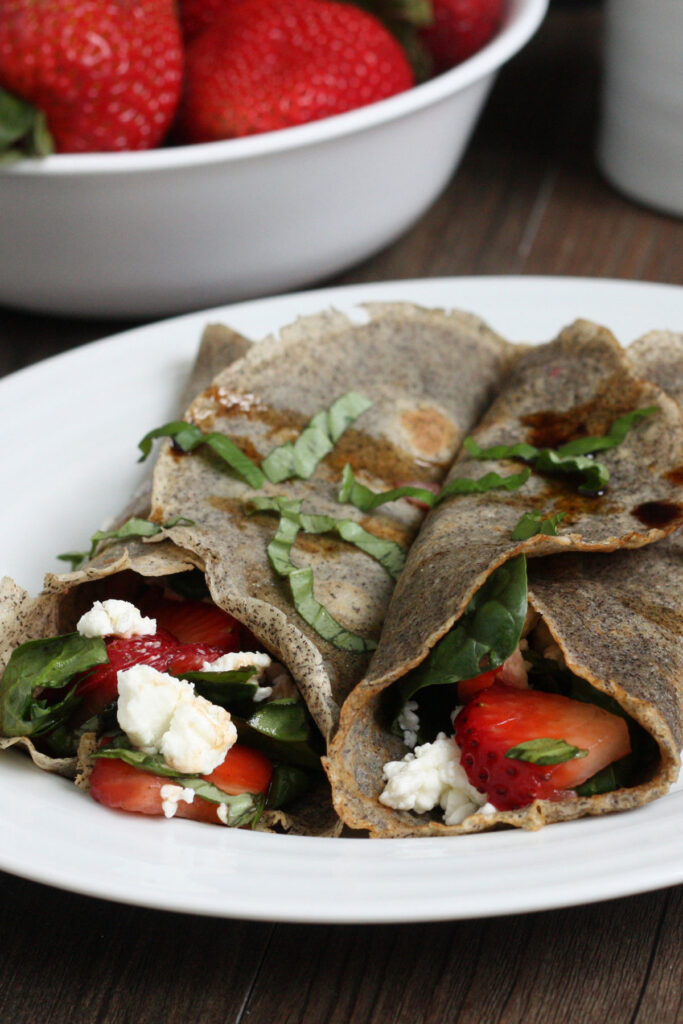 I really enjoy testing out new brunch recipes. I recently tried out buckwheat crepes and they were pretty darn good.
I couldn't decide whether to fill them with sweet or savory, but I think I nailed a good compromise with this strawberry spinach filling. This combination actually satisfied savory and sweet cravings at the same time.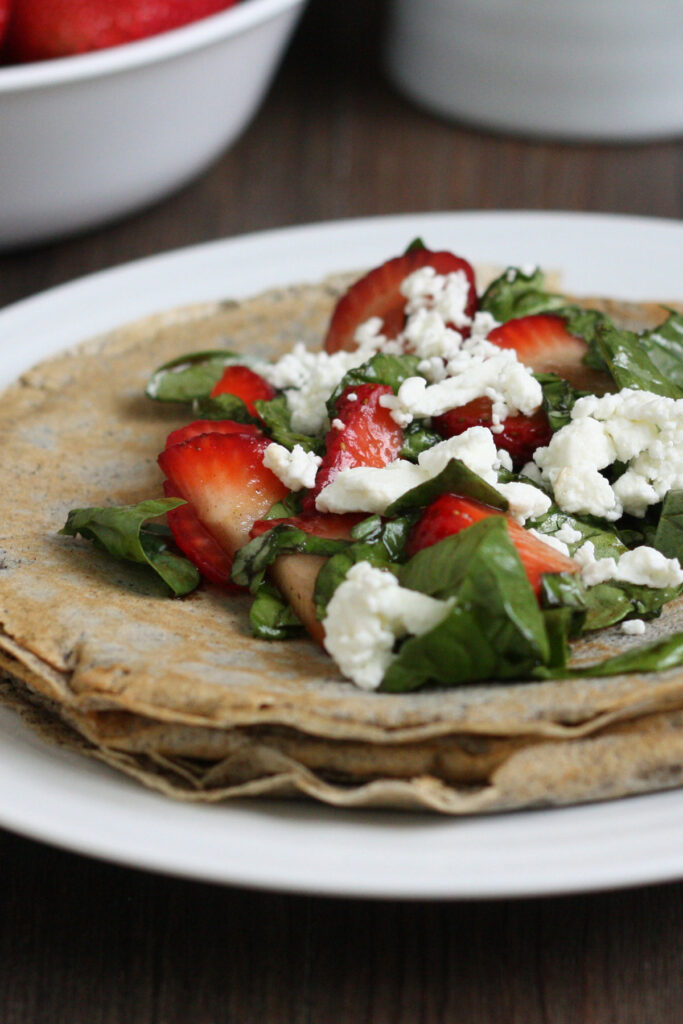 I always forget that I have crepes in my arsenal of brunch menu items. Yes folks, I now feel like I have mastered the art of brunch and can confidently say that I have an arsenal of go to menu items.
I made that declaration just a few weeks ago after I served a brunch for 50 people in my home.
We had French toast casserole, bagels, sheet pan pancakes, a variety of quiches, fruit salad, parfait bar, mimosa bar, mini falafel sandwiches, mac 'n cheese, coffee cake muffins and tons of other breakfast pastries. Crepes were not even on the menu.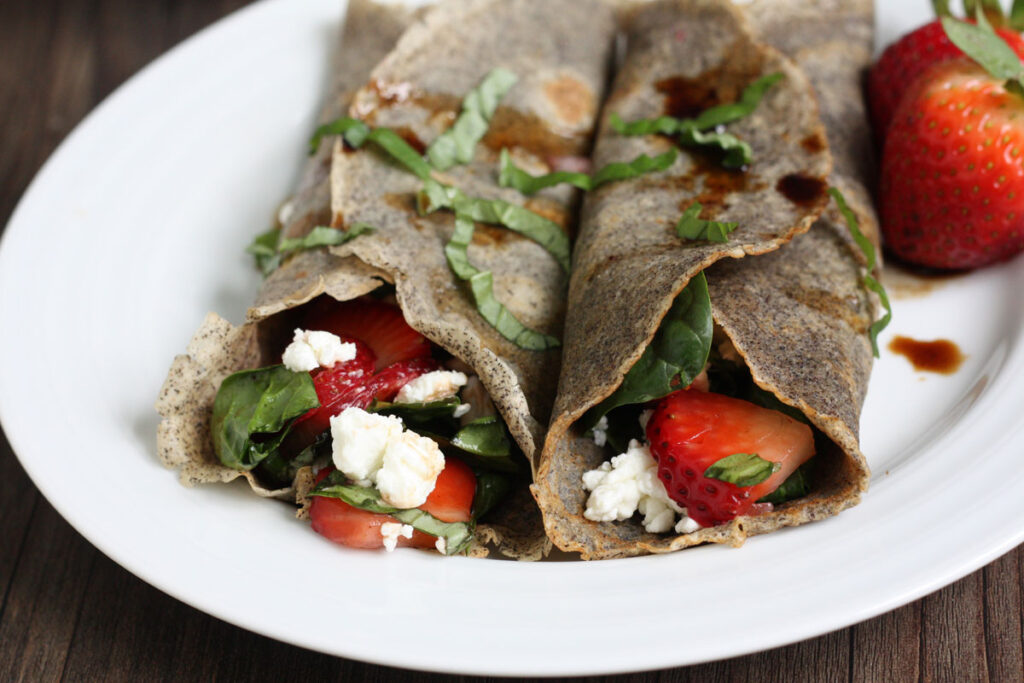 Like I said, I totally forgot that it could have been an option. What I love about crepes is that I can make them 5 days ahead! Just keep them wrapped in the refrigerator until ready to fill and serve. It's also a time saver for when you want to make a layered crepe cake!
So what's with the buckwheat flour you might ask? Well, by now you may know that I'm always looking to maximize nutritional benefits.
Buckwheat flour has more fiber and protein. I still could not get myself to use 100% buckwheat flour because I was afraid I would compromise on taste too much. I think I may have been wrong.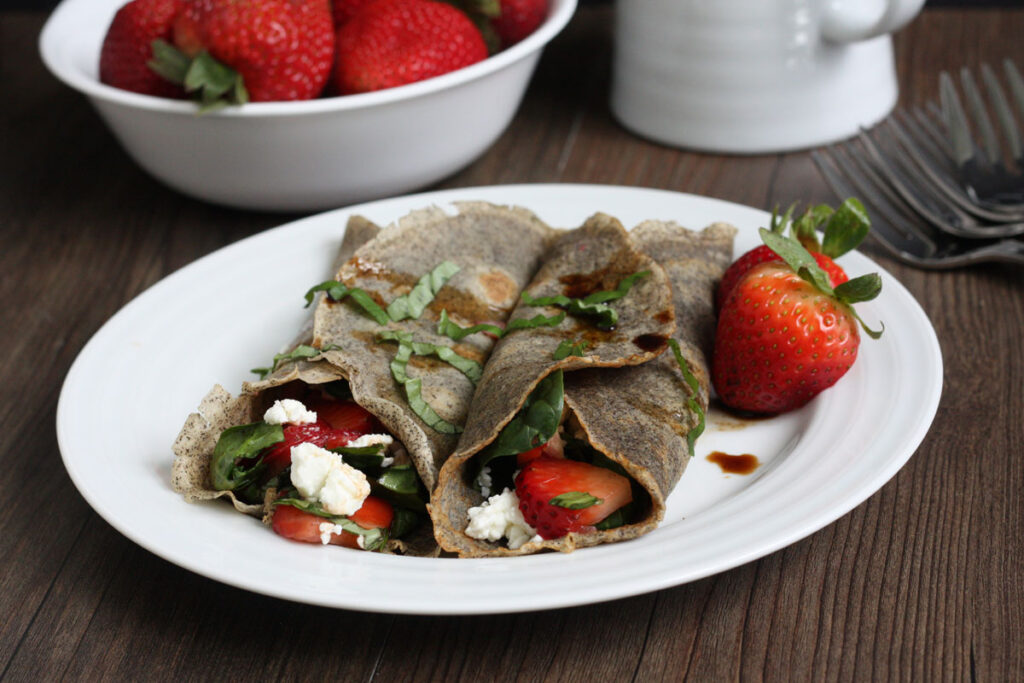 After trying it with a 3:1 buckwheat to all-purpose ratio, I bet that all buckwheat would not be so bad either! Besides, the strawberry spinach basil filling is so fantastic, you barely notice the buckwheat.
Strawberries are in season and it's time to get a little crazy with them! So go ahead and enjoy these sweet and savory strawberry spinach buckwheat crepes. If you love pairing strawberry with basil, you may also want to check out my strawberry basil cream tarts or summer berry salad with frosted basil leaves.
I first shared this Strawberry Spinach Buckwheat Crepes Recipe on Food Fanatic so be sure to visit it there along with my other vegetarian recipes.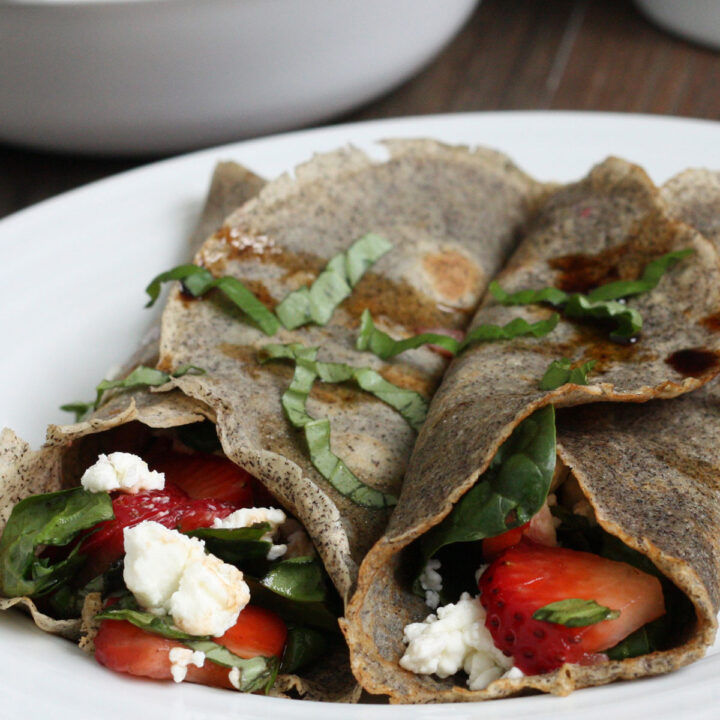 Strawberry Spinach Buckwheat Crepes Recipe
Strawberry Spinach Buckwheat Crepes are the perfect answer when you can't decide between sweet and savory. They can even be made ahead!
Ingredients
For the Crepe Batter:
¾ cup Buckwheat Flour
¼ cup All-Purpose Flour
3 Eggs
1 cup Milk
½ cup Heavy Cream, or half and half
¼ teaspoon Salt
1 tablespoon Unsalted Butter, plus more for the pan
For the Balsamic Honey Sauce:
¼ cup Balsamic Vinegar
2 tablespoons Honey
For Filling:
12-15 Strawberries, sliced
4 cups Baby Spinach, chopped
8 Fresh Basil Leaves, chopped
For Topping:
½ cup Goat Cheese, crumbled
Instructions
Combine the flours, eggs, milk, cream, and salt in a blender and mix until you have a smooth batter. Transfer the batter to a bowl and let it rest for at least an hour or overnight in the refrigerator.
Let the batter come to room temperature and prepare the filling in the meantime.
Combine the balsamic vinegar and honey in a small saucepan and bring to a boil. Reduce it to a simmer and wait until the mixture is reduced by half.
Remove it from the heat and let it cool.
Combine the strawberries, spinach, and basil in a bowl. Sprinkle a few tablespoons of the balsamic, honey dressing over the spinach mixture. Toss the mixture with tongs to coat the filling with the dressing.
Melt the tablespoon of butter and gently stir it into the crepe batter.
Heat a crepe pan or an 8-inch nonstick pan over medium heat. Brush with plenty of butter. Lift the pan from the flame as you add a little less a ¼th cup of batter to the pan. Swirl to cover the pan and cook on the flame for about 30-40 seconds. Gently lift and flip the crepe to cook the other side for about 20 seconds. Brush the pan with butter in between making each crepe.
Add a little of the spinach filling to each crepe and sprinkle with a spoonful of goat cheese crumbles. Wrap it and enjoy.
Notes
Crepes can be stored in the refrigerator for five days if you don't want to use them the same day. Just make sure they are separated with parchment paper and wrapped tightly.
I did not specify how much of the balsamic mixture to use in your filling. This is really to your own taste. Extra dressing can always be drizzled over the top of the filled crepe.
For a gluten free option, use 1 cup of buckwheat flour and omit the all purpose flour.
Nutrition Information:
Yield:

8
Serving Size:

1 crepe
Amount Per Serving:
Calories:

235
Total Fat:

13g
Saturated Fat:

8g
Trans Fat:

0g
Unsaturated Fat:

4g
Cholesterol:

100mg
Sodium:

195mg
Carbohydrates:

22g
Fiber:

2g
Sugar:

8g
Protein:

9g
This nutrition information is only an approximate provided for convenience and as a courtesy only. Information comes from Nutritionix, an automated nutrition calculator.