Almond Joy Cake- Coconut and almond lovers can celebrate with this cake made just for them. Plus, learn the secret to the richest softest cake ever made! This six inch cake is part of my collection of small cake recipes.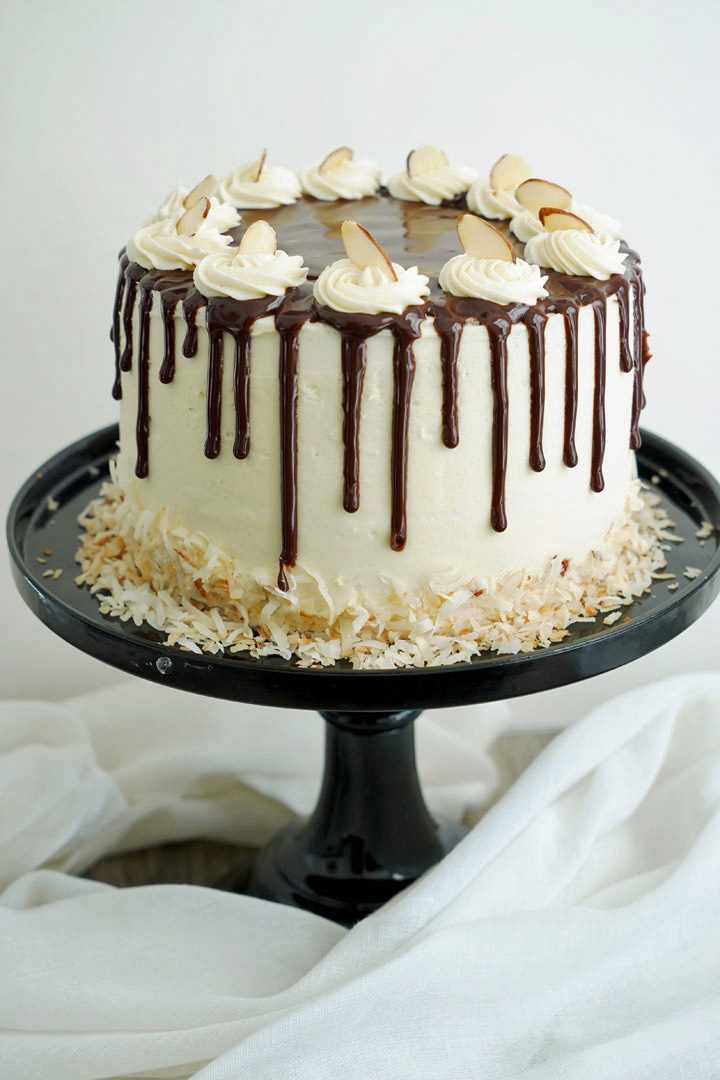 This Almond Joy cake made from scratch is part of my collection of Almond Joy inspired treats. If you enjoyed my Almond Joy brownies, wait until you taste this cake! It's the richest, softest vanilla cake you will ever eat.  I made coconut cream cake, filled it with coconut, almond and fudge and topped it with ganache.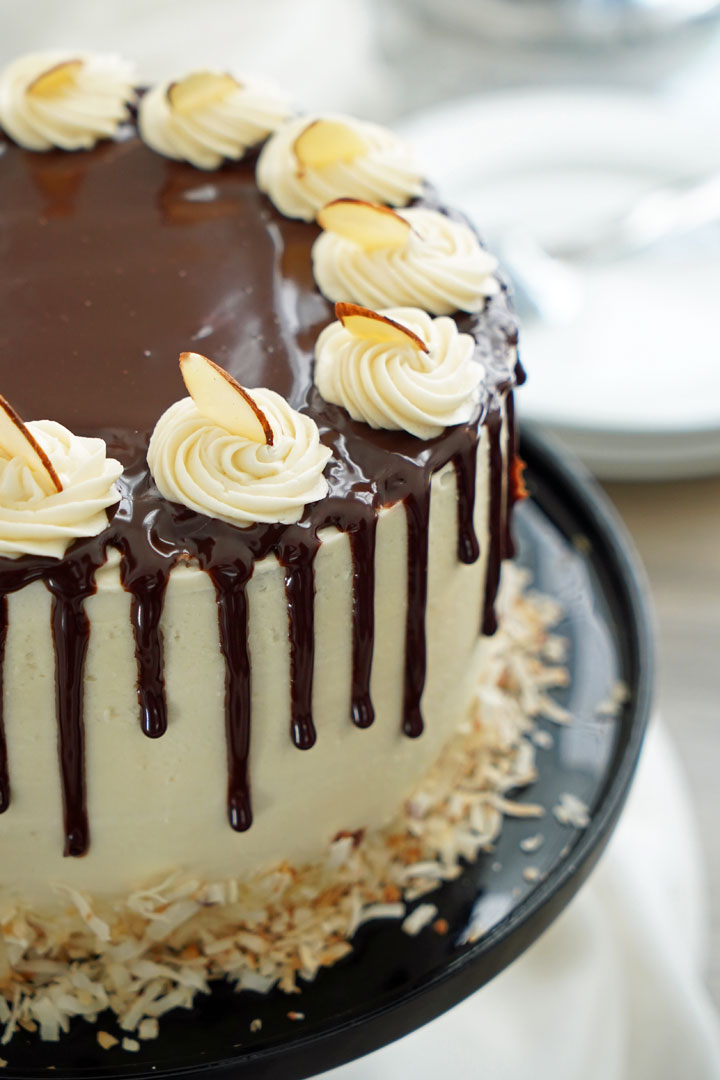 How Do You Get a Rich, Soft, Moist Coconut Cake?
The secret to this really soft cake is cream of coconut! At first, I though cream of coconut would give me a really strong coconut flavor. Well, it turns out that cream of coconut does not flavor cake much, but cream of coconut does make cake really really soft!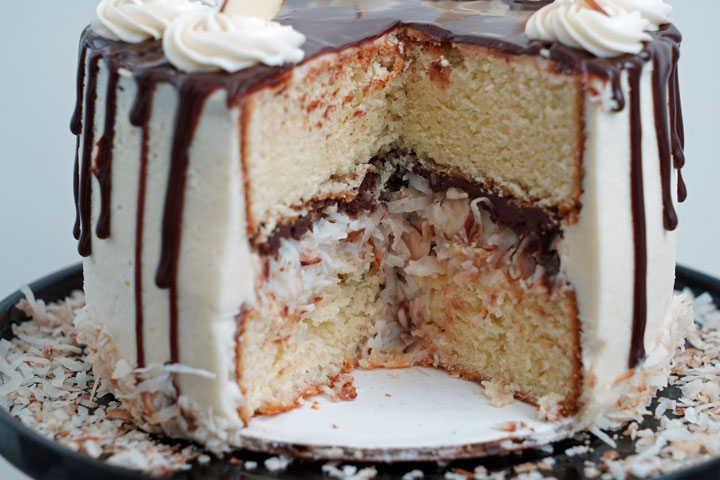 What I Used For a Coconut Cake Filling
Actually, this cake has two easy to prepare filling layers. The first layer is a mix of shredded coconut, sliced almonds and condensed milk.  It tastes just like the inside of the candy bar. A coating of ganache makes up the second layer. Like the outside of the candy bar!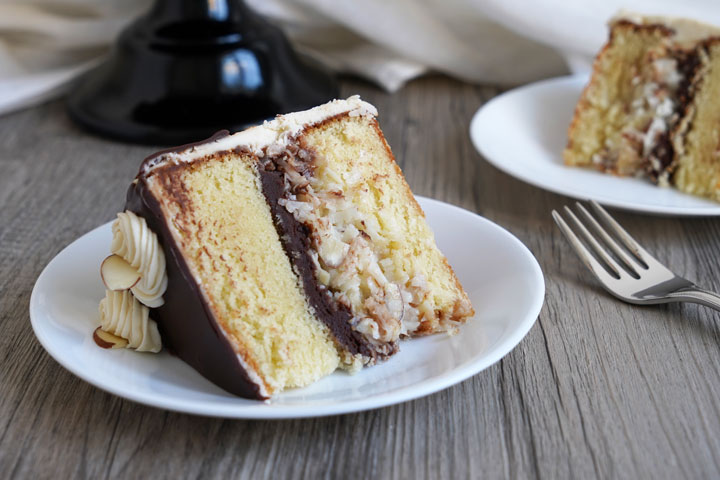 How To Decorate the Almond Joy Cake
I really love the look of drip cakes, so I coated this cake in a thin layer of my classic vanilla buttercream with a ganache drip on top. (For more coconut flavor, you can make a coconut buttercream by adding coconut extract to the vanilla buttercream recipe.)
If you are having trouble with ganache drips, several tutorials are available on YouTube. For example, Chelsweets has an excellent one.
Finally, I also quickly toasted some coconut on the stove top and used it to decorate the bottom of the cake. This also covers up any imperfections in frosting the cake!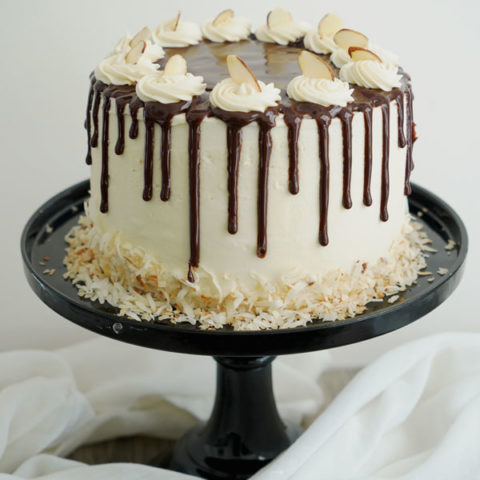 Almond Joy Cake
Total Time:
1 hour
55 minutes
A layered coconut cream cake filled with sweet coconut almond and chocolate ganache. Decorate the outside with vanilla buttercream, toasted coconut and a ganache drip for a beautiful presentation. 
Ingredients
For the Cake
1 ½ cups cake flour, 200g
½  teaspoon  baking powder
¼  teaspoon  baking soda
¼  teaspoon  salt
1 ⅜ cup sugar, 300g
½ cup unsalted butter, room temperature
½ cup  coconut cream , such as Coco Lopez
2  large eggs , separated
1 teaspoon  vanilla extract
½  cup  buttermilk
Coconut Almond Filling
½ cup sweetened condensed milk
1 ½ cups sweetened shredded coconut, 280g
2-4 Tablespoons sliced almonds
Fudge Filling
½ cup chocolate
¼ cup heavy cream
Ganache Topping and Buttercream
⅓ cup heavy cream
½ cup chocolate chips
2 cups vanilla buttercream
Instructions
For the Cake
Preheat oven to 350°F. Butter two 6 inch cake pans and line the bottom with parchment paper. Dust the pans with flour.
In a large bowl, whisk together the flour, baking powder, baking soda and salt.
Using an electric mixer, beat sugar, butter and Coco Lopez in a bowl until light and fluffy. Add the egg yolks and vanilla extract one at a time until incorporated. On low speed, alternate adding the dry ingredients and the buttermilk in a total of five additions starting and ending with dry ingredients. Mix until just blended.
In a separate large bowl, beat egg whites with an electric mixer until stiff but not dry. Gently fold beaten egg whites into the batter.
Divide cake batter evenly between prepared pans. Bake for 30-40 minutes or until a toothpick inserted into center comes out clean. Cool cakes in pans on a cooling rack 10 minutes. Run a small sharp knife around pan sides to loosen cakes. Turn cakes out onto racks and cool completely.
I usually wrap each cake round in plastic and place them in the freezer until I am ready to frost. If you don't have time to do this, make sure your cakes are completely cool before frosting.
Coconut Almond Filling
Combine the condensed milk, shredded coconut and almonds in a bowl.
Mix and set aside.
Fudge Filling
Heat the heavy cream to a gentle boil and pour it over the chopped chocolate in a bowl.
Slowly stir with a whisk until it comes together. It should be dark and smooth.
Assembly
Place the first cake round on a plate (or cake card board) and spread the coconut almond filling on top of it.
Drizzle the fudge filling on top of the coconut layer. Gently spread it around with a spatula.
Place the second cake layer on top of the fudge layer.
Spread a thin layer of vanilla buttercream on the top and sides of the cake. Chill the entire cake in the refrigerator or freezer for at least 30 minutes.
Add another layer of buttercream all over the cake and chill the cake again while you prepare the ganache topping.
Heat the heavy cream to a gentle boil and pour it over the chopped chocolate. Slowly stir with a whisk until it comes together.
Transfer the ganache to a squeeze bottle.
Slowly drip chocolate around the edges of the cake. Test the first drip. If it's too runny, let it cool more before adding drips. Carefully spread the rest of the ganache on top of the cake.
Use any extra buttercream to pipe decorations on top of the cake.
Notes
Do not use coconut milk! Coconut milk is not the same as cream of coconut. This cake sometimes forms a crunchy top. If you want to avoid it, use a large serrated knife to carefully saw off a thin layer of the top before assembling the cake.
If you don't have a squeeze bottle to create drips, you can also use a spoon to slowly drip around the cake.
Variations: For more coconut flavor in each bite, make 4 layers of cake by slicing each cake round and evenly distribute fillings between each layer. Use 1 teaspoon of almond extract in place of or in addition to vanilla extract.
Nutrition Information:
Yield:

8
Serving Size:

1 slice
Amount Per Serving:
Calories:

1007
Total Fat:

43g
Saturated Fat:

29g
Trans Fat:

0g
Unsaturated Fat:

12g
Cholesterol:

108mg
Sodium:

352mg
Carbohydrates:

120g
Fiber:

6g
Sugar:

92g
Protein:

10g
This nutrition information is only an approximate provided for convenience and as a courtesy only. Information comes from Nutritionix, an automated nutrition calculator.
This post was originally posted on DessArts in February 2012. It has since been updated with new text, photos and a recipe revision. 
SaveSave
SaveSave
SaveSave
SaveSave
SaveSave