6-inch cakes are my favorite size cake. These small cake recipes make double layered cakes and are perfect for one or two families.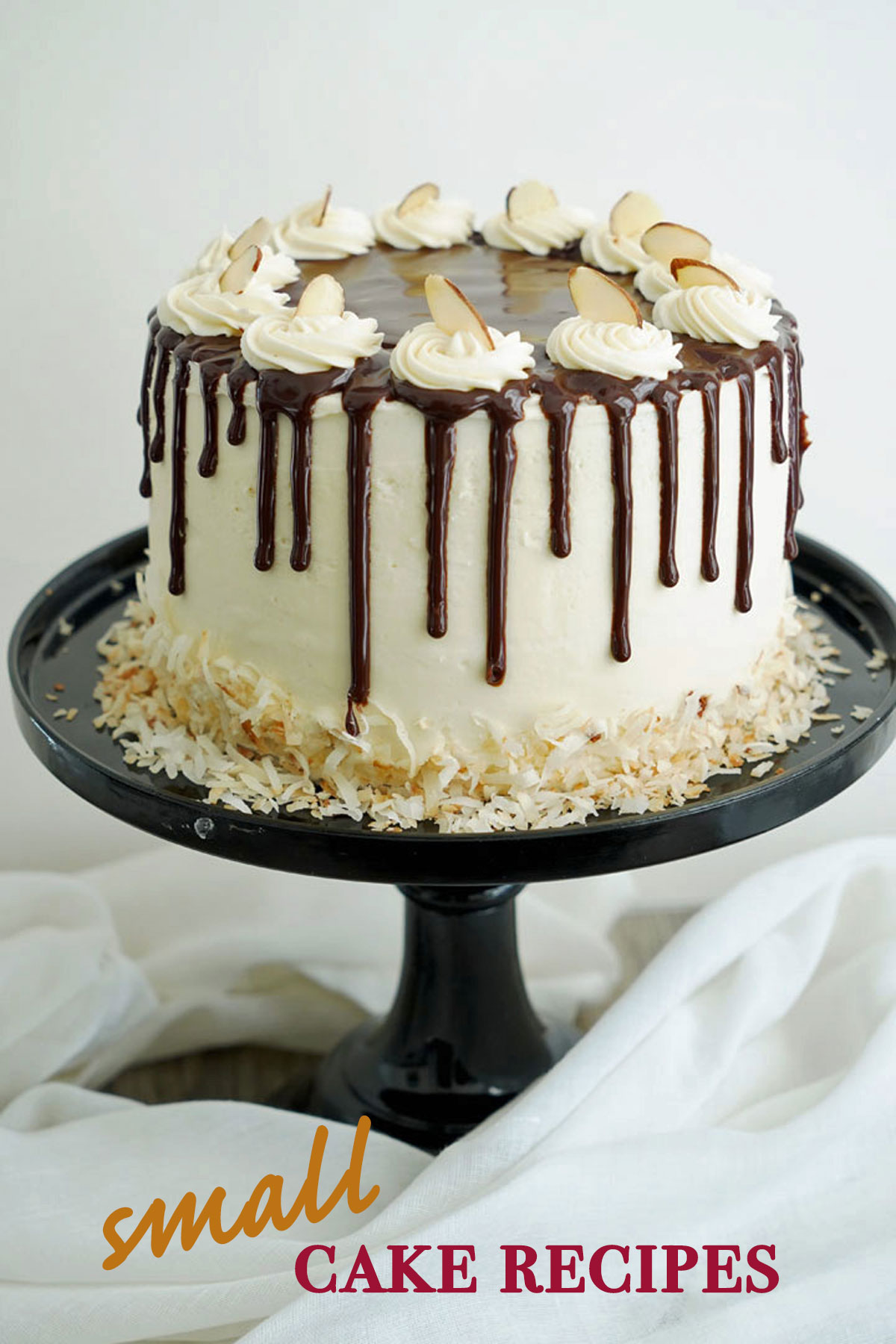 Most cake recipes out there are for 8 inch cake pans with double and sometimes even triple layers. That's way too much cake to make without having a party of say 20 people or more!
Sometimes you just want a SMALL cake for yourself, right? Well, and maybe just 1 or 2 others. 
I stopped making 8 inch cakes when I discovered that the 6 inch cake recipes work perfectly for us.
In my quest to make small cake recipes, I found these awesome 6 inch cake pans from Fat Daddio.
I own three of them in this size but most of the time, I'm just baking with two.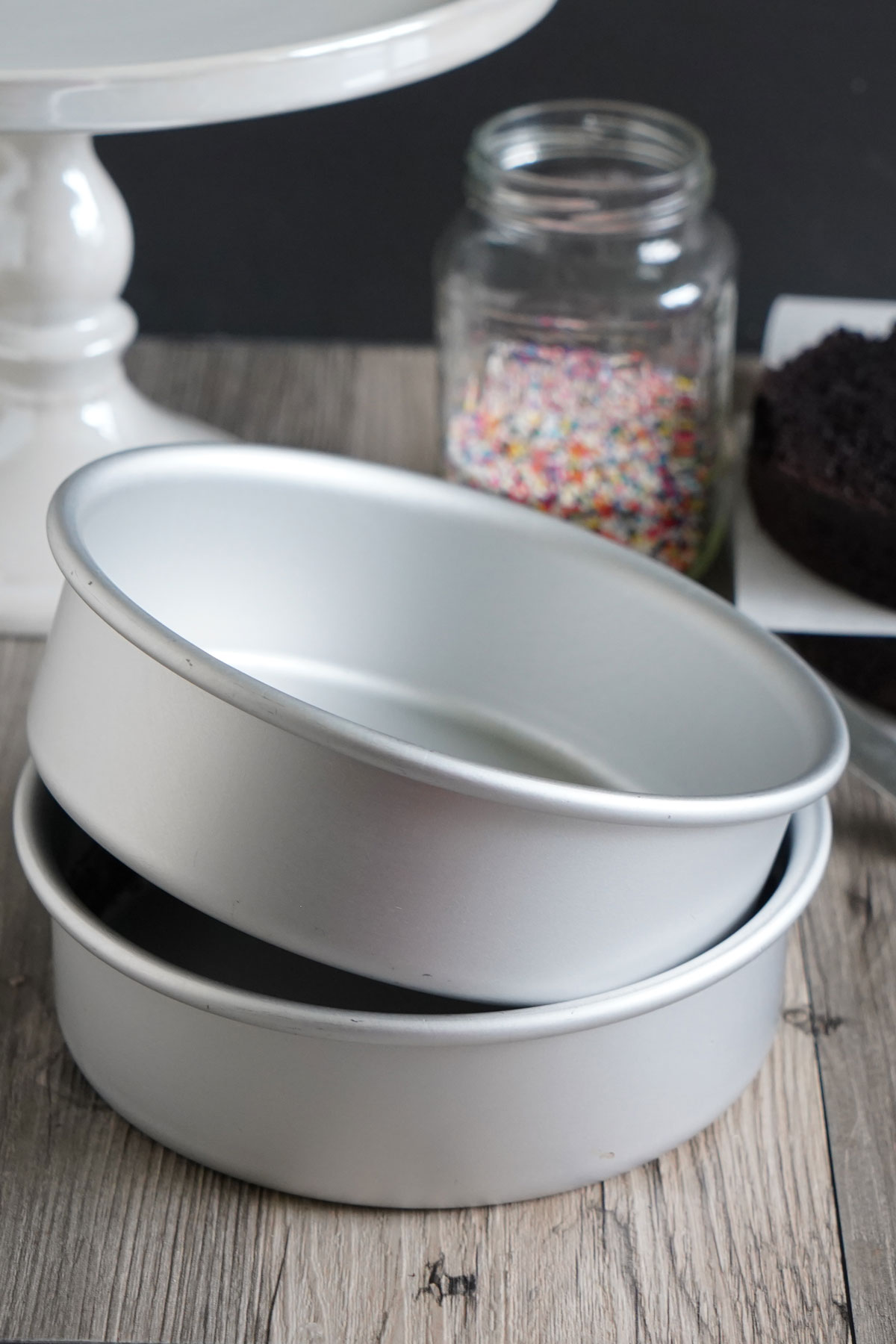 These cake tins are 6 inches wide and 2 inches tall. When two baked cakes are stacked together with frosting, you will get a cake that is about 3 inches tall for most of these recipes.
That also usually fits just perfectly in my largest rectangular Rubbermaid plastic container. Easy storage is another reason to love this size.
How to Bake Small Cakes
In general, you should always butter and flour your pans before baking. See my post on how to prepare cake pans for more complete tips.
Unless otherwise noted, most 6 inch cakes will bake at 350F for about 20 minutes or until a toothpick inserted into the center comes out clean.
If you know your oven runs warm, I would bake at 325F for longer. I can't say exactly how much longer, you just have to keep an eye on it after 20 minutes and do the toothpick test.
Also, do not use a convection setting for these small cakes especially if you like nice flat rounds.
Higher temperatures combined with convection often lead to domed cakes. (It's not a complete disaster because you can always cut off the dome and eat those cake scraps!)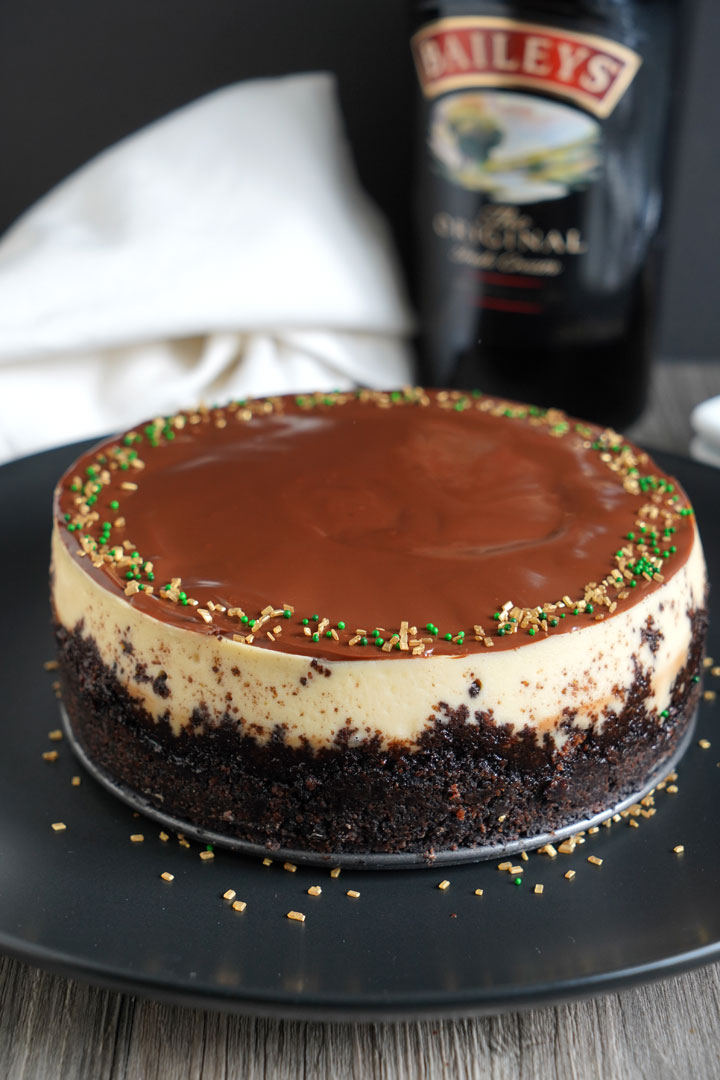 Small cheesecakes are another favorite! You just need a six inch springform pan.
I find the best way to make small cheesecakes like the Irish cream cheesecake shown above is in my Instant Pot. Instant Pot Cheesecakes are a no fail for me.
How Much Frosting Do You Need For A Six Inch Cake?
You will need about 2-2.5 cups to do a basic covering of frosting for any of these double layer 6 inch cakes. These cakes are only two layers of about 1 inch height.
Other six inch cake recipes you may come across are three layered and would need closer to 3 cups of frosting. You will also need extra frosting if you plan to pipe lots of flowers or other decorations on top. 
How Many Servings Can You Get From 6 inch Cakes?
Generously Portioned… 6-8 servings
Modestly Portioned...10-12 servings
Small Portioned...14 servings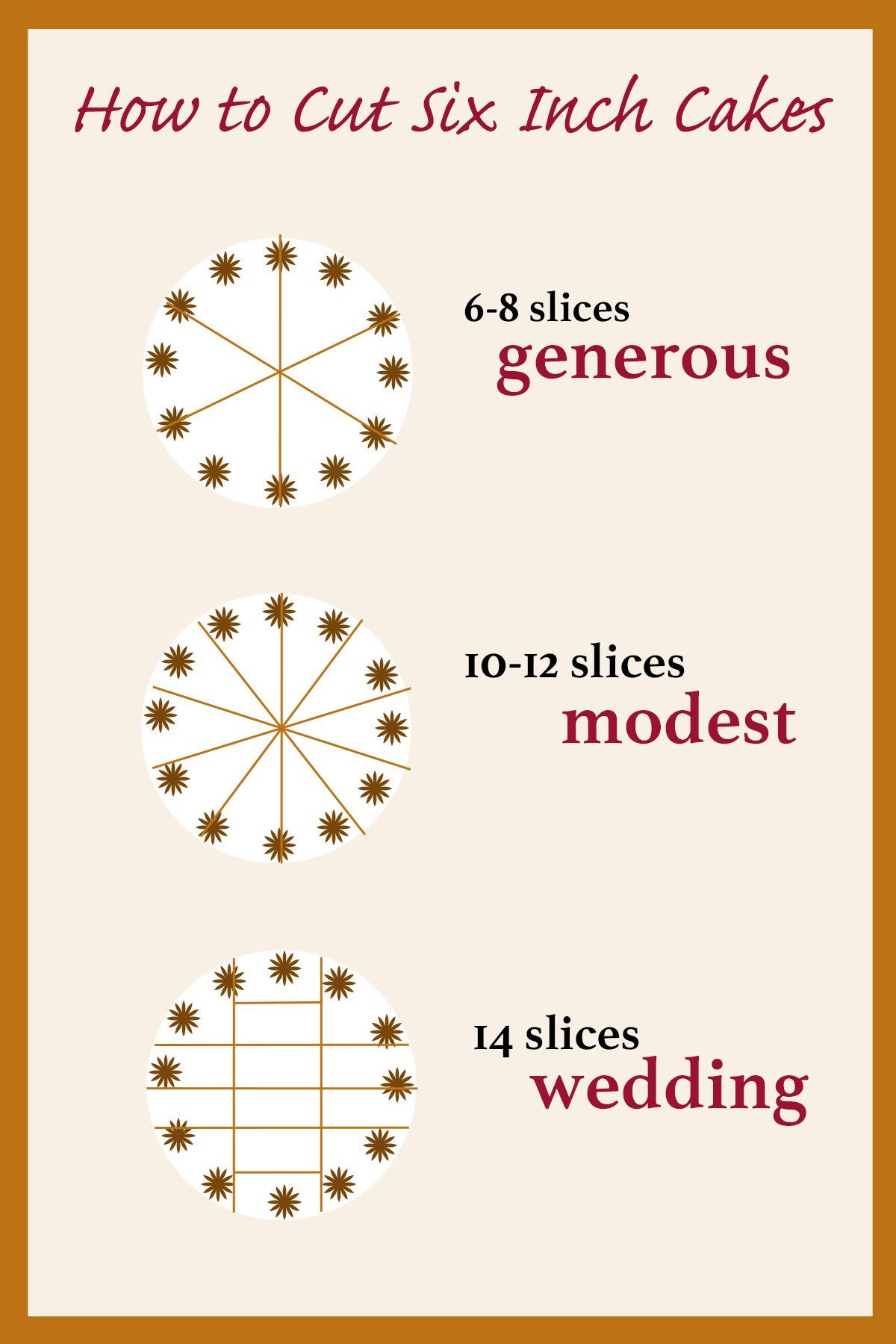 As you can see, the number of portions you get from this cake totally varies with how much cake you eat. I find that most of the time I get 10-12 portions since no one in my family eats really large slices.
When wedding caterers cut round cakes, they tend to cut much smaller pieces and can get up to 14 servings from a small six inch round cake.
Here's a list of some of my favorite six inch cake recipes. My number one favorite is the six inch chocolate cake. No wait, it's the sweet potato cake...oh but that carrot cake...actually I can't decide! You tell me.
Small Cake Recipes (Six Inch)
Six inch cakes are the perfect size for a family or small gathering.
Double Layered Frosted Cakes
Everyone has a favorite chocolate cake recipe. This one is mine and it is the best chocolate cake. Its super moist texture and extra chocolaty flavor is a chocolate lover's dream come true.
Meet the best carrot cake you will ever bake! This six inch carrot cake is perfect for a small gathering! Recipe adapted from King Arthur Flour
A six inch orange cake recipe that's moist, bold and full of flavor. It's the perfect size for a small group!
Topped with cinnamon cream cheese frosting and candied pecans and baked with fall spices, sweet potato cake is the perfect fall dessert.
A layered coconut cream cake filled with sweet coconut almond and chocolate ganache. Decorate the outside with vanilla buttercream, toasted coconut and a ganache drip for a beautiful presentation.
A simple six inch cookies and cream chocolate cake topped with mini oreo cookies. It's perfect for a small birthday party.
This Mexican chocolate cake recipe combines rich chocolate with cinnamon and just a little bit of cayenne! It pairs perfectly with an espresso frosting and chocolate ganache. This is a part of my small cake recipes collection.
S'mores cake is made with layers of graham cracker flavored cake, chocolate ganache and fluffy marshmallow meringue. A small cake recipe perfect for casual gatherings.
Cheesecakes
Add this Instant Pot Baileys Irish Cream cheesecake to your to-do list. It's the perfect adult dessert for St. Patrick's Day or any celebration!
This pumpkin cheesecake is bursting with flavor. Its small size makes it the perfect end to a small family dinner. Plus, it's made with an Instant Pot!