Nothing says fall like a flavorful aromatic homemade pumpkin bread filled with warm spices. It's a classic baking staple for any pumpkin lover and the perfect fall treat.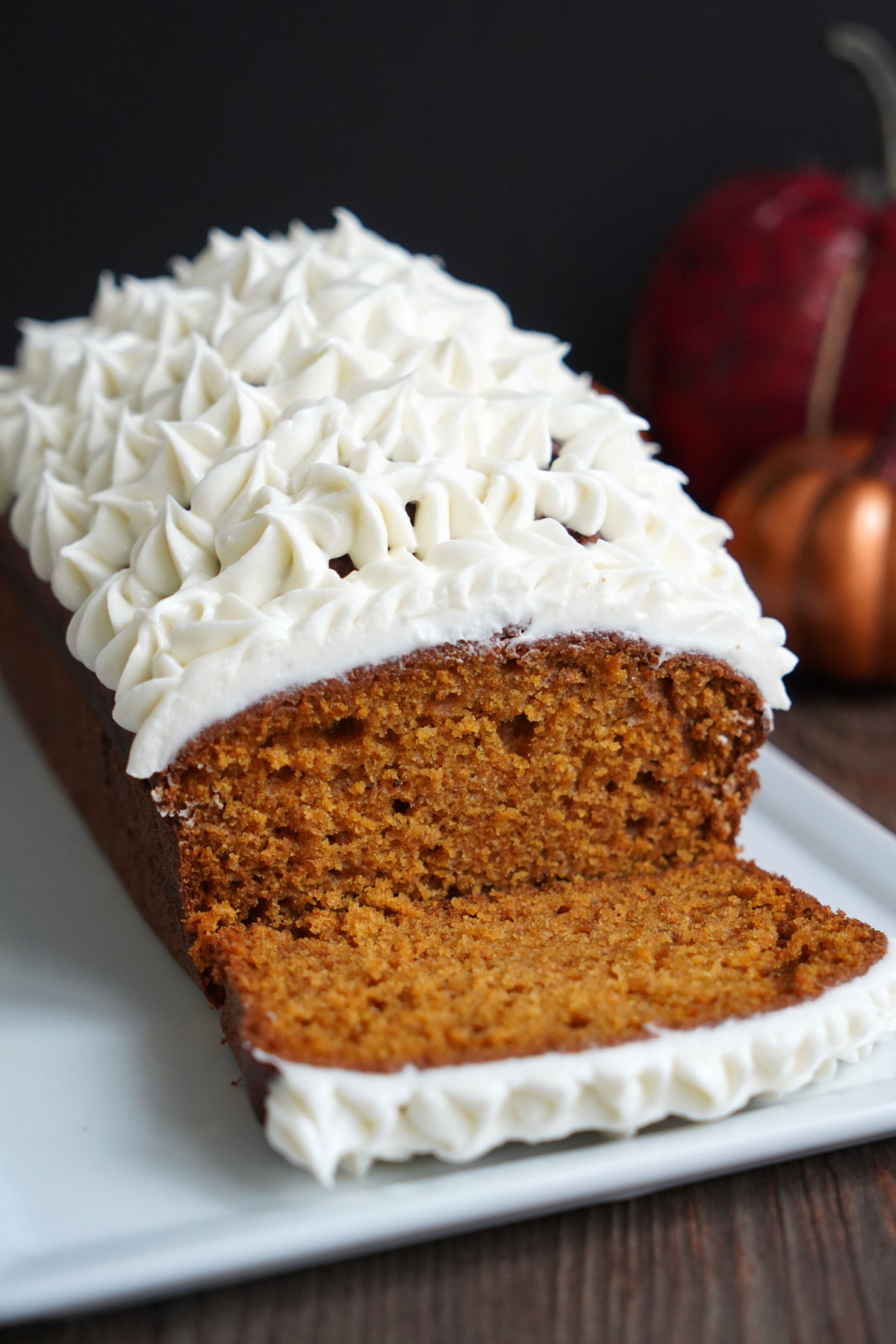 I can't believe I've never posted this easy pumpkin bread recipe. I've shared pumpkin cinnamon rolls and pumpkin cookies and so many more pumpkin recipes but never pumpkin bread!
Well here you go... It's a quick bread so that means easy peasy folks! No electric mixer required.
But to take it up a notch, I'm presenting this flavorful bread to you with cream cheese frosting. Feel free to skip the frosting if you like. A plain slice of pumpkin bread will be just as good!
Ingredients You Will Need: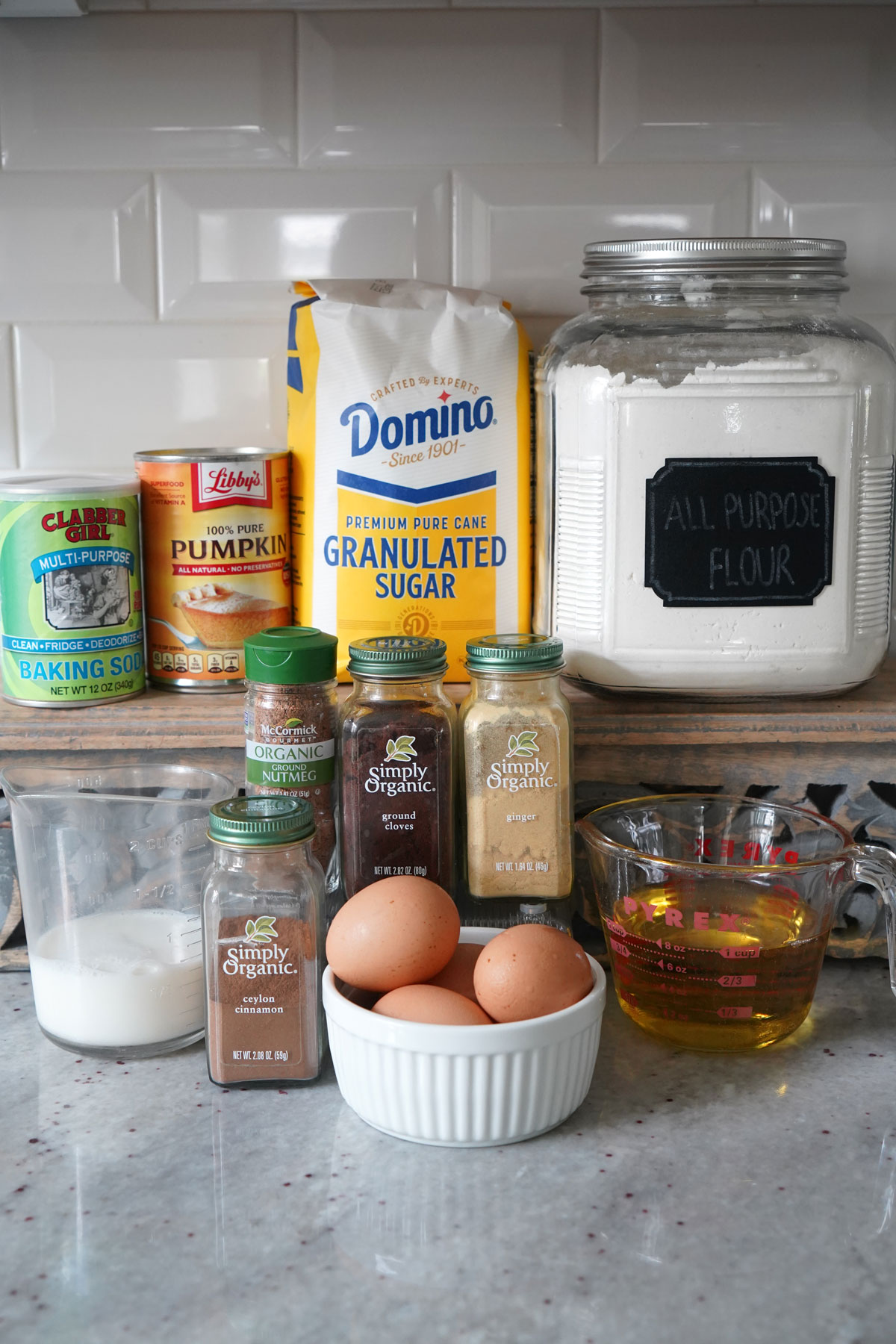 You will need these simple ingredients that are probably already in your pantry: all purpose flour, sugar, baking soda, salt, granulated white sugar, eggs, vegetable oil, and milk. In addition, you will need pumpkin puree and a combination of spices.
For the pumpkin puree, use canned pumpkin puree and make sure it is pure pumpkin and not pumpkin pie filling! Pumpkin pie filling is spiced and sweetened. It's not the same thing!
You will also need the following mixture of spices usually found in pumpkin pie spice: ground cinnamon, cloves, nutmeg and ginger. Make sure your spices are not expired as they lose flavor if they have been sitting in your pantry for too long.
If you choose to make the frosting, you will also need full fat cream cheese, unsalted butter, vanilla extract and powdered sugar.
Why Does This Pumpkin Bread Recipe Make TWO Loaves?
Well, I really just wanted to use up the whole can of pumpkin to be honest. Otherwise I'd have to do something with the leftover.
You still might be thinking that you don't need two loaves. You can always freeze the extra unfrosted loaf for later or give one away to a friend! Really, who says no to free pumpkin bread?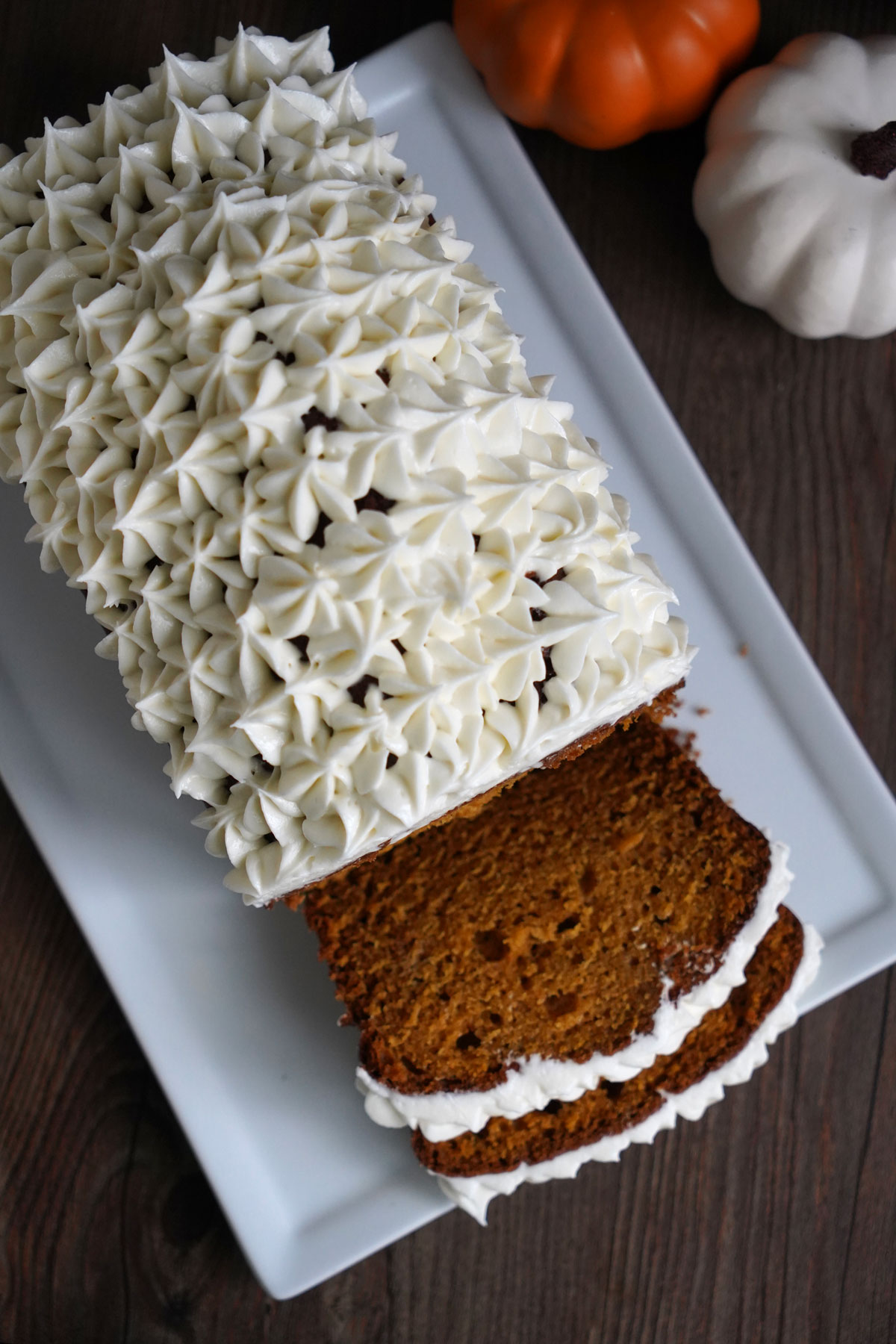 Alternatively you can make one loaf and make muffins out of the rest of the pumpkin batter. I don't frost my pumpkin muffins but I do add chocolate chips because I always need my chocolate.
How to Make Pumpkin Bread:
First prepare your baking pans and/or muffin tins. I like to brush with melted butter and then line my loaf pans with parchment paper leaving an overhang on opposite sides so I can easily remove the loaf.
Set up your oven rack in the center of the oven and preheat the oven to 350°F.
Quick breads are made by combining wet ingredients and dry ingredients separately and then combining the two. You can do all the mixing by hand or use an electric mixer. Both ways work just fine for this recipe.
First, combine the flour, sugar, baking soda, salt, and spices in a large mixing bowl and mix well using a whisk. Using a whisk will also help sift the flour mixture.
Next, In a separate bowl or bowl of a stand mixer, combine the remaining ingredients and again mix well with a whisk or electric hand mixer. All the ingredients should be evenly incorporated.
Finally, add the dry ingredients to the wet ingredients and mix well (but don't over mix) with a rubber spatula. Divide the pumpkin bread batter into the two prepared loaf pans. Each pan or muffin liner should be about two-thirds full.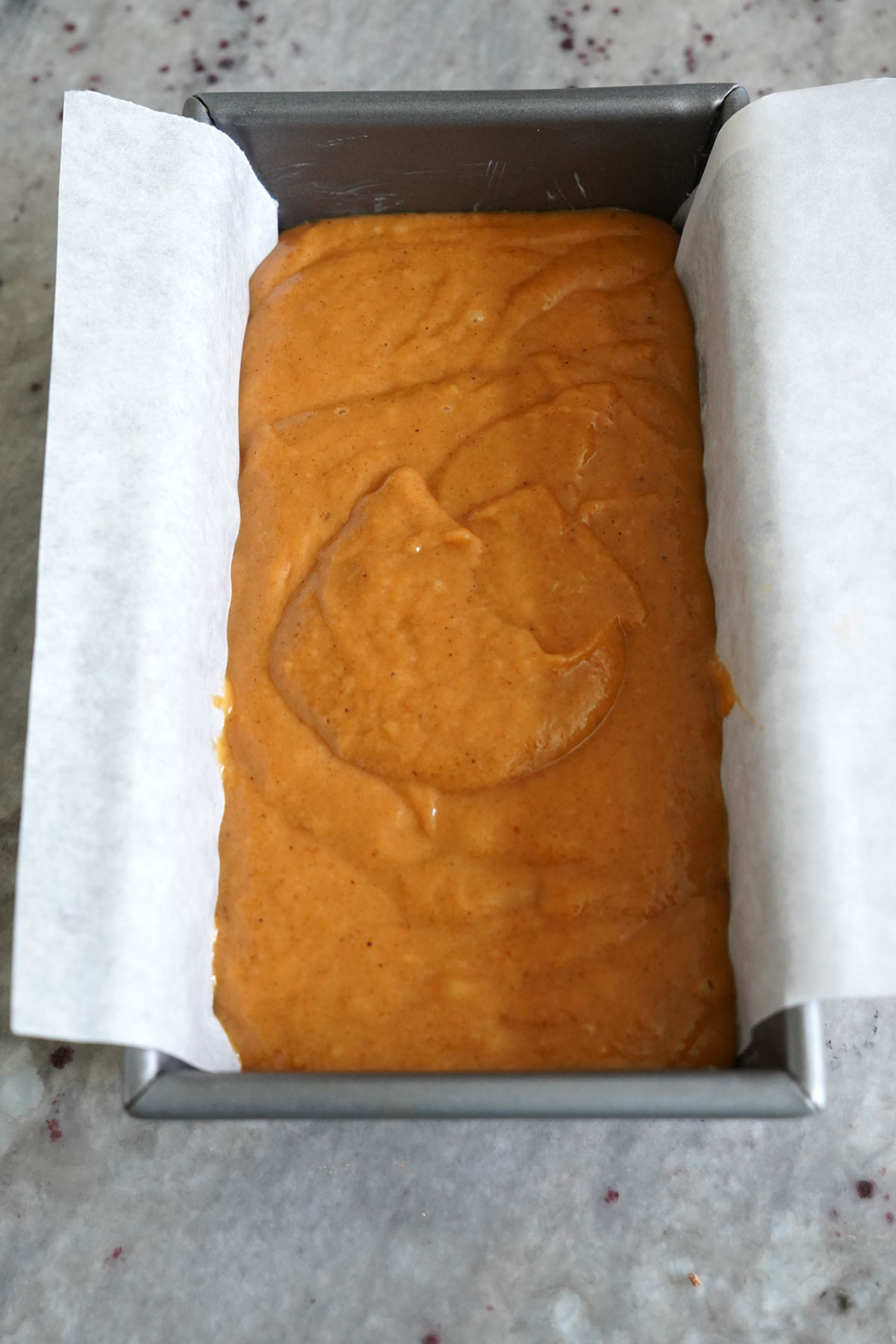 Bake the loaf bread for 50-60 minutes. If you are making muffins, adjust the time to 20-25 minutes. Insert a toothpick into different parts of the loaf to check if it's done. There should be no wet batter on the toothpick.
Let the pumpkin loaf cool in the pan for about 15 minutes. Loosen the edges with a butter knife and then transfer it to a wire rack and allow it to cool completely.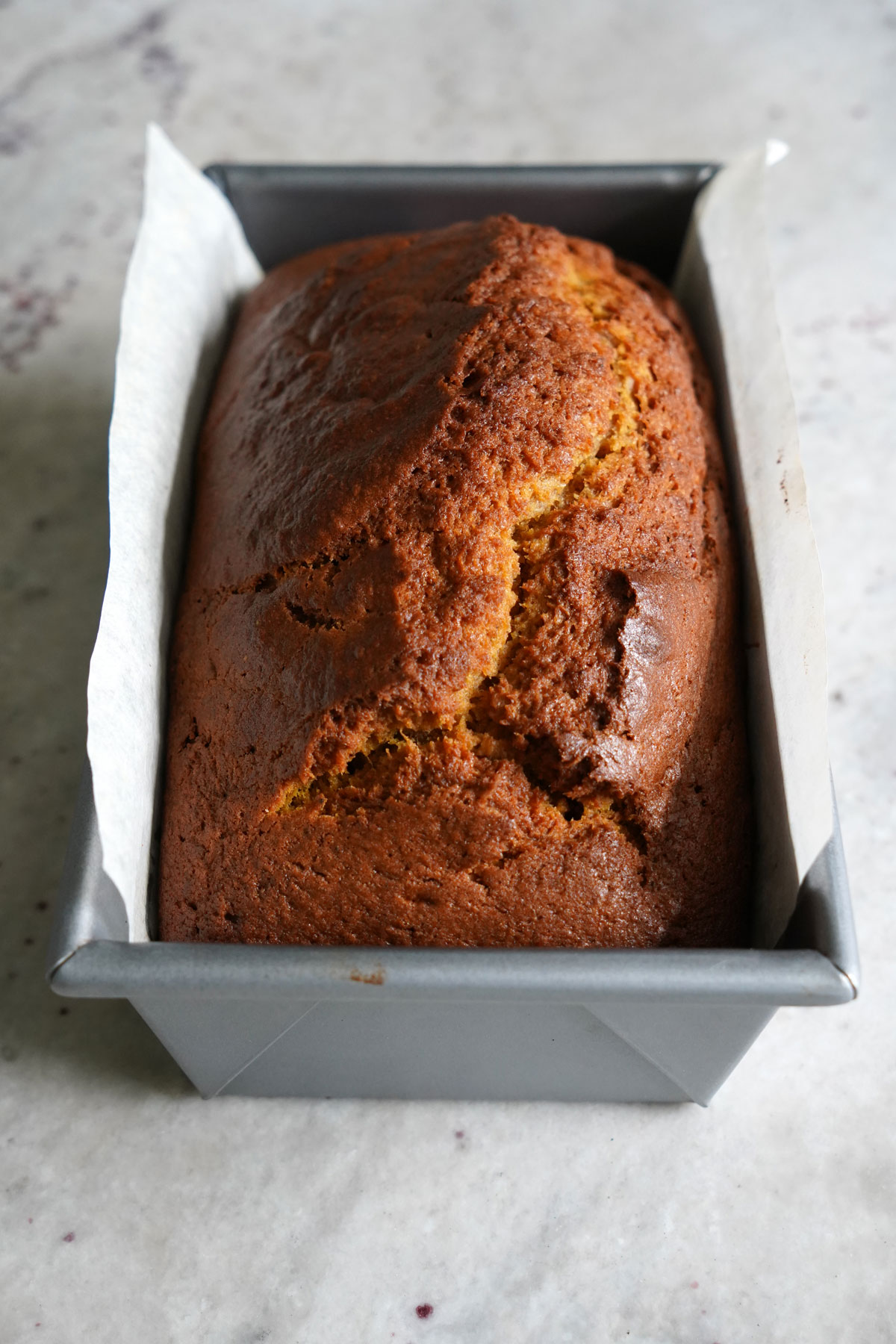 ​Adding Cream Cheese Frosting to Pumpkin Bread
This pumpkin bread is not super sweet. So adding some sweet tangy cream cheese frosting balances the sweetness really well. The recipe below is plenty of frosting for both loaves.
You can spread the frosting on with an offset spatula or you can get fancy with a piping bag and your favorite decorative tip.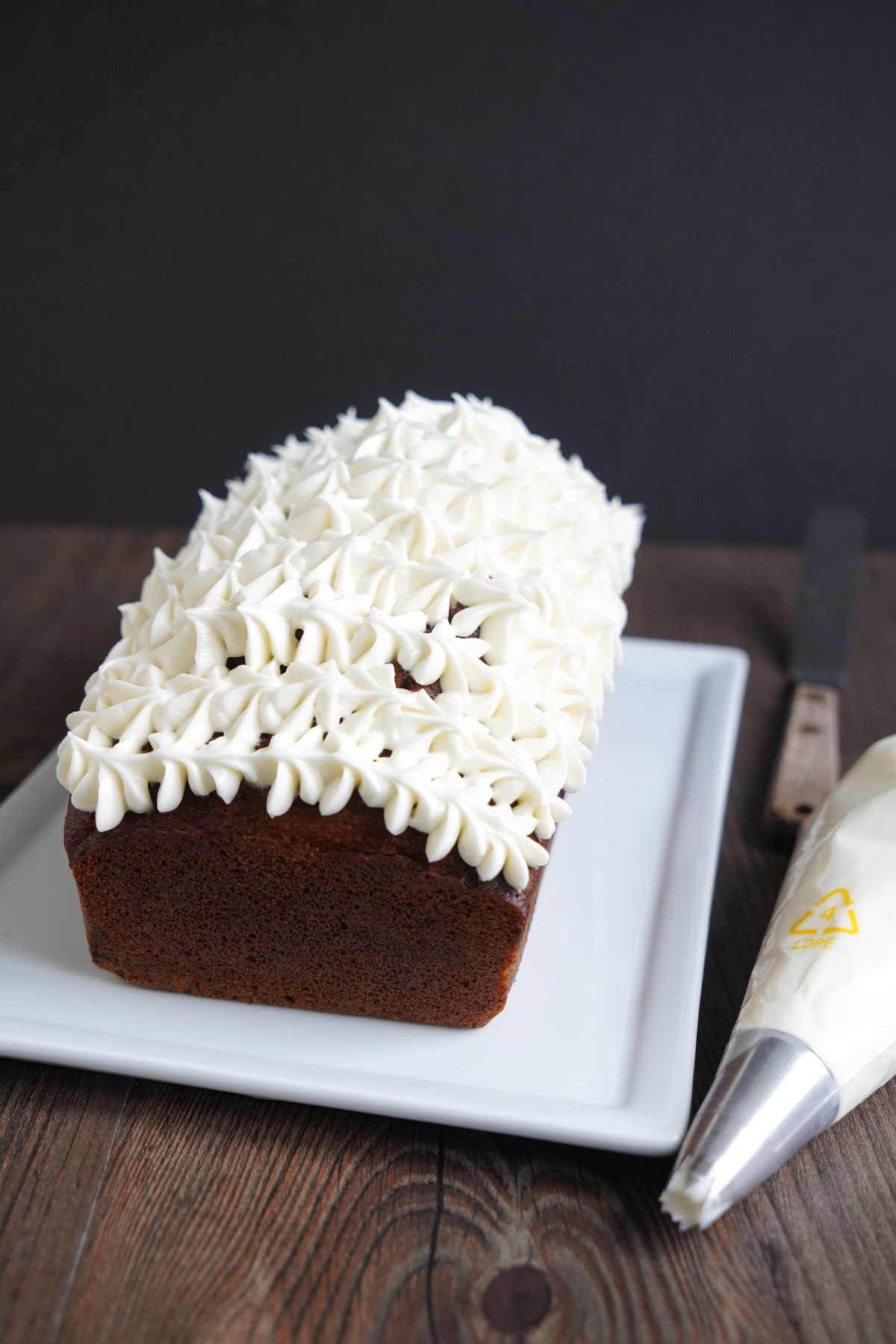 My loaf produced a slightly uneven dome that I couldn't mask well by simply spreading on the frosting. The star tip piping nicely hid the dome and looks pretty too!
Pumpkin Bread Tips and Storage:
As I've mentioned, this pumpkin bread is not really sweet. If you are not frosting it and prefer a sweeter bread you can add ½ cup more sugar to the recipe.
My personal preference would be to add semi sweet chocolate chips to the pumpkin bread batter instead, which can also make it sweeter.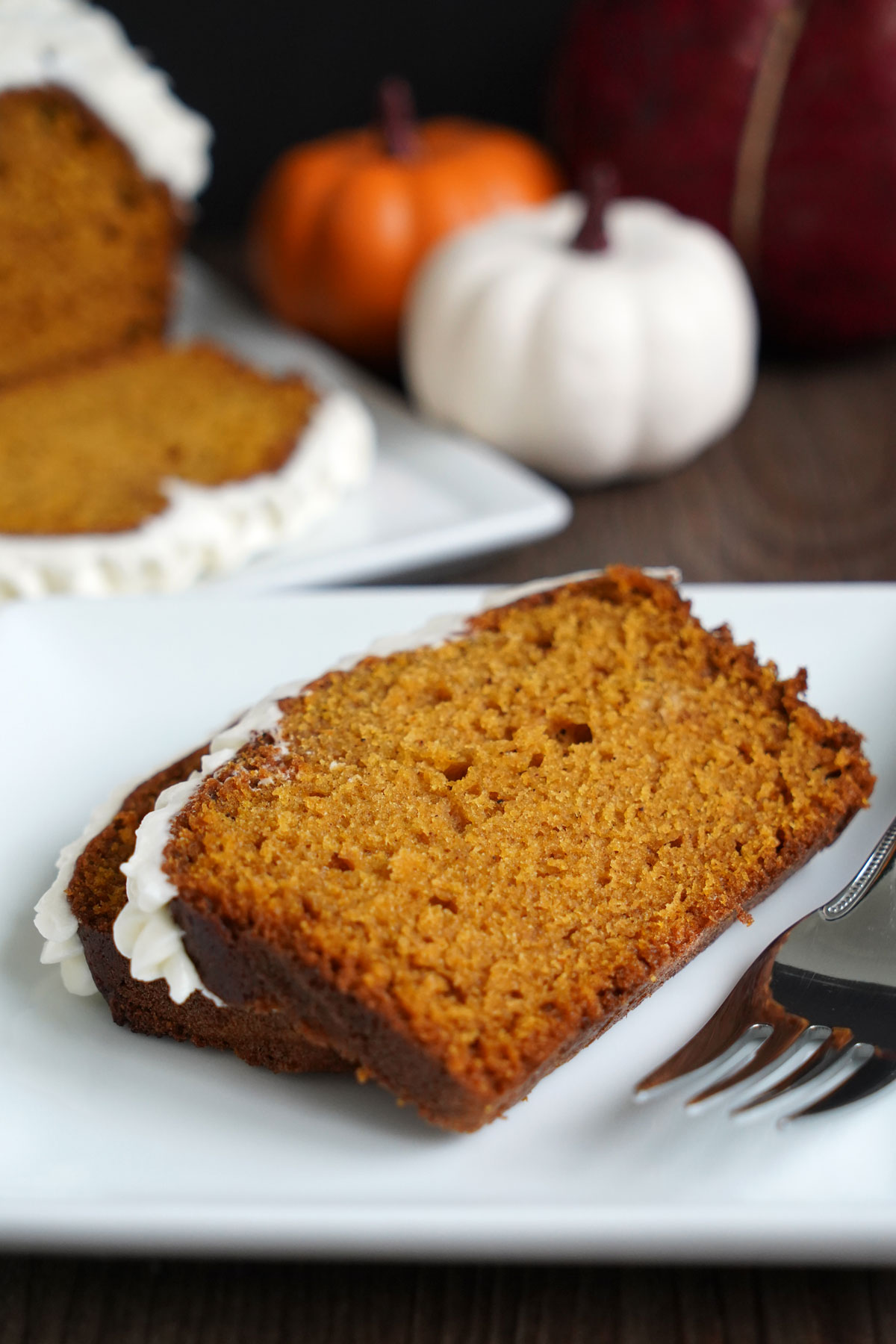 Frosted or unfrosted pumpkin bread should be stored in the refrigerator in an airtight container for up to three days.
Unfrosted pumpkin bread or muffins can be stored in the freezer for up to one month. To retain the most moisture, it's best to wrap the loaf in plastic wrap and then store in an airtight container.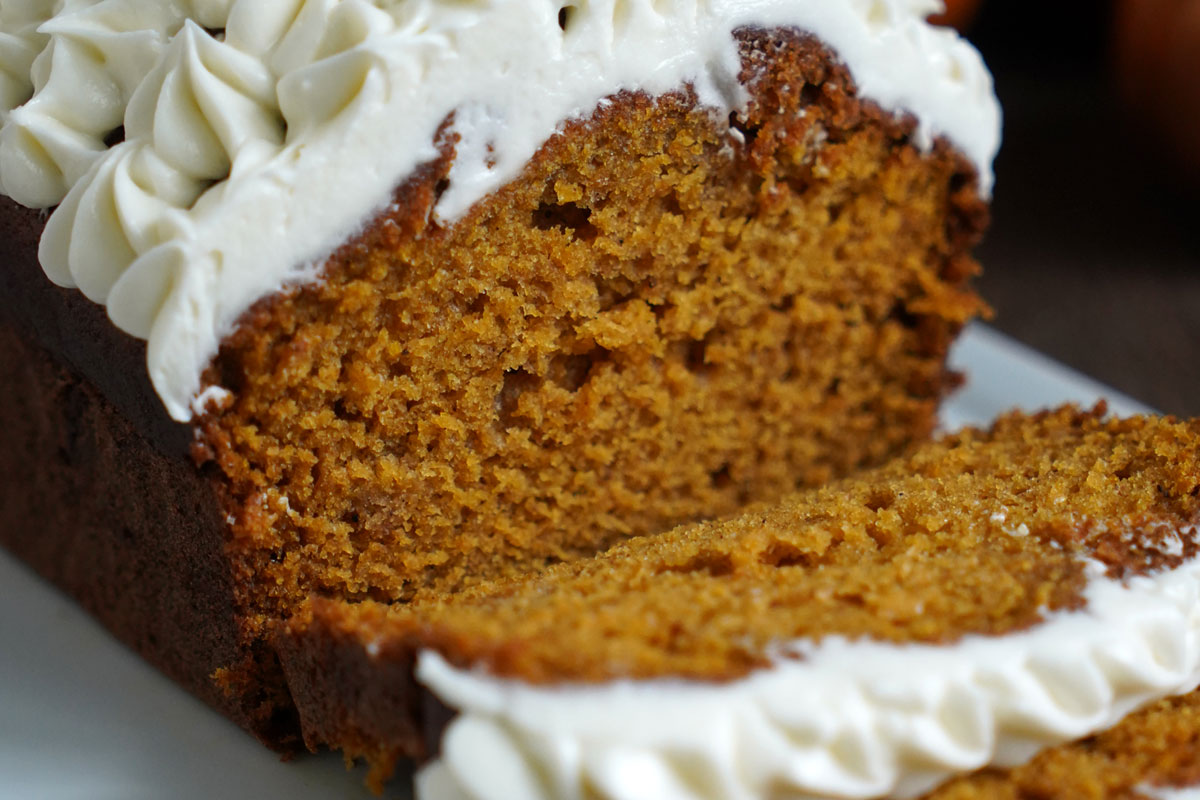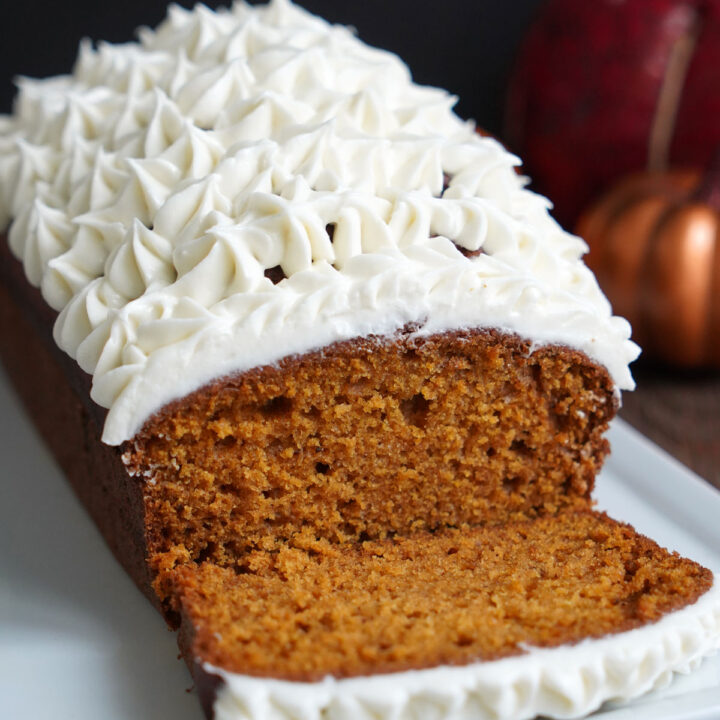 Pumpkin Bread with Cream Cheese Frosting
Total Time:
1 hour
15 minutes
Nothing says fall like a flavorful aromatic homemade pumpkin bread filled with warm spices. It's a classic baking staple for any pumpkin lover and the perfect fall treat.
Ingredients
For the Pumpkin Bread
3 ½ cups all-purpose flour
2 ¼ cups white sugar
2 teaspoons baking soda
1 ½ teaspoons salt
1 teaspoon ground cinnamon
1 teaspoon ground nutmeg
½ teaspoon ground cloves
½ teaspoon ground ginger
15 ounces pumpkin puree (1 can)
4 large eggs
1 cup vegetable oil
⅔ cup milk
For the Cream Cheese Frosting
4 ounces cream cheese, room temperature
4 Tablespoons unsalted butter, room temperature
1 teaspoons pure vanilla extract
1 ½ cups confectioners sugar
Instructions
For the Pumpkin Bread
Preheat the oven to 350°F and grease two 8 ½ by 4 ½ inch loaf pans. Optional: Line with parchment paper over the greased pan with an overhang on either side for easy release.
In a large bowl, whisk together the dry ingredients: flour, sugar, baking soda, salt, cinnamon, nutmeg, cloves, and ginger. Set it aside.
In the bowl of an electric mixer, combine the pumpkin puree, eggs, vegetable oil and milk. Mix on low to medium speed until well combined. (You can also whisk by hand instead of an electric mixer)
Add the dry ingredients to the wet ingredients and stir with a rubber spatula until just combined. If using an electric mixer, mix on low and be sure to stop and scrape down the sides and bottom of the bowl. Do not over mix.
Transfer the batter equally to each loaf pan.
Bake the loaf pans for 50-60 minutes. For muffins bake for 20-25 minutes.
Let it cool for 20 min in the pan, then remove the loaf to a cooling rack and let it cool completely before slicing or frosting.
For the Cream Cheese Frosting
Using a hand mixer, beat the butter and cream cheese together until smooth. Begin with a low speed at first and then increase to medium speed.
Add the vanilla and mix to combine.
Add the sugar and beat at a slow speed until the sugar is incorporated. Stop to scrape down the sides of the bowl with a spatula. Increase the speed and mix until smooth and combined.
Adjust the consistency by either adding confectioner's sugar for a thicker consistency or milk (a teaspoon at a time) for a thinner consistency.
Notes
Equipment: The loaf pan measurements are from the top of the pan. 
Yields: If you make one loaf and muffins, it will make about 12-15 muffins.
Nutrition Information:
Yield:

20
Serving Size:

1 slice
Amount Per Serving:
Calories:

363
Total Fat:

17g
Saturated Fat:

4g
Trans Fat:

0g
Unsaturated Fat:

12g
Cholesterol:

50mg
Sodium:

323mg
Carbohydrates:

50g
Fiber:

1g
Sugar:

32g
Protein:

4g
This nutrition information is only an approximate provided for convenience and as a courtesy only. Information comes from Nutritionix, an automated nutrition calculator.