Pumpkin spice cinnamon rolls are perfect for the fall baking season. Fluffy cinnamon rolls are filled with gooey pumpkin spice filling.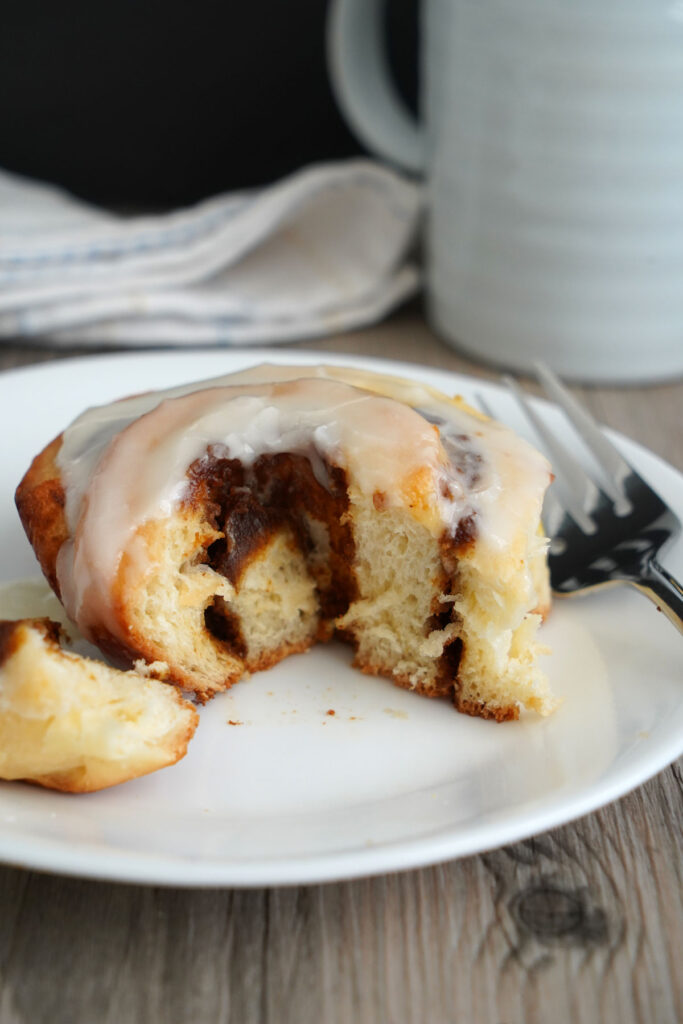 Cinnamon rolls from scratch may seem intimidating but they are so worth it! I can't say this is a quick recipe but most of the time needed goes into allowing your dough to proof. So, as long as you have time to wait around, it's not too bad.
Plus, I've included some steps in the recipe notes to break it down for overnight cinnamon rolls. Warm breakfast cinnamon rolls? Yes please!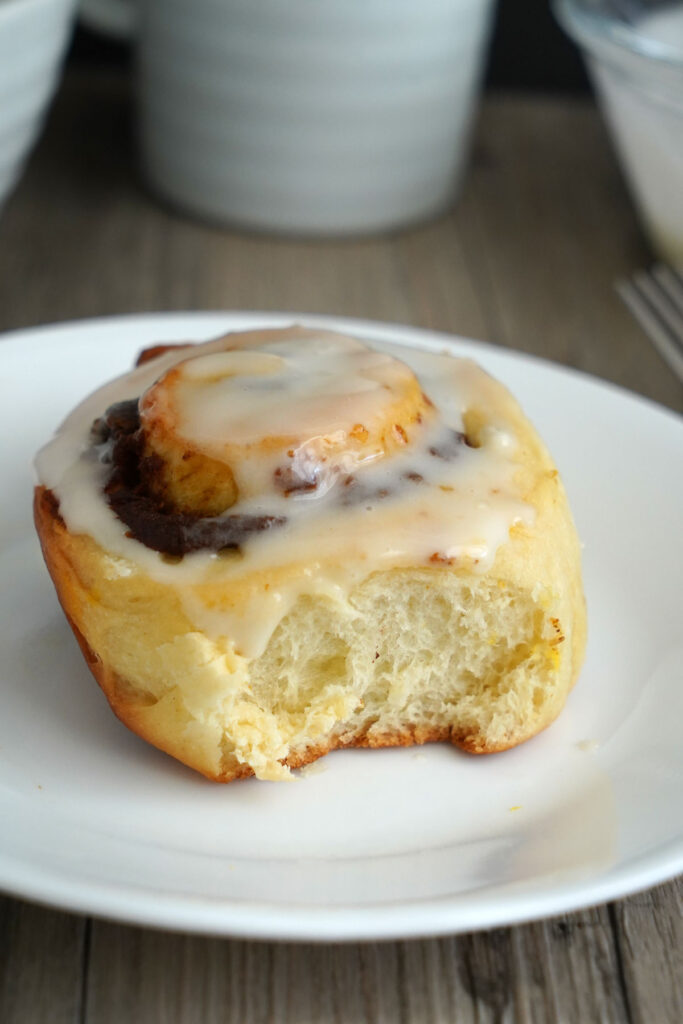 Many pumpkin cinnamon roll recipes incorporate the pumpkin into the dough. While those are no doubt just as tasty, I decided to take a short cut and just make a pumpkin filling.
My go to roll recipe is usually my brioche cinnamon roll dough but I decided keep it simple this time. For the dough, I adapted a basic cinnamon roll recipe from the New York Times.
I rolled it out a little larger and cut them smaller to get more rolls. I love the way they turned out. Perfectly fluffy.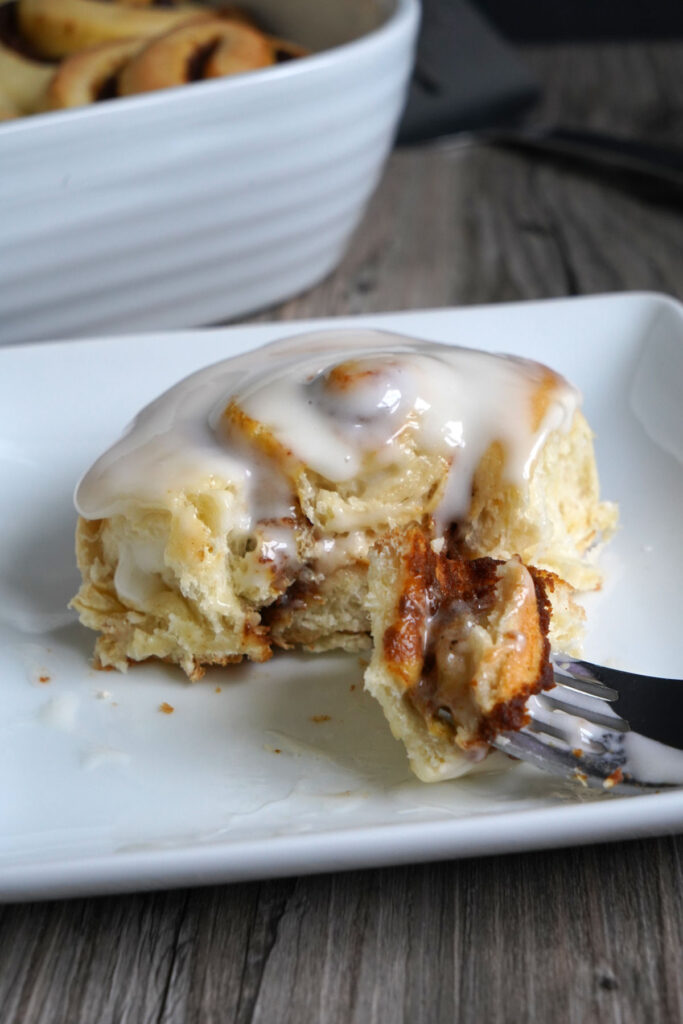 The filling includes canned pumpkin puree, brown sugar and all the spices that make up pumpkin spice. Plus a little pinch of cardamom!
The recipe does not use a whole 15 ounce can of pumpkin but a few extra spoons won't hurt so go for it.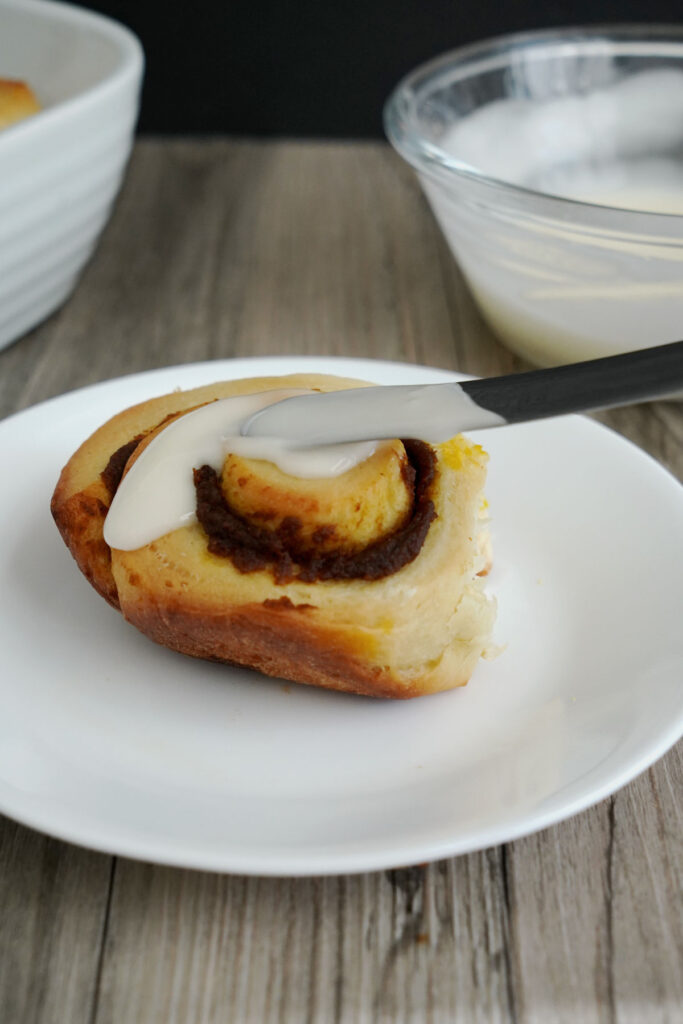 And if you are looking to use the extra canned pumpkin, I've got you covered. Check out my pumpkin roll recipe or pumpkin brookies recipe.
Can I Make These The Night Before?
Yes. You can prepare these cinnamon rolls the night before and bake them in the morning. Arrange them sliced in the baking pan, cover with plastic and then refrigerate. Just be sure to let the rolls sit out at room temperature for about an hour before baking.
What's the Best Way to Slice Cinnamon Rolls?
First measure out the size of each slice and make score marks with a knife. I find it easiest to use plain dental floss to slice through the roll rather than a knife. Gently lift the roll and slide your floss underneath. Cross the two ends of the floss over the top and slice through.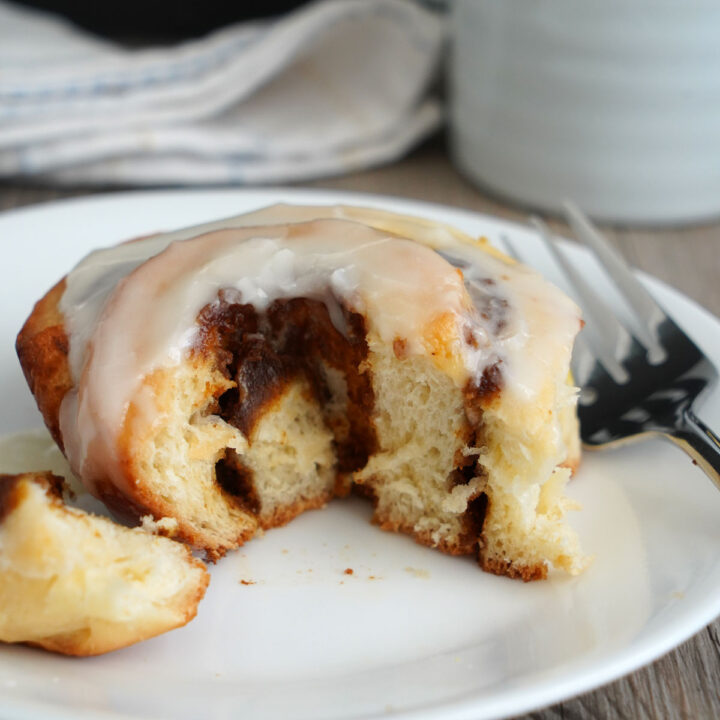 Pumpkin Cinnamon Rolls
Pumpkin spice cinnamon rolls are perfect for the fall baking season. Fluffy cinnamon rolls are filled with gooey pumpkin spice filling. 
Ingredients
Dough:
1 cup whole milk
4 tablespoons sugar, divided
2 ¼ teaspoons active dry yeast
4 cups all purpose flour
1 ½ teaspoons baking powder
1 ¼ teaspoons salt
1 large egg, lightly beaten
6 tablespoons unsalted butter, melted
Filling:
½ cup pumpkin puree
⅓ cup brown sugar, light or dark
½ Tablespoon cinnamon
1 teaspoon ginger powder
¼ teaspoon ground cloves
¼ teaspoon allspice
¼ teaspoon ground nutmeg
Pinch of cardamom
Glaze:
¼ cup cream cheese
3 Tbs milk
1 ½ cup confectioners sugar
Instructions
Warm the milk over the stove to 110°F. (It should be warm to the touch). Add the yeast and 2 Tablespoons of the sugar. Mix to dissolve and set aside for about 5 minutes or until the top is foamy.
In the bowl of an electric mixer, combine the flour, remaining sugar, baking powder and salt. Mix to combine well.
With the mixer on the lowest speed (and using the paddle attachment) add the milk mixture and egg. Once the milk and egg appear incorporated, add the melted butter.
Mix until the butter is mixed in and the dough looks shaggy.
Turn the dough out onto a floured surface or change the mixer attachment to the dough hook to finish kneading. Work the dough until it becomes smooth and elastic. This should take about 5 minutes.
Form a ball with the dough and place it in a large lightly oiled bowl. Cover the top with plastic and set aside in a warm area for 1-2 hours until the dough doubles in size.
Punch the dough down and form a flattened mound and tightly wrap the dough in plastic wrap. Chill in the refrigerator for at least an hour.
Prepare the filling: In a medium sized bowl, mix together the pumpkin puree, sugar and spices until well combined.
Roll the dough out into a 16x10 inch rectangle. Spread the filling onto the dough leaving a ½ inch border on the long sides. Start rolling from the long side. Roll slowly and tightly, going up and down the roll in a typewriter motion to get and even roll.
Seal the edge by pinching slightly along the edge. Turn the roll so the seam is facing down.
Cut the dough into 12 even slices using either a knife or plain dental floss as shown in the video.
Place the rolls evenly spaced in a lightly oiled 9 x 13 inch baking dish. Cover the rolls with plastic and place in a warm place for about 1 hour. They should become puffy and spring back when lightly touched.
Preheat the oven to 375F. Bake the rolls for about 30 minutes or until the rolls are golden brown.
Prepare the frosting by combining the sugar, cream cheese and milk in a mixing bowl. Mix with a whisk until smooth.
Frost the rolls and serve while still warm.
Notes
Notes:
Dough recipe adapted from New York Times
2 ¼ teaspoons active dry yeast is about one 0.25 ounce packet.
Yeast should not take more than 5 minutes to foam. If it does, it is dead.
3 ½ teaspoons pumpkin spice can be used in place of all spices in the filling.
You may need to scrape the dough from the attachments a few times during mixing if using an electric mixer. 
Uncooked cut rolls can be refrigerated overnight. Bring them out on the counter and wait for them to become puffy before baking. This may take an additional 30 minutes or more. 
Nutrition Information:
Yield:

12
Serving Size:

1
Amount Per Serving:
Calories:

185
Total Fat:

9g
Saturated Fat:

5g
Trans Fat:

0g
Unsaturated Fat:

3g
Cholesterol:

38mg
Sodium:

317mg
Carbohydrates:

26g
Fiber:

1g
Sugar:

24g
Protein:

2g
This nutrition information is only an approximate provided for convenience and as a courtesy only. Information comes from Nutritionix, an automated nutrition calculator.