These brioche cinnamon rolls are the perfect breakfast or brunch treat. They are made with a rich buttery yeast dough and totally worth it.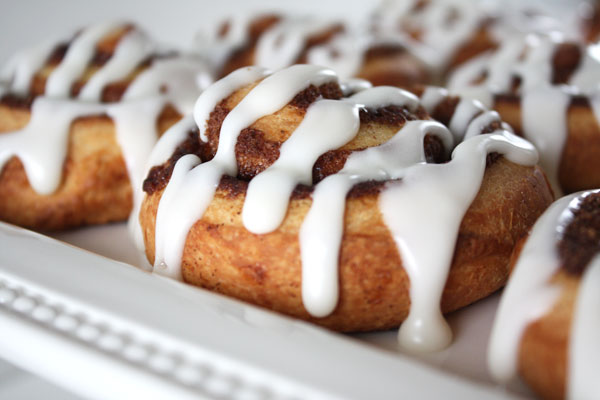 Working with yeast has never been one of my favorite things. Recently I've noticed that I'm not alone either. I've been reading other blogs and there is a group out there that would rather avoid using it.
Makes sense. Yeast is a tricky ingredient and you need a very specific environment for it to work well. Their activity and therefore the texture and flavor of the product is affected by temperature, food, water, and time.
After making this stollen and this meringue coffee cake, I think I became more comfortable with it. As long as I can get it to rise, I'm usually pretty happy with the outcome.
I also learned a trick that helps yeast rise during the dry winter: Place a pan of boiling water in a turned off oven and you have an instant proof box!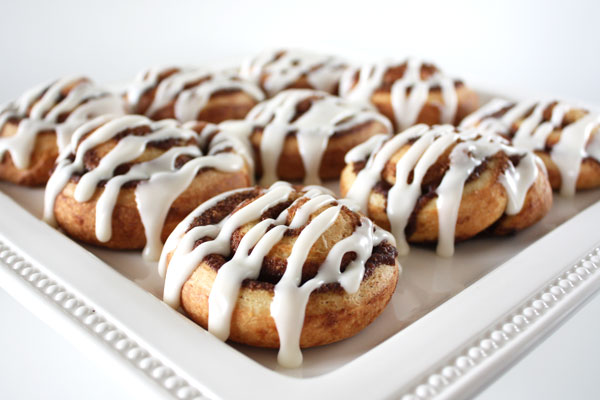 Anyways...on with the brioche cinnamon rolls. Last week, I made a loaf of brioche for my brother in law's birthday. Brioche is a highly enriched french bread with a high content of eggs and butter. It's a great dough for making french toast or cinnamon rolls.
I had not made brioche dough since culinary school. The stand mixer almost broke but the dough came out wonderful. The recipe made way more then I needed so I decided to use the left over dough for the cinnamon rolls.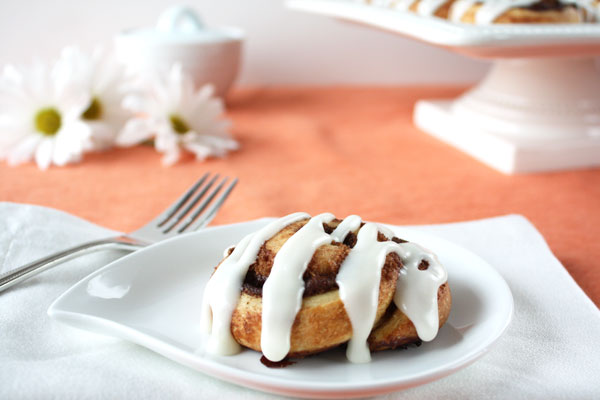 Recipe Update
I corrected the recipe below to make the correct amount of brioche dough for 15 rolls. You will not end up with extra brioche dough the way I did.
Brioche Cinnamon Rolls
These brioche cinnamon rolls are the perfect breakfast or brunch treat. They are made with a rich buttery yeast dough and totally worth it.
This recipe was updated March 2019. It formerly made extra Brioche dough than was needed for the cinnamon rolls.
Ingredients
1 batch brioche dough, recipe below
2 Tbs cinnamon
½ cup light brown sugar
2 Tbs butter, softened
¼ cup cream cheese
3 Tbs milk
1 ½  cup confectioners sugar
For the brioche dough
25 mL water
3 eggs
15 g fresh yeast
1 ⅜ cup  bread flour
3 Tablespoons sugar
1 teaspoon kosher salt
½ cup plus 2 Tbs cold butter
Instructions
Combine the brown sugar and cinnamon in a small bowl. Roll out the brioche dough on a floured surface (preferably a cool surface) into a 15 by 11 inch rectangle to ¼ inch thickness.
Spread the butter over the dough leaving a ½ inch border. Spread the cinnamon sugar evenly over the butter. Roll the dough lengthwise. With the seam side down, cut the dough at 1 inch intervals. (I used dental floss to get nice clean cuts)
Place the rolls on a baking sheet. Try to tuck the roll tails under each roll. Cover them with plastic and a kitchen towel. Let them rise until doubled. Bake at 350°F until golden brown, about 20 minutes. Remove from baking sheet to cool.
Combine the cream cheese, milk and sugar in an electric mixer and whisk until smooth. Drizzle or pipe over the rolls.
For the brioche dough
Temper your butter by wrapping it in plastic and patting it down with a rolling pin. You want it soft and cold but not melted. Store it in the refrigerator while you prepare the rest.
Add the water, eggs, flour, and yeast together in an electric mixer. Mix on a low speed for 1-2 minutes and then and the sugar and mix for another minute. Add the salt and mix for another two minutes. Increase the speed and mix until the dough becomes stretchy.
Gradually add in the cold tempered butter. Work the dough until it is smooth and satiny. Be sure to scrape the dough off the sides and paddle during mixing.
Place the dough in a large oiled bowl and let it rise for 1 hour. Punch it down into a ball, wrap in plastic tightly and let it rest in the refrigerator for at least four hours. You may want to double wrap it and put it in a bowl in case it expands out of the plastic.
Notes
I have also rolled the cinnamon rolls and left them ready to bake in the refrigerator overnight. I let them sit on the counter while the oven preheated in the morning and then baked them off! Great time saver!
Nutrition Information:
Yield:

15
Serving Size:

1 roll
Amount Per Serving:
Calories:

269
Total Fat:

10g
Saturated Fat:

5g
Trans Fat:

0g
Unsaturated Fat:

4g
Cholesterol:

56mg
Sodium:

292mg
Carbohydrates:

40g
Fiber:

1g
Sugar:

20g
Protein:

4g
This nutrition information is only an approximate provided for convenience and as a courtesy only. Information comes from Nutritionix, an automated nutrition calculator.
SaveSave
SaveSave
SaveSave
SaveSave
SaveSave