This fig and chocolate stollen is not your traditional stollen. It's just, well, better. There's no dried fruit, just lots of chocolate, almonds, citrus zest and yummy almond cream. I think it's the perfect celebration bread.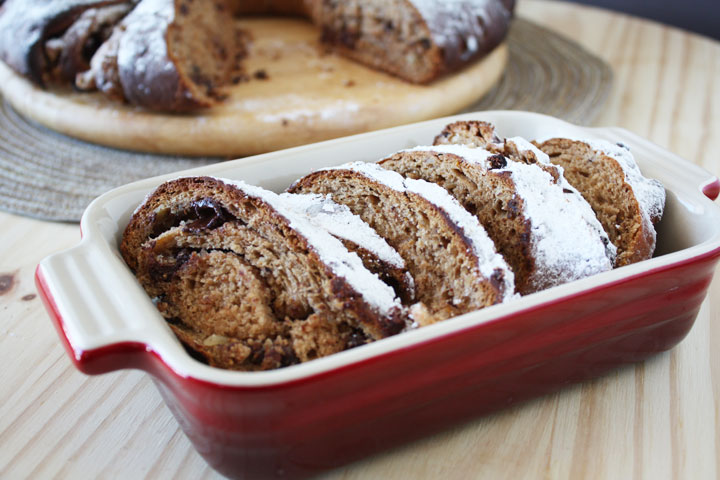 I procrastinated on this month's challenge and then went away last week for a beach vacation. I pretty much accepted defeat in that I was not going to have time to participate this month.
Hah! I some how managed to pull off this fig and chocolate stollen on the last two days! Well, I guess being snowed in as soon as we got back helped too.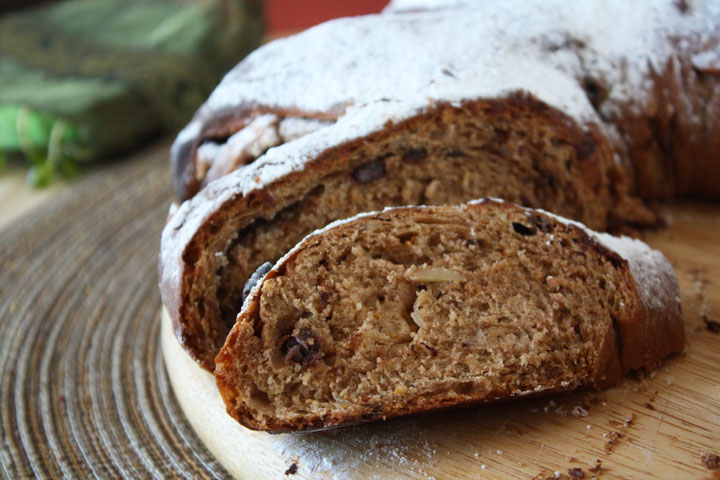 The 2010 December Daring Bakers' challenge was hosted by Penny of Sweet Sadie's Baking. She chose to challenge Daring Bakers' to make Stollen. She adapted a friend's family recipe and combined it with information from friends, techniques from Peter Reinhart's book.........and Martha Stewart's demonstration.
Stollen?  The last time I made stollen was very long ago and I recall being not too excited about fruit bread back then too. So I decided to go ahead and make it anyway with some alterations.
I've replaced raisins for dried figs. I also eliminated the candied citrus. The orange zest is still in the recipe. (Since I waited to do this the night before, I just had no way of obtaining or making candied orange peels.) I've added chocolate chips for sweetness and a layer of almond cream (frangipane)  in the middle.  
Maybe this is no longer traditional stollen and maybe I broke some rules but rules are meant to broken in the kitchen, right? Enjoy!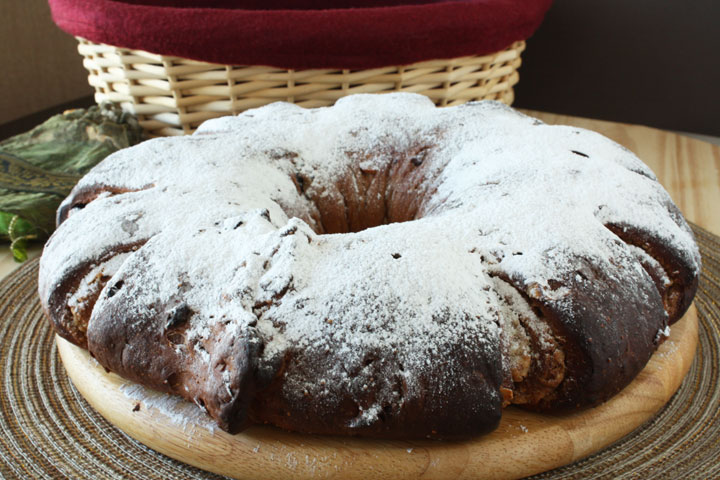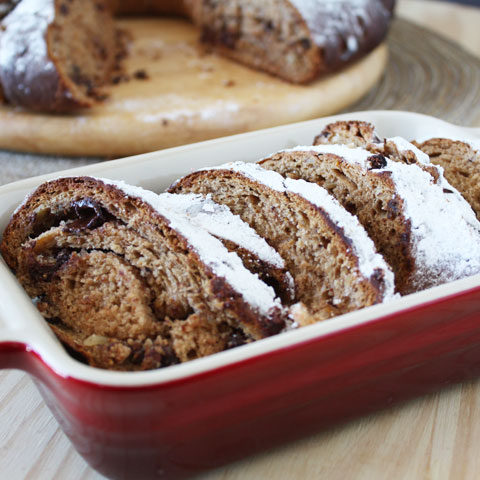 Fig and Chocolate Stollen
Total Time:
1 hour
15 minutes
This fig and chocolate stollen is not your traditional stollen. It's just, well, better. There's no dried fruit, just lots of chocolate, almonds, citrus zest and yummy almond cream.
Ingredients
For the stollen
30 ml lukewarm water
½ oz of fresh yeast, or 1 oz of active dry
½ cup milk
5 Tbs butter
2 eggs
1 teaspoon vanilla
½ teaspoon orange extract
385 g all purpose flour
¼ cup sugar
½  teaspoon salt
½ teaspoon cinnamon
zest of one orange
¾  cup chopped dry figs, Use more if you really want to taste the figs
2  Tbs rum
½ cup sliced almonds
½ cups semisweet or bittersweet chocolate chips
almond cream, see recipe below
For the almond cream:
100 g butter
100 g sugar
100 g almond flour
1 egg
15 g corn starch
Instructions
For the stollen
In a small bowl sprinkle the yeast into the warm water and let it stand for 5 minutes. Warm the milk and butter on the stove top until the butter is just melted and allow it to cool. Beat the eggs in a small bowl and add the vanilla and orange extracts to it.
In an electric mixer with a paddle attachment combine the flour, sugar, salt, cinnamon and zest on a slow speed. Add the yeast mixture, milk mixture and egg mixture and mix until combined, about 2 minutes. it should be soft but not sticky. Cover and let it rest for about 10 minutes.
Add in the figs and almonds mixing on low speed to incorporate. Knead the dough for 8 minutes by hand (or 6 minutes with a dough hook on the machine). The dough should be soft and shiny. It should not be sticky. Transfer to a lightly oiled bowl and cover it with plastic wrap. Refrigerate overnight.
Let the dough warm up for 2 hours at room temperture. Punch down the dough and roll it out on a floured surface into a rectangle that is a ¼ inch thick.
Sprinkle the chocolate chips over the surface and point the chips downward. (This takes some extra work but makes it easier to spread the almond cream) Spread the almond cream evenly over the entire surface.
Slowly roll the dough into a cylinder starting from one of the longer edges. Bring the ends of the cylinder together into a wreath shape and pinch the ends together to form a tight seam.
Transfer the dough to a parchment covered sheet pan. Using kitchen scissors, make cuts at 2 inch intervals about 2.3 of the way in all the way around the wreath.
Mist the surface with oil spray and cover with plastic wrap. Allow it to proof at room temperature for 2 hours. Bake at 350°F for 25-30 minutes rotating the pan midway through. The bread is done when it has turned a dark brown color and the internal temperature of the bread is 190°F.
Transfer to a cooling rack. Brush melted butter over the surface of the bread and dust with a generous amount of confectioners sugar.
For the almond cream:
Cream the butter, sugar and almond flour until light and fluffy. Add the egg and mix until incorporated. Mix in the corn starch.
Nutrition Information:
Yield:

15
Serving Size:

1 slice
Amount Per Serving:
Calories:

367
Total Fat:

20g
Saturated Fat:

9g
Trans Fat:

0g
Unsaturated Fat:

10g
Cholesterol:

65mg
Sodium:

183mg
Carbohydrates:

40g
Fiber:

4g
Sugar:

14g
Protein:

8g
This nutrition information is only an approximate provided for convenience and as a courtesy only. Information comes from Nutritionix, an automated nutrition calculator.
SaveSave