This pear frangipane tart is a classic French pastry filled with frangipane (almond cream) and poached pears. It's a delicious flavor combination perfect for anytime.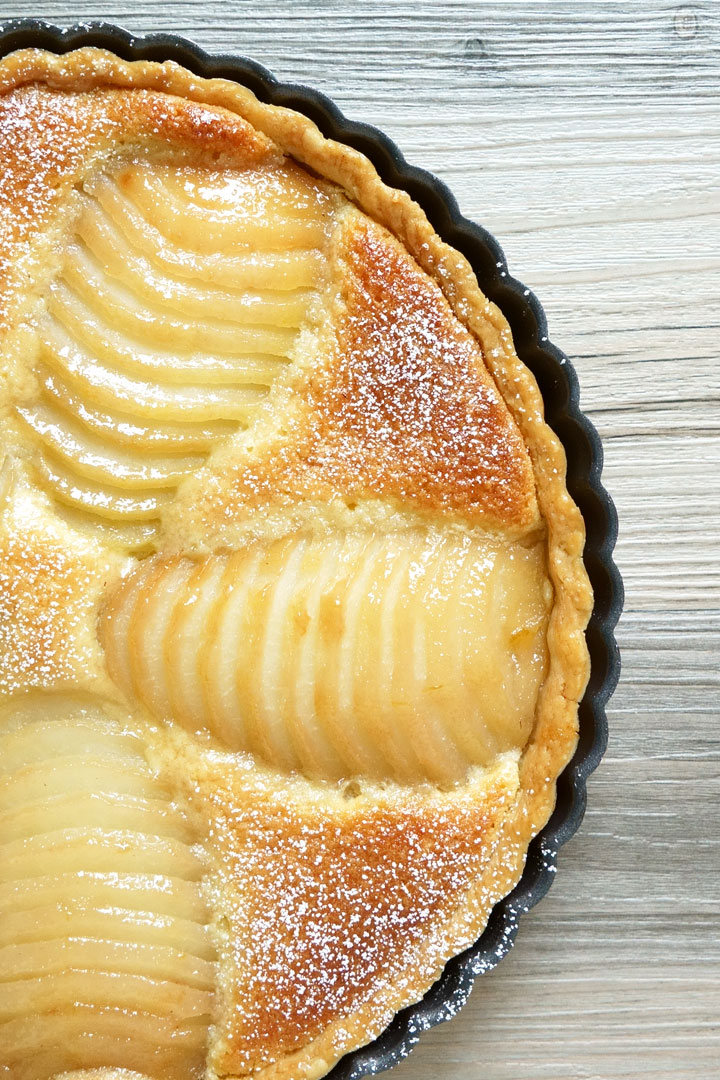 A pear frangipane tart is also sometimes referred to as a pear and almond cream tart or Tart Bourdaloue. It's a classic French recipe found in many cookbooks. Almond lovers will absolutely love the delicate sweet filling.
The Tart Dough
For this tart, I used a store bought dough which is perfectly fine but you can use your own favorite tart dough recipe or try my flaky pie crust recipe.
I thought the store bought dough was not quite sweet enough so next time I would try a sweet tart dough.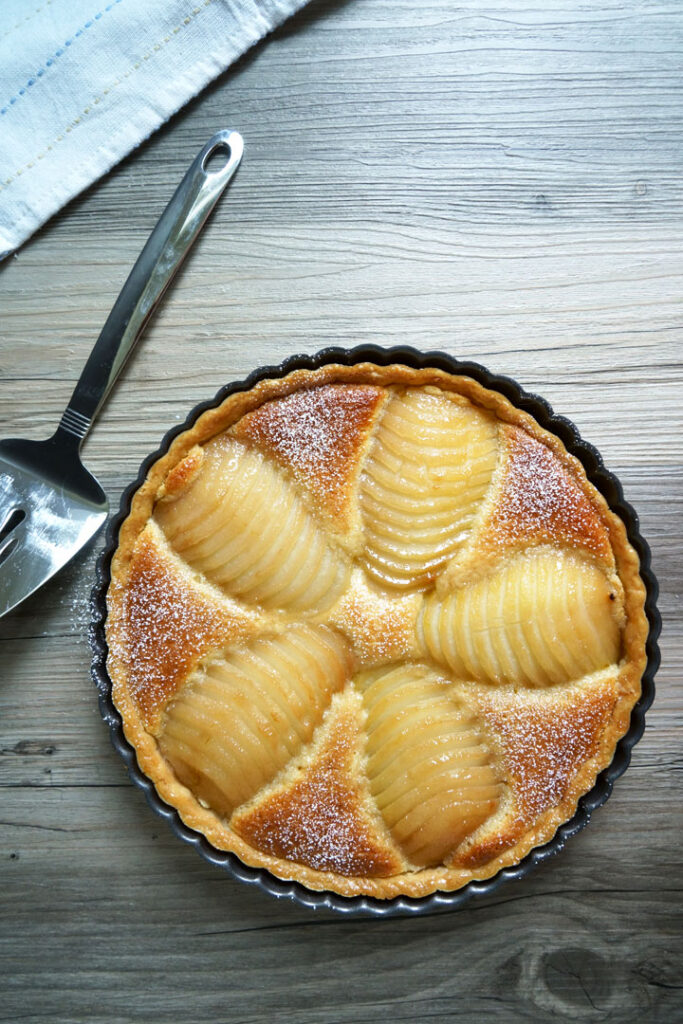 The Frangipane Filling
If you are new to frangipane, you are sure to be in for a treat! It's one of my favorite tart fillings and is super easy to make! All you need is almond flour, butter, sugar, eggs and flour.
Follow my simple frangipane recipe and you are good to go to make a variety of tarts. You can also make frangipane up to a week in advance!
Be aware though that this frangipane recipe makes 2 cups but you only need 1 cup for this recipe. You can always freeze the extra.
The reason I made extra is because it's much easier to mix a double volume in an electric stand mixer. If you want to make half, you can by hand mixing but be sure to use butter that is soft or almost melted.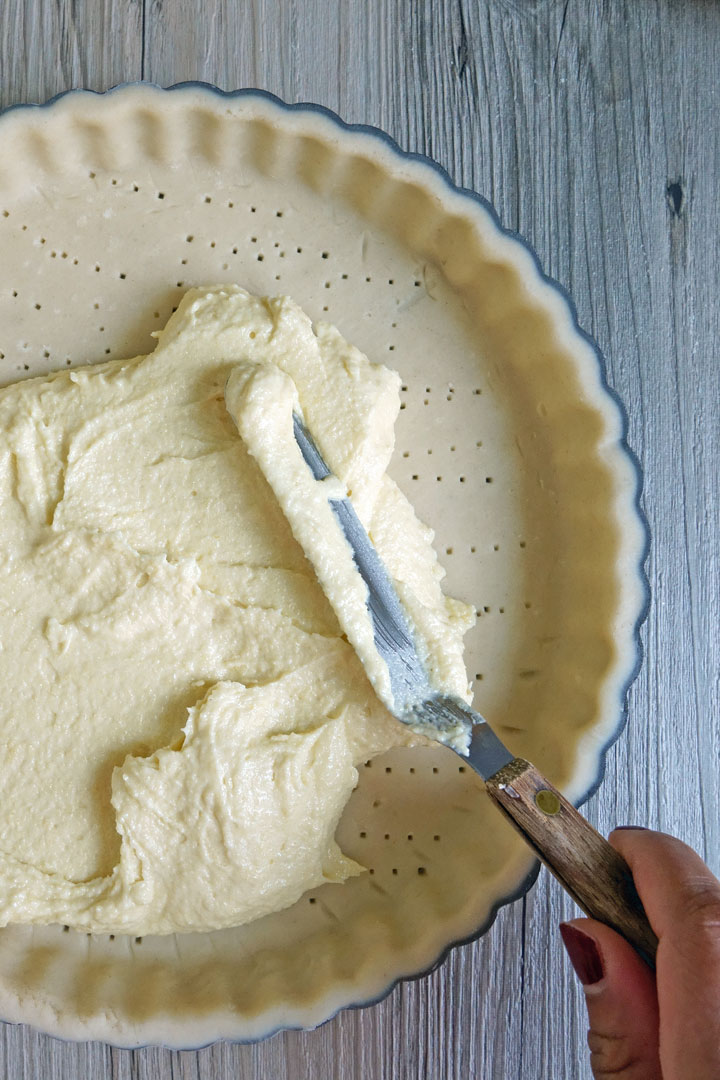 How to Prepare and Poach Your Pears
I recommend Anjou or Bartlett pears. They have the best shape for these tarts and are easy to find. Make sure they are firm and ripe but not over ripe. Peel, cut in half and remove the core.
You can poach your pears in wine or use water as I have done in the recipe below. Just be sure not to over poach them as you don't want to end up with mushy pears.
Pears can be poached ahead of time and stored in the poaching liquid in the refrigerator.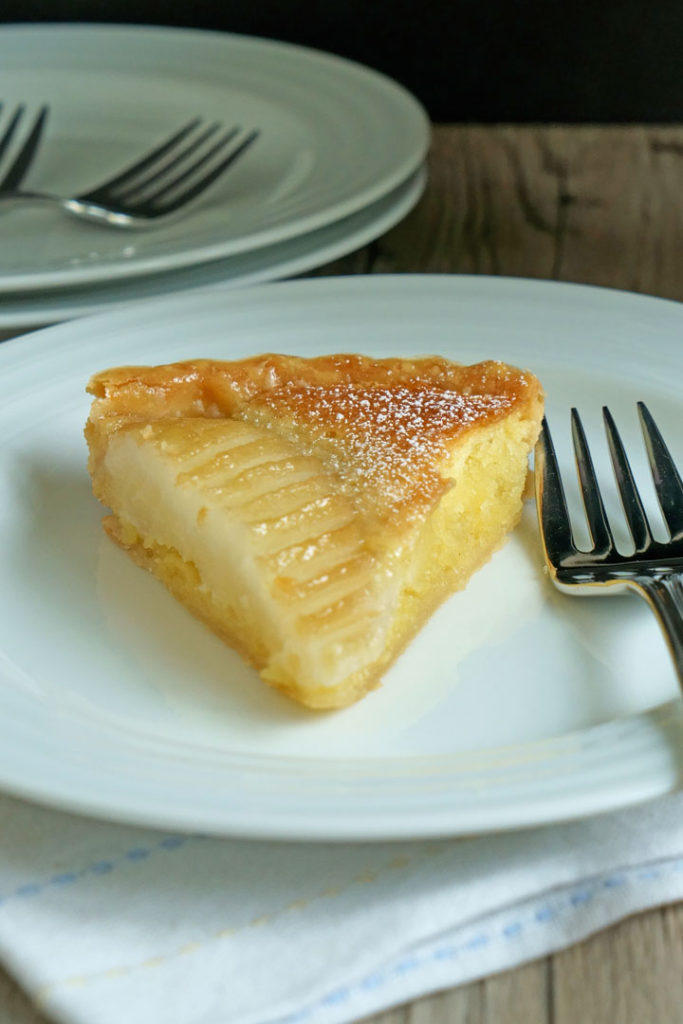 When slicing your poached pears, keep the pear slices together. If you give the sliced pear a slight push with your fingers they will fan out a little.
Do this first, and then lift the entire sliced pear half with a spatula onto the tart. Arrange the pears as shown below.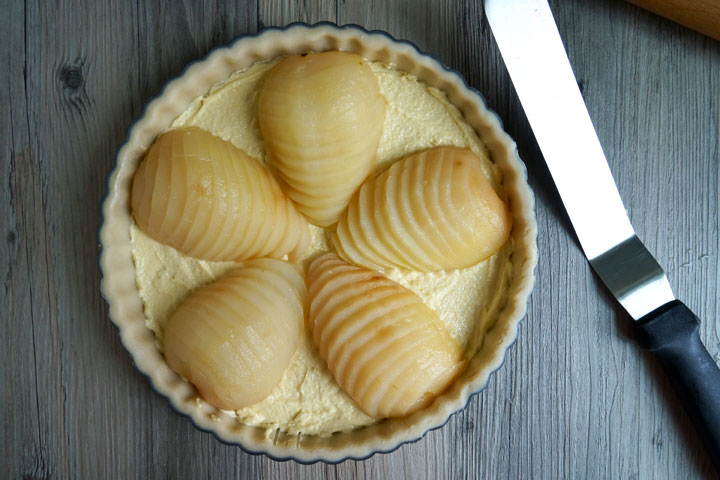 Finishing and Serving the Pear Tart
To give the tart a nice finish, I recommend applying a tart glaze while the tart is still cooling. This gives it a nice sheen and also preserves the tart a little. You can also give it a slight dusting of powdered sugar.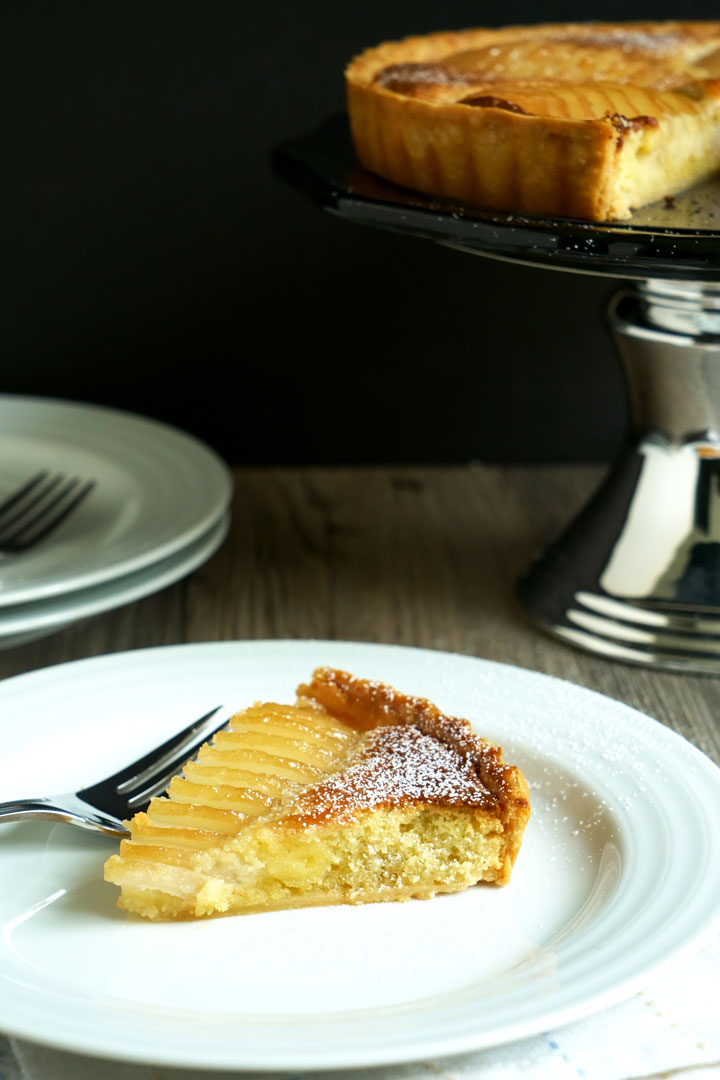 Finally, be sure to slice and serve the tart in a way that allows some fruit and some filling in each serving. I've cut mine through the pear so that my slice has half pear and half filling in the serving.
Enjoy! You may also like my pineapple frangipane tart or my cherry almond cream tart.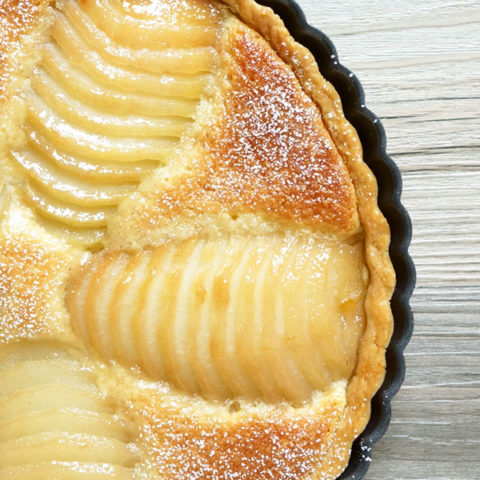 Pear Frangipane Tart
Total Time:
1 hour
25 minutes
Pear Frangipane tarts are a classic French pastry filled with frangipane (almond cream) and poached pears. It's a delicious flavor combination perfect for anytime.
Ingredients
Poaching Pears
2 ½ pears
1 quart water
1 cup sugar
Frangipane Filling
½ cup almond flour
½ cup plus 2 TBS sugar
½ cup unsalted butter, cubed and room temperature
2 eggs
2 Tablespoons flour
For the crust
Instructions
Roll out the pie crust and line it in a 9 or 10 inch tart pan. Place it in the refrigerator to chill.
Peel, core and slice the pears in half.
In a large sauce pot, heat the water and sugar until dissolved. Slide the pear halves into the water.
Bring the water to a gentle boil and let it simmer for 20-25 minutes or until the pears are soft.
Remove the pears from the liquid and let them cool.
Add the almond flour, sugar and butter to a bowl of an electric mixer with a paddle attachment. Mix until light and fluffy. Scrape down the bowl.
Add the eggs, one at a time, until fully incorporated. Scrape down the bowl.
Add the flour and mix until just combined.
Poke the bottom of the tart shell with a fork all over to prevent the crust from bubbling up.
Spread 1 cup of the frangipane in the bottom of the crust.
Slice the pears into ¼ inch slices across each half. Fan out the slices by giving the cut pear a slight push with your fingers.
Use a spatula to transfer each sliced pear half to to your tart in a circular pattern.
Bake the tart at 350F for 35-40 minutes or until the crust and pear are browned and the frangipane is set.
Notes
The recipe makes extra frangipane. You can store the extra in the refrigerator for up to one week or freeze it.
Nutrition Information:
Yield:

10
Serving Size:

1
Amount Per Serving:
Calories:

325
Total Fat:

17g
Saturated Fat:

8g
Trans Fat:

0g
Unsaturated Fat:

9g
Cholesterol:

62mg
Sodium:

92mg
Carbohydrates:

40g
Fiber:

3g
Sugar:

28g
Protein:

4g
This nutrition information is only an approximate provided for convenience and as a courtesy only. Information comes from Nutritionix, an automated nutrition calculator.