Get a flaky homemade pie crust buy following this recipe and some simple tips.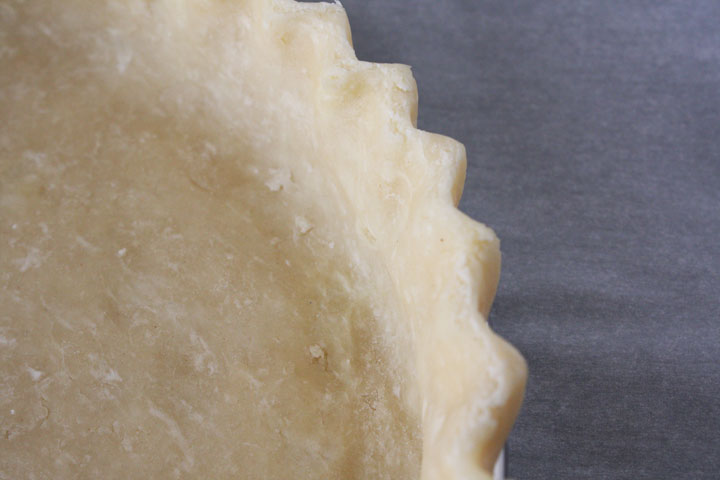 Ok. I'm going to warn you right now. This post is going to be a little "sciency". There's no way around it though. Getting a flaky homemade pie crust is not about using the exact measurements in a recipe. It's all about the process and understanding the way the molecules of your ingredients interact with each other. I'll try to keep it as simple as possible.
It's all about the gluten (the proteins in your flour) and butter (the source of your fat molecules). Let me explain the gluten first. Gluten molecules binding together is what holds your dough together, but you don't want them bound so tightly that your pie crust is as tough as a cracker. So here's the low down on what strengthens gluten bonds...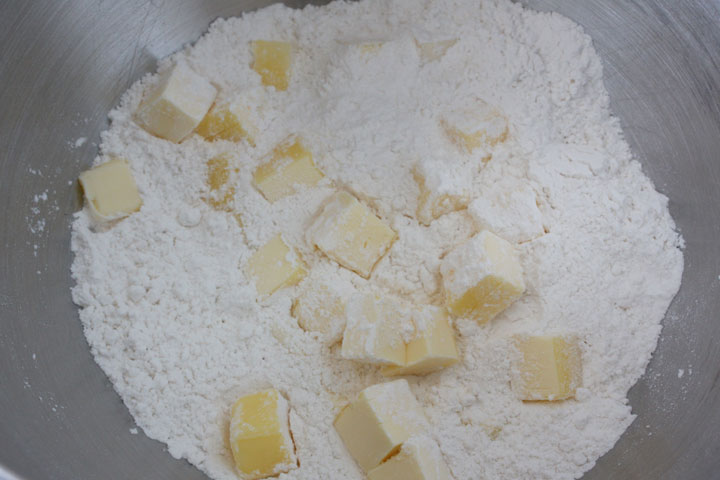 Having lots of gluten to begin with...
Use cake flour for your homemade pie crust. It has the lowest protein content.
Water... activates gluten binding process... so use the minimal amount necessary.
Stirring/Kneading...activates the bonding reactions... so knead minimally.
Salt...attracts gluten molecules to each other...so use only a pinch for taste.
Following the above guidelines will keep your crust more on the crumbly side but this does not really explain the flakes of a good pie crust. Here's where the butter comes into play. Fats and proteins do not interact. So when chunks of butter are sandwiched between dough and melt in during baking, it creates stream which creates a pocket where the chunk was sitting and dough was unable to bind to itself. Those pockets are your flakes! So here's what you need to keep in mind about your butter...
Temperature...
if the butter melts before getting into the oven then there will be no steam and therefore no flakes. So keep that butter as cold as possible before going into the oven!
Size...
If the butter pieces are too big they will create a hole in your crust upon melting in the oven, instead of a pocket of air. If it's too small, you will not even notice any flakes.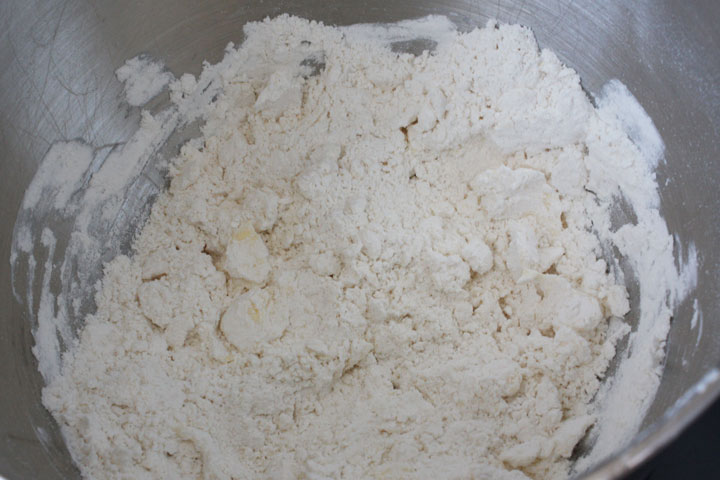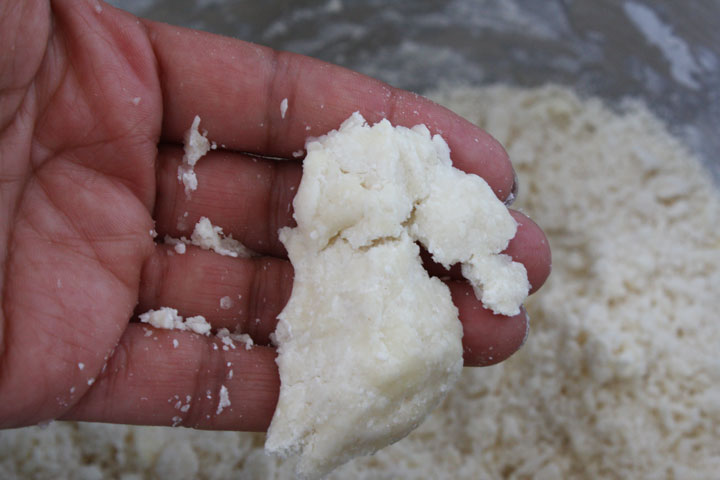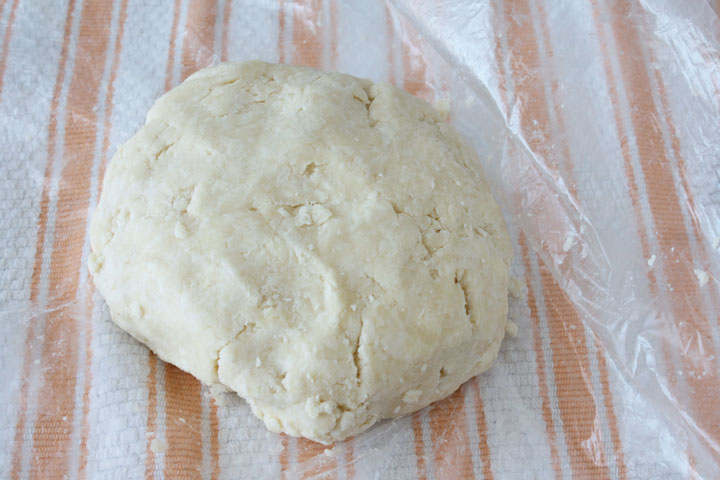 That being said, here's my recipe for simple homemade pie crust or tart. Now, I'm no pie making professional so I am not claiming that this is the flakiest recipe out there. I'm sure that a recipe that uses shortening will likely be more flaky. However, if you keep in mind the above guidelines, this homemade pie crust will be flaky.
This crust recipe can be used for sweet or savory pies and tarts. If you are looking for a sweet dough for a dessert, I recommend my sweet tart dough recipe. It's more tender and crumbly than flaky but it's perfect for fruit tarts and other types of tarts where you want a sweeter crust.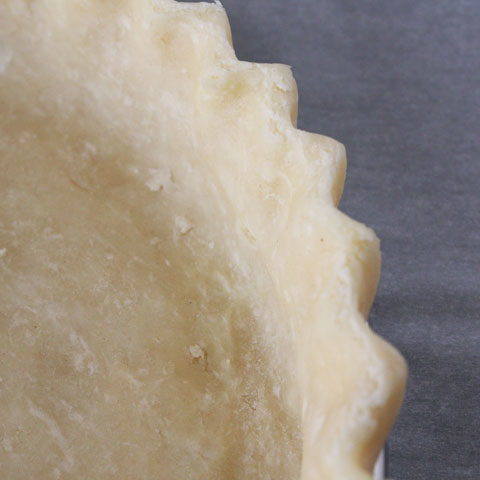 Pie Crust Recipe
Get a flaky pie crust by following this recipe and some simple tips.
Ingredients
1 ⅔ cup cake flour
½ cup unsalted butter, cubed into ½ inch pieces, and chilled
½ teaspoon salt
½ teaspoon sugar
ice cold water, prepare a little over ¼ cup...only you will be able to judge how much is actually needed
Instructions
Mix the flour, salt and sugar together on slow speed with a paddle attachment. Add the chilled butter cubes and paddle it on low speed until the butter is the size of peas. Don't worry if you see one or two larger pieces. You can break them by hand later if they are still there. The point is, you do not want to over mix or make the butter too small.
Next, add the ice water a tablespoon at a time while mixing. You want the dough to be wet but not formed itself into a ball. Remove the mixture onto the tabletop and check the texture by hand. The crumbly mixture should form clumps when you press some of it with your hand. If I think it is too dry, I sprinkle my hands with cold water and work the dough. This way I don't accidentally add too much moisture. Do not knead it too much, just enough to be able to wrap up the dough in plastic. You will see streaks and spots of butter. This is good!
Chill the dough for at least an hour or overnight. Longer is better as this allows the gluten to relax and butter to firm up. Once you have rolled out your dough for your recipe, be sure to chill it again. Your crust should always go straight from refrigerator to oven for best results.
Nutrition Information:
Yield:

8
Serving Size:

1 slice
Amount Per Serving:
Calories:

196
Saturated Fat:

7g
Cholesterol:

30mg
Sodium:

147mg
Carbohydrates:

19g
Protein:

3g
SaveSave