This crustless pumpkin pie will dazzle your guests. Find out how to elegantly plate your pumpkin pie.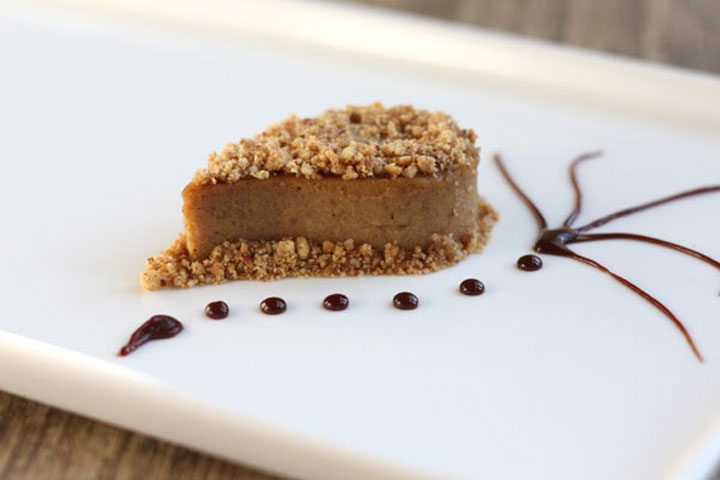 I know it's really easy to buy canned pumpkin and I've heard that it tastes just as good or even better than fresh pumpkin. The trouble of making your own puree might not be worth it.
Those little sugar pumpkins are just so cute though and I wanted to see for myself. My mini bourbon pumpkin cheesecakes are my go-to pumpkin dessert but I wanted to try something new.
Ok, so I did not come up with anything creative and it was time for those pumpkins to get cooked. So I ended up making pumpkin pie with a little bit of a shortcut. I made a crustless pumpkin pie! I whipped up the pumpkin pie filling and baked it straight into a spring form pan.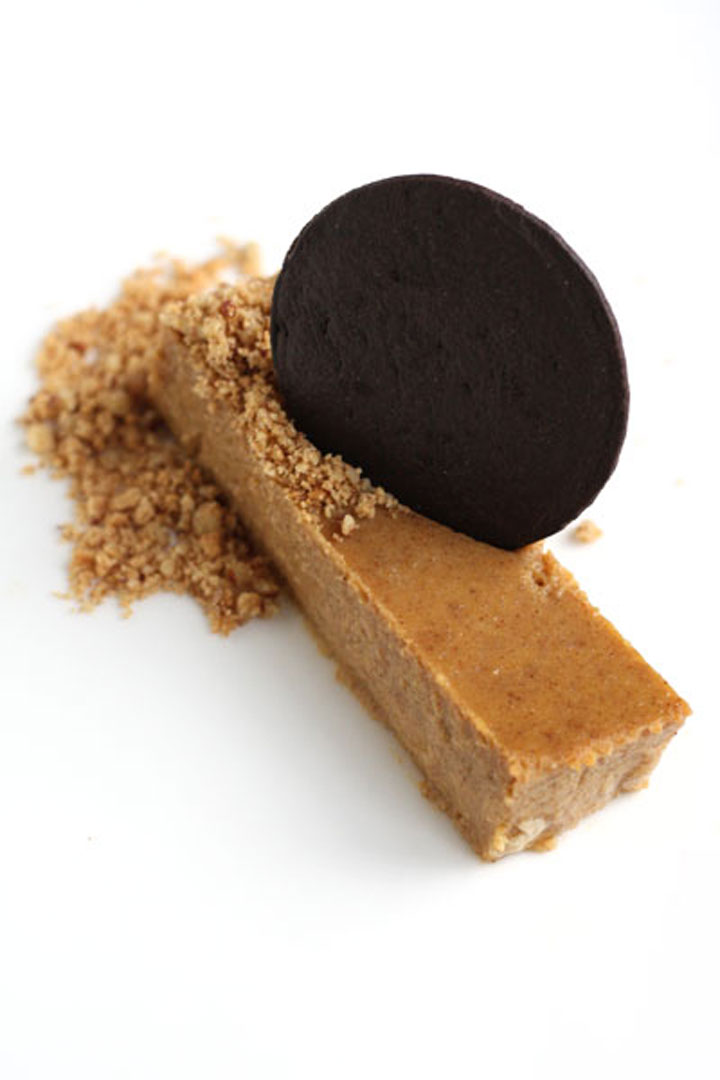 This Thanksgiving, present your pumpkin pie with some elegance. I promise it's not that hard. The photos show two examples of pumpkin pie plates that I did with a paisley cutter and very little effort. (The second one is just into rectangle with a knife.) I've explained the process in the last part of the recipe below.
How To Plate Crustless Pumpkin Pie
Cookie cutters are useful for making more than just cookies. You can use them to shape other desserts too and create more elegant presentations. Even something soft like pumpkin pie can be cut to a pretty shape as long as the shape is simple and your pie is chilled.
Of course, no matter how pretty the shape, you still need some texture to make up for a lack of crust. Crushed up graham crackers mixed with crushed pecans (or candied pecans) made a perfect addition to my plate.
So there you go. No crust works out just fine. No dough, no rolling, no trying to get that fluted edge just right. I like this presentation much better than placing a triangle slice on a plate.

You can take it a step further and drizzle it with salted caramel sauce or a chocolate sauce. Garnish with cranberries for color or chocolate wafers. How about a scoop of vanilla ice cream on the plate? Possibilities are endless.
I've provided the crustless pumpkin pie recipe I used for the pie in case you want to use fresh pumpkin but feel free to use your own favorite recipe with these plating tips. The pumpkins I bought were part of a pie baking kit from Pumpkin Patch Pals and came with a recipe and spice mixture. I only omitted the pie shell from the ingredients. If I were to make this again, I might experiment with adding a tad more sugar and add my own pumpkin spice mixture.
Oh and by the way- wondering if I thought fresh pumpkin made a difference in taste? Not really.
For more pumpkin recipes, you may also like...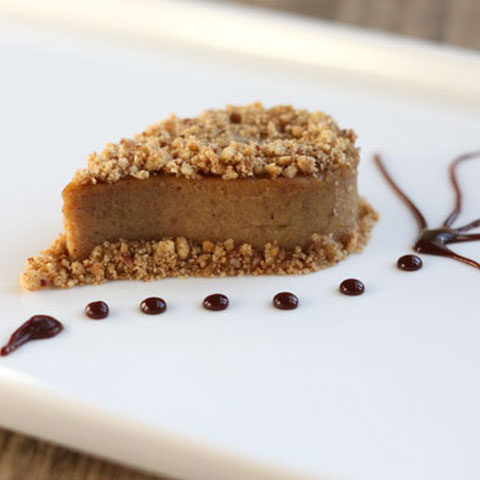 Crustless Pumpkin Pie Recipe
Total Time:
2 hours
15 minutes
This no crust plated pumpkin pie will dazzle your guests. It's elegant and easy to do.
Ingredients
2 pie pumpkins
3 large eggs
1 cup sugar
pinch of sea salt
1 12 ounces evaporated milk
2 teaspoons of pumpkin pie spice
Instructions
Preheat the oven to 375°F. Wash the pumpkins and make 2-3 small slits in each with a knife. Bake on a baking sheet for 40-45 minutes.
After cooling, remove stems, halve the pumpkins, scoop out the seeds and discard. Scoop out the pumpkin meat into a bowl. Mash the puree. Use immediately or store for 2-3 days in the refrigerator.
Preheat the oven to 425°F. Butter and line a 9 inch spring form pan bottom with parchment paper. *Cover the outside of the pan with aluminum foil.
Blend together 2 cups of the pumpkin puree, sugar, salt, eggs, spice mix, and evaporated milk. Pour the batter into the pan and place the whole pan into a larger pan with an inch of water.
Bake for 15 minutes and reduce the temperature to 350°F and bake an additional 40-50 minutes or until knife inserted in the center comes out clean. Let it cool completely and refrigerate for 1 hour.
Carefully remove the side of the spring form pan. Starting at the edge of the pie, place your cookie cutter into the pie. Use a spatula to lift the pie (with the cutter still around it) off the pan. Carefully, push your shaped pie out of the cutter and onto your serving plate. Garnish, decorate, and serve.
Notes
Cooking times listed are for canned pumpkin. If you make your own puree, add an additional 40minutes. 
The springform pan was placed in a larger tray with about an inch of water (the water bath) while in the oven. Too make sure that water does not seep into the pan, it was covered with aluminum foil. For extra protection, I also surrounded the entire aluminum covered pan with plastic by placing it inside an open plastic oven bag.
Nutrition Information:
Yield:

8
Serving Size:

1 slice
Amount Per Serving:
Calories:

205
Saturated Fat:

2g
Cholesterol:

74mg
Sodium:

75mg
Carbohydrates:

35g
Fiber:

1g
Sugar:

31g
Protein:

5g
SaveSaveSaveSaveSaveSaveSaveSave