These butterscotch pumpkin cake bars will be your new fall favorite. The cake is soft, moist and filled with pumpkin spice, butterscotch chips and chocolate!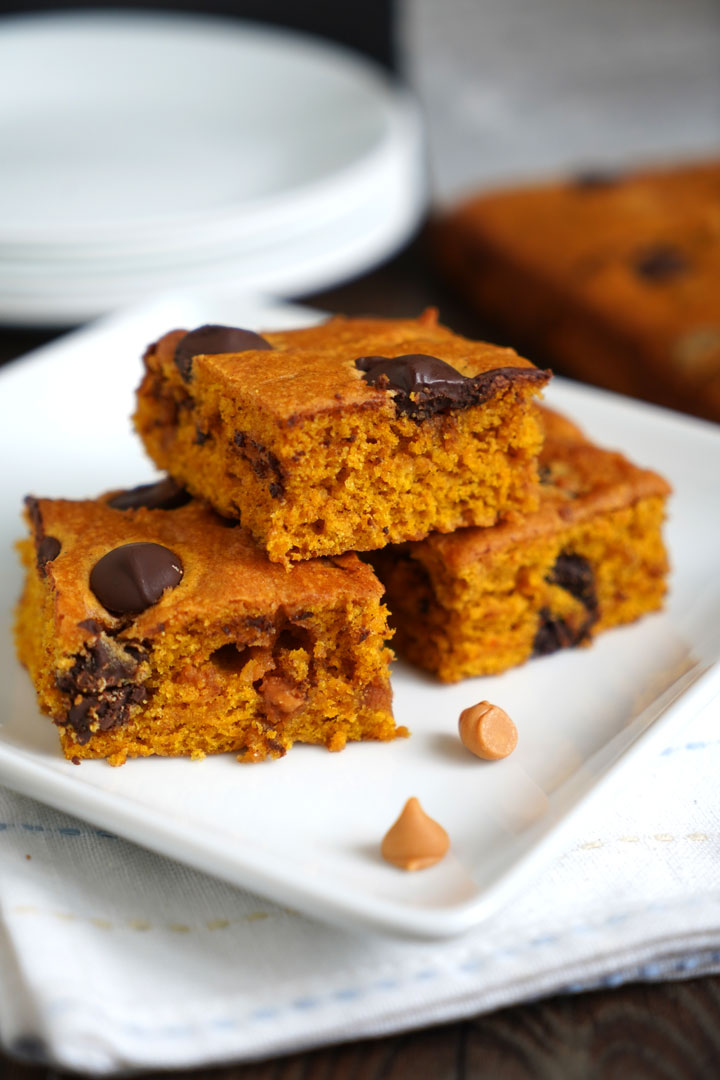 I'll be honest, I wasn't trying to make these butterscotch pumpkin cake bars. I was actually going for more of a butterscotch pumpkin blondie. The problem with pumpkin though is that it holds so much moisture. So, despite only adding 1 egg to this recipe, the moisture from the pumpkin was enough to create a soft fluffy cake.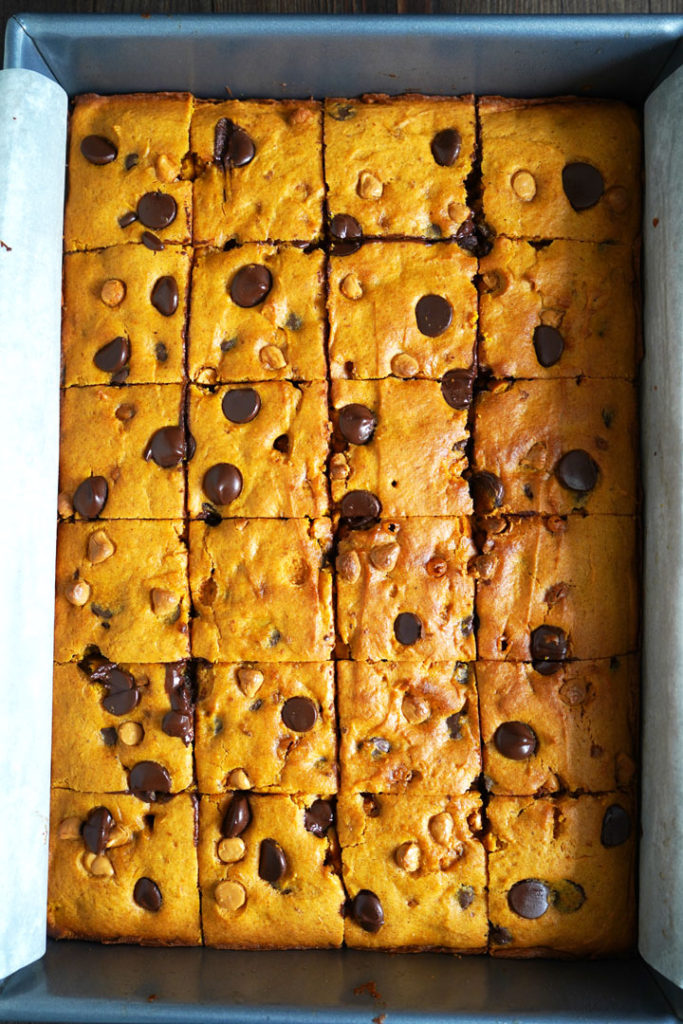 I did the research and no matter how many recipes I read, their reviews always had comments on the recipe being "cakier" than expected. I've concluded that this is inevitable with pumpkin. Even pumpkin cookies are hard to make crispy or chewy.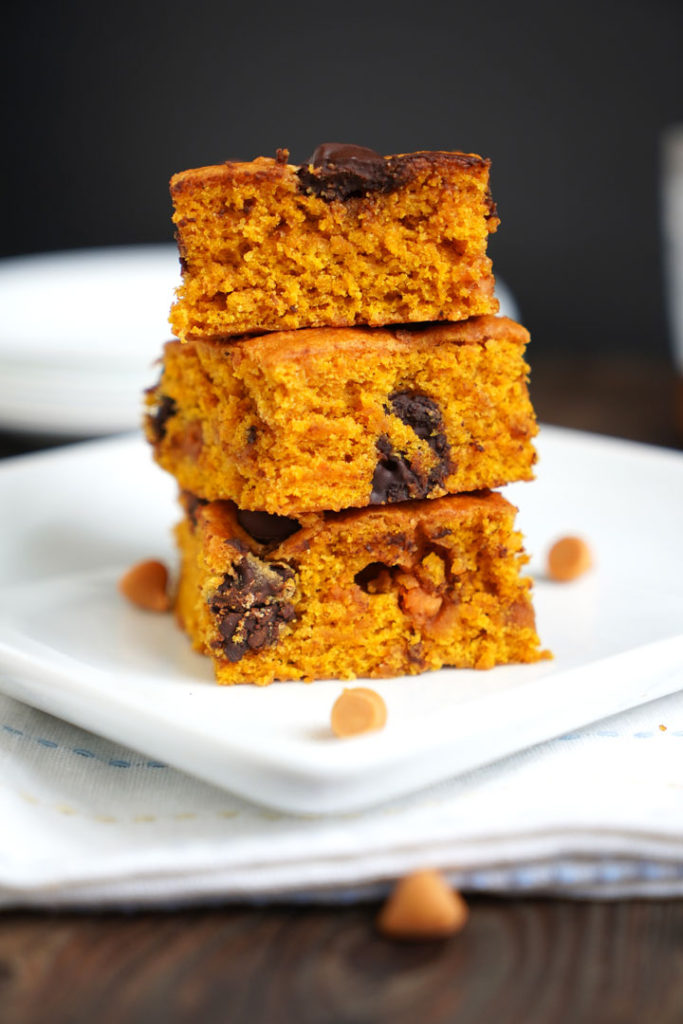 That being said, if you are looking for a chewy or less cake-y pumpkin bar then you should probably move on to your next search result. On the other hand, if you just want a deliciously flavorful pumpkin spice treat, then you've come to the right place.
I've got you covered with these cake bars and if that's not enough you can always try out my mini pumpkin cheesecakes or if you are an Instant Pot fan, my six inch pumpkin cheesecake is for you. If you love breakfast food you can always try these pumpkin spiced whole grain pancakes.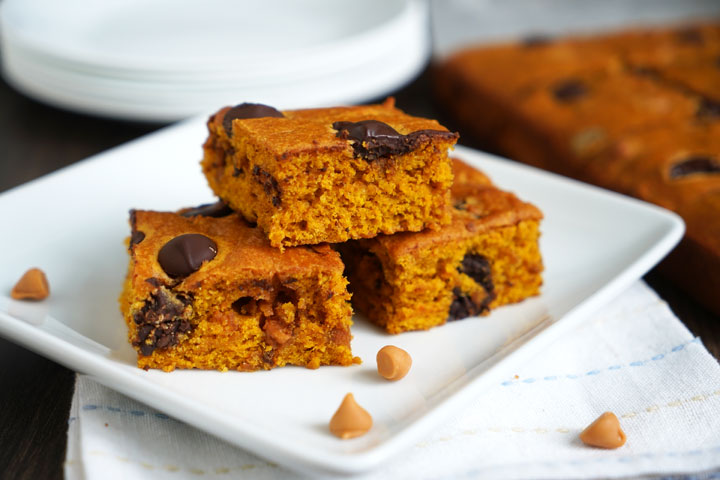 Tips for Making Butterscotch Pumpkin Cake Bars
Many recipes are advertised as "one bowl" recipes to make your life easier. You can easily make this recipe in one bowl by mixing the wet ingredients first and placing the dry ingredients in the bowl last. My personal preference though is to use two bowls. This way I'm sure that the salt, spices and baking powder get evenly incorporated without accidentally over mixing the batter.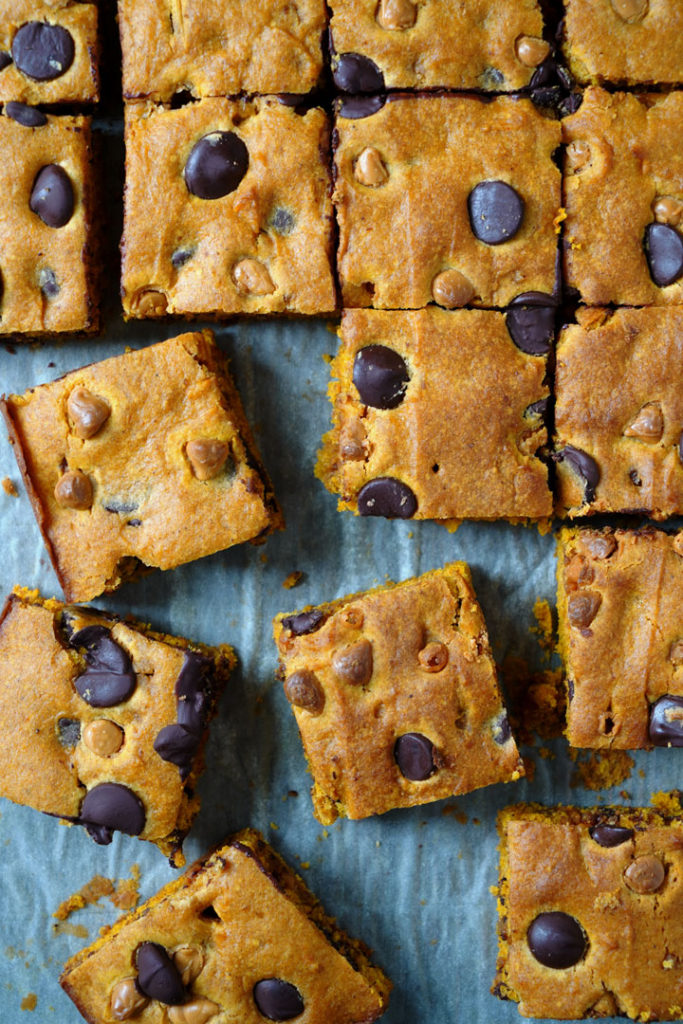 If you don't have pumpkin pie spice on hand, you can easily substitute the 1 Tablespoon of pumpkin pie spice for 2 teaspoons cinnamon, ¼ teaspoon ground ginger, ¼ teaspoon ground nutmeg, a pinch of clove and a pinch of all spice.
Better yet, if you think you will be making more pumpkin goodies soon, head on over to my recipe for making your own big batch of pumpkin pie spice.
You don't have to add chocolate chips but I think it works well. You can also use more butterscotch chips or even white chocolate chips.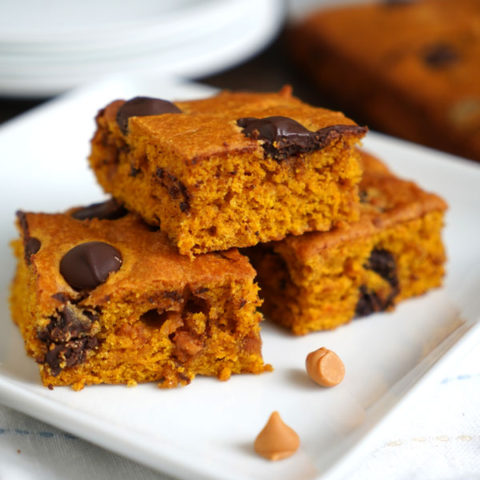 Butterscotch Pumpkin Cake Bars
These butterscotch pumpkin cake bars will be your new fall snack favorite. The cake is soft, moist and filled with pumpkin spice, butterscotch chips and chocolate!  
Ingredients
2 cups all purpose flour
1 teaspoon baking powder
½ teaspoon salt
1 Tablespoon pumpkin pie spice
¾ cup unsalted butter, melted and cooled
1 cup light brown sugar
¾ cup granulated sugar
1 egg
1 cup canned pumpkin
1 teaspoon vanilla extract
½ cup chocolate chips
½ cup butterscotch chips
Instructions
Set the oven temperature to 350F with a rack in the middle position. Prepare a 9x13 baking pan with either parchment paper or aluminum foil. Brush the bottom and sides of the pan with butter and then lay down the parchment paper so that there is an overhang on two sides. Brush the top of the parchment paper with butter.
In a small bowl, sift or whisk together the flour, baking soda, salt and pumpkin pie spice and set aside.
In a large bowl, combine the butter, brown sugar and granulated sugar. Whisk together until incorporated.
Add the egg, pumpkin and vanilla extract and whisk
until combined.
Add the dry ingredients to the wet ingredients and mix with a spatula until well combined.
Stir in the butterscotch and chocolate chips.
Spread the mixture evenly into the bottom of the baking pan.
Bake for 20-25 minutes or until golden brown and a toothpick inserted into the center comes out clean.
Cool completely in pan on a wire rack.
Run a plastic knife between the pan and the cake on the sides with no parchment to detach any stuck parts.
Using the two parchment overhangs, gently lift the cake onto a large cutting board. Using a clean knife, cut the cake into desired sized square pieces.
Nutrition Information:
Yield:

24
Serving Size:

1 bar
Amount Per Serving:
Calories:

186
Total Fat:

8g
Saturated Fat:

5g
Trans Fat:

0g
Unsaturated Fat:

3g
Cholesterol:

23mg
Sodium:

75mg
Carbohydrates:

27g
Fiber:

1g
Sugar:

18g
Protein:

2g
This nutrition information is only an approximate provided for convenience and as a courtesy only. Information comes from Nutritionix, an automated nutrition calculator.