This pumpkin cheesecake is bursting with flavor. Its small size makes it the perfect end to a small family dinner. Plus, it's made with an Instant Pot! This six inch cake is part of my collection of small cake recipes.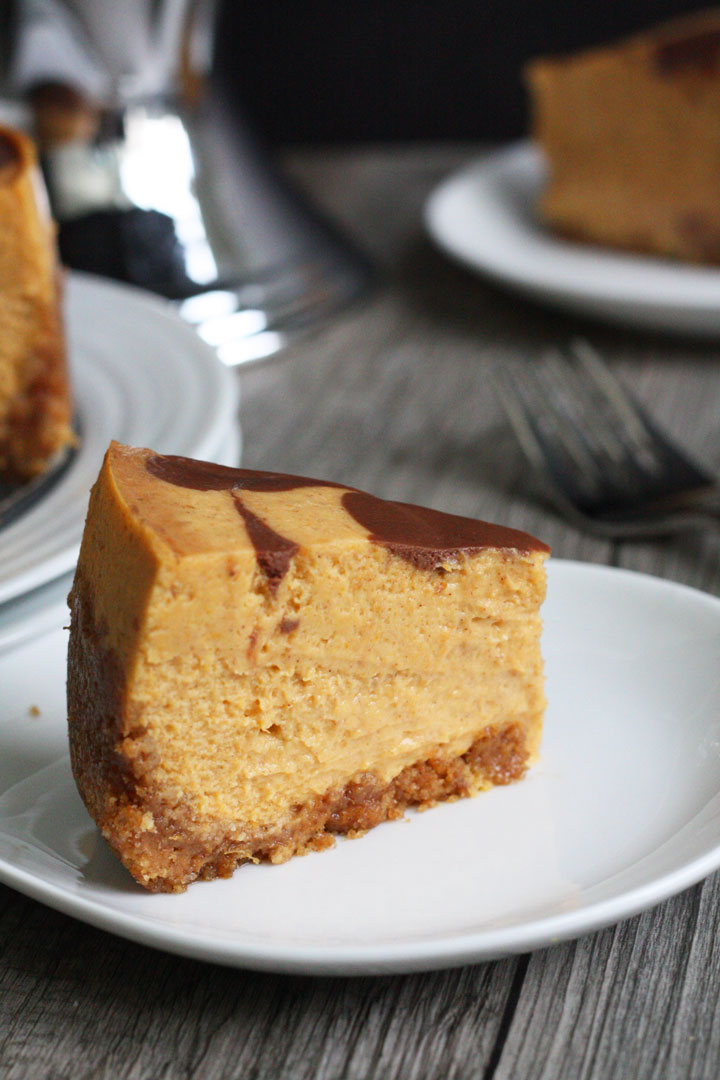 A while back I posted some results and tips on Instant Pot cheesecakes after testing out some recipes from two trustworthy bloggers. As expected, they turned out flawless and I told myself I would have to revisit with some of my own cheesecake recipes. Well, the season is calling for an Instant Pot pumpkin cheesecake! (Plus, I got carried away at the market and bought one too many cans of pumpkin puree)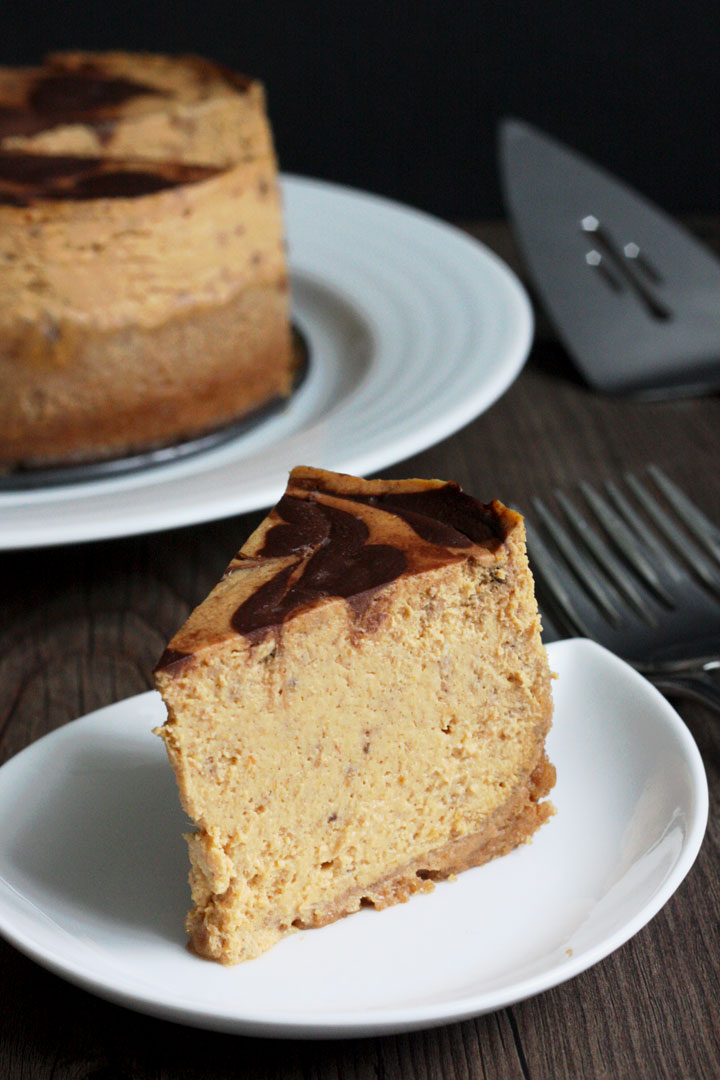 The first time I tried to make pumpkin cheesecake, the taste was totally off. It wasn't sweet enough and it had a sour taste to it. My theory to the sour taste is that I used reduced fat cream cheese (⅓ fat Neufchatel cheese). Maybe it's just me, but this cream cheese seems to have a slightly sourer taste. If you are choosing, I'd go with the full fat on this one.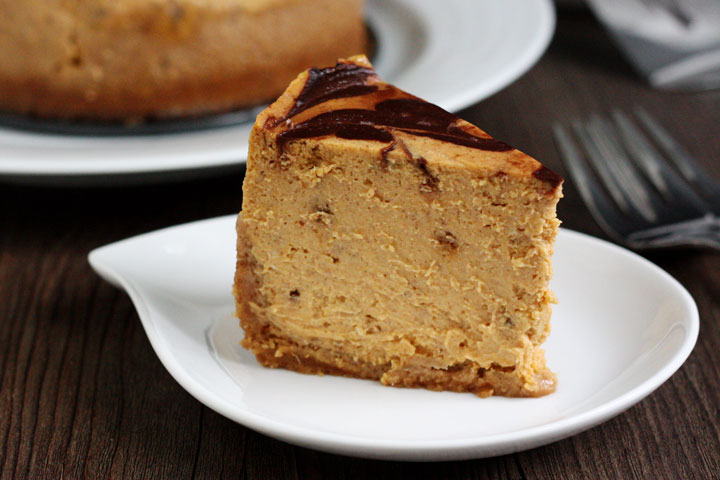 So the second time I made it, I changed a few things. First, I went with full fat cream cheese. Second, I opted for cinnamon graham cracker crust. This made the crust much more flavorful. Honey graham crackers are fine too but I would add a dash of ground cinnamon to it. Alternatively, you can try adding teaspoon of pumpkin pie spice to the crust. Finally, I added an extra ¼ cup of sugar to the batter. The result? One darn good tasting Instant Pot pumpkin cheesecake!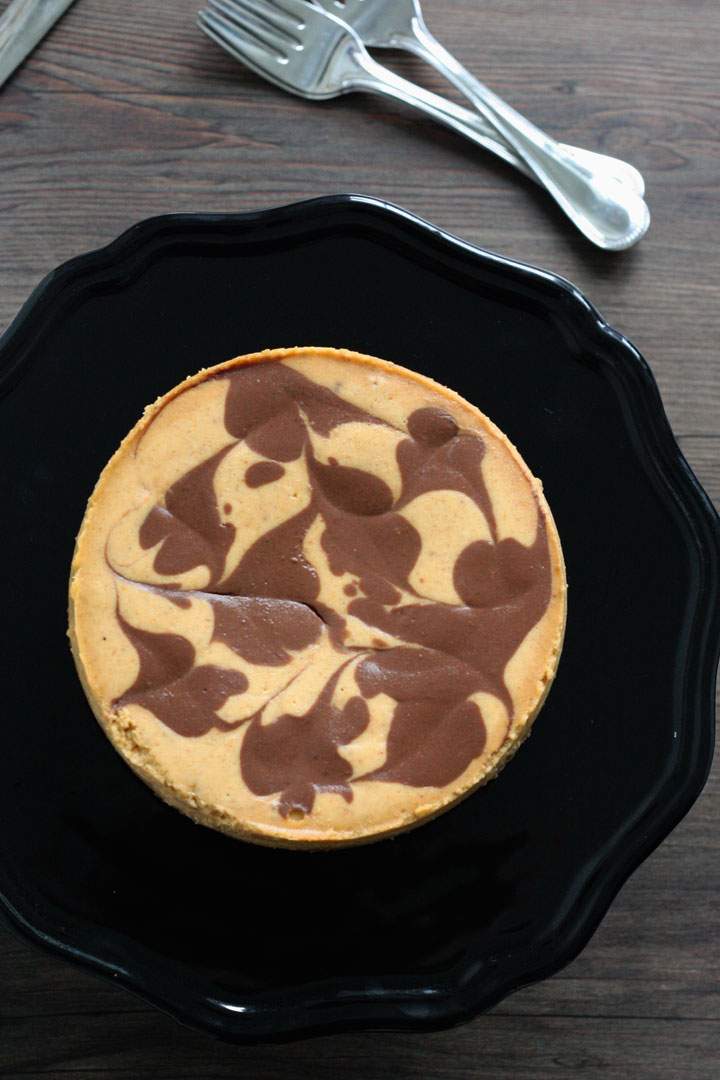 Should your cheesecake crack, you can easily fix it by following my method for fixing a cracked cheesecake. As you can see, there was a slight crack above, but because I used the chocolate swirl, I let it be.
Tips for Making Chocolate Swirl Pattern
We are not fans of whipped cream toppings, so I decorated my pumpkin cheesecake by adding a chocolate marble design. You don't have to do this but don't NOT do it because you are afraid. It's a lot easier than you think.
The trick to getting pretty swirls is to not to drag your skewer through it so many times. Go through each drop of chocolate once one way without lifting your skewer. (So, you should be drawing a circle with your skewer.) Then, without lifting the skewer cut though each drop again but this time going in and out of the circle you drew before. That's it!
BTW if you love mixing chocolate with your cheesecake, you will love my black bottom cupcakes!
Not ready to make it yet? Pin it now and save it for later!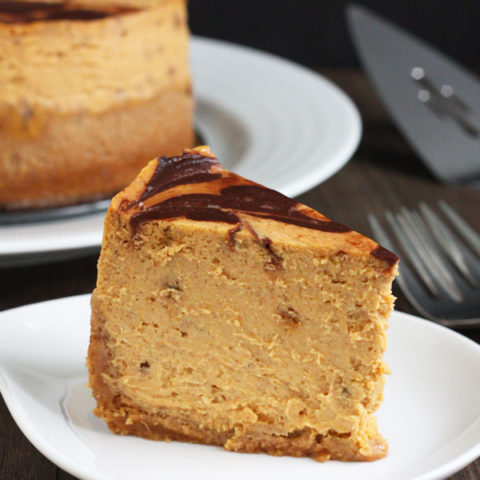 Instant Pot Pumpkin Cheesecake
Cook Time:
1 hour
45 minutes
Total Time:
2 hours
15 minutes
This pumpkin cheesecake is bursting with flavor. Its small size makes it the perfect end to a small family dinner. Plus, it's made with an Instant Pot!
Ingredients
For the crust
1 cup cinnamon graham cracker crumbs
2 Tablespoons sugar
3 Tablespoons unsalted butter, melted
For the filling
16 oz. cream cheese
¾ cup sugar
½ cup brown sugar
2 eggs
1 cup pumpkin puree
¼ cup heavy cream, divided
2 teaspoon vanilla
½ tablespoon pumpkin pie spice
1 Tablespoon flour
For the chocolate swirl design
¼ cup semi sweet chocolate chips
¼ cup heavy cream
Instructions
Prepare a 6 or 7 inch spring form pan by greasing it and covering the bottom with parchment paper.
In a small bowl mix together the graham cracker crumbs, sugar, and melted butter. Press the mixture into the bottom of the spring form pan and slightly up the sides. Place the pan in the freezer for 15 minutes.
Using an electric mixer with a paddle attachment, mix together the cream cheese, sugar and brown sugar on low speed until smooth.
Add the eggs, one at a time to the mixture and mix until incorporated.
Add the pumpkin, ¼ cup of cream, vanilla, pumpkin pie spice, and flour. Mix until just combined.
Place the chocolate chips in a small bowl. Heat the remaining heavy cream either on the stove or in the microwave until it just boils. Pour the hot cream over the chocolate and let it sit for 30 seconds.
Gently stir the cream until all the chocolate melts and you have a smooth mixture.
Add two tablespoons of pumpkin mixture to the chocolate mixture and mix until smooth.
Pour the pumpkin batter over the crust into the spring form pan. Smooth out the top with an offset spatula.
Drop small spoonfuls of chocolate batter in a circular pattern around the pan. Gently drag the skewer through the drops of batter to create a swirl pattern.
Add two cups of water to the instant pot and place the trivet that came with the pot inside. Place a paper towel over a sheet of foil cut to the same size as the paper towel. Place the pan on top of the paper towel and wrap the sides of the pan with the paper towel and foil. Cover the pan with a foil and lower it into your instant pot.
Close the lid with the pressure valve set on seal. Set it to manual 40 minutes. When its done allow it to naturally release for 15 minutes before doing a quick release and opening.
Cool completely and then transfer to the refrigerator to chill until ready to serve.
Notes
It only takes about 30 seconds for ¼ cup of cream to heat in the microwave. You do not have to do the chocolate swirl. It is just to give the top of the cheesecake a design. The chocolate does not go all the way through the cheesecake.
Nutrition Information:
Yield:

12
Serving Size:

1 slice
Amount Per Serving:
Calories:

348
Total Fat:

22g
Saturated Fat:

13g
Trans Fat:

0g
Unsaturated Fat:

7g
Cholesterol:

88mg
Sodium:

170mg
Carbohydrates:

35g
Fiber:

1g
Sugar:

28g
Protein:

5g
This nutrition information is only an approximate provided for convenience and as a courtesy only. Information comes from Nutritionix, an automated nutrition calculator.
SaveSave
SaveSave
SaveSave
SaveSave