These 4-ingredient peanut butter blossoms are super easy to make. They are perfect for cookie exchanges, holiday cookie trays, or bake sales.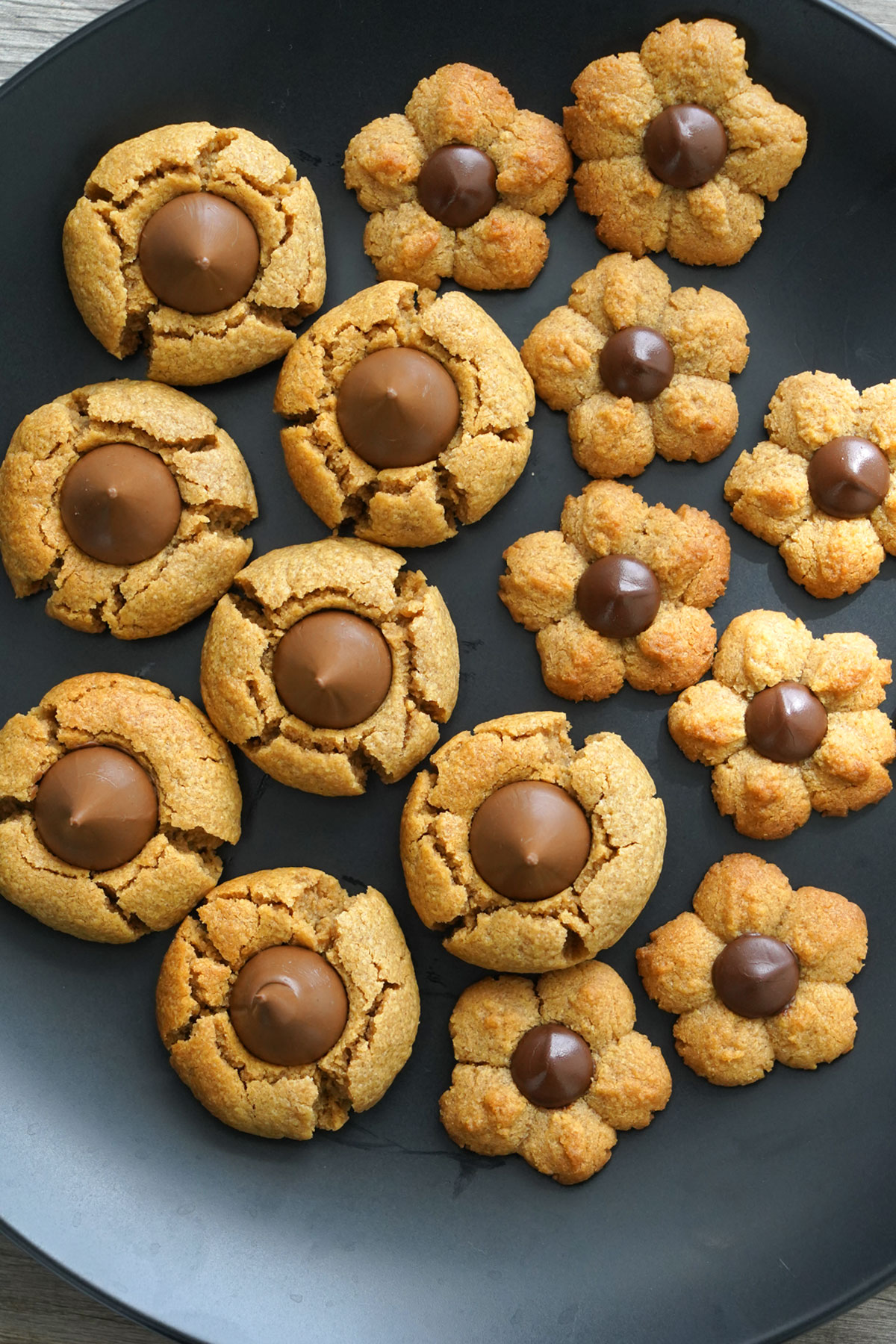 Why Make These Cookies?
These are really EASY peanut butter cookies. You only need 3 ingredients! Well, 4 if you count the chocolate kiss but you only have to use them if you're trying to make traditional peanut butter blossoms.
You can leave them plain or top it with something else, like a mini chocolate peanut butter cup or even a little bit of piped fudge frosting!
I've taken a short cut and removed a few ingredients from the classic peanut butter blossom recipe. Actually a lot of ingredients!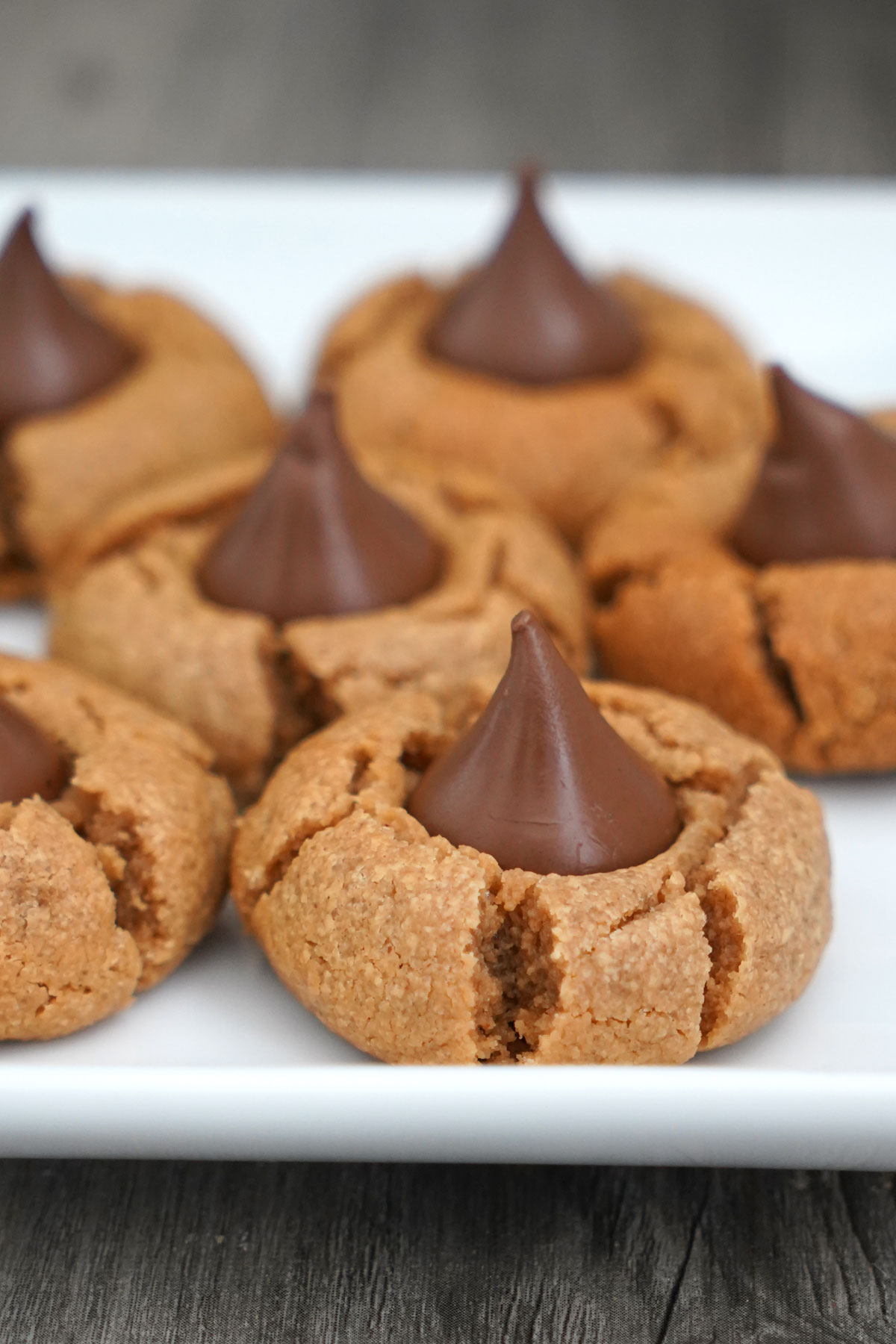 For starters, there's no flour in these cookies. Flourless peanut butter cookies also means these are gluten-free peanut butter cookies! It's a perfect cookie for anyone on a gluten-free diet.
Besides the short simple ingredients list, there's also no chill time needed and they bake quickly.
It doesn't matter whether you make traditional peanut butter kiss cookies or the petite flour shaped cookies seen in my pictures. The simplicity of the recipe lets you have a batch of either ready in under 30 minutes.
Ingredients Needed: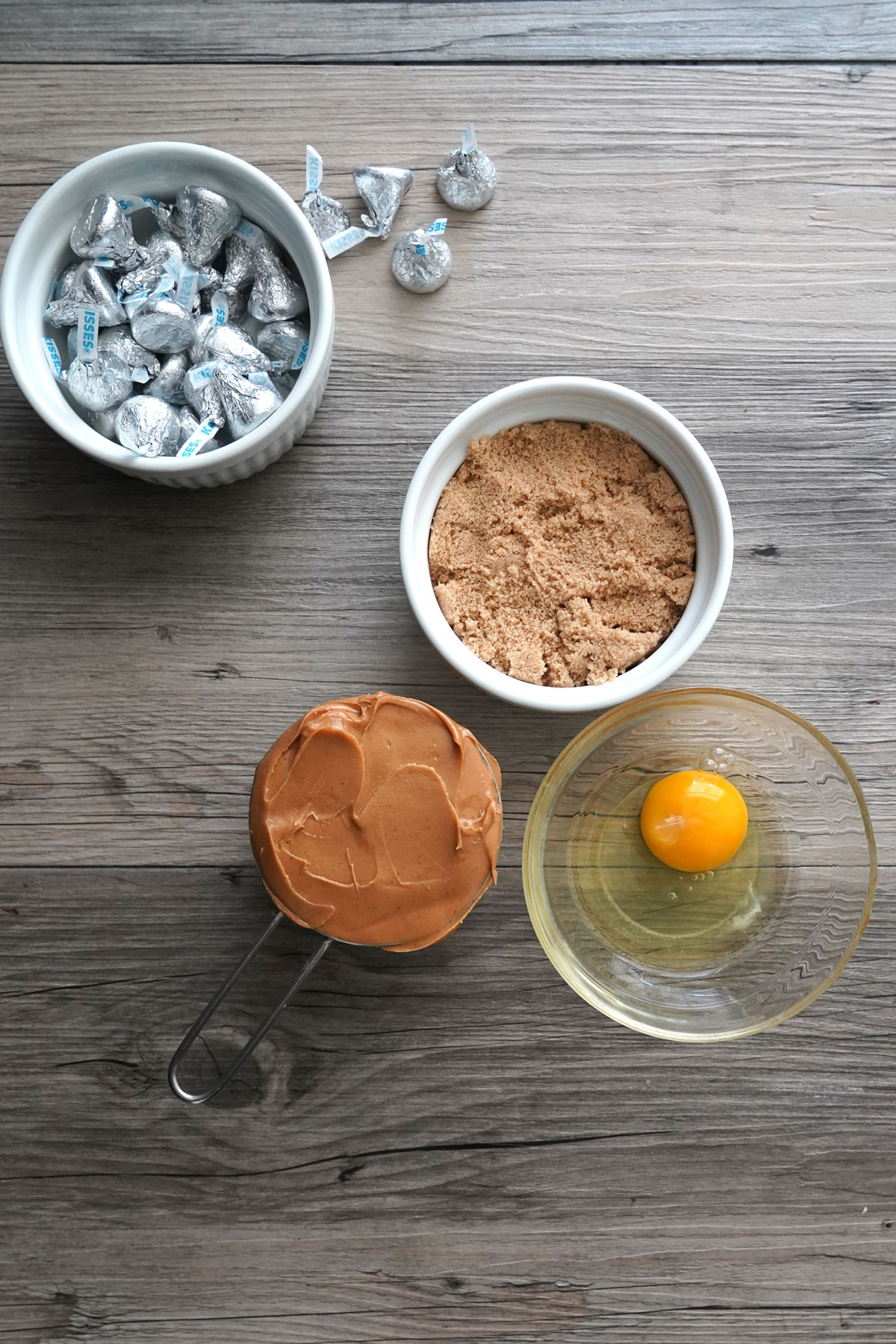 Peanut Butter: I used a processed creamy peanut butter (Jif, Skippy). I have not tested this recipe with natural peanut butter.
Brown Sugar: I used light brown sugar instead of white sugar. Brown sugar has a more robust flavor and keeps the cookie a little more moist and chewy. If you don't have any brown sugar, it's okay to substitute the same amount of white sugar.
Egg: The egg helps to bind the peanut butter cookie dough. (You can use a flax egg if you want to keep the cookies vegan)
How to Make the Peanut Butter Blossom Cookies:
Below is a quick overview on making these cookies with some tips. For full details, check the recipe card below.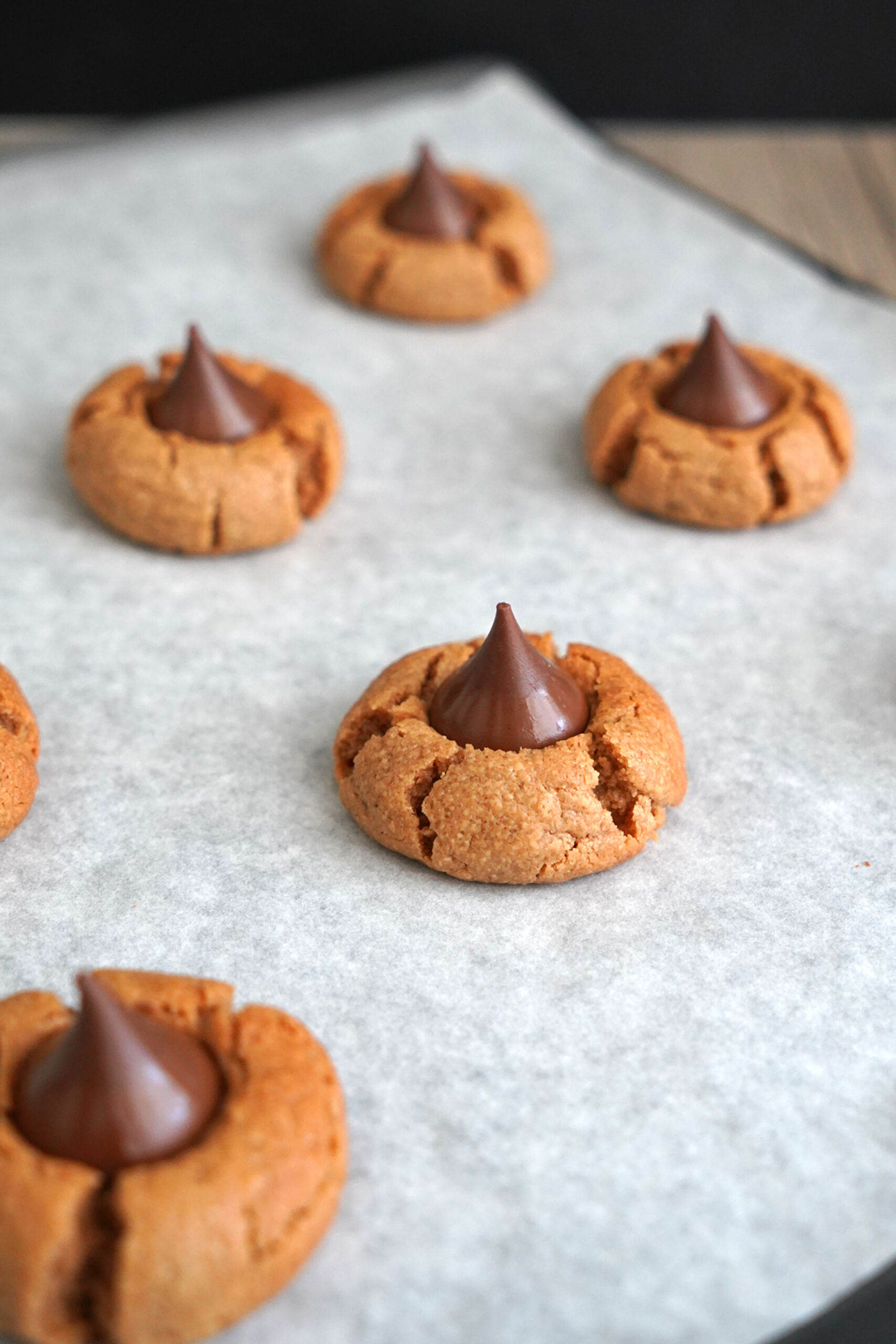 Making the cookie dough is very simple. Combine the three ingredients in a large bowl and mix until well combined.
I made mine using an electric hand mixer but you can also use a stand mixer. You could also stir by hand with a spatula, but it may be difficult to get the peanut butter dough evenly mixed.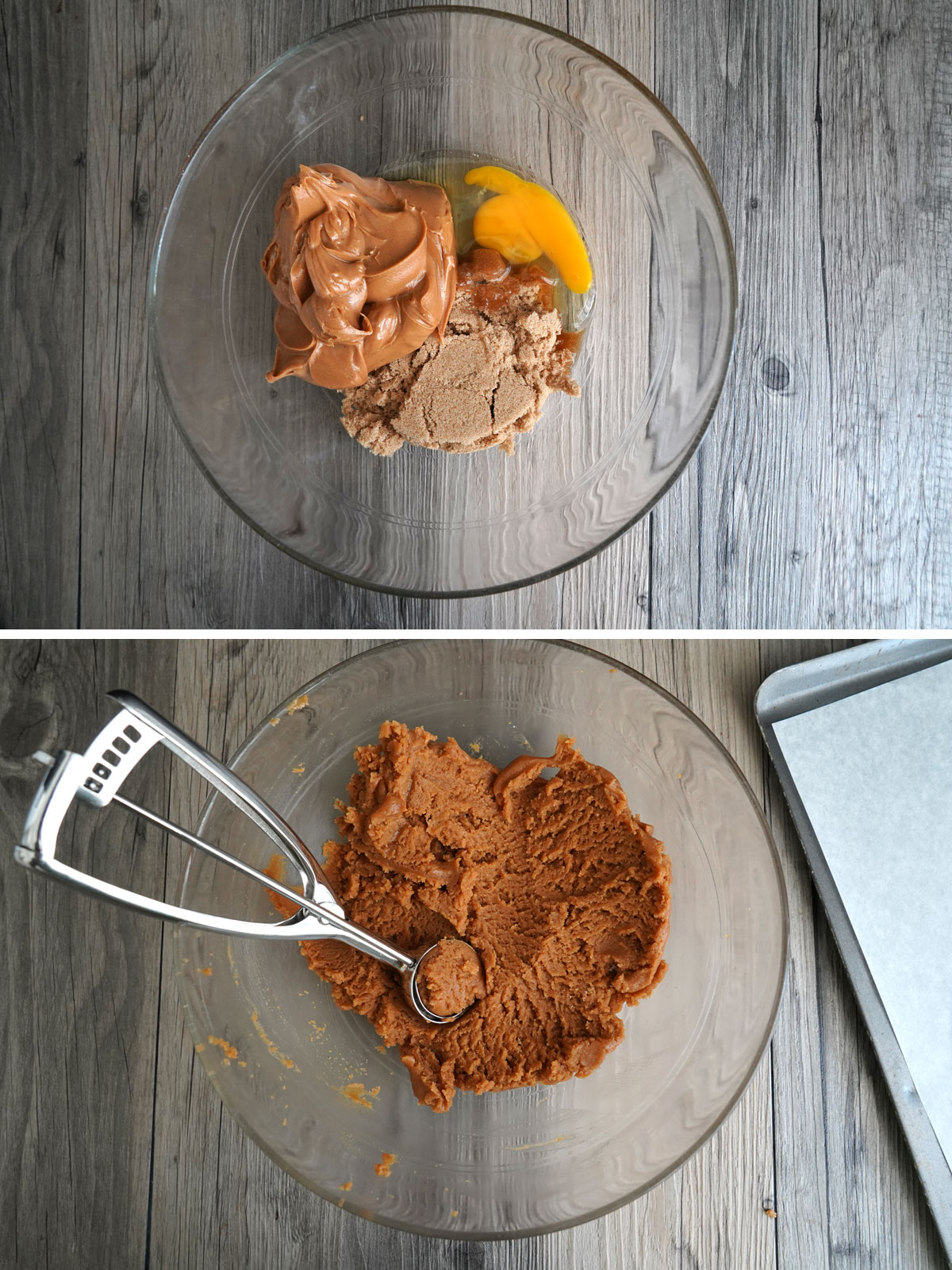 Once the dough is mixed, scoop it out a tablespoon at a time and roll the dough between the palms of your hands into balls.
They don't spread too much but you still want to leave 1-2 inches between the cookies while they bake.
If you are planning on leaving them plain, gently press down to flatten them a little or use a fork to make a criss cross pattern like in a traditional peanut butter cookie.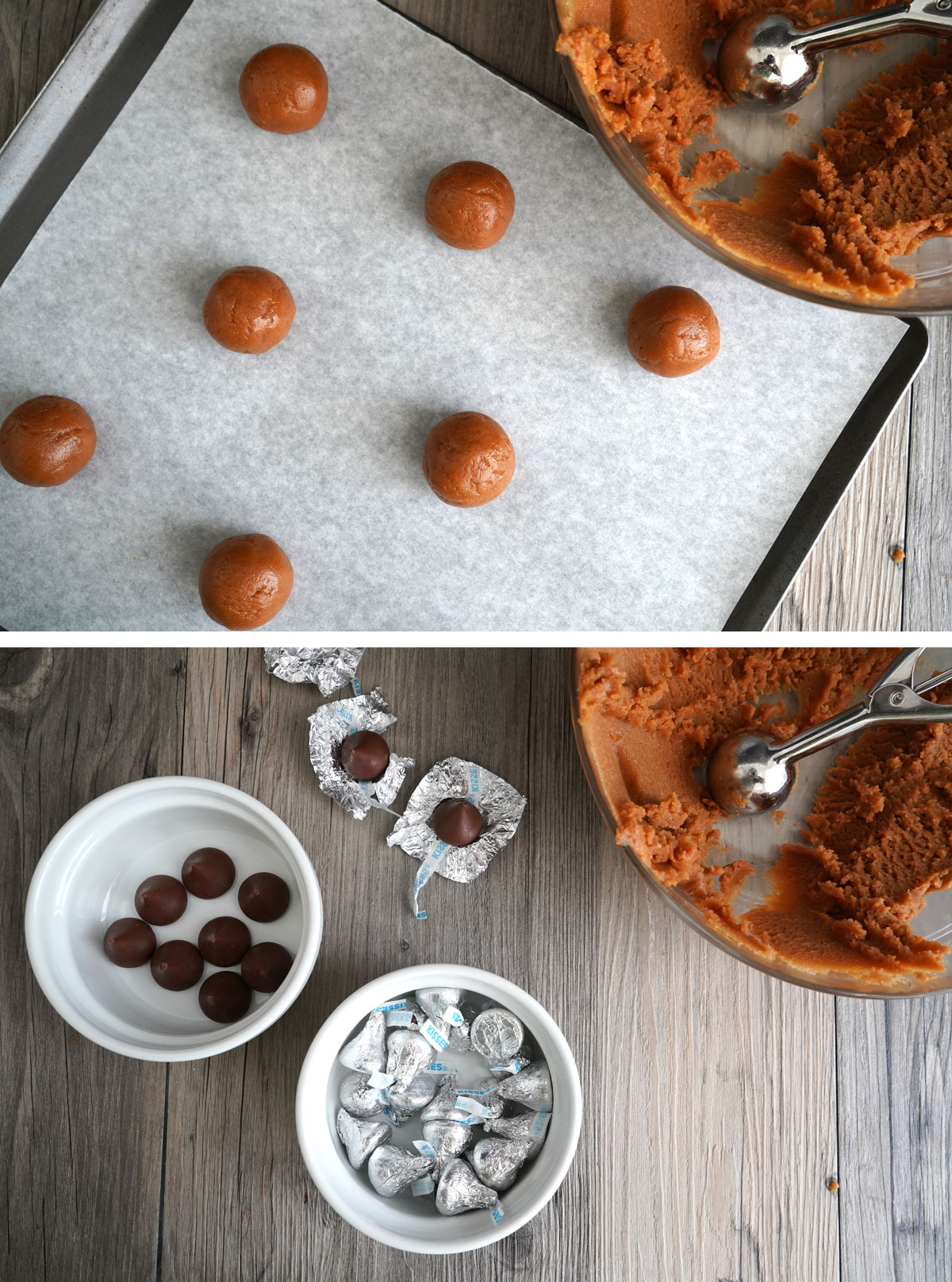 Bake them for about 10 minutes but keep an eye on them as all ovens are not the same. They should turn golden brown on top. Unwrap those kisses while you wait!
Once you remove them from the oven, you will want to place the Hershey's kisses on top of the cookie immediately so they set into the cookie.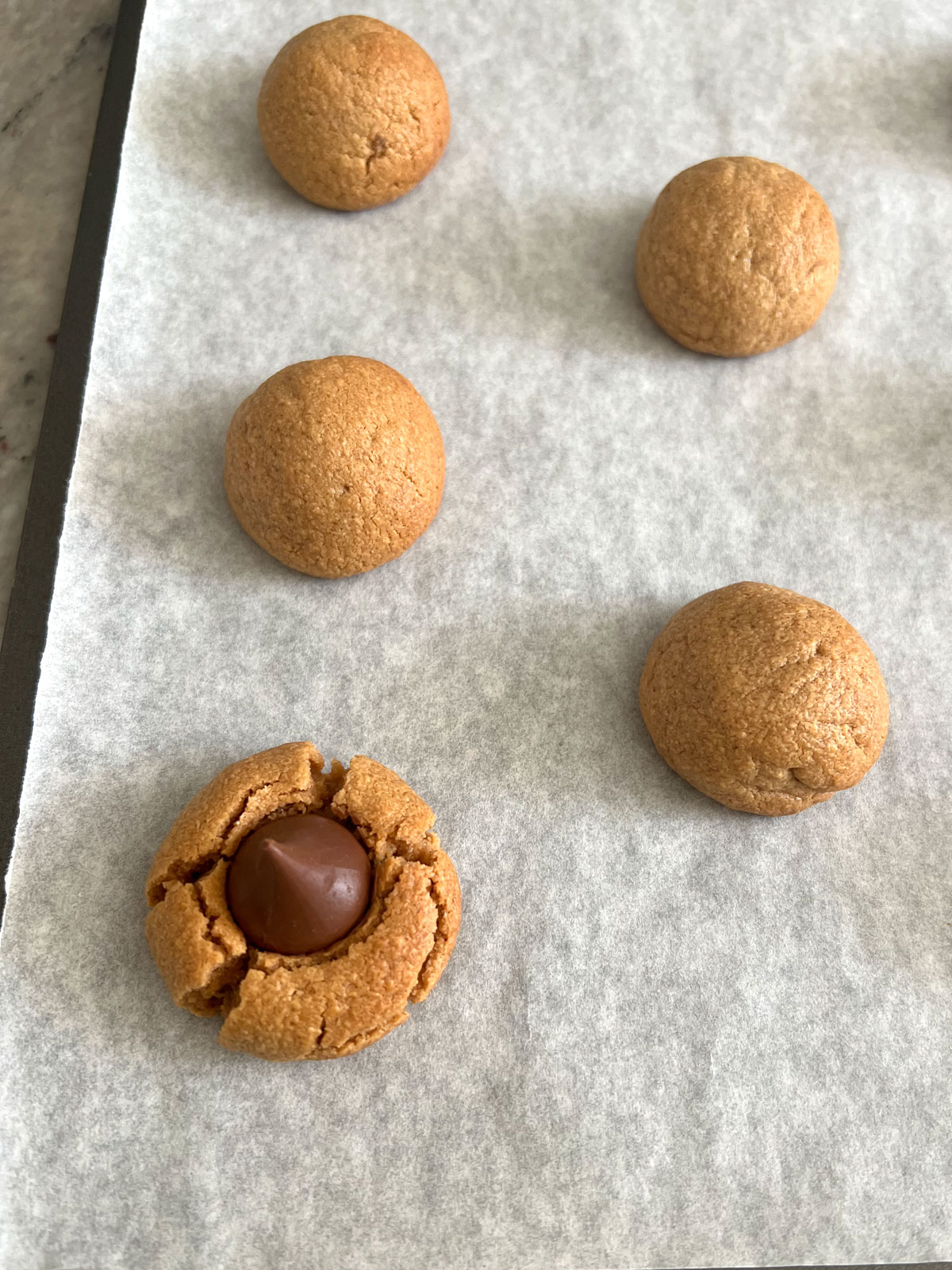 This will also flatten your cookie a little more. As you can see in the picture above, they don't get too flat in the oven. 
How to Make Flower Shaped Peanut Butter Blossoms:
For the flower shapes you will need a cookie press. Not all cookie dough works in a cookie press but this one works beautifully because it's smooth. 
The only issue I had was that the dough stuck to the press instead of transferring to the cookie sheet when I pressed down.
I simply used my fingers to gently remove it from the bottom of the press and place it on the baking sheet.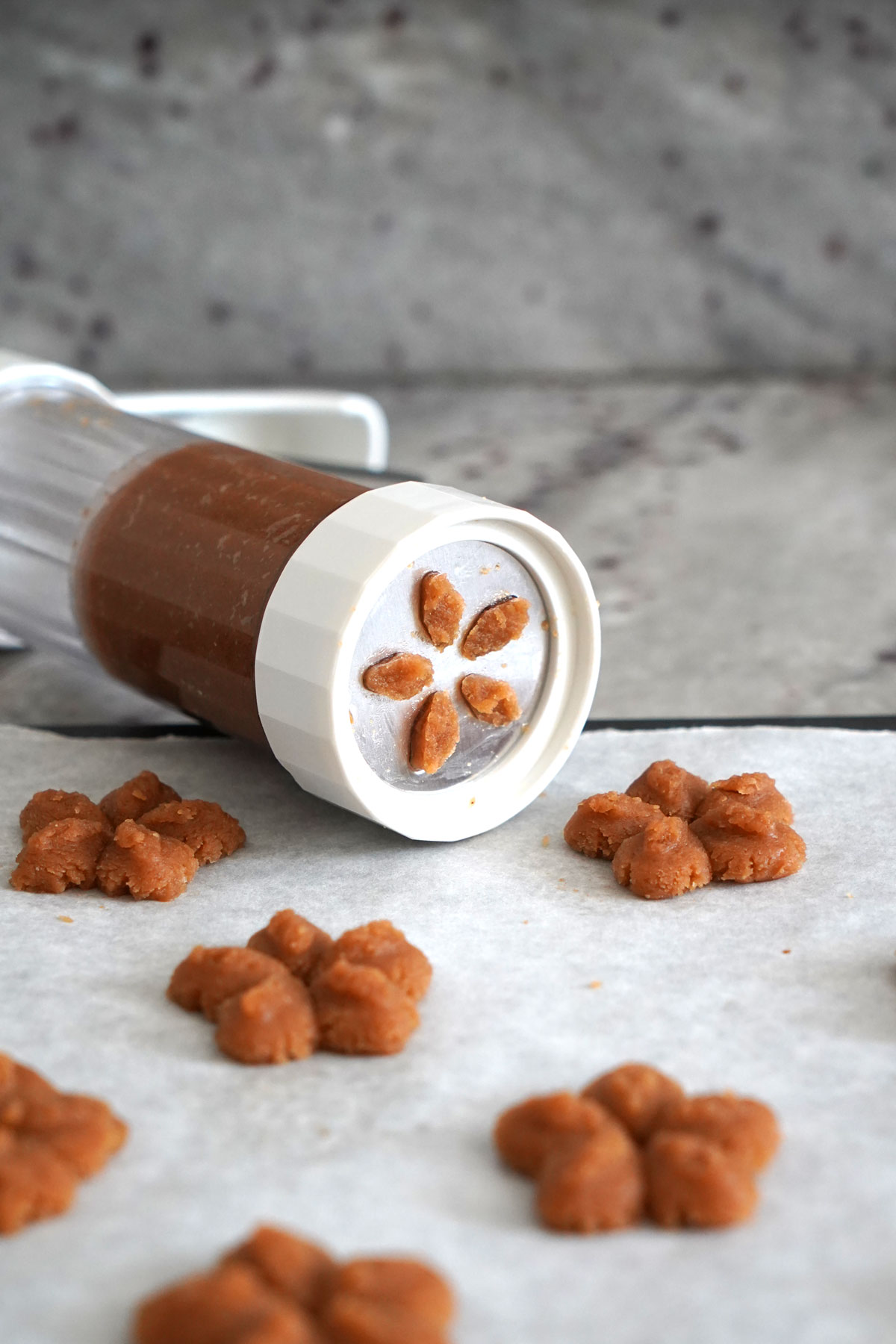 It sounds like it would get messy but the dough is actually sturdy enough to still hold the flower shape when transferring it by hand.
Because the cookie press makes a much smaller cookie, the chocolate kisses would have looked ridiculous. Instead, I used a chocolate baking chip in the center of the cookie.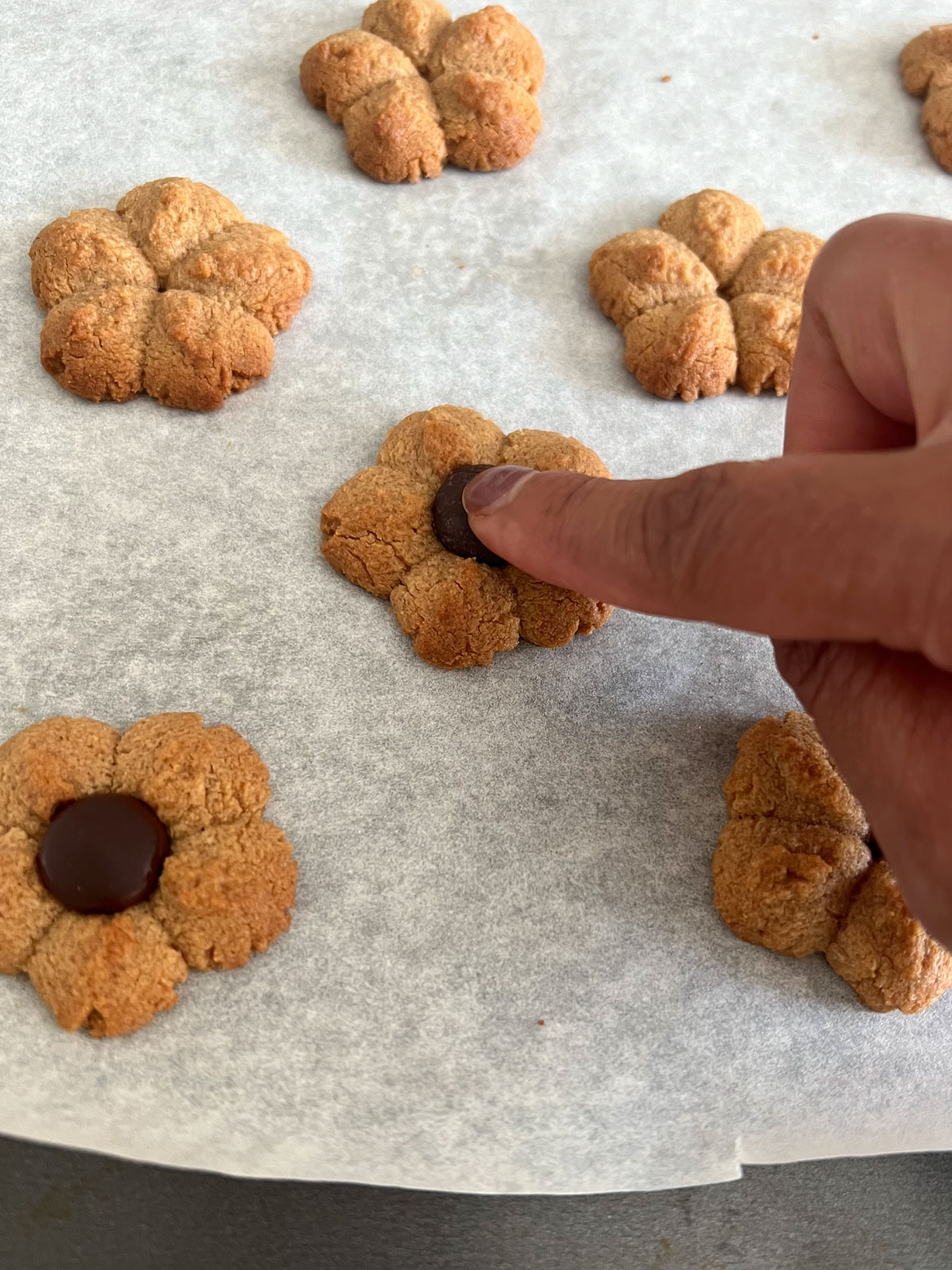 I prefer these flower shapes over the traditional cookie. They are petite bites and you can get more cookies out of your dough.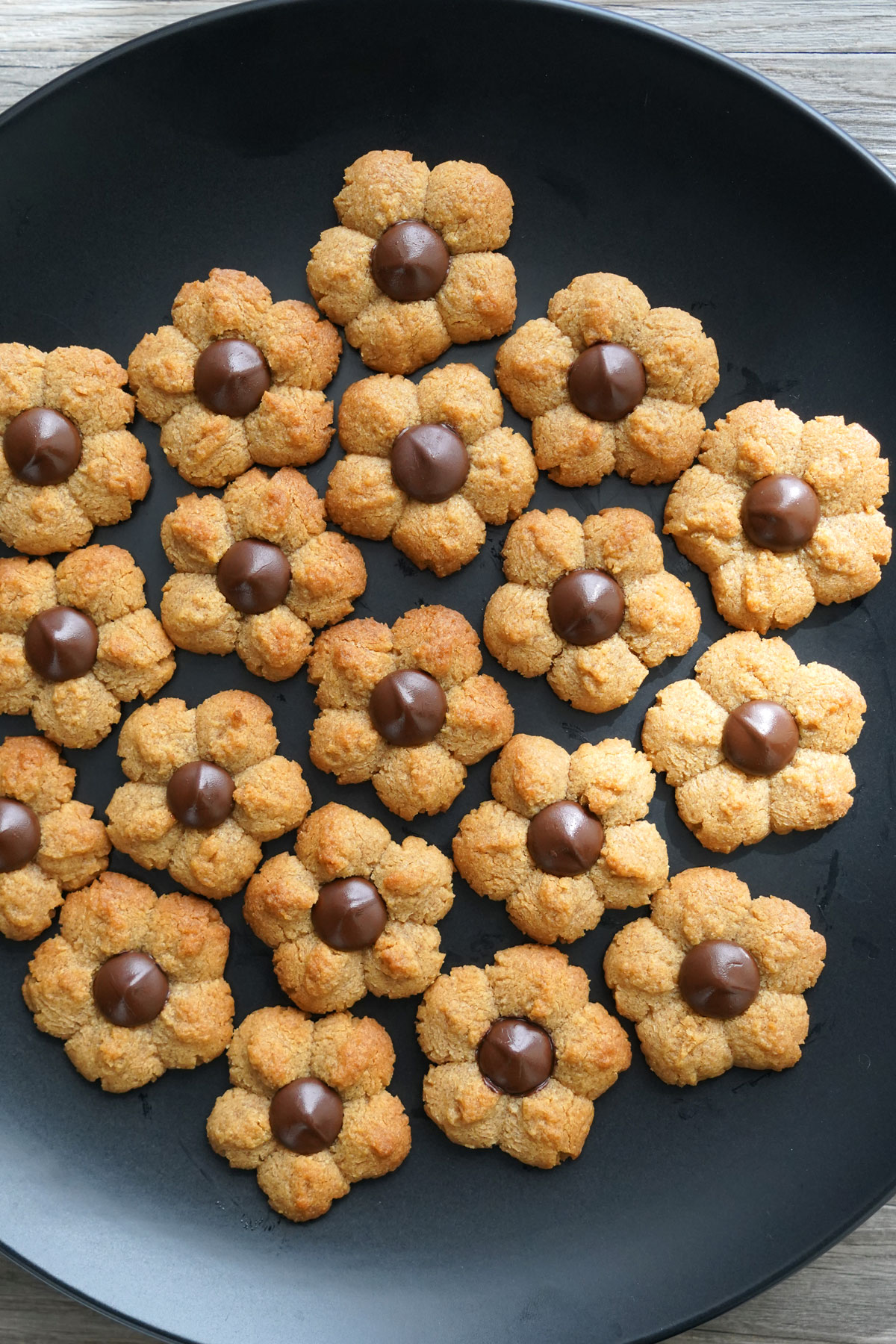 Aren't they just so cute? This is a must add to your list of favorite cookies for any upcoming holiday season. It would look great on a fall dessert platter or as an addition to your Christmas cookie platter.
Storing the Cookies
The cookies can be stored in an airtight container for up to 3 days.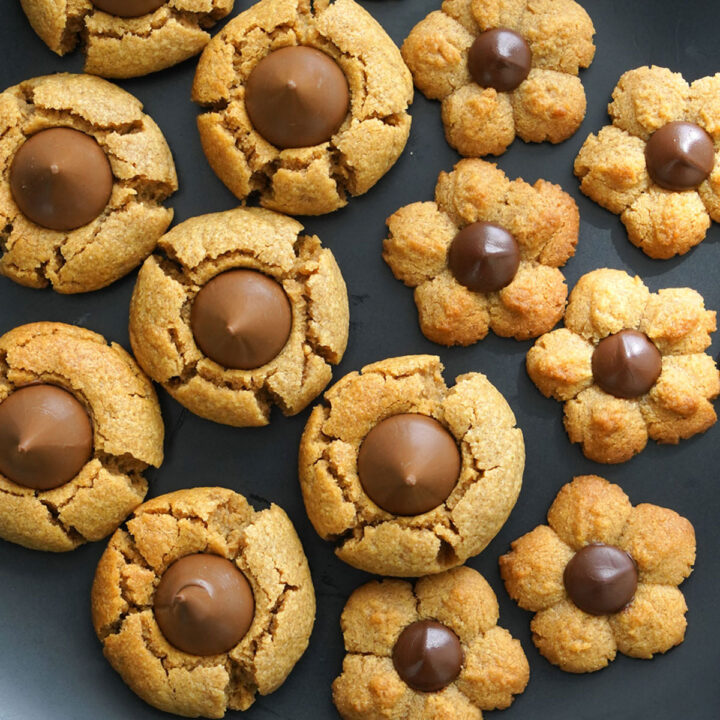 Easy Peanut Butter Blossom Cookies
These 4-ingredient peanut butter blossoms are super easy to make.  Perfect for cookie exchanges, holiday cookie trays, or bake sales.
Ingredients
1 cup peanut butter (creamy)
1 egg
¾ cup light brown sugar, packed
16 Hershey's kisses (number may vary)
Instructions
Set the oven wire rack to the middle position. Preheat the oven to 350°F and line a baking sheet with parchment paper.
In a large bowl or the bowl of an electric mixer, combine the peanut butter, brown sugar, and egg.
Mix the three ingredients with an electric hand mixer or a stand mixer. Starting on low speed then increasing to medium speed, mix until well combined.
Using a tablespoon sized cookie scoop, scoop out the dough and roll each scoop into a ball between the palms of your hands.
Place each cookie dough ball on the baking sheet in staggered rows, leaving two inches between each cookie. (Press down gently on each ball if you are leaving them plain)
Unwrap the chocolates while the cookies are baking.
Remove the cookies from the oven and immediately place a chocolate in the center of each cookie, pushing down gently so the cookie spreads a little.
Let the cookies cool slightly on the cookie sheet and then transfer them to a wire rack to cool completely.
Notes
I used processed commercial peanut butter, I have not tested the recipe with natural peanut butter. 
The cookies don't flatten as much on their own in the oven, so if you aren't using any chocolate, push each dough ball down gently before baking. 
If you are using a cookie press similar to mine, your cookies will be smaller and the baking time should be decreased to 6-8 minutes. The recipe will yield approximately 4 dozen of the smaller cookies. I used Ghirardelli 60% bittersweet chocolate baking chips in the center of each one.
Variations:
For vegan cookies, substitute the egg with a flax egg.
For extra flavor, try adding a teaspoon of pure vanilla extract to the peanut butter cookie dough.
Nutrition Information:
Yield:

8
Serving Size:

2 cookies
Amount Per Serving:
Calories:

309
Total Fat:

19g
Saturated Fat:

5g
Trans Fat:

0g
Unsaturated Fat:

11g
Cholesterol:

25mg
Sodium:

174mg
Carbohydrates:

30g
Fiber:

2g
Sugar:

23g
Protein:

9g
This nutrition information is only an approximate provided for convenience and as a courtesy only. Information comes from Nutritionix, an automated nutrition calculator.