These snowman cookies were made for EASY decorating! You don't need to have piping skills for MELTED snowman cookies.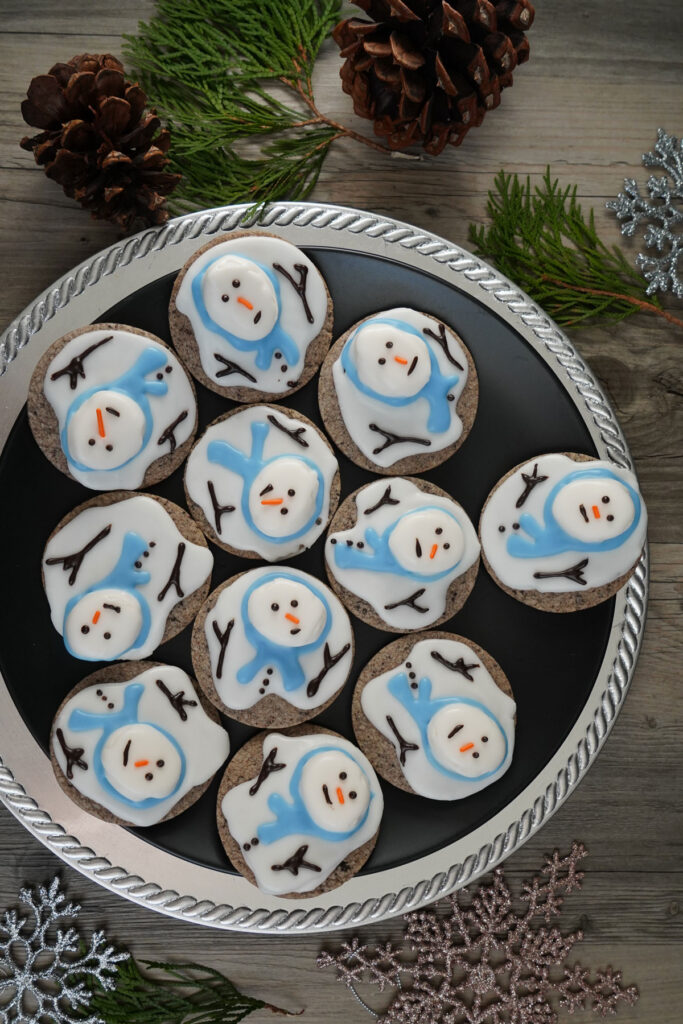 This is an easy way to decorate snowman cookies because melted snowmen are supposed to be a little messy! A scarf not perfectly in place, a missing eye, random branches... It's all good!
Melted snowman cookies are so festive and easy to decorate! You don't need to have a perfectly steady hand for any of it. You can pipe a puddle of snow in any shape. It can be a perfect circle but doesn't have to be.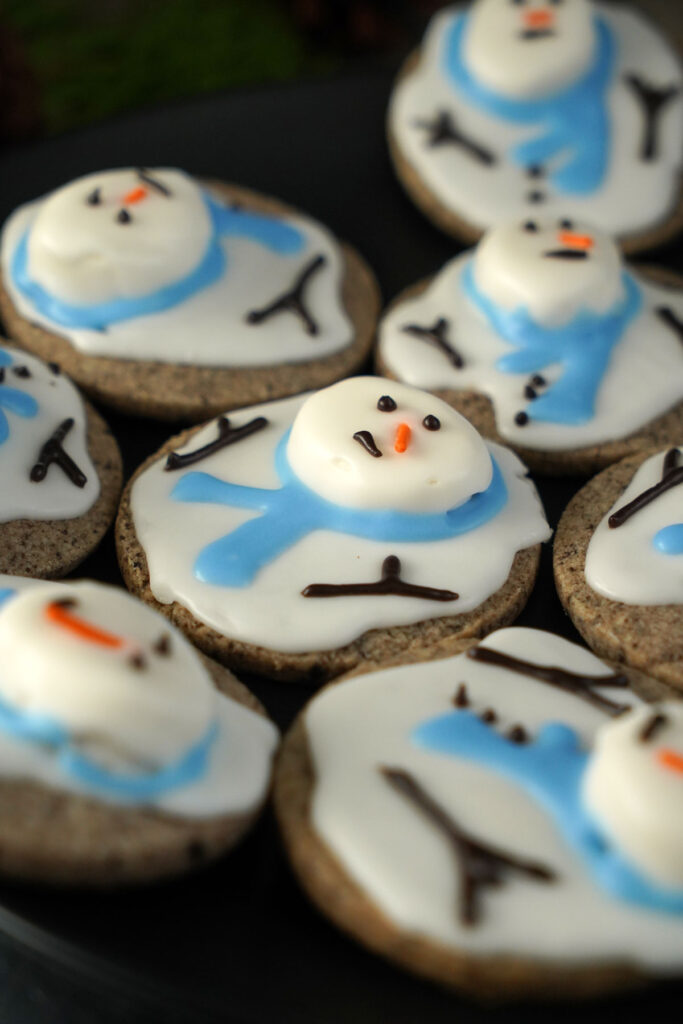 What You Need To Make These Cookies
Baked Cookies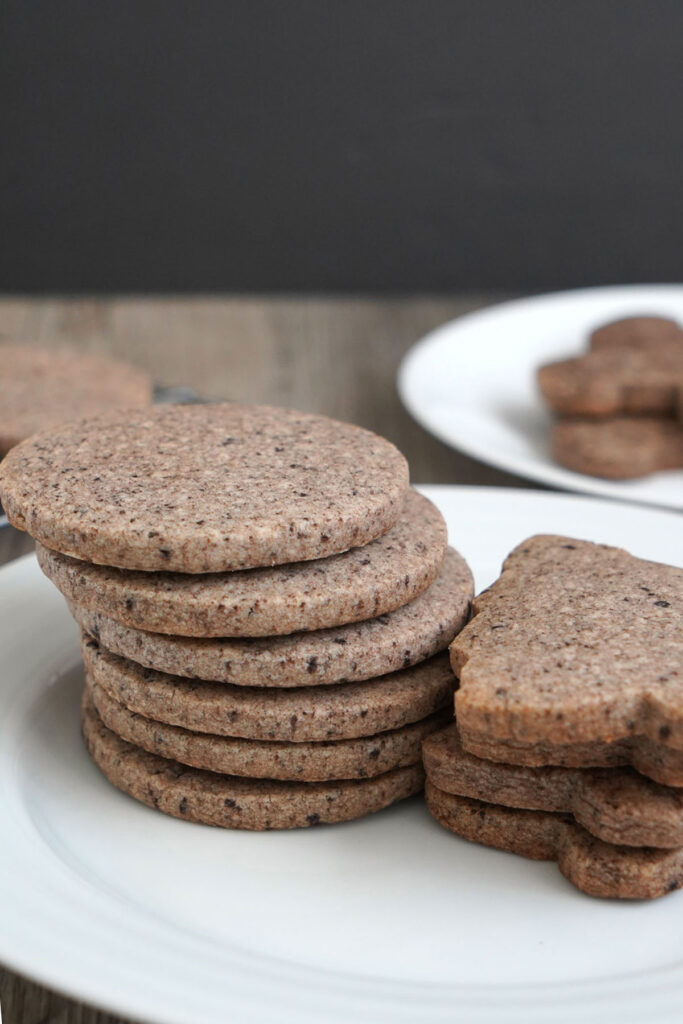 Cookies can be any shape as long as they are flat. For my cookies, I used my cookies and cream sugar cookie dough but you can also use a classic sugar cookie dough or store bought mix.
Cookie Icing
Make one batch with medium consistency. You can use my easy cookie icing recipe or your own.
Make black icing for the eyes, mouth, buttons and branches. Choose any color or colors for the scarf. I used an orange sprinkle for the nose but if you are using icing for the nose, you will need orange.
To dye my icing I used all natural food dye gels. To create a natural black icing, I mixed in some black cocoa powder. This is a trick I use to make black buttercream too!
Piping Bags
If you have disposable piping bags and #1 or #2 tips, you can fill those. If you don't, you can also make your own piping cones out of parchment paper. This is my preferred way to ice cookies because it gives me more control.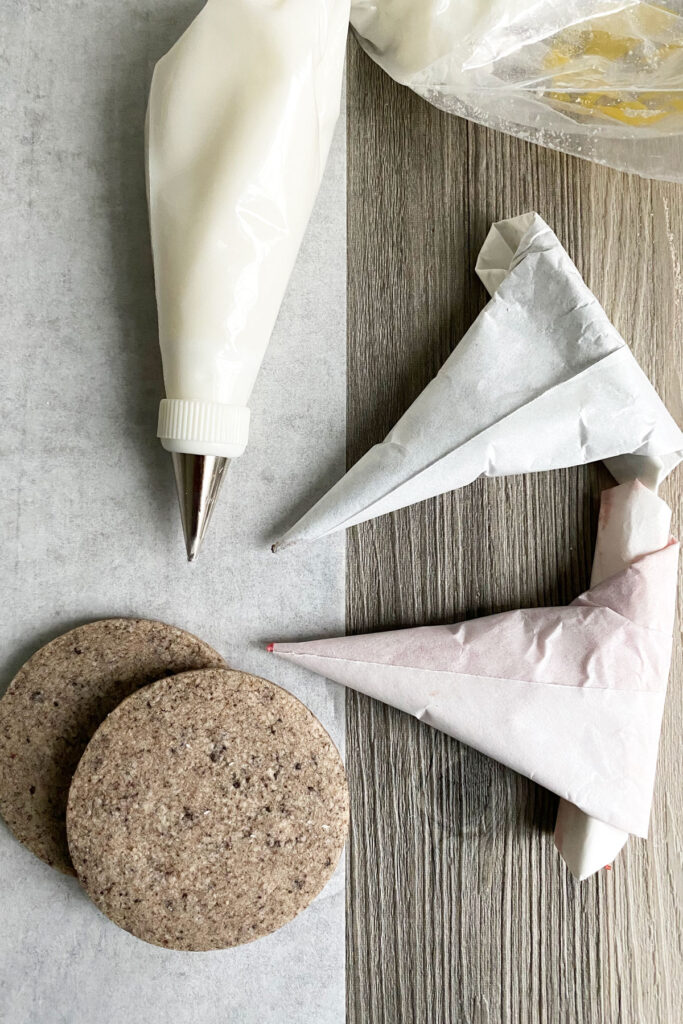 Marshmallows
A marshmallow is used as the base mound for the snowman's head. You can cover it in icing or leave it as an exposed marshmallow. Use large marshmallows and cut them into thirds so that each third is a circular shaped disc. Scissors work best!
If you don't want to use marshmallows, you can always make a mound of icing like I did on the cookie below. However, make sure the base icing is dry before making a mound or the icing will just sink into the rest of the surrounding icing.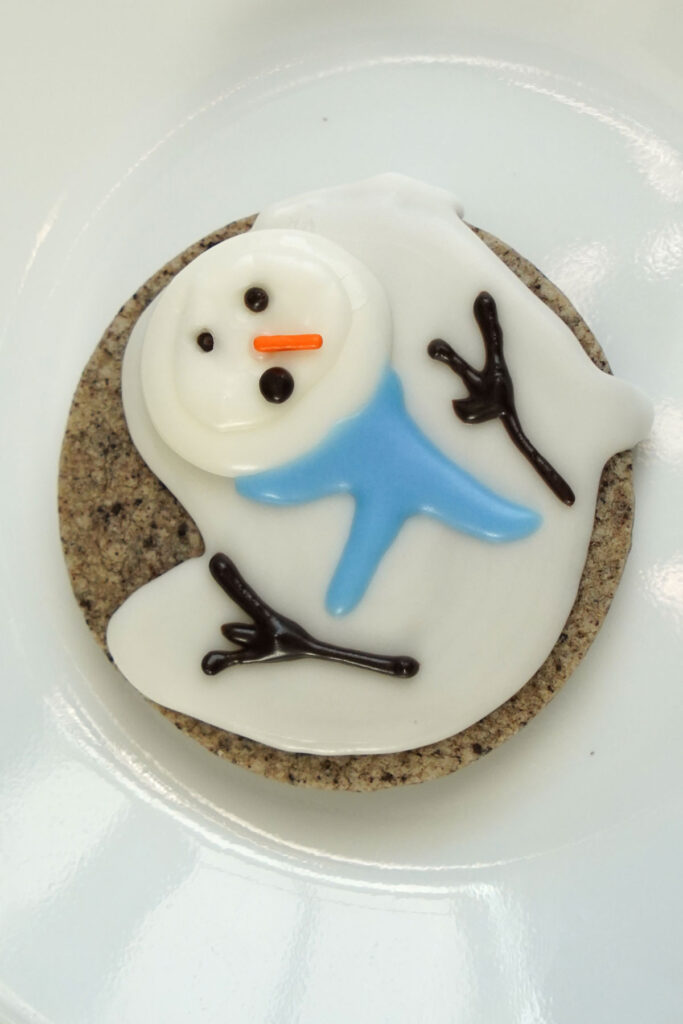 Cookie Sheet or Parchment Paper
The cookies will need to dry after you apply the white icing and after you are done all decorating. Lay them flat and single on plates, a large cookie sheet, or parchment paper.
How to Decorate Melting Snowman Cookies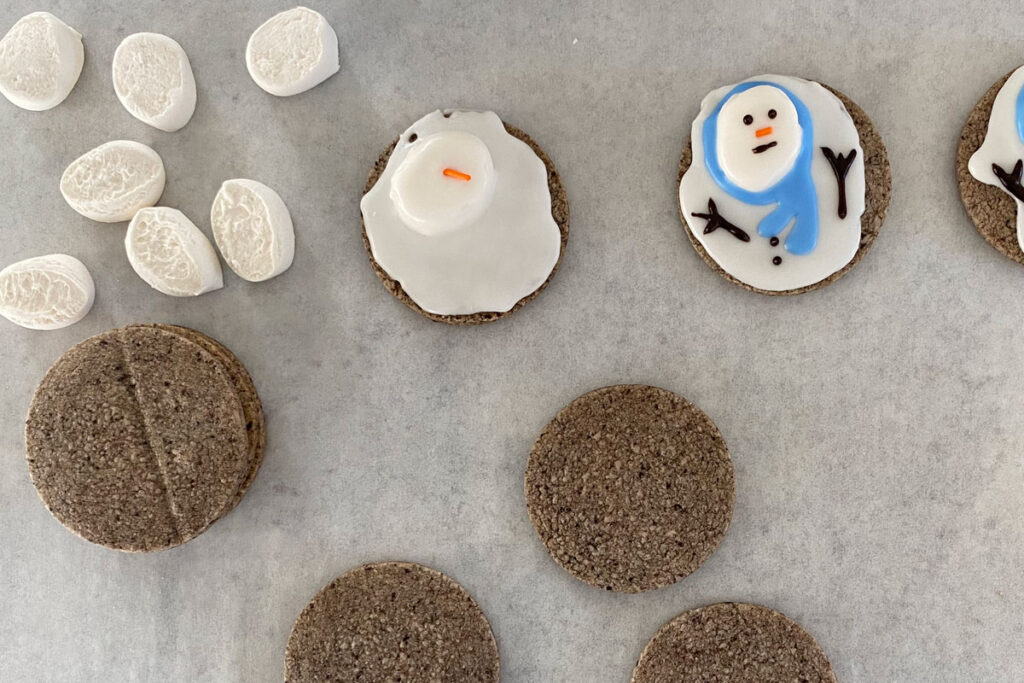 Step 1
Outline and then fill in the base of your cookie. Use the shape of your cookie or draw any shape to fill in. It helps to use a bigger icing tip for filling in here. A number 2 tip will work nicely for both outlining and filling in.
Step 2
Place a piece of marshmallow on top of the wet icing.
Step 3
Optional: Add more icing over the top of the marshmallow. If using a sprinkles for a carrot nose, you will want to add it now while it is wet otherwise add the orange icing in step 5.
Step 4
Let the white icing dry. It does not need to be completely dry but it should be dry enough so that more added icing on top does not sink into the white icing.
Step 5
Pipe around the marshmallow to create a scarf and draw a nose if using orange icing.
Step 6
With the black icing, add eyes, mouth and branches.
I suggest doing each step for ALL of the cookies before proceeding to the next step.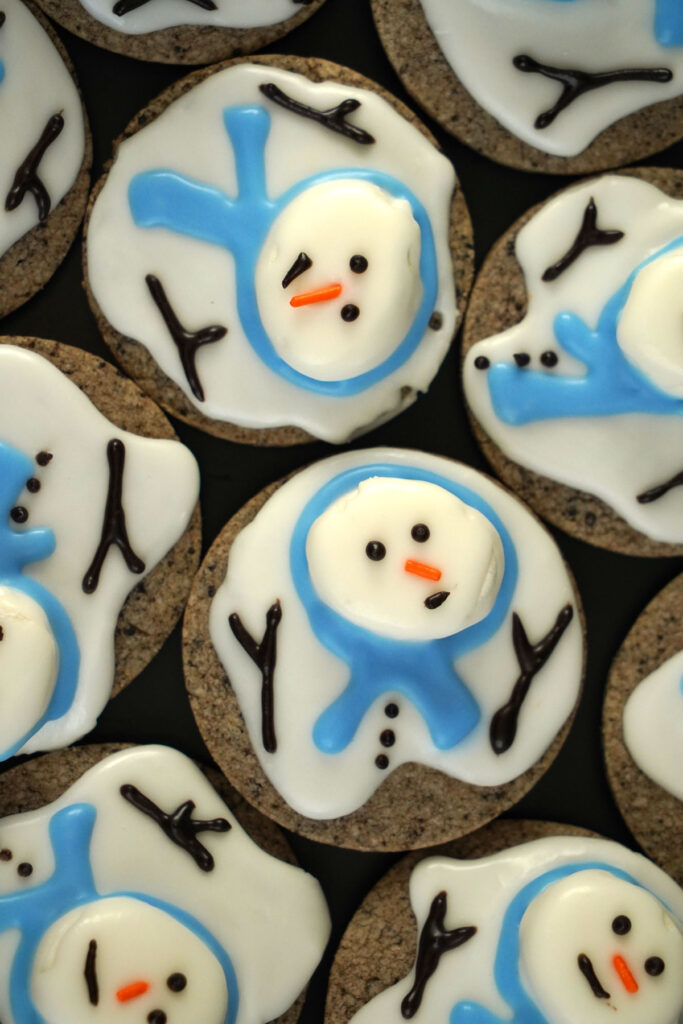 For more snowman cookie decorating ideas, you may also want to see my snowman cut out cookies. They are simple to decorate and have such pretty scarves!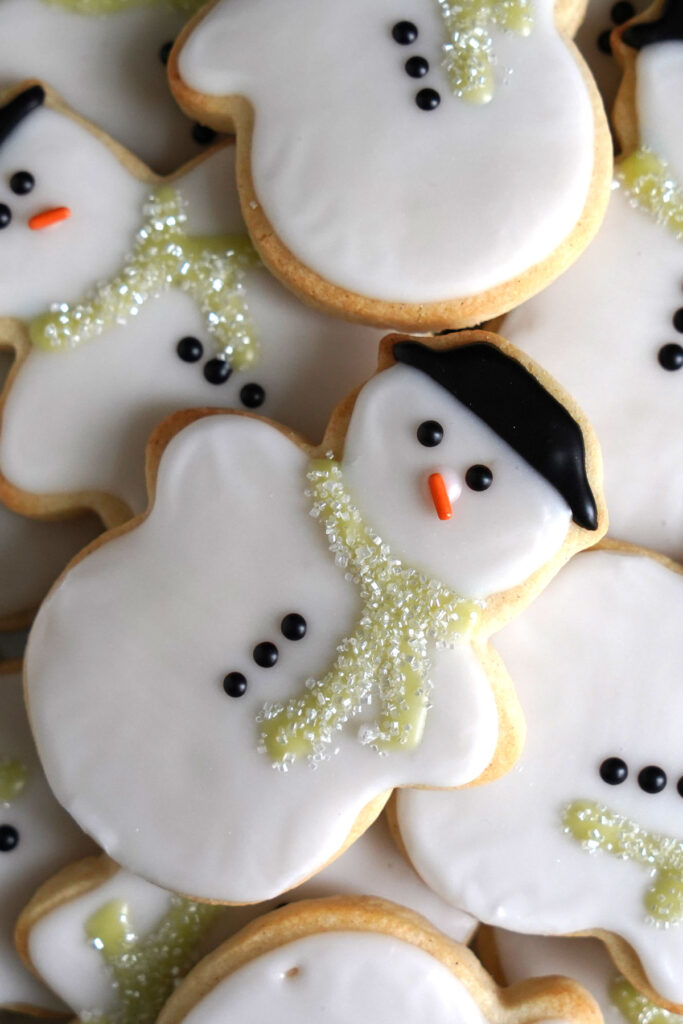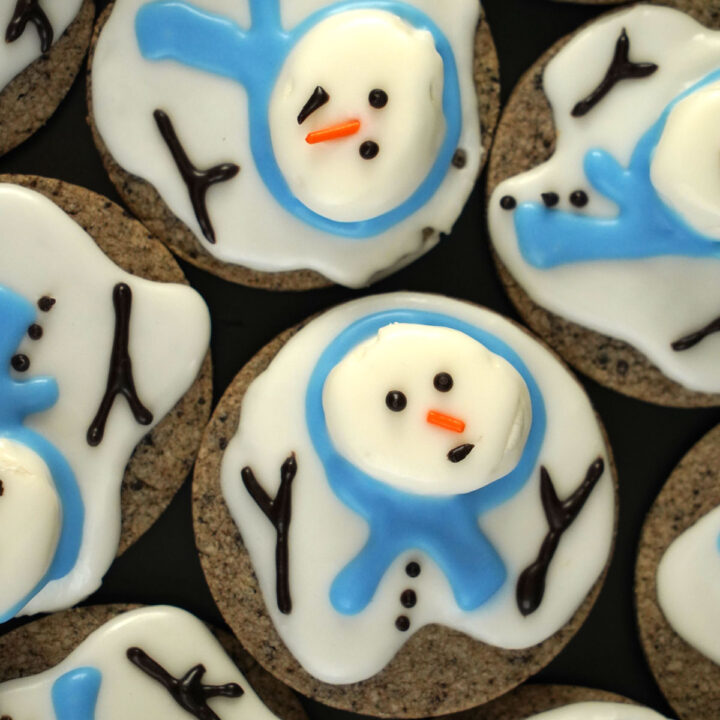 How to Decorate Melted Snowman Cookies
Total Time:
1 hour
30 minutes
These snowman cookies were made for EASY decorating! You don't need to have piping skills for MELTED snowman cookies.
Materials
Baked sugar cookies (round or any shape)
White cookie icing
Black cookie icing
Colored cookie icing
Orange sprinkles or icing
Marshmallows
Tools
1-2 Clean toothpicks
Parchment paper or sheet pan
Four 12 inch piping bags or parchment cones
#1 and #2 Piping tips
Instructions
Prepare the icing bags as follows: Fit the 16 inch bag with the #4 piping tip and fill it with white icing. Fit the two 12 inch bags with #2 tips (If you don't have 2, use a coupler so you can switch the tip between the two bags). Fill one bag with black icing and the other with your colored icing.
Clear your counter space and lay out your cookies on a sheet pan or large parchment paper, leaving some work space in front of you.
Place a cookie in front of you. Outline a round or irregular shape with white icing and then fill it in.
Place a marshmallow piece on the icing. Cover the marshmallow with more icing. (Add sprinkle nose if using.) Then set the cookie back on the sheet pan to dry. Repeat with each cookie.
Place the first cookie in front of you again. Pipe a scarf around the marshmallow with the color of your choice. Also add the nose if using icing. Place it back on the sheet pan to dry and repeat with each cookie.
With black icing, add eyes, mouth, buttons and branches. Repeat for all the cookies.
Allow the cookies to air dry completely.
Store in an airtight container for 3-5 days.
Notes
YIELD and TIME: If using my rolled sugar cookie dough recipe, you should be able to make at least 24 snowman cookies. The time listed in this recipe is an estimate and depends on how quickly you are able to pipe icing.
DRYING: Let them dry in the open overnight.