Get the best ever sugar cookie dough recipe and baking tips right here. Use this dough to make tasty cut out cookies for Christmas, birthdays, Valentine's Day or any occasion.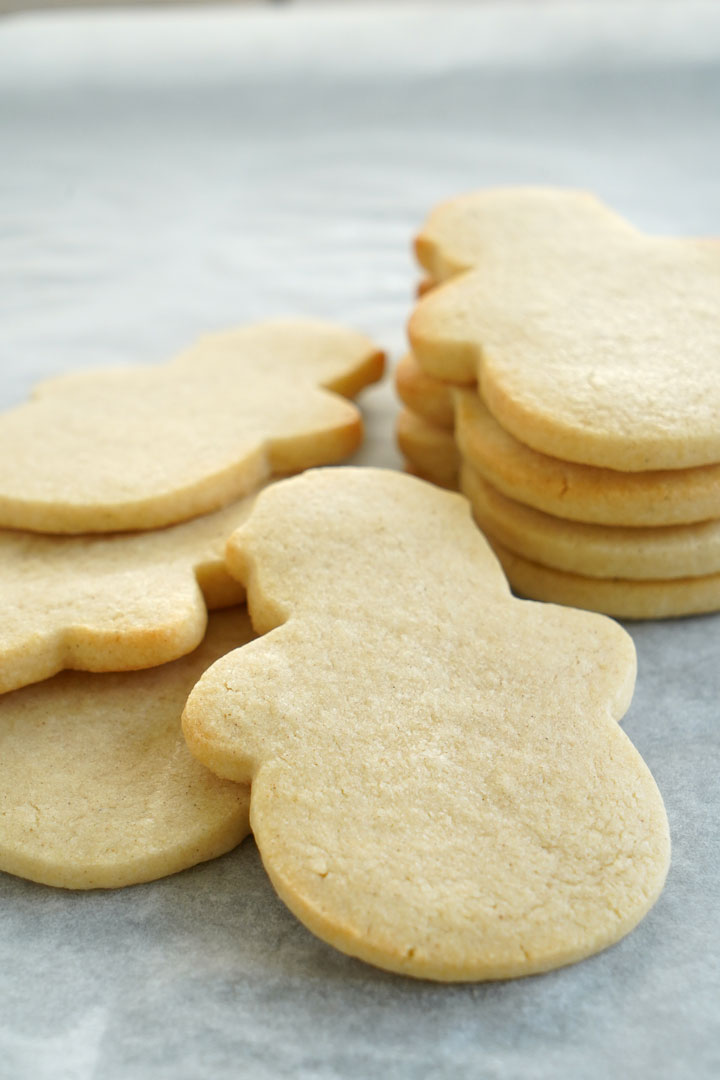 This cut out cookie recipe can be used to make perfectly shaped sugar cookies. The cookies come out nice and flat making them the best sugar cookie recipe for royal icing decoration!
They taste buttery and bake tender on the inside. (And these snowman cookies came out so adorable after decorating!)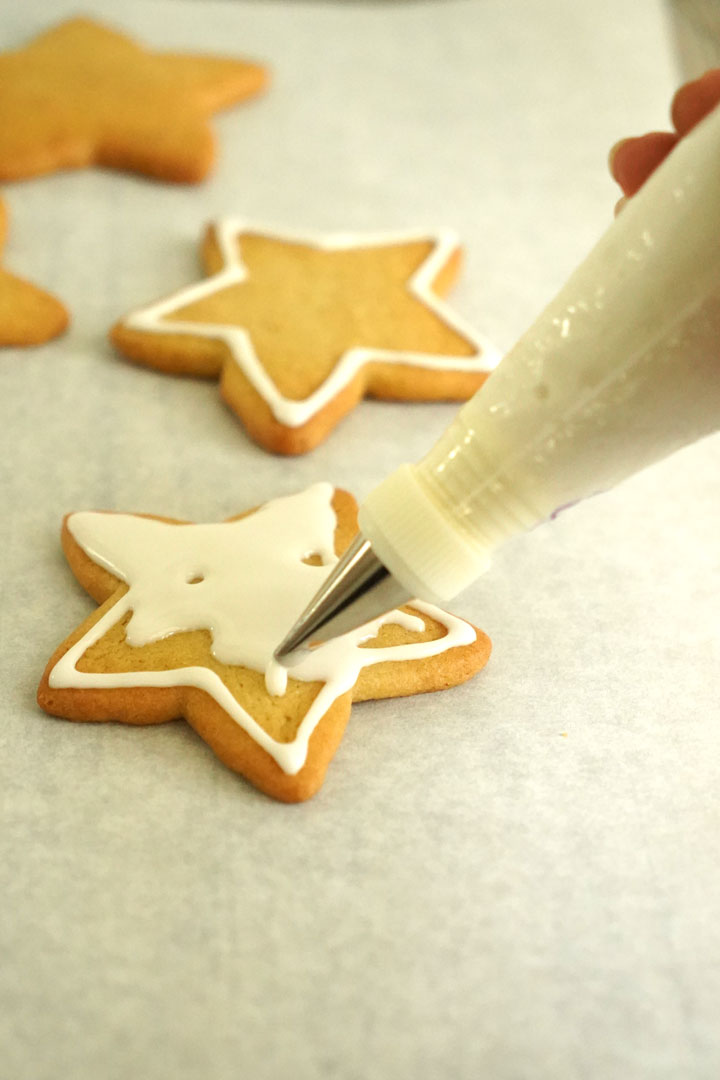 What do you need to make sugar cookies?
In addition to flour, salt, baking soda, butter, vanilla, optional spices and eggs, you will need a rolling pin, cookie sheets and a food processor.
My favorite food processor is the Cuisinart. It's a true workhorse in my kitchen. I've also made these cookies in my stand mixer with a paddle attachment but these instructions are for food processor cookies.
I also highly recommend having parchment paper. I always keep flat sheets on hand for parchment paper's many uses.
How do you make sugar cookies that keep their shape?
Chilling the sugar cookie dough is essential to making sugar cookies that keep their shape. If you follow this recipe and method, you will only have to chill the dough once!
I chill it after I roll it out, but I am ready to cut quickly and put them directly in the oven. If cutting takes you too long, you will have to chill it again because the dough will become warm and spread in the oven.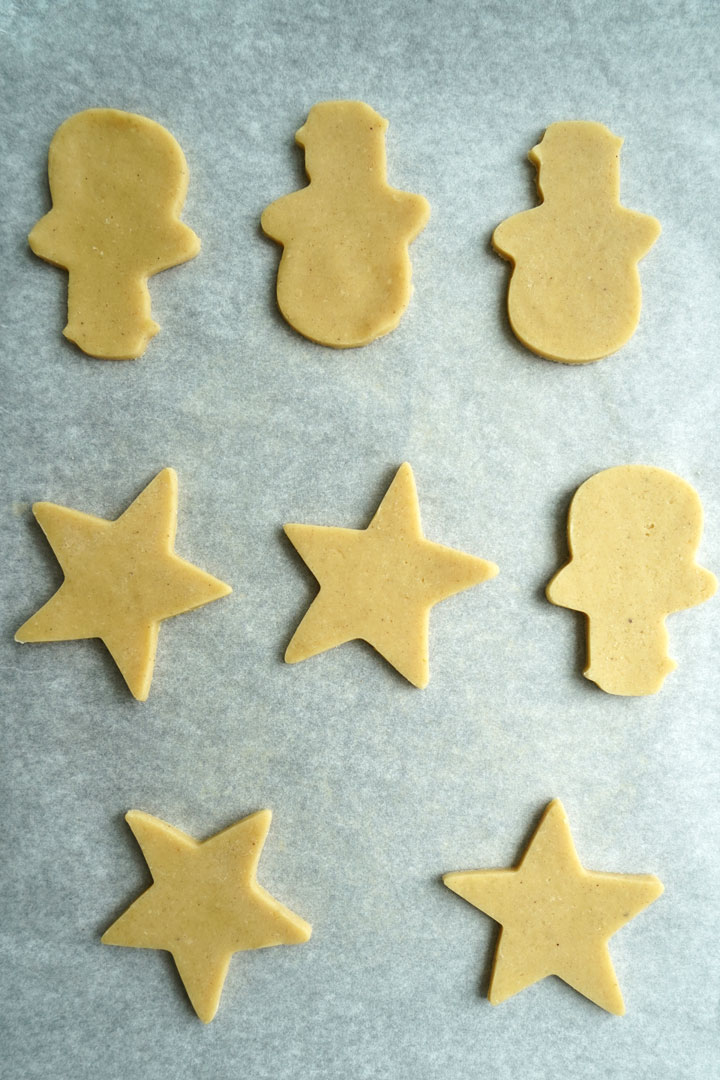 Yes, there are rolled sugar cookie dough recipes out there that say "no chilling" but I have found that home bakers still have problems with these recipes either because their flour measurements varied or they have a slightly different oven temperature or they just live in a warmer environment. So...bottom line...just chill your dough!
How do you make cutout sugar cookies?
First, mix the dry ingredients together in a bowl with a whisk and set it aside. I like to add in spices to give my cookies some extra taste but this is completely optional. You can add some, all or none of them!
Next, mix the butter and sugar in the food processor until it becomes light and fluffy. You may have to stop to scrape down the sides at least once in between mixing. Then add the egg and vanilla and process until combined.
Finally, add the dry mixture in three batches pulsing each until just combined. Do not over mix! This will activate the gluten and make a tough cookie.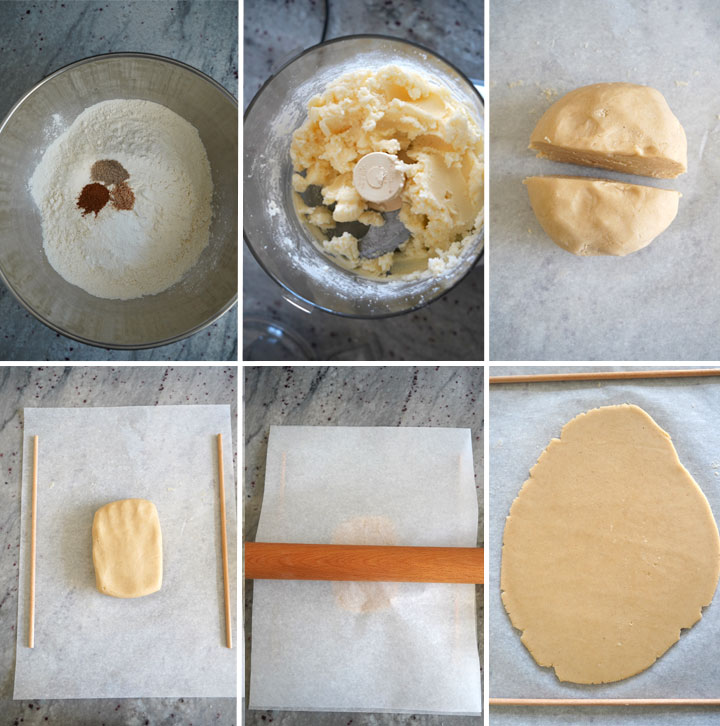 Troubleshooting Tip: If you find that the mixture is not coming together in the food processor, return the dough to your mixing bowl and finish mixing with your hands. Remember, you don't want to over mix in the food processor.
After the dough is made, it's time to roll it out. I roll it out first and then chill it. Chilled dough is difficult to roll and it's not necessary to chill it first as long as you chill it again. You will want to separate the dough into two batches to make it easier to roll.
You may have noticed two ¼ inch dowels on either side of the dough in the photos above. This is my trick to getting perfectly evenly rolled dough to a ¼ inch thickness. The dowels prevent the rolling pin from making the dough any thinner.
Also, to avoid the rolling pin sticking to the dough, I place a piece of parchment on top of the dough and then roll. Don't worry about waste, you can reuse all this parchment on your cookie sheets when you are ready to bake your cut out cookies!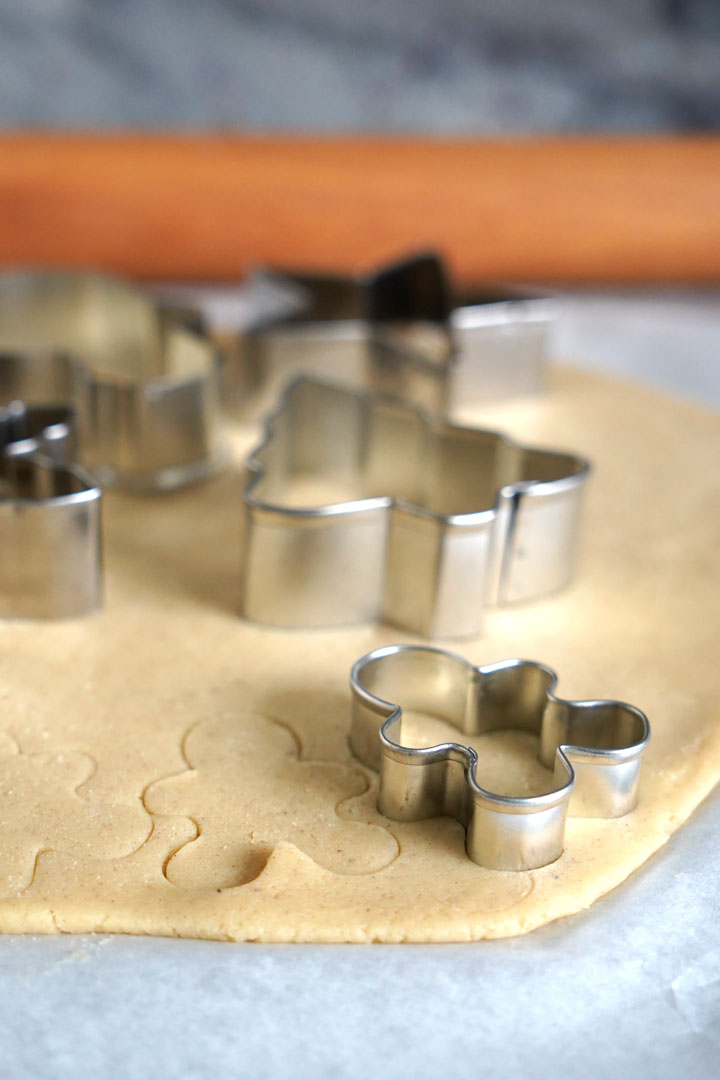 Finally, chill the rolled dough in the refrigerator for 30 minutes or until cold and firm. Preheat your oven while the dough is chilling if you are going to bake right of way.
Cut out your cookies and place the cutouts right onto a baking sheet covered with parchment. Then bake until just slightly brown on the edges.
If you find that the cookies are getting too soft while you are cutting then place the cut out cookies in the freezer for 10 minutes before baking.
This is usually not a problem if you are quick and efficient. But sometimes you can get distracted and this can give the dough a chance to get too warm! Remember, the softer and warmer the dough, the more it spreads in the oven. So keep it chill!
Basic Rolled Sugar Cookie Dough
Additional Time:
30 minutes
Get the best ever sugar cookie dough recipe right here. Use this dough to make tasty cutout cookies for Christmas, birthdays, Valentine's Day or any occasion.
Ingredients
3 cups all purpose flour
2 teaspoons baking powder
½ teaspoon salt
¼ teaspoon cinnamon, optional
¼ teaspoon cardamom, optional
¼ teaspoon nutmeg, optional
1 cup unsalted butter, cold and cubed
1 cup sugar
1 egg
1 teaspoon vanilla extract
Instructions
Whisk together the flour, baking powder, salt and optional spices in a large bowl. Set aside.
In a food processor, combine the butter and sugar and process until light and fluffy. Scrape down the sides in between mixing at least once.
Add the egg and vanilla and process until just combined.
Add the flour mixture and pulse until just combined. If it does not mix well in the food processor, return the dough to your mixing bowl and bring the dough together by hand.
Turn the dough out onto a piece of parchment paper or floured surface. Form a ball and then divide the ball into two halves.
Roll each half out to ¼ inch thickness on a sheet of parchment paper. If it's sticky, place another piece of parchment on top and roll the dough between the two sheets of parchment.
Chill the dough for at least 30 minutes in the refrigerator or 15 minutes in the freezer.
Cut out your cookies with your favorite cookie cutter and bake at 350F until golden. About 7-10 minutes.
Repeat steps 5-8 with the scraps of dough.
Notes
Scraps can be re-rolled at least twice before the cookie starts to get less tender. 
Cookie yields depend on the size of your cookie cutter. To give you an idea, I was able to make 24 of the three inch snowmen cookies shown.