Decadent peanut butter brownies that will satisfy every chocolate and peanut butter lover.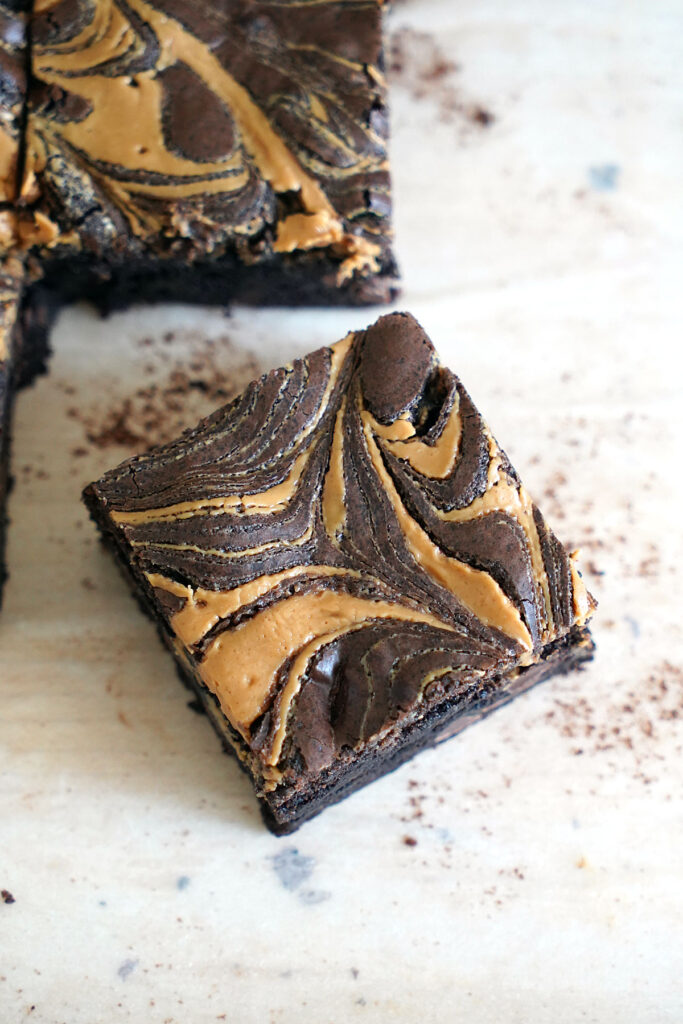 Peanut butter and chocolate are one of my favorite combinations. How can it get any better? My peanut butter stuffed chocolate cookies and Reese's Pieces chocolate cookies are some of my favorite recipes!
But I love brownies too so I just had to make a peanut butter brownie! You can use any base brownie batter (Even a boxed mix!) but the one in this recipe is taken from my favorite classic brownie recipe.
They're not too cakey and not too chewy. Perfect for swirling in some peanut butter.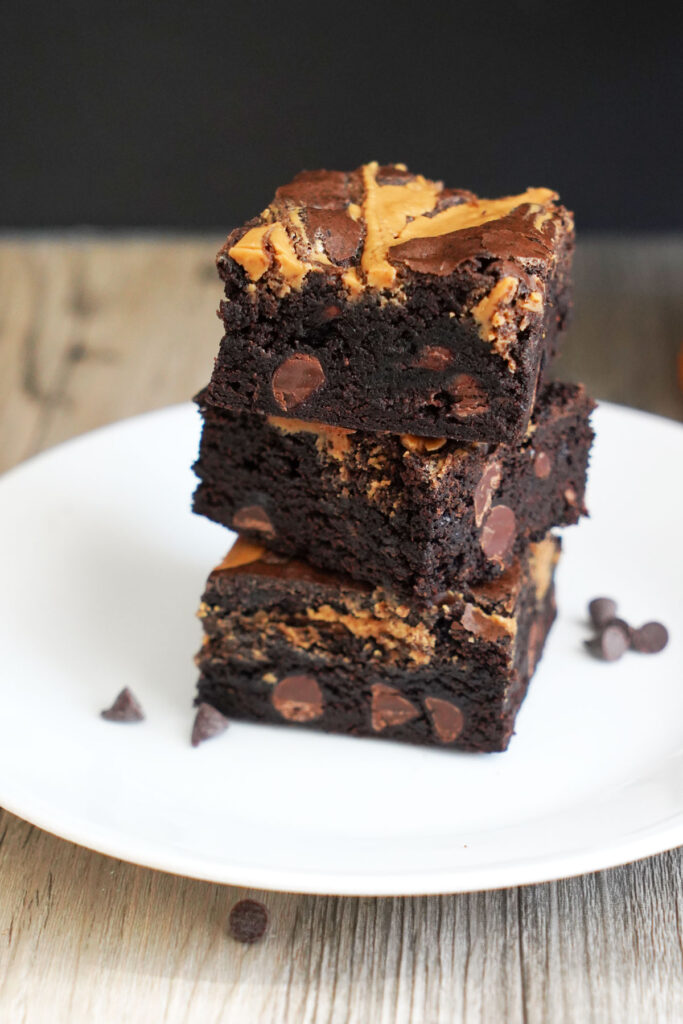 It's super easy too. All I did was warm up some peanut butter and swirl it into the top of the batter before baking! Nothing complicated here.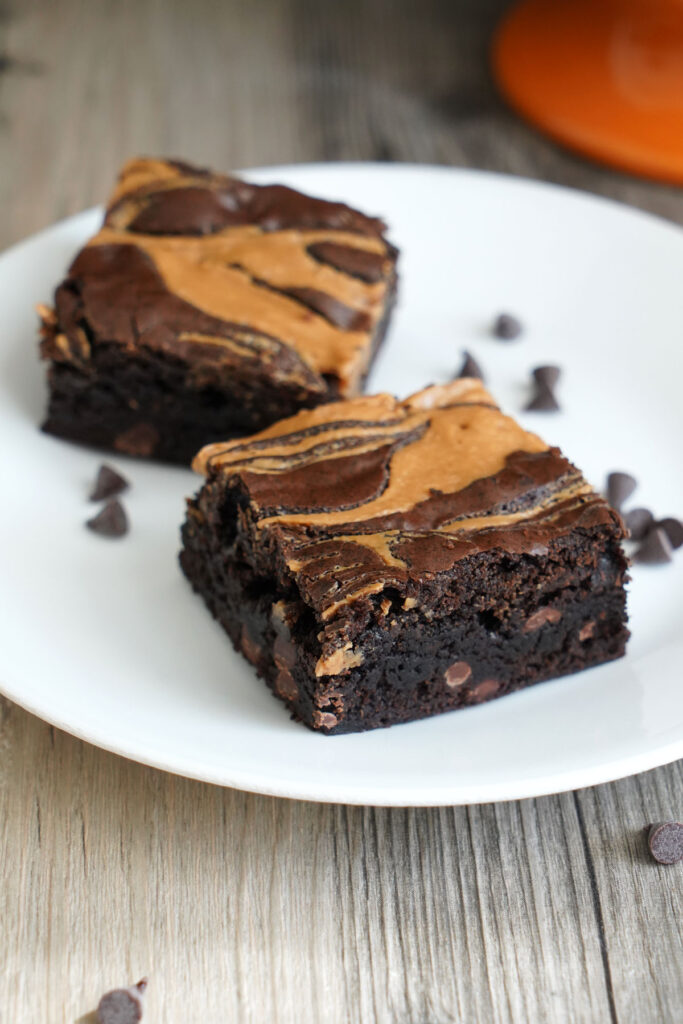 When warming the peanut butter, I found it easiest to warm it in ten second increments in the microwave. It does not be to be super liquid. You are not trying to drizzle the peanut butter. Give it a stir and see if it's loose enough to easily cut a knife through it to create swirls.
You can vary the amount of peanut butter you swirl in depending on your love of peanut butter and chocolate to peanut butter ratio preference! Anywhere from ¼ cup to ¾ cup will work.
I used ¾ cup initially and that is what you see in the photos but then I put in ½ cup and liked it even better.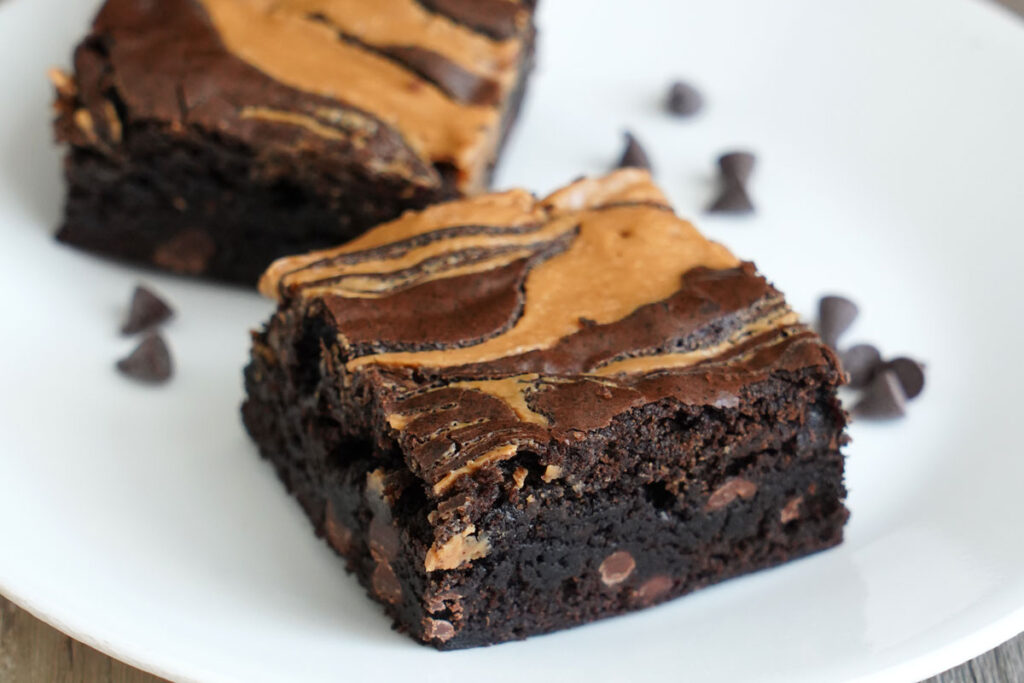 Tips for Making Peanut Butter Brownies
If you use my brownie recipe: Be sure to use a high quality Dutch Process cocoa powder. It is less acidic, darker in color and reacts better with baking powder. Do not leave out the semi sweet chocolate chips. It adds to the sweetness.
These brownies are totally freezable! Just let them cool, wrap in plastic and place in an airtight container.
The more you run your knife through the batter, the more the peanut butter gets swirled. Be careful not to over do it or it won't look like a swirl pattern any more.
To make sure each piece gets a swirled appearance, make sure you drag the peanut butter into the corners and edges.
I used regular Skippy peanut butter but you can use your favorite one. I am not sure what happens with oil separation when using natural peanut butter so I caution against it.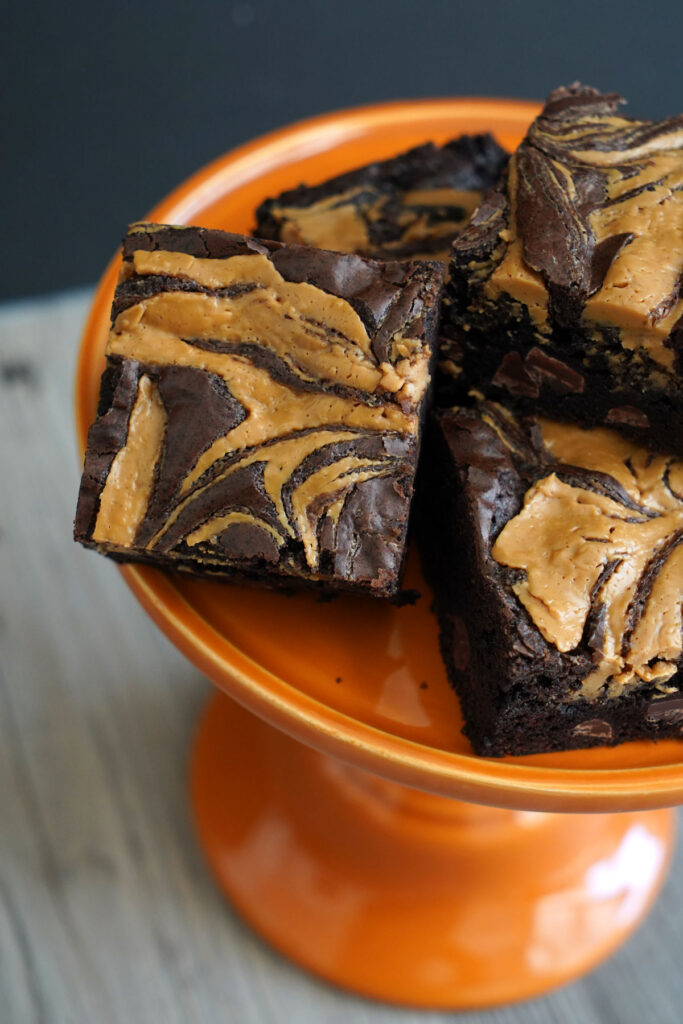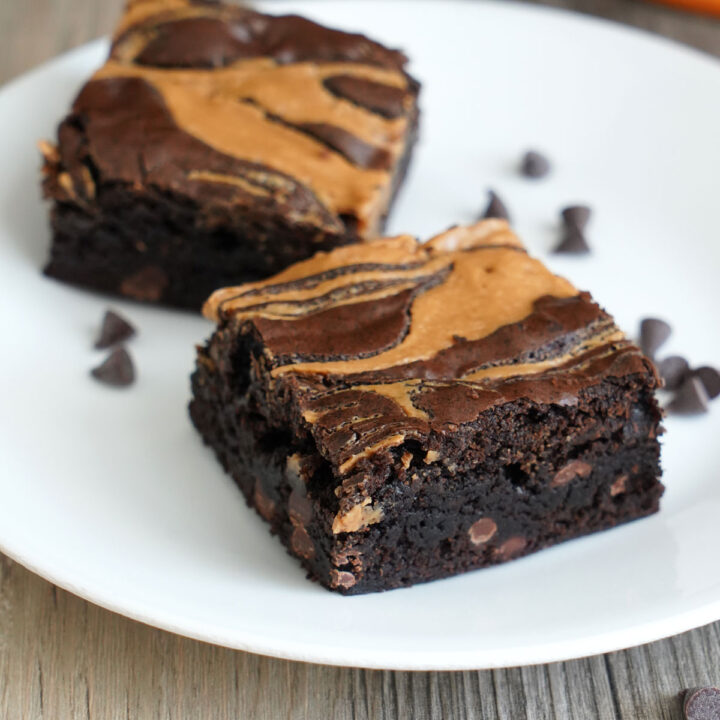 Peanut Butter Swirl Brownies
Decadent peanut butter brownies that will satisfy every chocolate and peanut butter lover.
Ingredients
1 cup unsalted butter, plus extra for greasing pan
2 cups granulated sugar
4 eggs, room temperature
1 ¼ cup Dutch process cocoa powder
1 teaspoon salt
1 teaspoon baking powder
1 Tablespoon vanilla
1 ½ cups all purpose flour
2 cups semi sweet chocolate chips
½ cup peanut butter
Instructions
Preheat the oven to 350F. Prepare a 9x13 metal pan by greasing the bottom and sides with butter. Line the bottom with parchment paper large enough for it to overhang on two of the sides. Grease the parchment.
Heat the butter in a large saucepan over low flame. Once the butter has melted, add the sugar, increase the heat to medium and stir until the mixture is smooth and shiny. This should take 1-2 minutes.
Using medium speed, beat the eggs, cocoa powder, salt, baking powder, and vanilla in a large bowl until smooth.
Add the butter-sugar mixture and stir with a spatula until smooth.
Add the flour and mix in the chocolate chips. Stir with a spatula until incorporated.
Transfer the batter to the baking pan and spread evenly.
Warm the peanut butter in the microwave in 10 second increments until it's loose and pourable.
Drop spoonfuls of peanut butter spaced across the pan. Be sure to drop into the corners and edges. To create swirls: Drag a butter knife through each peanut butter drop in one constant motion. Repeat, by dragging the knife through each drop again in a different direction.
Bake for 25-28 minutes or until a toothpick inserted in the center comes out clean. Let the pan cool completely. Gently use a plastic knife around the edge of the pan to release brownie that may be stuck to the sides with no parchment. Use the two parchment paper flaps to lift the brownie slab out of the pan.
Cut into desired number of pieces and enjoy.
Nutrition Information:
Yield:

24
Serving Size:

1 piece
Amount Per Serving:
Calories:

293
Total Fat:

16g
Saturated Fat:

8g
Trans Fat:

0g
Unsaturated Fat:

6g
Cholesterol:

51mg
Sodium:

149mg
Carbohydrates:

36g
Fiber:

2g
Sugar:

25g
Protein:

5g
This nutrition information is only an approximate provided for convenience and as a courtesy only. Information comes from Nutritionix, an automated nutrition calculator.