Extra fudgy brownies with peppermint candy baking chips are perfect for the holidays. Festive and full of flavor!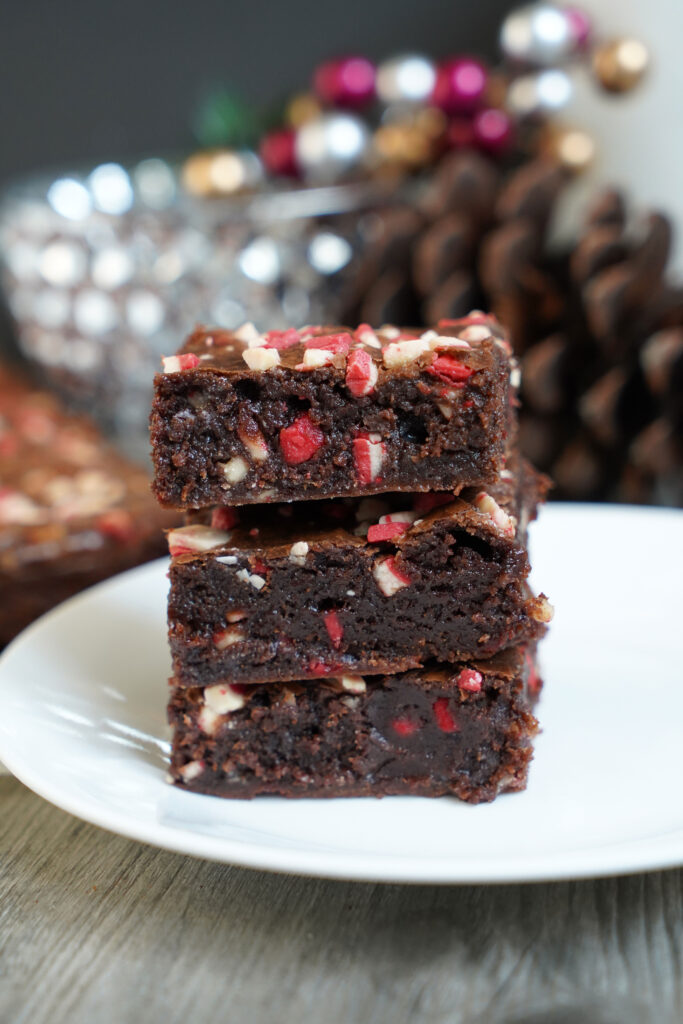 My go to brownie recipe is my classic brownie recipe because it's right in the middle of being cakey and fudgy. But, for these peppermint brownies, I wanted to change it up and go really fudgy!
So how do you get extra fudgy brownies?
The trick to a fudgy gooey brownie recipe is to use a higher fat to flour ratio. Instead of using all cocoa powder in the batter, I melted down high quality chocolate. The result did not disappoint!
These brownies are so rich in chocolate flavor! It's hard to not eat them all at once.
How to make peppermint brownies:
I did not use any peppermint extract to get a peppermint flavor. Peppermint extract would have overwhelmed the flavor of the chocolate. Instead, I opted for using a whole bag of Andes Peppermint Crunch Baking Chips. The peppermint flavor the baking chips impart is plenty!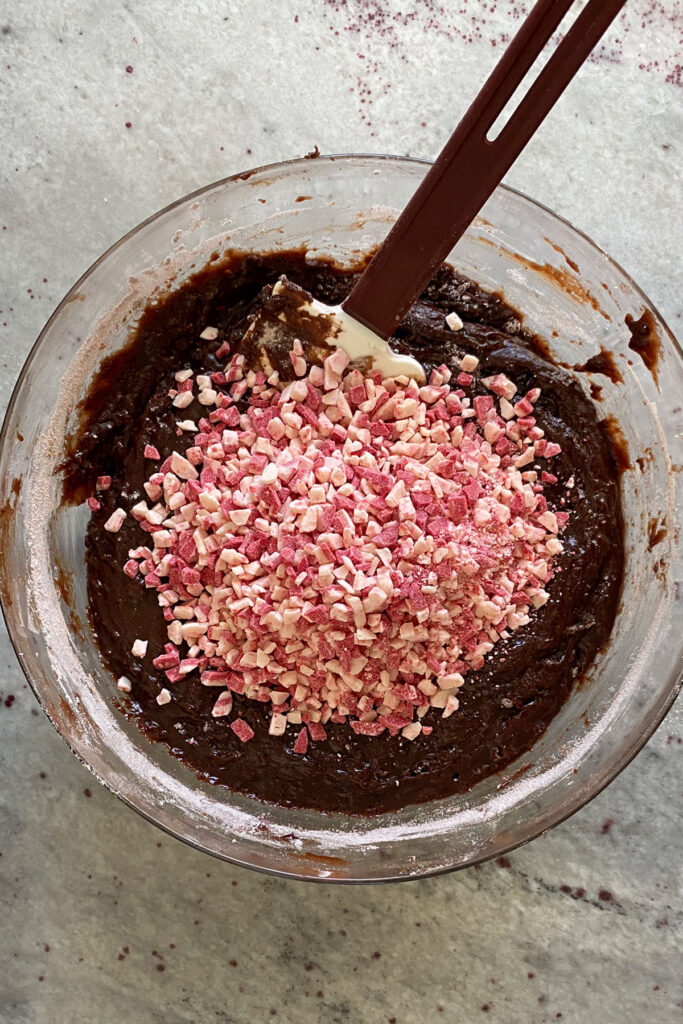 These baking chips are one of my favorite ingredients. I always grab a bag of these during the holidays. Last year, I used them to make chocolate peppermint chip cookies. So good!
If you can't find these baking chips, you can also try using crushed candy canes. Although, I imagine it will be a crunchier texture in each bite.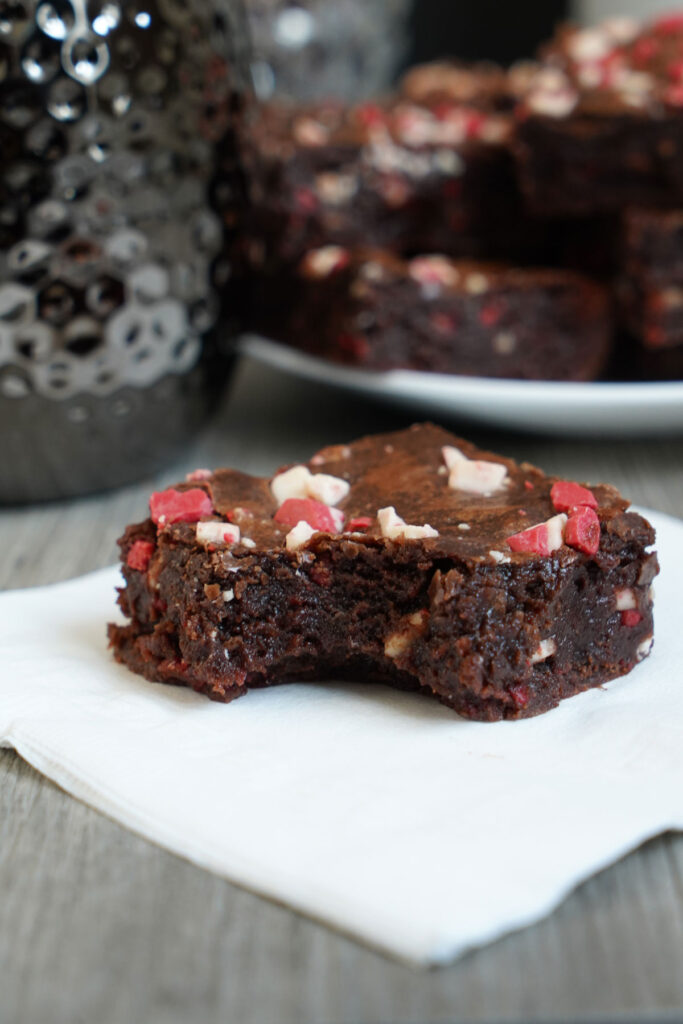 Once these brownies start to bake in the oven, you will start smelling that wonderful peppermint! It really is the perfect Christmas brownie recipe...peppermint, red specks, and gooey gooey chocolate! Have I tempted you yet?
Tips for making fudgy brownies:
Use good chocolate. You can chop up high quality chocolate bars such as Lindt. If you opt for melting down chocolate chips, try to find the good stuff. I used Guittard.
Mixing the sugar into warm butter and chocolate helps get that coveted crackly top. So give it a good stir before adding the rest of the ingredients.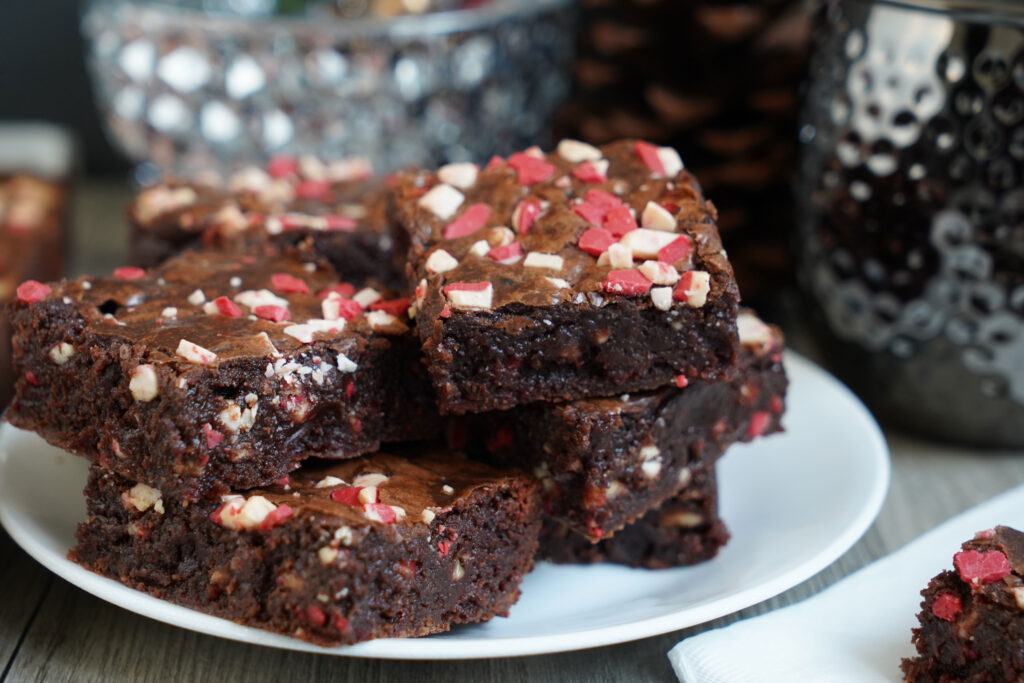 It's easy to over bake brownies. A toothpick inserted into the center should have a few moist crumbs on it. If it is completely clean, it may be over baked. Take it out of the oven when the center is no longer wet and let it cool completely in the pan.
Espresso powder enhances the taste of chocolate. It is not essential to the recipe but I highly recommend it!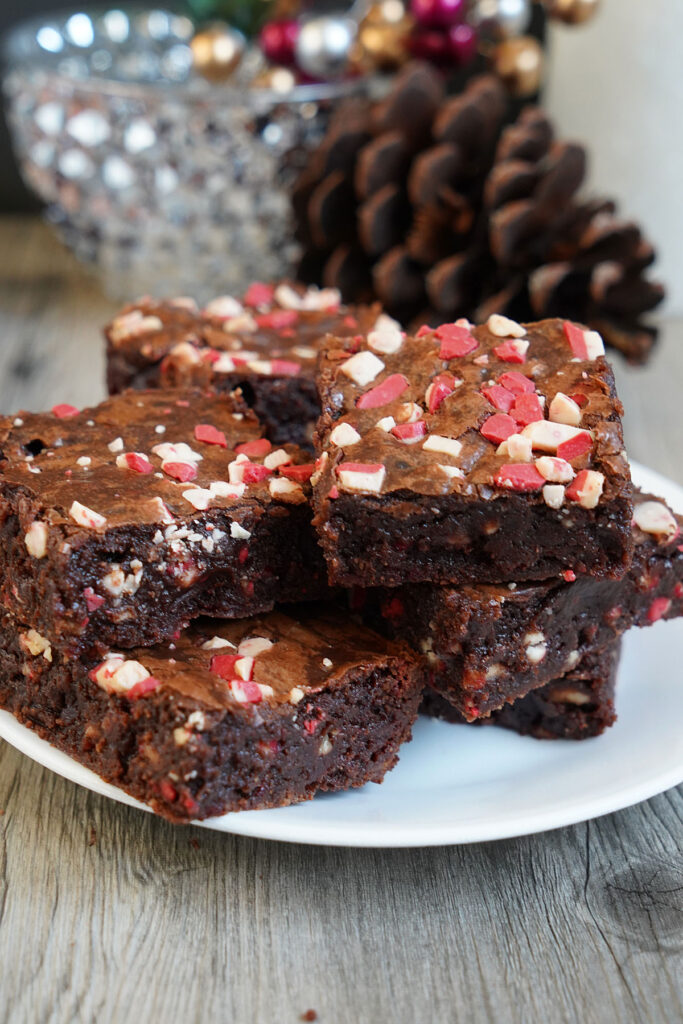 Preparing for the Holidays:
These brownies can be made in advance and frozen. Just be sure to completely thaw before serving or adding to your cookie trays. For more holiday cookies, you may also want to try these: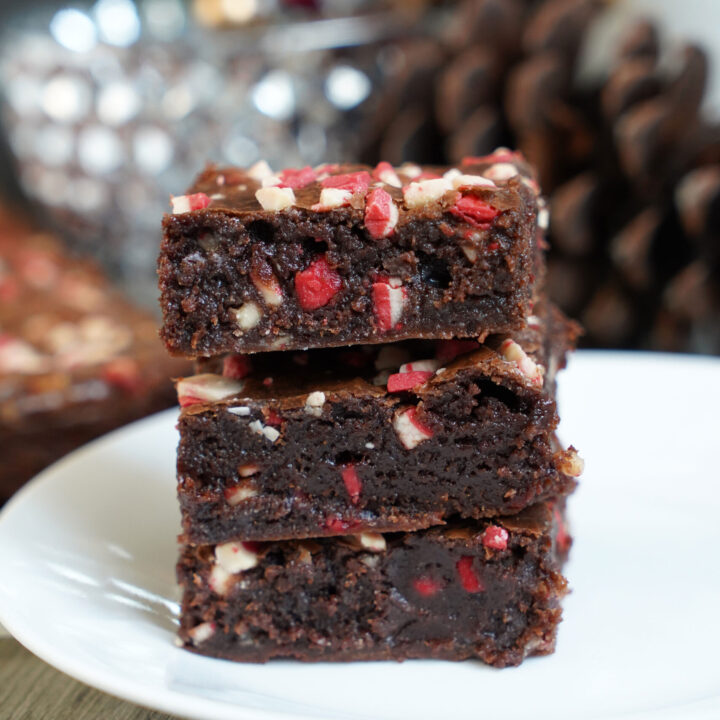 Fudgy Peppermint Brownies
Extra fudgy brownies with peppermint candy baking chips are perfect for the holidays. Festive and full of flavor!
Ingredients
1 ½ cups all purpose flour
½ teaspoon salt
¼ cup unsweetened cocoa powder
12 ounces of semisweet chocolate, chopped
1 cup butter, cubed
1 teaspoon espresso powder
2 cups sugar
5 eggs, lightly beaten
1 Tablespoon vanilla extract
2 cups Andes Peppermint Crunch Baking Chips
Instructions
Preheat the oven to 350F. Line a 9x13 baking pan with parchment paper by first buttering the bottom and sides. Leave an overhang of the parchment paper on the two long sides. Set aside.
In a large bowl, whisk together the flour, salt, and cocoa powder and set aside.
Heat the chocolate, espresso powder and butter in a double boiler (or in a bowl placed over a pot of simmering water) Stir until the chocolate and butter are completely melted. Turn off the heat. Add the sugar and stir until the sugar has melted. Remove it from the simmering water and let it cool to room temperature.
Add the eggs and vanilla extract to the chocolate mixture and whisk until just incorporated.
Fold in the flour mixture and with a spatula and mix until just combined. Do not overmix.
Fold in the peppermint baking chips, reserving about ¼ cup to sprinkle on top.
Transfer the batter to the baking pan and sprinkle the remaining chips.
Bake for 25-30 minutes or until a toothpick inserted into the center comes out with just a few crumbs on it.
Let the pan cool completely. Gently use a plastic knife around the edge of the pan to release brownie that may be stuck to the sides with no parchment. Use the two parchment paper flaps to lift the brownie slab out of the pan. Cut into pieces and serve.
Notes
For the semi sweet chocolate, I recommend using high quality chocolate or chocolate chips such as Guittard.