Looking for gingersnap cookies with strong flavors, chewy texture and a crisp exterior? You found it! Read on for everything you need to know about making the perfect gingersnap cookie.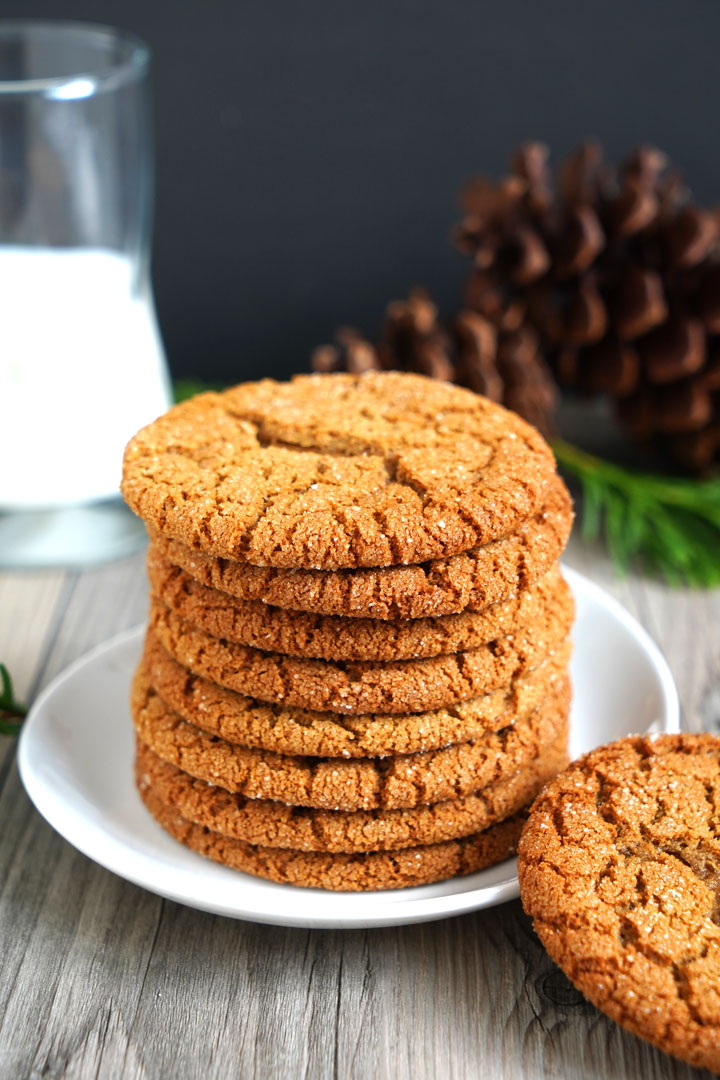 Stop! Don't look any further for the best gingersnap cookies recipe. Unless of course, you are looking for a cookie that literally snaps. Yes, some people believe they should be completely crisp as the name suggests.  I'm not in that camp. I like my gingersnap cookies to be chewy on the inside and crispy on the outside. And FULL of flavor!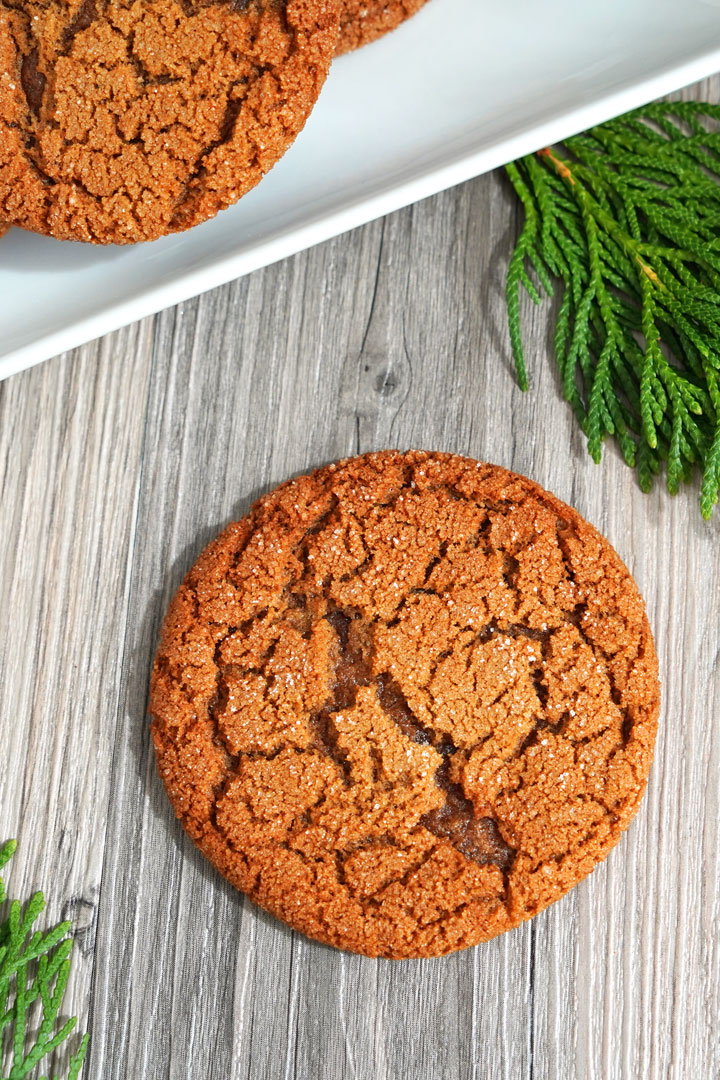 To make gingersnap cookies you will need these ingredients:
Unsalted butter: Always use unsalted butter so you have complete control over the amount of salt. Room temperature butter also makes mixing easier and more uniform.
Granulated sugar: Some recipes use brown sugar for gingersnaps for a deeper molasses flavor. I found it unnecessary since I am already adding molasses and have a lot of spices. You will also need granulated sugar to create crackly sugar topped cookies.
Molasses: Gives the cookie flavor, color and moisture. It also helps to react with baking soda due to its slight acidity.
Vinegar: Acids keep baked goods soft and are also needed to react with baking soda. I promise you won't taste the vinegar.
All purpose flour: You can also use bread flour if you have it! Bread flour gives a slightly better rise and these cookies tend to be flat so it works out well.
Baking soda: Use baking soda not baking powder. They do not react the same way!
Ginger, cinnamon, cloves, cardamom: These are essential for giving the cookies all their flavor. For best results, make sure your spices are fresh and have not been sitting in your cabinet for years.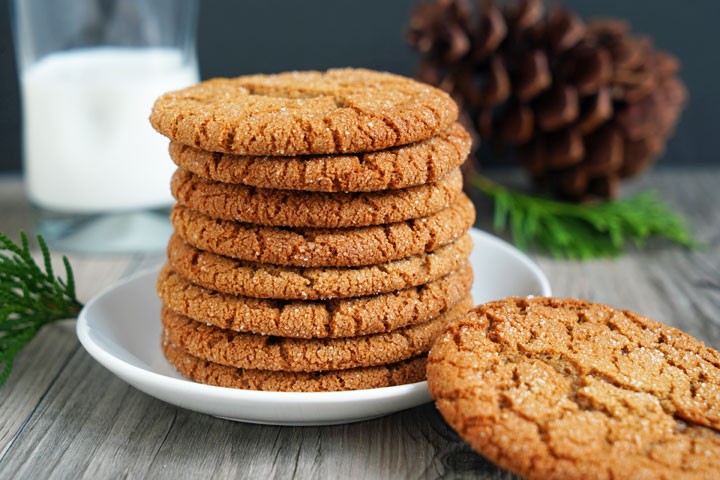 Other tools you need:
Stand mixer or an electric hand mixer and bowl.
Whisk, spatula, bowls
Plastic wrap
Parchment paper (optional but helpful)
Cookie sheet
Oven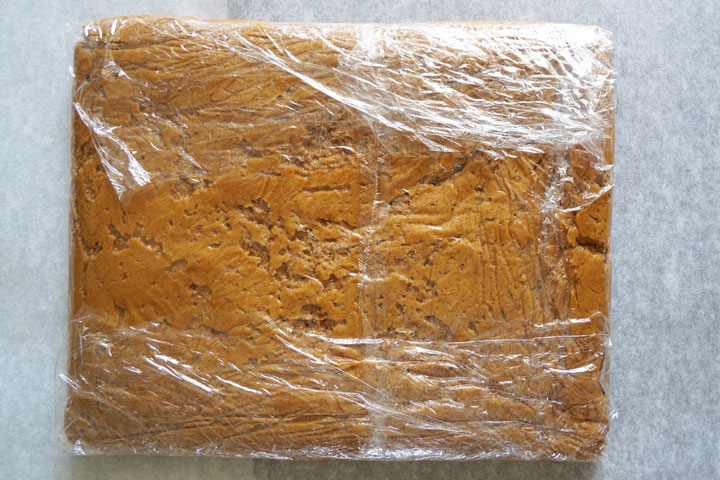 Why do I have to chill gingersnap cookie dough?
After forming the dough using the instructions in the recipe, it's important to chill the dough for two reasons. One, this makes it easier to handle and portion out into equal pieces. Two, a chilled dough prevents cookies from overspreading in the oven.
TIP: These cookies spread a lot even when chilled so be sure to lay them out on the cookie sheet with generous space.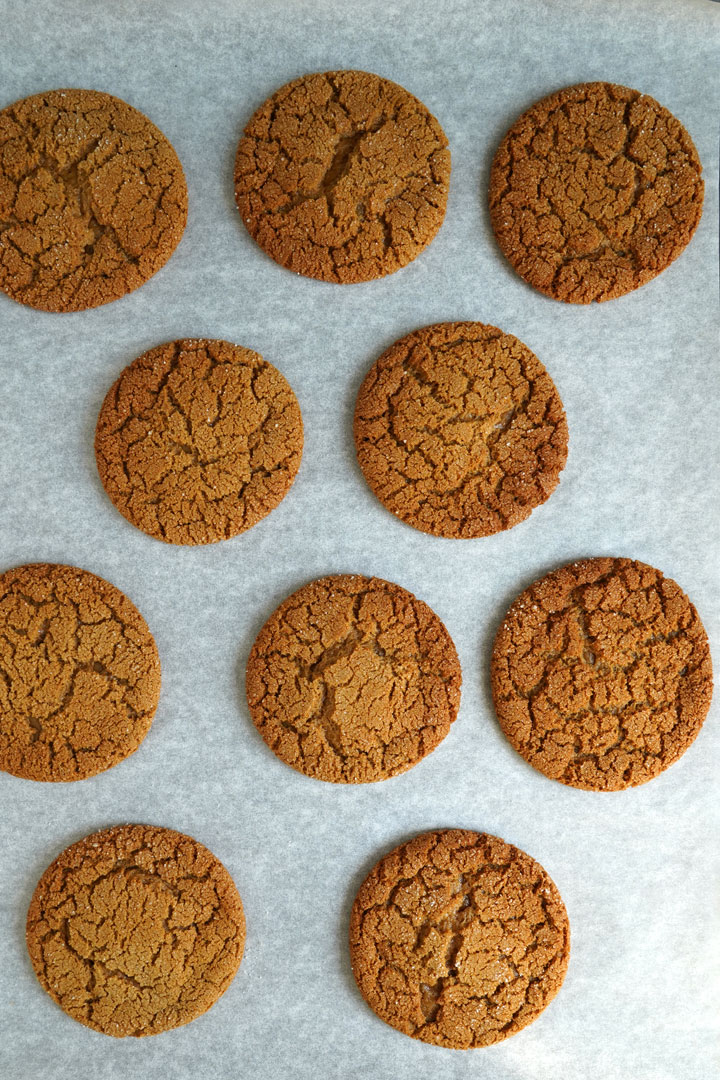 How do I know when the gingersnaps are done?
The cookies will spread, puff up and crack on the top. They should look slightly darker on the edges and the middle should not look wet. They will flatten more as they cool on your cookie sheet.
It's always good to bake off a few cookies before putting them all in the oven. Make this your test batch. This way, you can judge the spacing of your cookies and the timing of your own oven. Oven temperatures are not always precise so timing can vary. My oven is also a convection oven so it tends to cook things faster than non convection ovens. This is why I give a cooking time with a range of 7-10 minutes.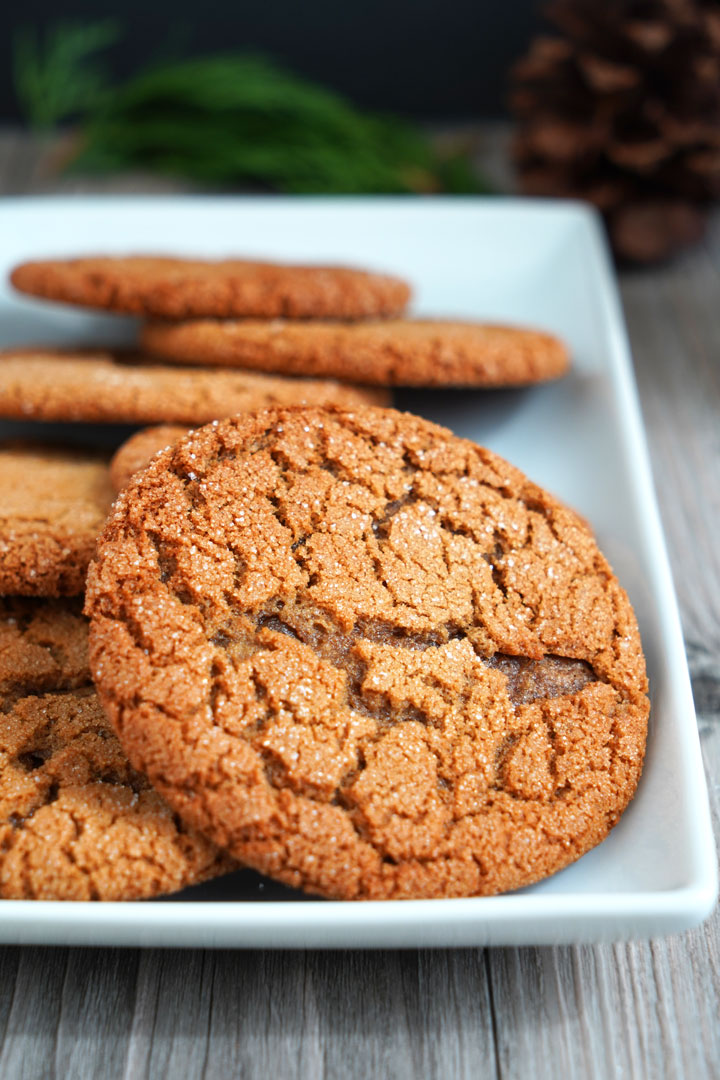 How far in advance can I make these cookies?
Uncooked dough can be refrigerated for 4-5 days. You can also freeze the unbaked cookies. If you freeze them before rolling into balls, I would at least portion them out first. Then let them thaw for 5 minutes and roll them. If you freeze them rolled, I recommend dredging them in sugar just before baking. This makes the cookie look more sparkly with the sugar crystals showing more. You do not need to thaw them.
How do you get cookies to all be the same size?
This is why it's important to press the dough into an even rectangle or square before chilling. Once it's firm, it's ready to cut into equal pieces. Use a ruler. I am serious. When cutting the dough into 24 equal pieces, use a ruler to measure out a grid. It doesn't take that much more time.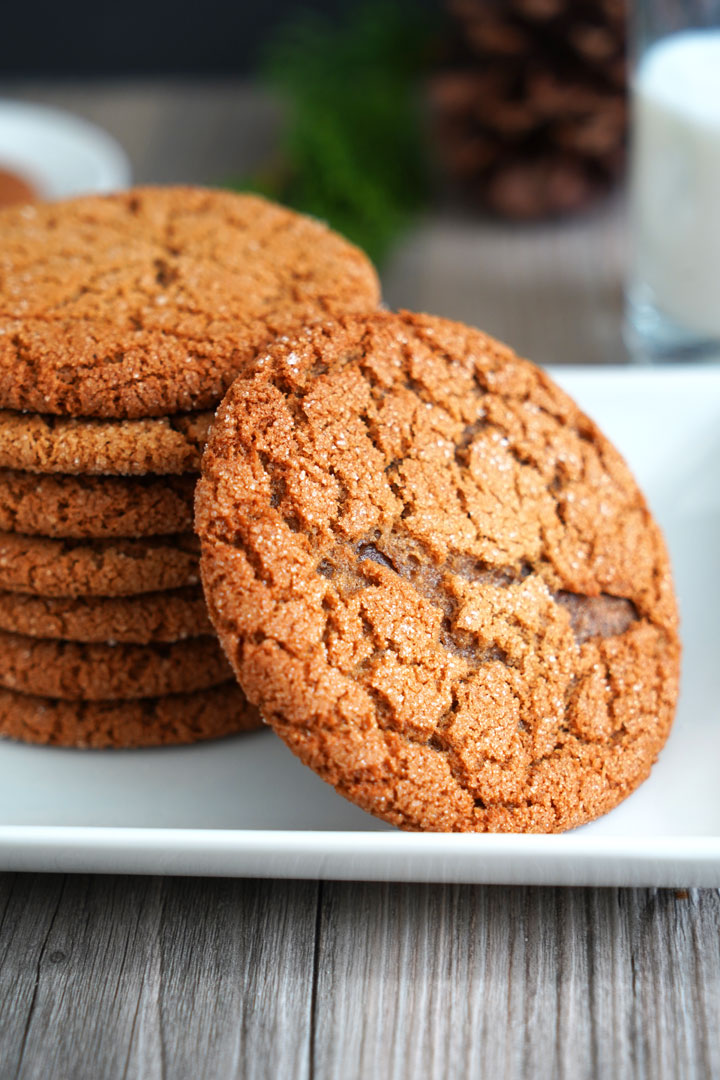 And can I just say one more thing about this cookie? Why wait for the winter holidays to make them? They are delicious any time of the year whether you are having them with a glass of milk in the evening or a glass of cold lemonade on a hot summer day. Enjoy!
More Winter Holiday Cookies
Gingersnap Cookies
Additional Time:
30 minutes
Looking for gingersnap cookies with strong flavors, chewy texture and a crisp exterior? You found it! Read on for everything you need to know about making the perfect gingersnap cookie.
Ingredients
6 Tablespoons unsalted butter, room temperature
1 cup sugar
1 egg
¼ cup molasses
2 teaspoons vinegar
2 cups all purpose flour
1 ½ teaspoons baking soda
½ Tablespoon ground ginger
½ teaspoon cinnamon
½ teaspoon ground cloves
½ teaspoon cardamom
¼ teaspoon salt
Instructions
In a medium bowl, sift or whisk together the flour, baking soda, ginger, cinnamon, cloves, cardamom and salt. Set the bowl aside.
Using an electric mixer, cream the butter and sugar until light and fluffy. Scrape down the sides with a spatula as needed in between and at the end.
Add the egg and mix until incorporated.
Slowly add the molasses and then vinegar while still mixing.
Add the flour mixture to the butter mixture and mix only until just incorporated.
Lay a large sheet of plastic wrap on the counter and turn the dough out onto the plastic. Shape the dough into a flat rectangle and wrap it in the plastic. Chill the dough for 30 minutes or until it feels firm. Preheat the oven to 350F
Set aside a dish or small shallow bowl of a few tablespoons of sugar for dredging the dough. Place a piece of parchment paper over a large cookie sheet.
Cut the dough into 24 equal pieces.
Roll the dough pieces into balls with the palm of your hands and then dredge the ball in sugar.
Place the balls on the sheet pan in a staggered and spread out pattern.
Bake the cookies for 7-10 minutes or until the cookies have spread, the sugar crust has cracked and they appear firm in the middle.
Nutrition Information:
Yield:

24
Serving Size:

1
Amount Per Serving:
Calories:

110
Total Fat:

3g
Saturated Fat:

2g
Trans Fat:

0g
Unsaturated Fat:

1g
Cholesterol:

15mg
Sodium:

106mg
Carbohydrates:

19g
Fiber:

0g
Sugar:

11g
Protein:

1g
This nutrition information is only an approximate provided for convenience and as a courtesy only. Information comes from Nutritionix, an automated nutrition calculator.