Eggless cardamom cookies have a melt in your mouth buttery taste with hints of chocolate and spices. These are perfect for the Holi festival or any celebration.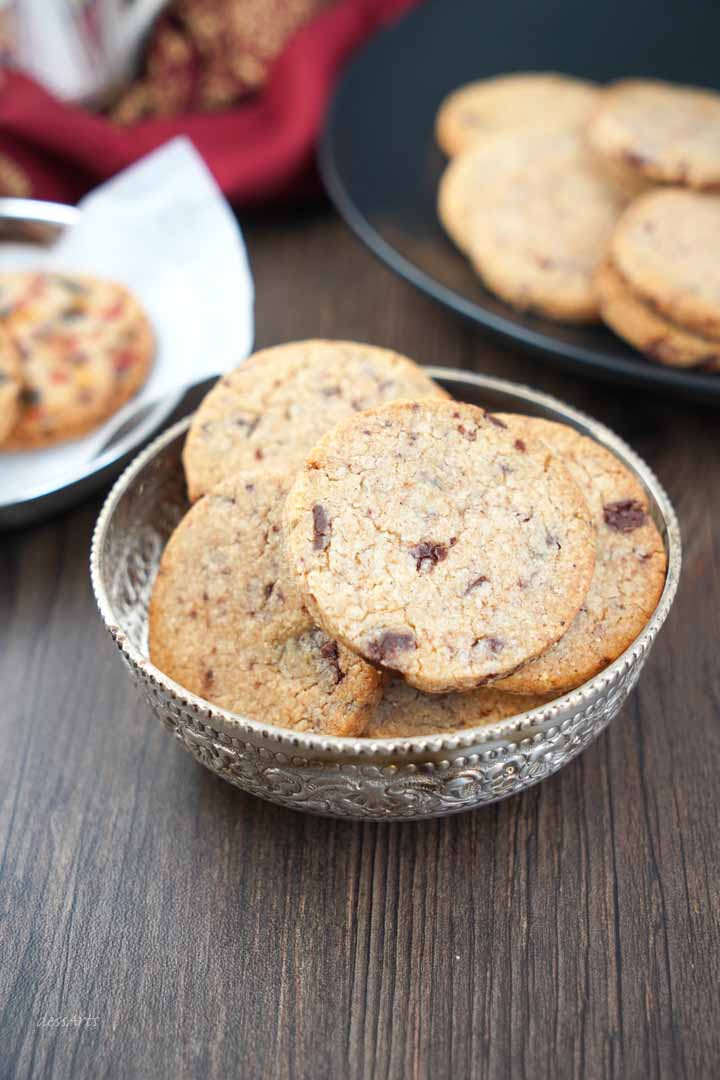 I made these cardamom cookies especially for this year's Holi festival. The truth is I would eat them year long and am thinking they would make an excellent cookie for a holiday cookie swap too. There is so much you can do with this recipe! Let me tell you how I customized them to make Holi cookies.
First, these aren't just cardamom cookies. I added some other spices along with the cardamom. I was trying to go for a cookie that also reminded me of thandai- the traditional drink of the Holi festival. So I added some fennel, and white poppy seeds. You don't have to add these. I also substituted some of the flour for almond flour. Again, you can keep it nut free but just add an equal amount of all purpose or whole wheat flour.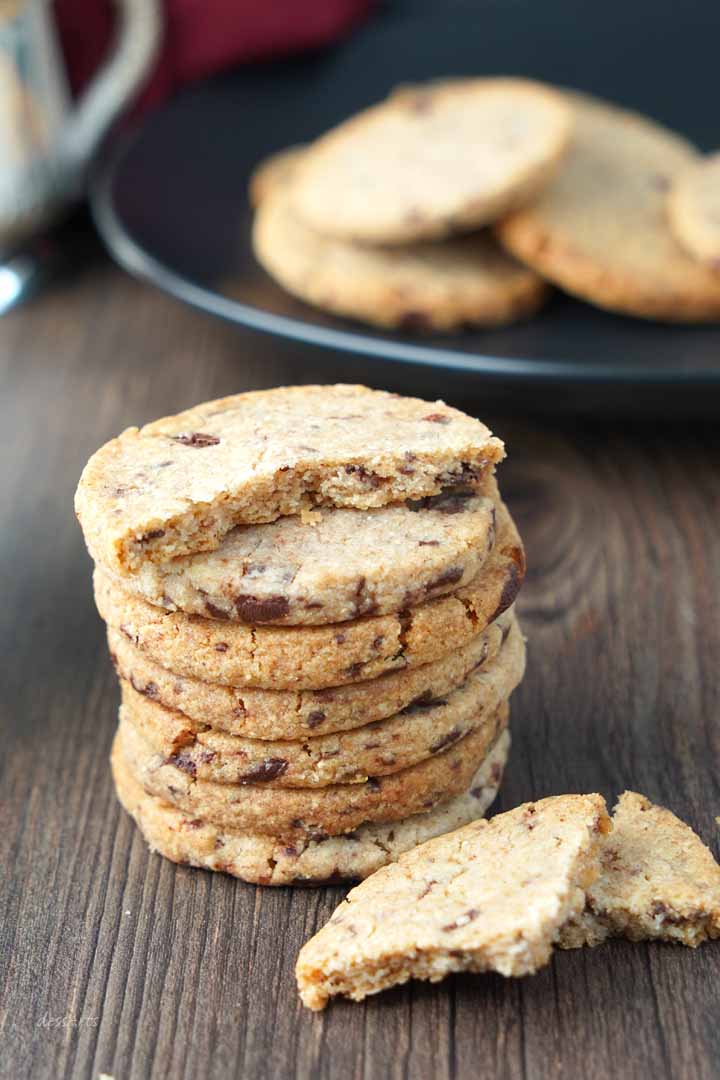 Feel free to play around with the added spices to this cookie recipe. You might even want to try to throw in some chai spice blend! I'm telling you, this eggless sugar cookie recipe is so versatile, buttery and delicious.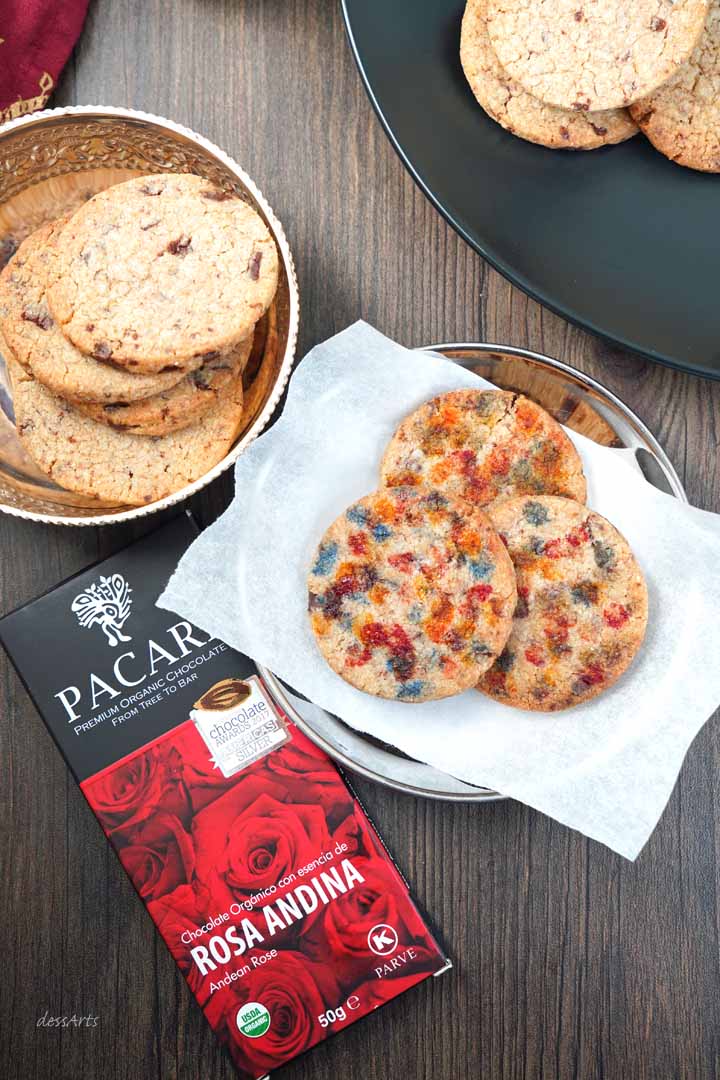 Second, I added some chocolate to this recipe by chopping up a bar into small chunks. I used a rose flavored chocolate made by Pacari, an Ecuadorian organic chocolate brand. I received this Andean Rose chocolate bar as a gift from MIL who had just returned from Ecuador.
As soon as I saw it, I knew that I wanted to add it to a recipe! It was perfect for this Holi cardamom cookie since rose is another flavor found in thandai. This chocolate bar has a very strong rose flavor! Again, you don't have to use a rose flavor chocolate, try any of your favorite chocolate bars!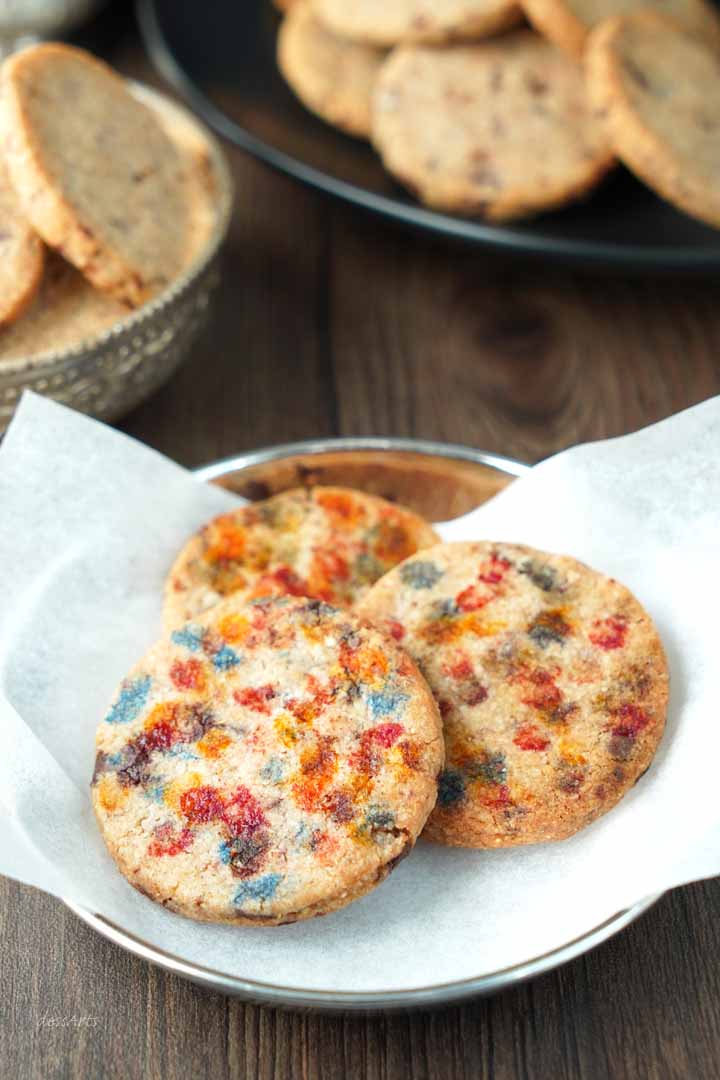 Finally, I added some color to these cookies because what is Holi without all the color?? I used the same technique that I used in my paint splatter chocolate bark recipe. Taking natural food dye gels thinned out with some vodka, I went to work with a paint brush. Perfect for Holi right? You can even cover these cookies in white icing and then paint on them.
Tips for Making Eggless Cardamom Cookies:
If chopping a chocolate bar, be sure to make small thin pieces so they do not stick out of your cookies too much.
Be gentle when working the dough. You only need to make it come together. Over kneading can make the cookie tough instead of tender after baking.
Press the dough down as much as you can with your hands rather than trying to roll it. It is a crumbly dough and does not roll well. Shape it into a flat rectangle, cover it with parchment and then roll between two sheets of parchment to even out the dough to ¼ inch thickness.
Chill the dough for at least 30 minutes to make using a cookie cutter easier. The colder your dough is before baking, the better your cookies will hold their shape. I sometimes chill, cut and then chill again just before baking if the dough gets too warm.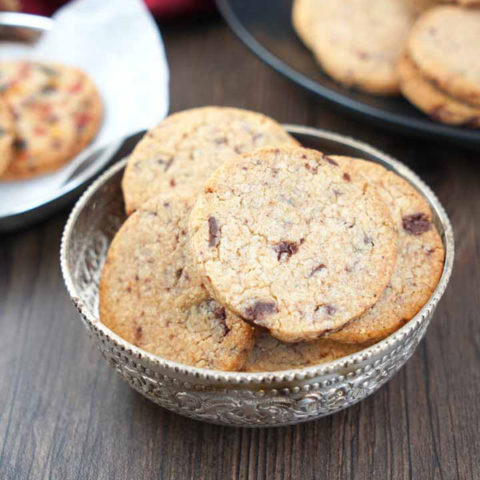 Cardamom Cookies
Chilling Time:
30 minutes
Eggless cardamom cookies have a melt in your mouth buttery taste with hints of chocolate and spices. These are perfect for the Holi festival or any celebration. Customize them with different spices and/or flavored chocolate.
Ingredients
½ cup all purpose flour
½ cup almond flour
½ cup whole wheat flour
¾ teaspoon baking powder
¼ teaspoon salt
2 teaspoons ground cardamom
1 teaspoon ground fennel, optional
½ teaspoon white poppy seeds, optional
1 cup sugar
½ cup unsalted butter
2 TBS heavy cream or milk
½ teaspoon vanilla extract
2 ounces chocolate, chopped
Instructions
In a large bowl, whisk together the flours, baking powder, salt, cardamom, fennel, and poppy seeds. Set it aside.
Beat the butter and sugar together with an electric mixer until light and fluffy. Scrape down the sides of the mixing bowl and add the vanilla extract and cream. Beat until combined.
Add the dry ingredients to the butter mixture in three batches. Stir it by hand with a spatula with each addition. The mixture will be crumbly.
Add the chopped chocolate and stir it in with the spatula.
Turn the dough out onto a large sheet of parchment paper and bring it together with your hands. Flatten it out with your hands or a rolling pin to ¼ inch thickness.
Chill the rolled out dough for 30 minutes. Preheat the oven to 350F.
Cut the dough with a cookie cutter and place the cut cookies on a parchment line cookie sheet.
Bake the cookies in the oven for 8-10 minutes or until the edges just begin to brown. Let them cool for three minute on the sheet pan and then transfer to a cooling rack.
Notes
These cookies can be made without the addition of fennel and poppy seeds.
I used a rose flavored chocolate bar but you can use regular chocolate too and add (or skip) a drop or two of rose extract to flavor the cookies.
You can keep these cookies nut free by replacing the almond flour with an equal amount of either all purpose or whole wheat flour.
Nutrition Information:
Yield:

24
Serving Size:

1 cookie
Amount Per Serving:
Calories:

114
Saturated Fat:

3g
Cholesterol:

11mg
Sodium:

26mg
Carbohydrates:

14g
Sugar:

9g
Protein:

1g
You May Also Like