Looking for a fun Holi recipe? Try this gorgeous paint splattered chocolate bark inspired by thandai, the traditional drink of the festival.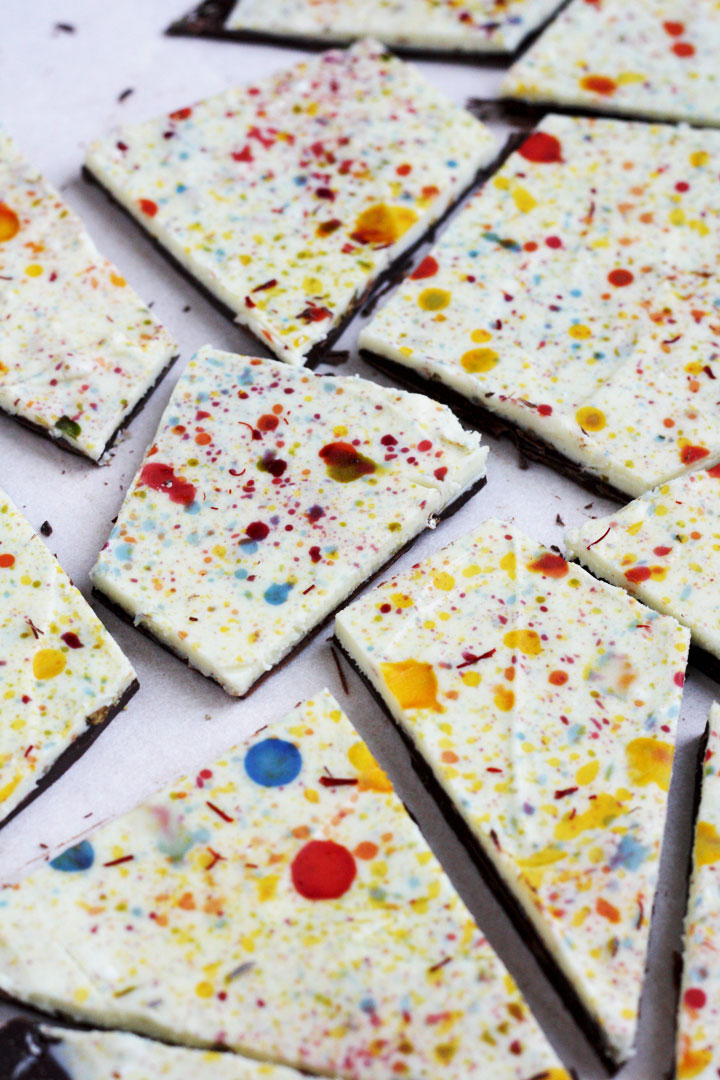 Happy Holi! Today is Holi and to celebrate, I've made this gorgeous Holi recipe for chocolate bark. If you've never heard of Holi, do a Google image search and you'll see why I had to make this chocolate bark so colorful.
Did you Google it? Looks like fun right? Holi is a Hindu festival that celebrates the victory of good over evil and the arrival of spring. The evening is celebrated with a bonfire and the next morning people smear each other with colored powder and throw it into the air.
WHAT IS THANDAI?
With all fun festivals comes great food! There are so many great Holi recipes, including gujiya, malpua and different types of burfis. Probably the most infamous is bhang thandai, a milk drink mixed with nuts, spices and a marijuana derivative. Yes, you read that correctly, but don't worry, it's not an ingredient in this thandai inspired chocolate bark. There are many recipes for thandai but typically its cold milk mixed with a powder containing sugar, saffron, almonds, fennel, rose essence, cardamom, black pepper and white poppy seeds.
I decided to use white chocolate because it is the perfect canvas for making this colorful Holi recipe. However, I'm not a huge fan of white chocolate taste, so I decided to layer it on top of dark chocolate. Sandwiched between the two layers of chocolate are all the spices and nuts that are traditionally found in thandai, the traditional drink of the festival.
I chose from the spices I already had in my pantry but you can change it to your taste. If you enjoy the flavor combinations of my spiced chocolate splatter pain bark, you might also want to check out my white chocolate Diwali Bark.
HOW TO PAINT WITH FOOD COLORING
The colors come from food dye gels mixed with just a little bit of vodka. Don't worry, the vodka is just to thin out the gel. It eventually evaporates so you won't taste it. I used a food safe paint brush to splatter paint the food coloring all over my chocolate canvas.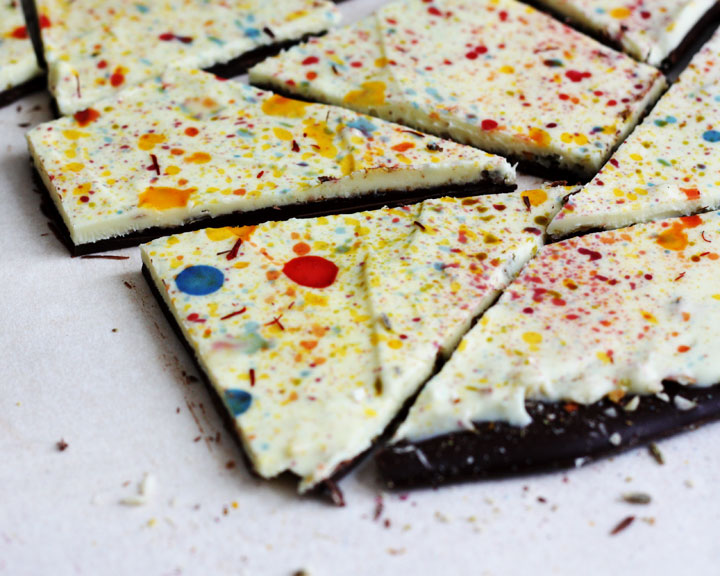 I used this same painting technique on my cardamom cookies. So ahead and experiment a little!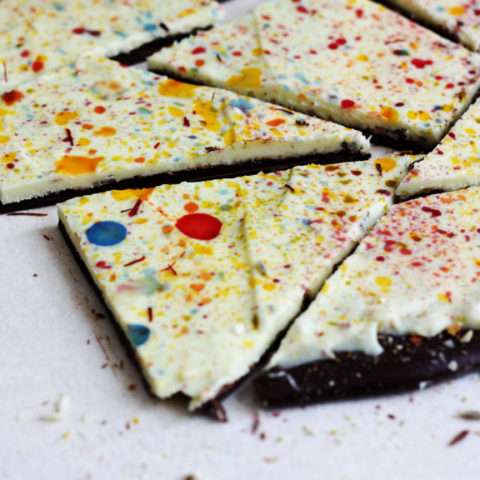 Paint Splatter Chocolate Bark
This gorgeous paint splattered chocolate bark is perfect for the Holi festival. It's colorful with flavors inspired by thandai, the traditional drink of the festival.
Ingredients
8 ounces white chocolate, finely chopped
8 ounces 70% dark chocolate, finely chopped
2 teaspoons finely chopped almonds
2 teaspoons finely chopped pistachios
2 teaspoons fennel seeds
8-10 green cardamom pods, seeded
pinch of ground cardamom
pinch of saffron
¼ teaspoon rose extract
gel food coloring
3-4 teaspoons vodka
food safe paintbrush
Instructions
Set up a sheet pan by lining it with parchment paper.
Crush the fennel and cardamom seeds in a mortar and pestle or pulse it a few times in a spice grinder.
Place the white chocolate and dark chocolate in separate bowls. Set up a double boiler for each by filling a pot with water and putting it to boil. Be sure to choose a pot that the bowl can sit on top of without touching the water in the pot.
Once the water has boiled in one pot, turn off the stove and place the bowl of chocolate on top of the water pot. Slowly stir the chocolate until all of it has melted. You may have to remove it from the pot if it gets too warm. (it should not go above 90 degrees) or you may have to place it back on the pot if it is not melting. Be patient and take your time stirring until you have a smooth liquid.
Pour the dark chocolate onto the parchment in an approximate 8 by 10 inch rectangle.
Sprinkle the chocolate with the almonds, pistachios, crushed spices, and ground cardamom.
Repeat the melting process with the white chocolate. Stir in the the rose extract and pour it over the dark chocolate, gently spreading it around.
Sprinkle with a pinch of crush saffron.
Once the chocolate has set, mix a pea size drop of food coloring with a few drops of vodka in a small bowl. Dip the paint brush and spatter over the chocolate. Use your finger to either tap the brush or brush against the bristles to create splatter. Repeat with different colors.
Notes
Adjust any of the spices to your taste!
Rose extract may be difficult to find. It is not the same as rose water.
Protect surfaces when splattering food coloring.
The vodka will evaporate and you will not taste it.
Nutrition Information:
Yield:

12
Serving Size:

1 piece
Amount Per Serving:
Calories:

227
Saturated Fat:

7g
Cholesterol:

5mg
Sodium:

19mg
Carbohydrates:

22g
Fiber:

2g
Sugar:

18g
Protein:

2g
SaveSave
SaveSave
SaveSave
SaveSave
SaveSave
SaveSave
SaveSave
SaveSave
SaveSave