These white chocolate chip blondies are soft, chewy and full of rich butterscotch flavor. Everyone will love these sweet and buttery dessert bars!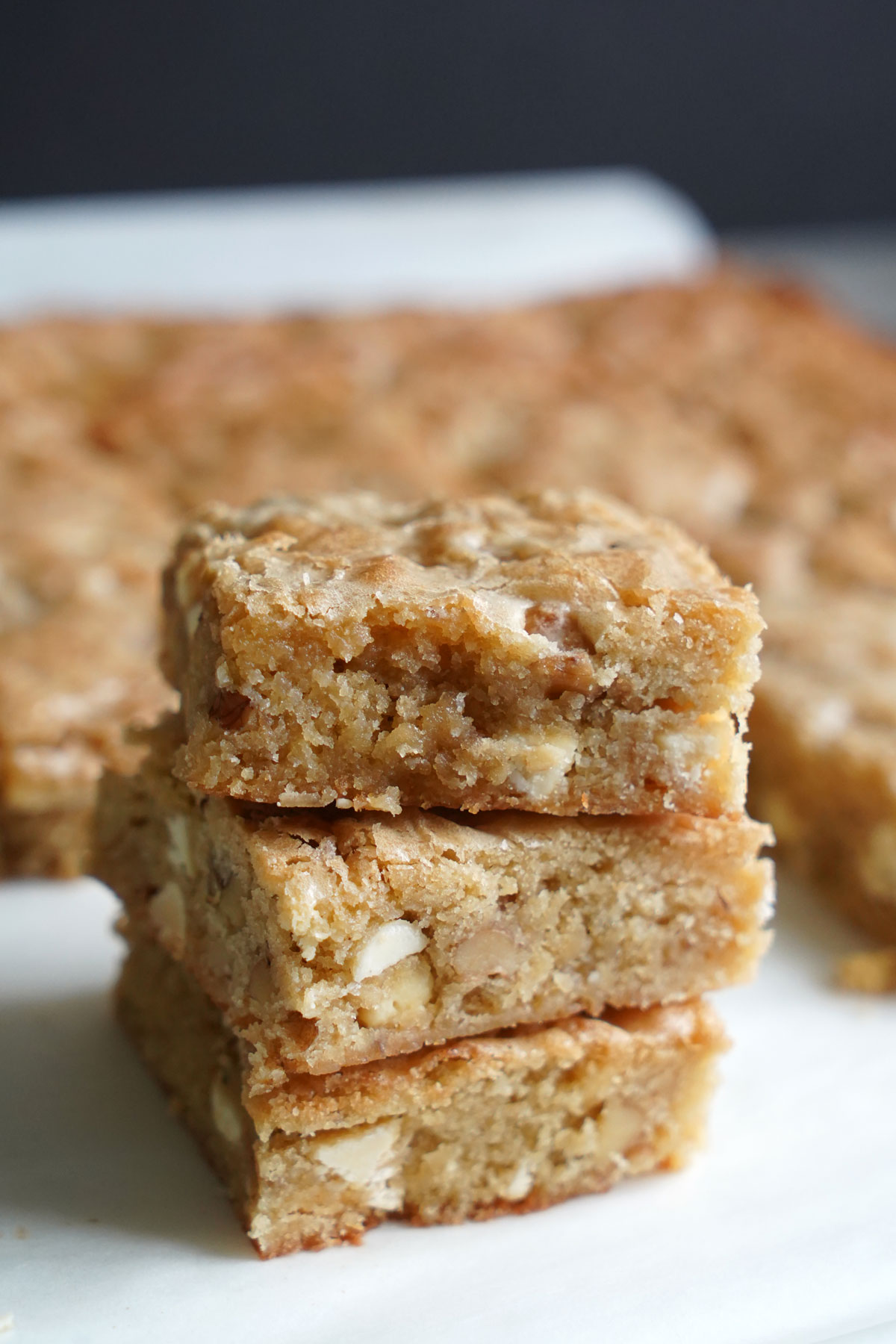 I'm usually all about the chocolate but I wanted to share something for those who don't love chocolate or for those white chocolate lovers. If that's you, this classic blondie recipe will not disappoint!
Bake them for yourself or your family. The full recipe makes a batch of 24 bars.
These white chocolate blondies are perfect for a barbecue or potluck too! It's an easy recipe, takes minimal time to prepare, and has simple ingredients.
What is a Blondie?
I think of a blondie as a brownie without any of the regular chocolate or cocoa powder. They are the white chocolate version of a brownie. In other words, blonde brownies!
That means it still has a chewy texture, fudgy inside and that shiny crinkle top you find on chocolate brownies. If it's too cakey on the inside and the top is dull, then it's just a cookie bar and not a blondie. Just my opinion!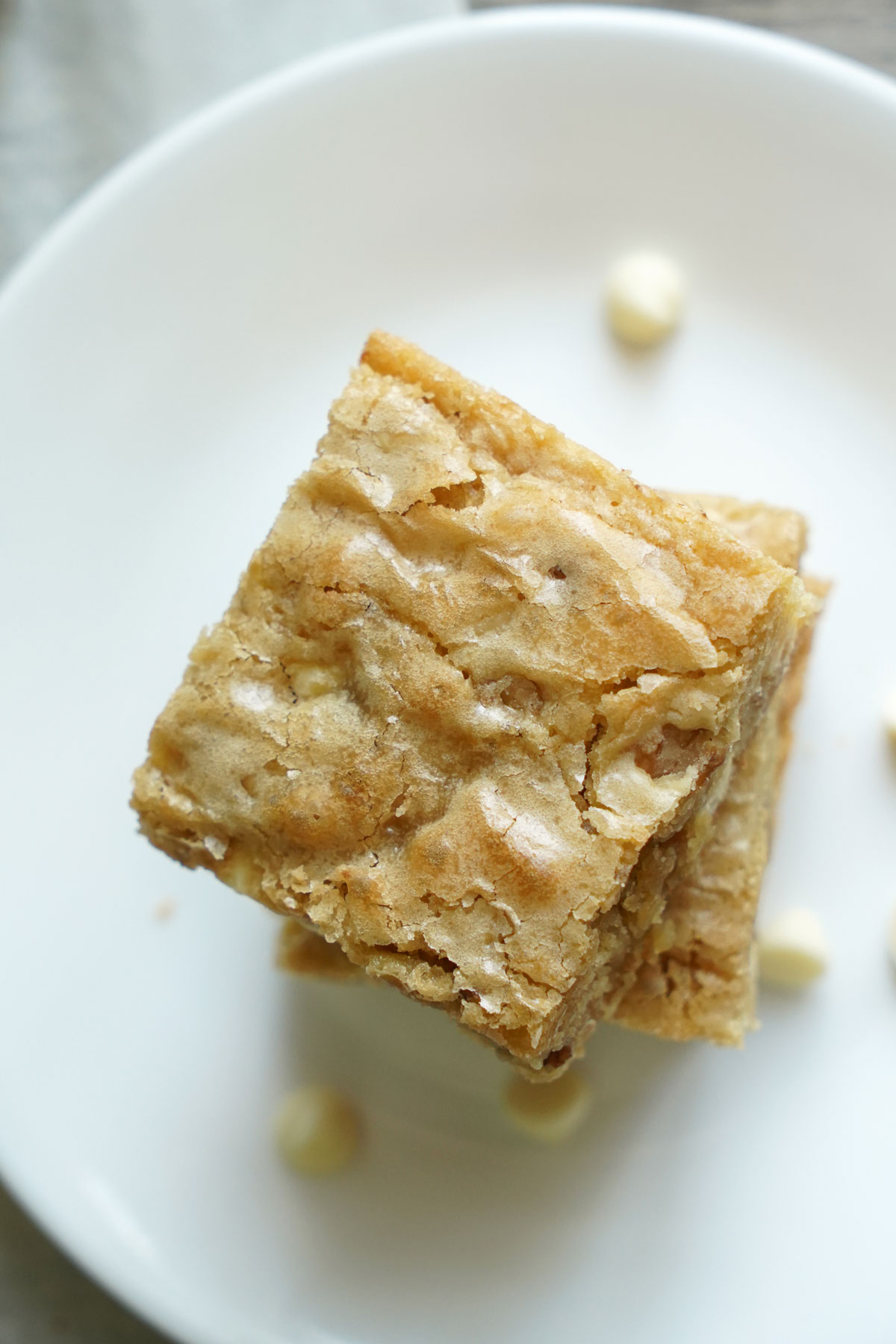 In this white chocolate blondie recipe, I've mixed in walnut and white chocolate chips to keep it more like classic blondies.
There are lots of recipes out there with various mix-ins, including dark chocolate chips! So feel free to change the add-ins to your blondie batter if you like but follow the process on the recipe card at the end of the post for the best results.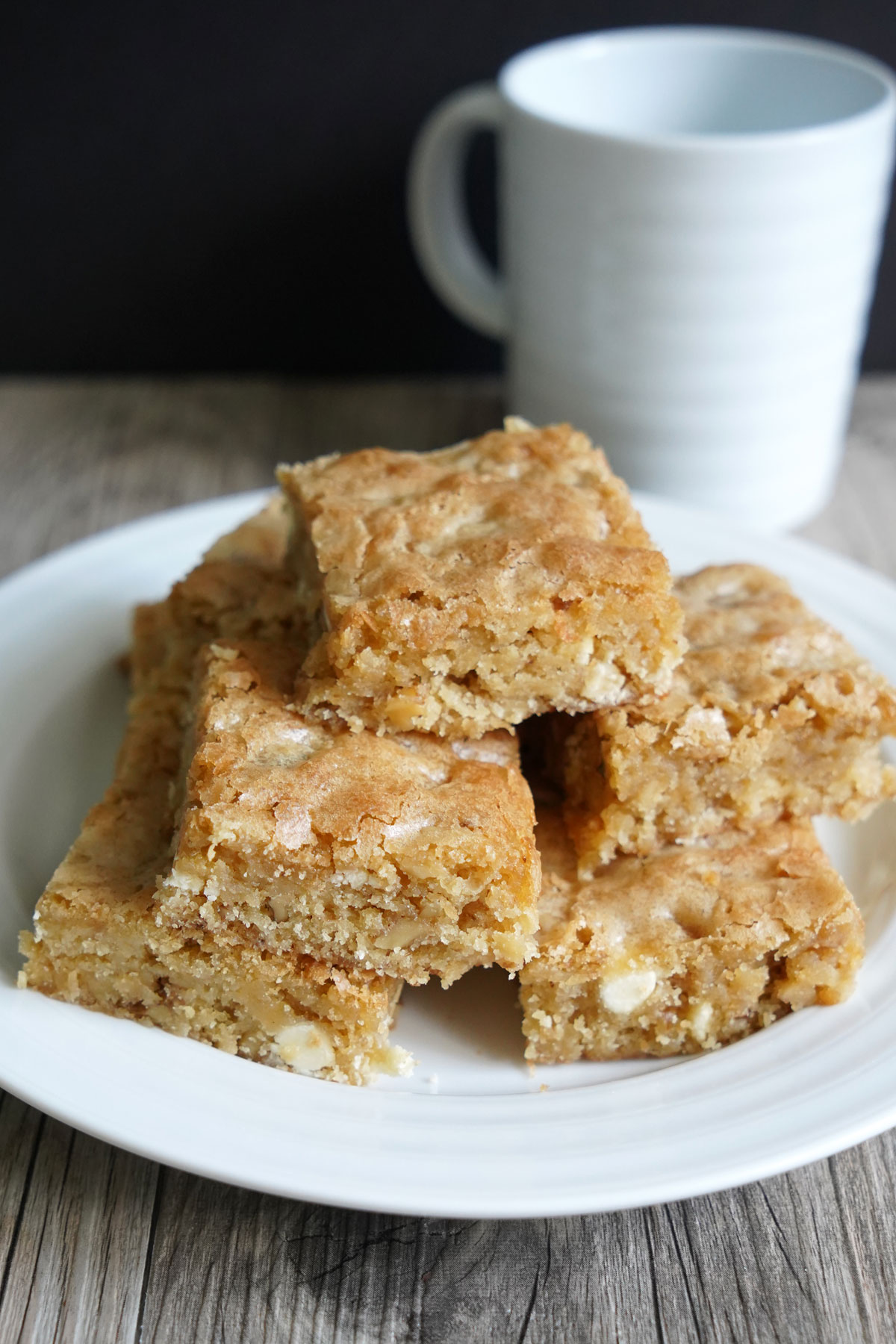 Full List of Ingredients for Making Blondies
Common Dry Ingredients: all purpose flour, salt, baking powder
Unsalted Butter: I always use unsalted butter so I can control the amount of salt. No need for room temperature butter this time because you will have to melt the butter. Some recipes use browned butter because it adds more depth to the flavor. I have skipped this to keep it simple but it is an option. 
Light Brown Sugar: Brown sugar gives these bars a deeper caramel and butterscotch flavor so do not substitute for white sugar. Dark brown sugar or some combination of light and dark is ok.
Large Eggs: Eggs hold everything together and also contribute to those shiny crackly tops on your blondies.
Vanilla Extract: Adds to the flavor. Be sure to use high quality extract and not imitation.
White Chocolate Chips: Use premium quality chips for the best taste. You can also chop up white chocolate bars for more chunky bits.
Walnuts: Nuts add so much texture to these bars. I recommend toasted walnuts. However, you can alter the amount to your taste or eliminate them without affecting the recipe. If I were to make these again, I'd probably add an extra half cup of walnuts.
How to Make Blondie Bars
Start by preparing a metal 9 x 13-inch pan. Brush it with butter and then line it with parchment paper, leaving an overhang on two opposite sides for easy release. If you only have a glass pan that's ok but the blondies will take longer than the noted time to bake.
Many recipes call for creaming the butter and sugar together first. This is the method used for cookies and doing so here will give you a more cake like bar because creaming incorporates air into the batter.
To make it more brownie like, I used the same method as in my classic brownies recipe by melting the butter and sugar together instead of creaming.
Melt the butter in a medium saucepan over a low flame. Add the brown sugar and stir until it's mostly melted and incorporated. It's important not to overheat or bring to a boil! You just want the sugar to be melted. Then set the pan aside to cool.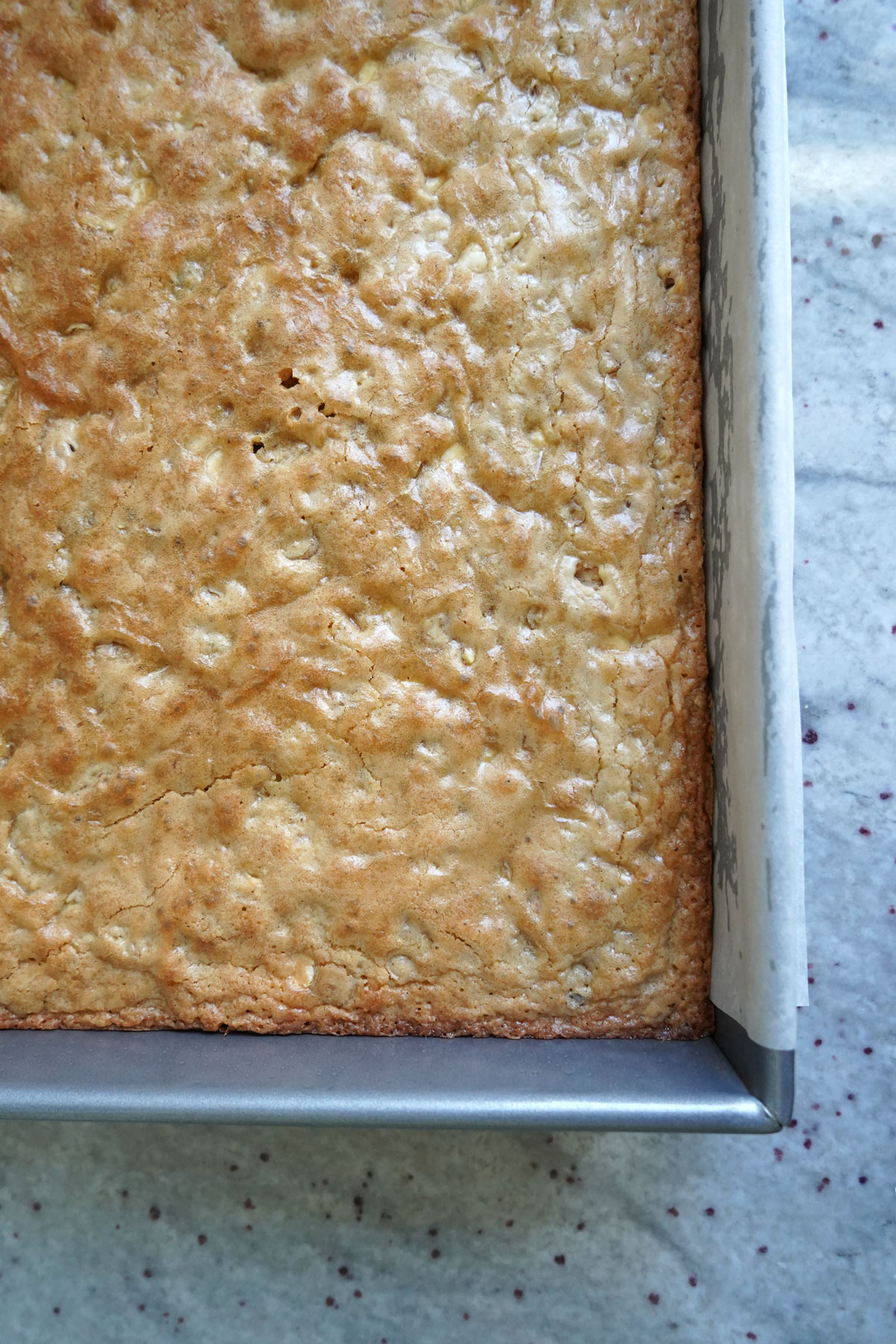 Combine the eggs, salt, baking powder, and vanilla and whisk until slightly pale. You will want to whisk it really well here because this action is what will contribute to those crackly tops! Use an electric hand mixer if you like. Stir in the melted butter mixture and mix well.
Finally add the flour, white chocolate chips and toasted walnuts to the wet ingredients. Stir with a rubber spatula until just incorporated. Do not over mix this! Over mixing will lead to a cake like texture.
Pour the blondie batter into the prepared pan and bake at 350F for 25-23 minutes. The bake time is just a guide! I'd keep a watch after 20 minutes. You will want the top to be golden brown.
Test the inside by inserting a toothpick into the center. It should had a few wet crumbs on it. Nothing too gooey and no really dry crumbs. Let the blondies cool in the pan completely before cutting.
To cut, loosen the edge of the blondies from the pan with a plastic knife (metal will scratch your pan) and lift the slab out of the pan using the parchment overhangs. Transfer to a cutting board and cut 24 even pieces.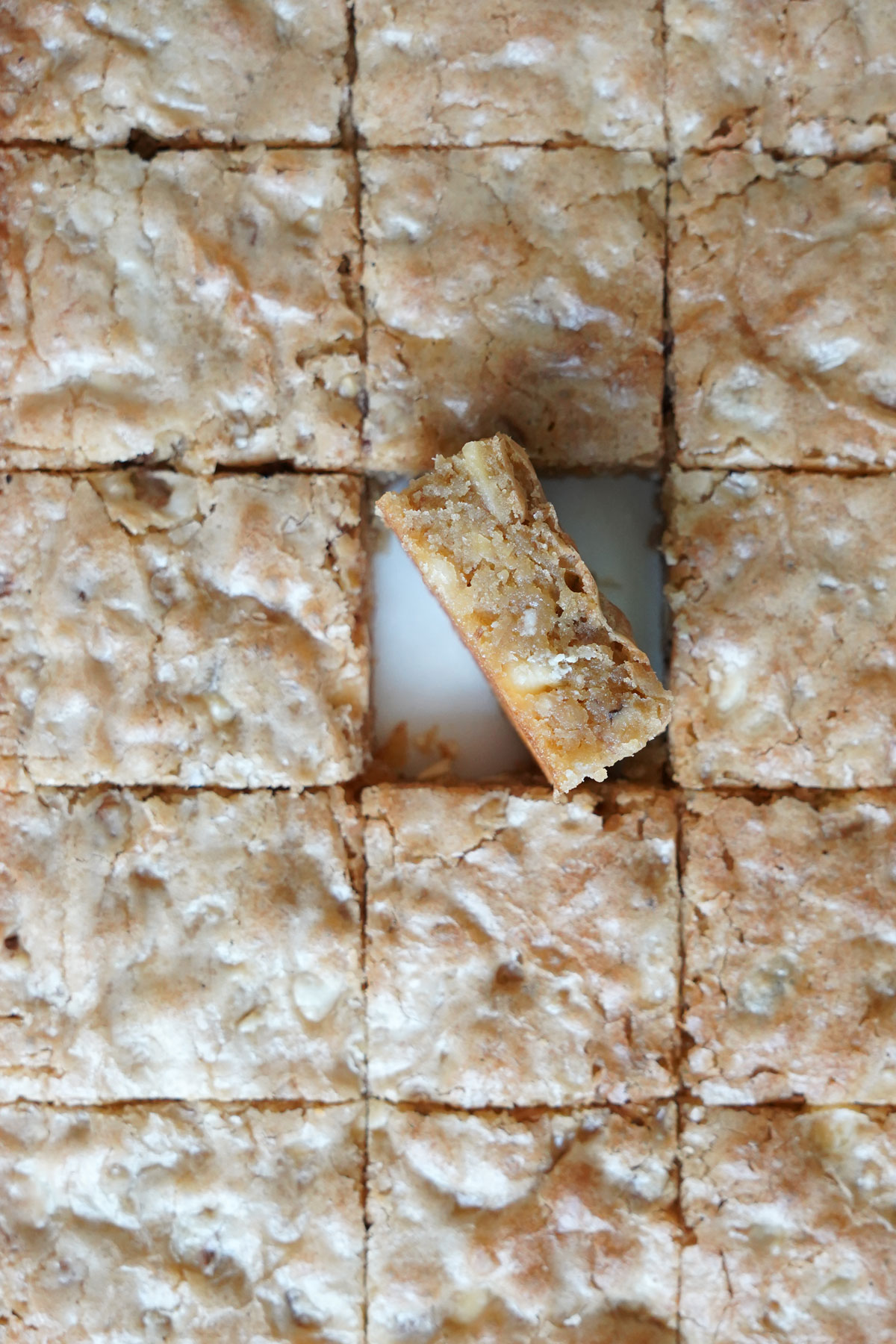 How to Store Blondies
Blondies can be stored in an airtight container at room temperature for up to 3 days. For long term freezer storage, wrap the blondies in plastic wrap and then place in an airtight container and freeze for up to three months.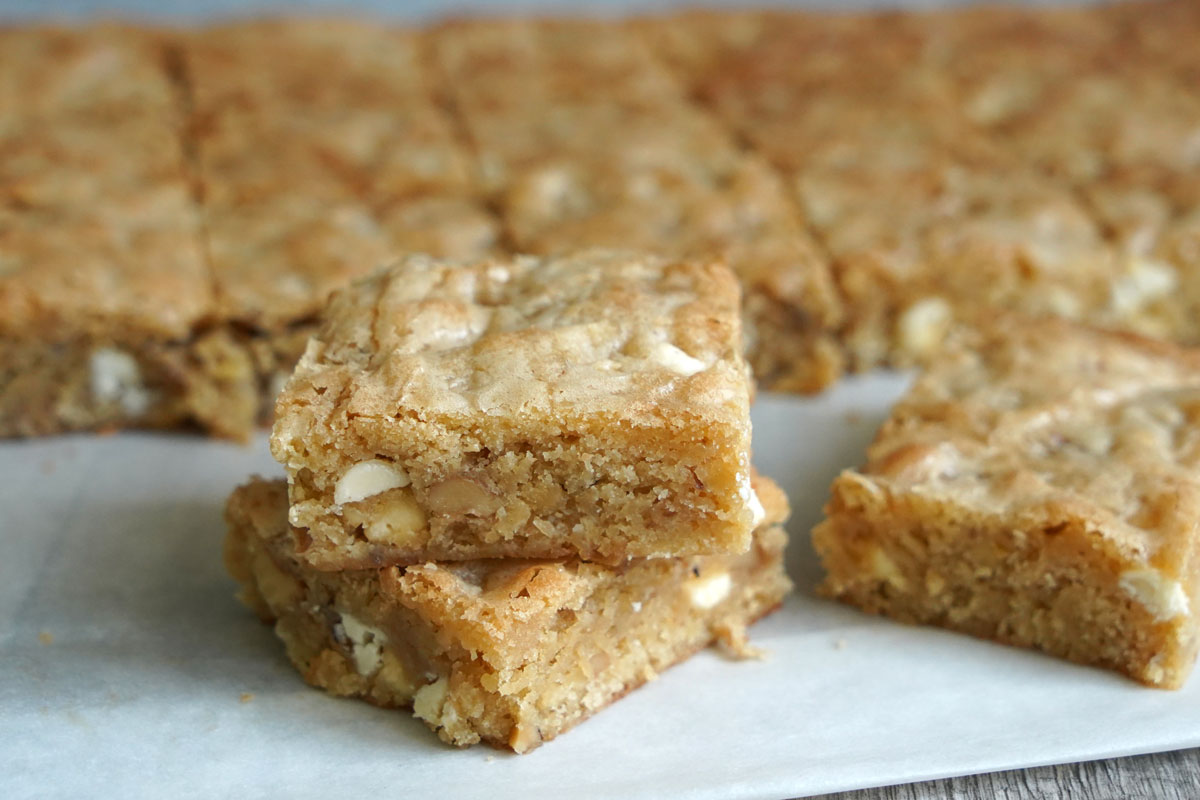 Ideas for Variations of Blondies
Use chopped macadamia nuts instead of walnuts.
Add peanut butter chips or butterscotch chips for a different flavor.
Serve it warm with a scoop of vanilla ice cream for an extra delicious treat.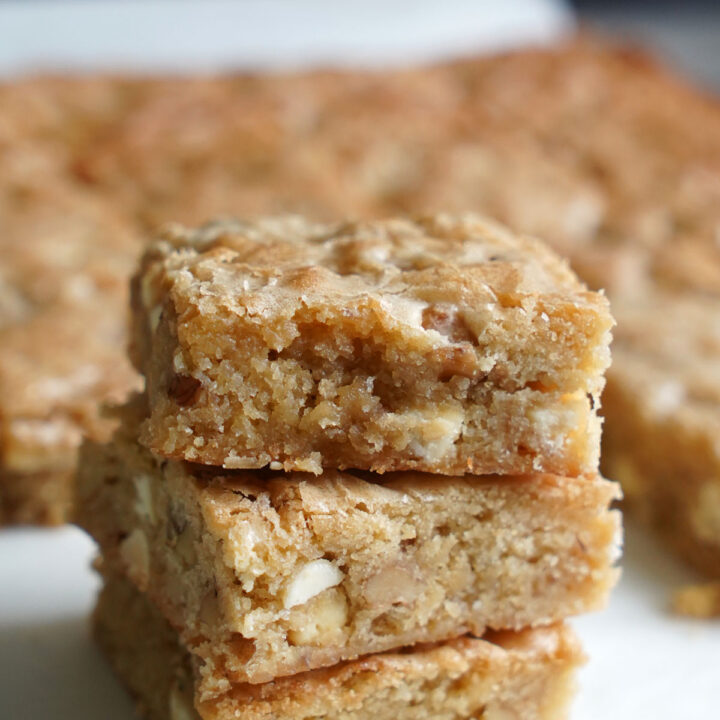 White Chocolate Blondies
Sweet and buttery dessert bars everyone will love. These white chocolate chip blondies are soft, chewy and full of rich butterscotch flavor. 
Ingredients
1 cup unsalted butter
2 cups light brown sugar, packed
3 eggs
1 ¾ cup all purpose flour
1 teaspoon salt
1 teaspoon baking powder
1 Tablespoon vanilla extract
1 cup white chocolate chips
1 cup walnuts, preferably toasted
Instructions
Preheat the oven to 350F. Prepare a 9x13 metal pan by greasing the bottom and sides with butter. Line the bottom with parchment paper large enough for it to overhang on two of the sides. Grease the parchment with more butter.
Heat the butter in a large saucepan over a low flame. Once the butter has melted, add the brown sugar, and stir ONLY until the mixture is smooth and shiny. This should take 1-2 minutes. Do Not Boil! Set it aside to cool.
In a large mixing bowl, combine the eggs, salt, baking powder, and vanilla. Using an electric hand mixer or a whisk, mix vigorously until slightly pale.
Add the butter-sugar mixture and stir with a rubber spatula until smooth.
Add the flour and mix in the white chocolate chips and nuts. Stir with a spatula until incorporated. Do not overmix.
Transfer the batter to the prepared baking pan.
Bake for 25-28 minutes or until a toothpick inserted in the center comes out with just a few wet crumbs. Let the pan cool completely. Gently use a plastic knife around the edge of the pan to release brownie that may be stuck to the sides with no parchment.
Use the two parchment paper flaps to lift the blondie slab out of the pan and onto a cutting board. Cut into 24 pieces with a sharp clean knife.
Notes
Make sure the butter sugar mixture is cool so it does not scramble the eggs!
Bake time is just a guide. Oven temperatures vary so check on your blondies after 20 minutes.
Nutrition Information:
Yield:

24
Serving Size:

1 bar
Amount Per Serving:
Calories:

235
Total Fat:

13g
Saturated Fat:

7g
Trans Fat:

0g
Unsaturated Fat:

6g
Cholesterol:

45mg
Sodium:

109mg
Carbohydrates:

27g
Fiber:

1g
Sugar:

19g
Protein:

3g
This nutrition information is only an approximate provided for convenience and as a courtesy only. Information comes from Nutritionix, an automated nutrition calculator.