Brookies are a fun combination of two classic treats in one. It's a dessert bar made with a chocolate chip cookie layer over a brownie layer.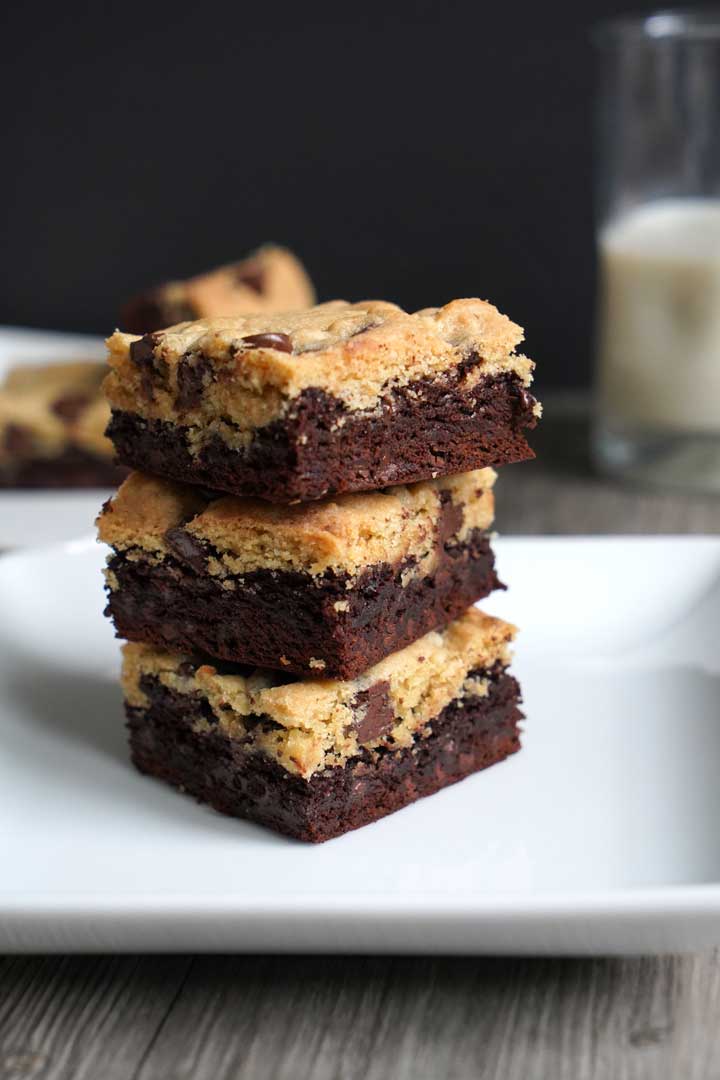 Do I want a chewy chocolate chip cookie or a fudgy brownie? So often I can't decide which one of these classic desserts I want more! I don't know who first came up with brookies but combining both into one decadent dessert bar is brilliant.
This is one of my family's top choice of desserts. Our favorite way of eating these brownie cookie bars is by warming them up in the microwave for 15 seconds and topping it with a scoop of vanilla ice cream.
How about a dessert sundae made with these bars? It's a great way to serve up something fancy. Pour some chocolate sauce on top of the ice cream and warm brookies and you'll have the ultimate treat!
So are you excited to make these yet? Let's start with what you will need if you make them completely from scratch. Read on for a shortcut method too!
Ingredients for Brookie Bars
Common dry ingredients: All purpose flour, baking powder, baking soda, salt.
Unsalted Butter: I always use unsalted butter so I can control the amount of salt. For the brownie batter, you will be using melted butter so it does not need to be room temperature but it's best to use room temperature butter for the cookie batter.
Cocoa Powder: I use Dutch Process cocoa powder for the best chocolate flavor in my brownie batter. It also reacts better with baking powder.
White Sugar: The amount of sugar in this brownie recipe is slightly less than other recipes you may see because I've added chocolate chips to the batter which add some sweetness. You will also need sugar for the cookie dough batter.
Brown Sugar: Use either dark or light brown sugar. Brown sugar adds sweetness and also results in soft and chewy chocolate chip cookies.
Vanilla Extract: Adds flavor. Always use quality extract not imitation for best results.
Large Eggs: Eggs provide structure, moisture and richness. Use room temperature eggs for both batters.
Espresso Powder: This is not necessary and can be skipped but I find that a little espresso powder enhances the chocolate flavor. You will not be able to taste the espresso.
Semi-Sweet Chocolate Chips: I do not recommend bittersweet chips for this recipe unless you prefer it to be a lot less sweet. The semisweet chips will balance the amount of sugar in the recipe for both batters.
How Do You Make Brookies?
You might be thinking this is going to require some extra dishes. While you will have to make two different batters, this doesn't necessarily mean you will have extra cleanup. You can use one mixing bowl if you like. Just give it a quick rinse in between prepping each batter.
Here's a quick overview but be sure to read the recipe card for full details.
Step 1: You will need to prepare your baking pan first. I use a 9x13 dark metal pan that's buttered and then lined with parchment paper and buttered again for easy removal.
Step 2: Prepare the brownie batter according to the details in the recipe below. Spread the batter into the prepare pan.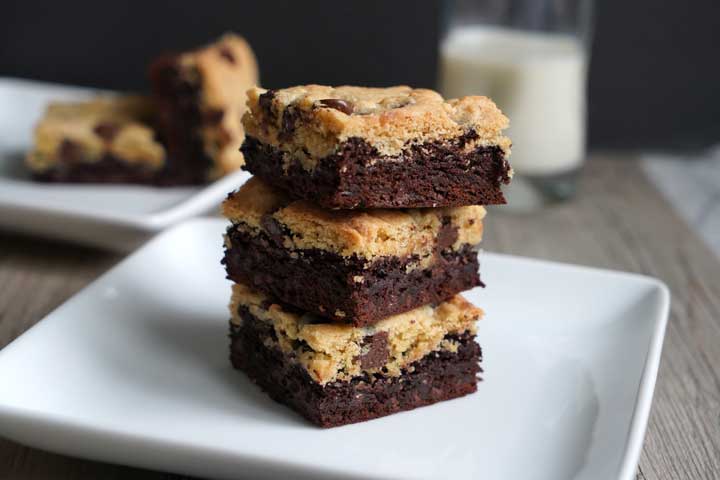 Step 3: Make your chocolate chip cookie dough according to the recipe below and spread it over the brownie batter to create an even layer. The batter is thick so it may be difficult to spread.
I find it easiest to drop spoonfuls of cookie dough all over the pan and then gently spread it with an offset spatula. Be gentle, it may take some time to get it even.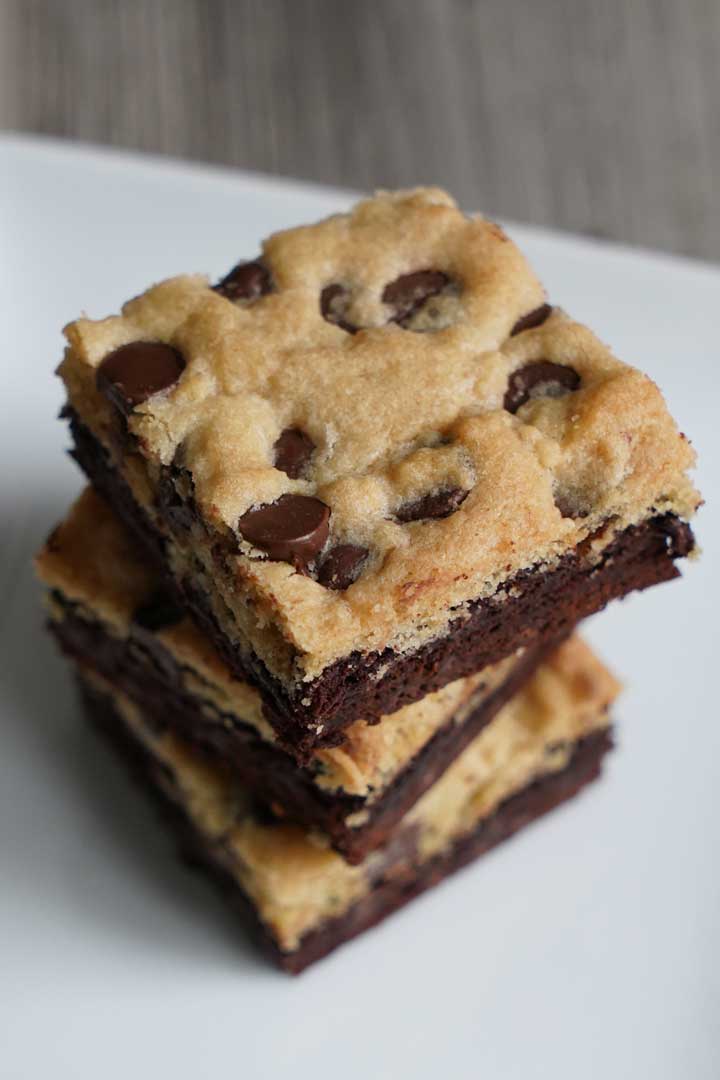 Step 4: Once the batters are layered, you can add extra chocolate chips on top if you want. I like the way it looks so I sprinkle on a few.
Step 5: Bake the batters for 25-28 minutes or until a toothpick inserted into the center comes out clean or with a few crumbs on it.
(Tip: You may need to add aluminum foil over it toward the end of baking if it starts to brown too quickly. See recipe notes.)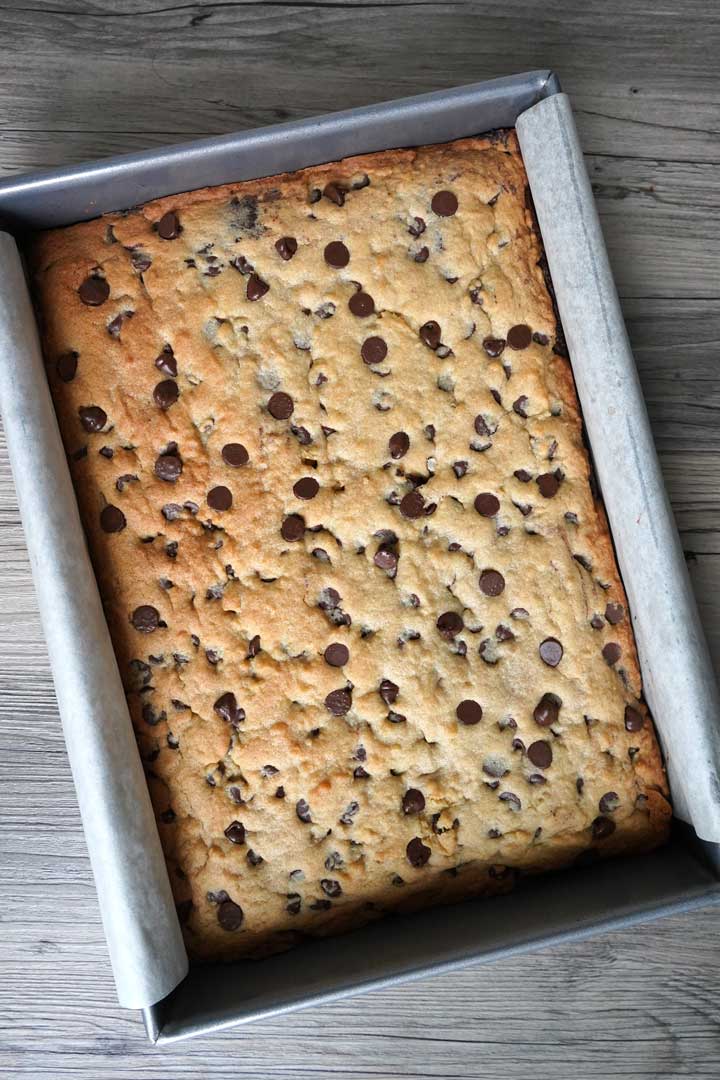 Want to Take A Short Cut?
I use my own favorite homemade brownie recipe and chocolate chip cookie recipe but you can easily follow this same recipe by taking a slight short cut and using a boxed brownie mix and boxed chocolate chip cookie mix. My preferred boxed mix brand is Ghirardelli Dark Chocolate.
Storage
Store the brookie bars in an airtight container at room temperature for up to one week. You can also freeze the bars in an airtight container between layers of wax paper for up to three months.
Variations for Making Brookies
Swirl the two batters before baking instead of having two distinct layers. This is what I did with my pumpkin brookies!
Add Oreo cookies between the two layers for Oreo Brookies. See my recipe for Oreo brownies for tips on how to arrange the cookies.
Use butterscotch chips instead of chocolate chips for Butterscotch Brookies.
Use Reese's Pieces instead of chocolate chips in the cookie dough for some peanut butter flavor and color.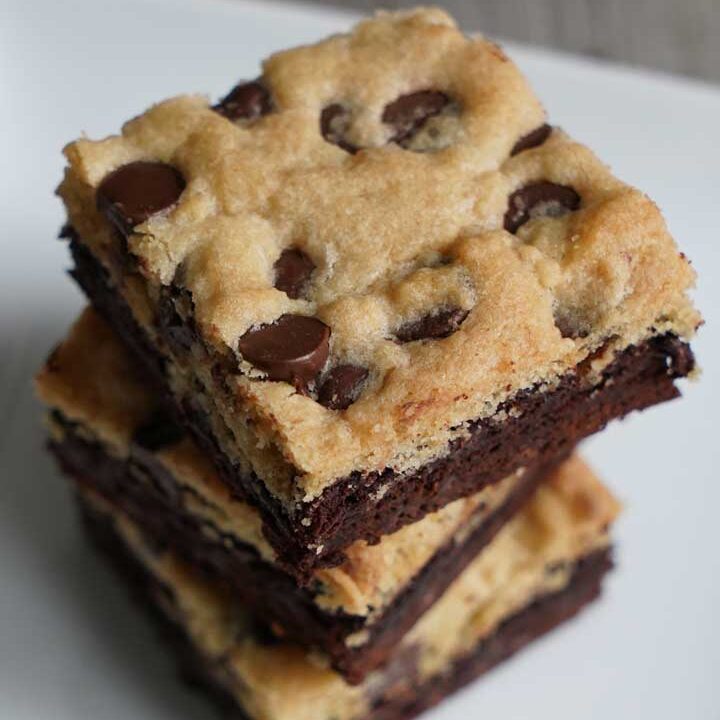 Brookie Bar Recipe
Brookies are a fun combination of two classic treats in one. It's a dessert bar made with a layer of cookie batter over brownie batter.
Ingredients
For the brownie batter
½ cup unsalted butter (plus extra for greasing the pan)
¾ cup cocoa powder
1 cup sugar
2 teaspoon vanilla
¼ teaspoon salt
2 eggs
¾ cup flour
½ teaspoon baking powder
½ teaspoon espresso powder, optional
1 cup mini semi-sweet chocolate chips
For the cookie batter
½ cup unsalted butter, room temperature
⅓ cup sugar
⅓ cup brown sugar
1 teaspoon vanilla
1 egg
½ teaspoon salt
½ teaspoon baking powder
¼ teaspoon baking soda
1 ¼ cup all purpose flour
½ cup chocolate chips
Instructions
Preheat the oven to 350F. Prepare a 9x13 metal pan by greasing the bottom and sides with butter. Line the bottom with parchment paper large enough for it to overhang on two of the sides. Grease the parchment with. more butter.
For the brownie batter: Heat the butter in a large saucepan over low flame. Once the butter has melted, add the sugar, increase the heat to medium and stir until the mixture is smooth and shiny. This should take 1-2 minutes.
Transfer the butter mixture into a large mixing bowl. Using a hand mixer, beat in the eggs, cocoa powder, salt, baking powder, espresso powder and vanilla until well combined.
Add the flour and mix in the chocolate chips. Stir with a rubber spatula until incorporated.
Transfer the batter to the baking pan. Spread it out and set aside.
For the cookie batter: Rinse out the mixing bowl (or use a clean one) and add the butter, sugar, brown sugar, and mix until light and fluffy. This should take 1-2 minutes.
Add the egg, vanilla, baking powder, baking soda and salt and mix until just incorporated.
Add the flour and chocolate chips and stir well to combine.
Drop chunks of cookie dough over the brownie batter in tablespoon sizes spread out across the pan. Gently spread the batter with an offset spatula.
Bake for 25-28 minutes or until a toothpick inserted in the center comes out clean. Let the pan cool completely. Gently use a plastic knife around the edge of the pan to release brownie that may be stuck to the sides with no parchment.
Use the two parchment paper flaps to lift the brownie slab out of the pan and onto a cutting board. Cut into 24 pieces.
Notes
If you notice the top of the batter browning too quickly, you may need to cover the pan with foil halfway through the baking or toward the end of baking. This may especially be the case if you are using a glass baking dish. 
I prefer mini chocolate chips in the brownies because it makes the overall texture better, but you can use regular size if you like.
Nutrition Information:
Yield:

24
Serving Size:

1
Amount Per Serving:
Calories:

231
Total Fat:

12g
Saturated Fat:

7g
Trans Fat:

0g
Unsaturated Fat:

4g
Cholesterol:

44mg
Sodium:

172mg
Carbohydrates:

30g
Fiber:

1g
Sugar:

20g
Protein:

3g
This nutrition information is only an approximate provided for convenience and as a courtesy only. Information comes from Nutritionix, an automated nutrition calculator.