What's the secret to getting a perfectly round chocolate chip cookie? Read on to find out my tips and tricks and make these beautifully round and delicious chocolate chip cookies.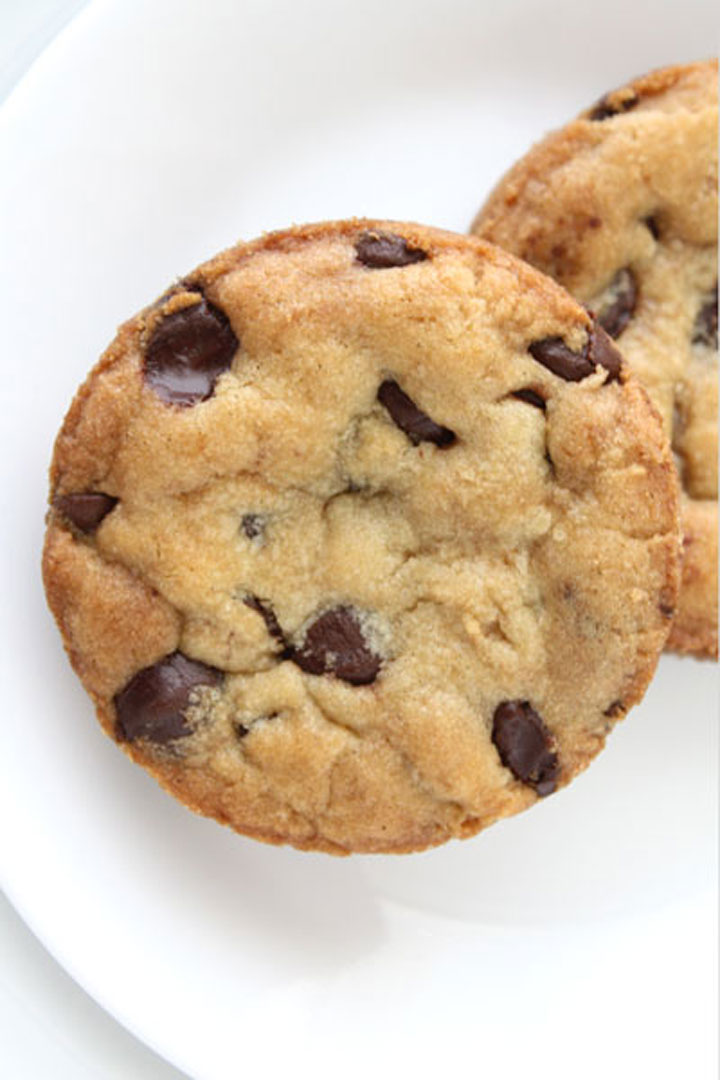 A few weeks ago, I finally had the opportunity to stop by Levain Bakery in New York City. All I really knew about them is that they were famous for their chocolate chip cookies. I have to admit that these are not your ordinary chocolate chip cookies.
For starters, they are jumbo in size- and I don't mean the diameter. It's a huge thick mound of a cookie. I think the one I had was at least two inches tall.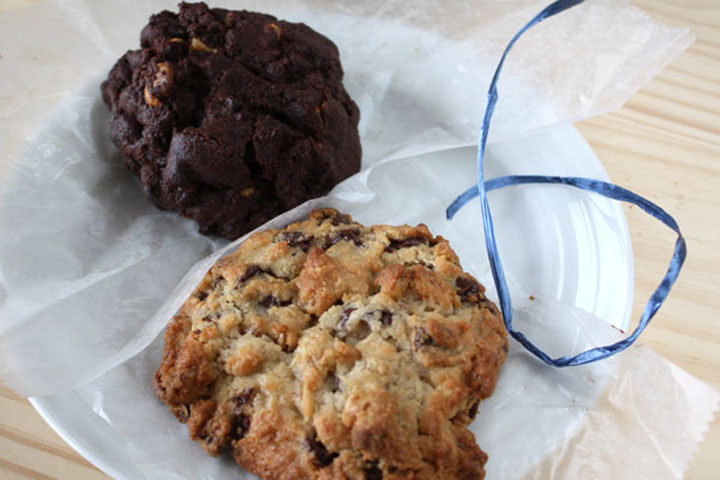 They were rich in buttery flavor, chocolaty in every bite, and absolutely delicious. But I think what stood out the most for me was their cake like texture.
So then this got me thinking about their shape. Wouldn't it be great to have this wonderful cakey chocolate chip cookie only with a clean line look?
I have nothing against eating shapeless cookies. I'd eat those Levain cookies again and again and again.
However, it reminded me of the time I was interning at Amai Bakery (no longer open) while I was in culinary school. The owner once told me about how she really liked everything to have very defined lines.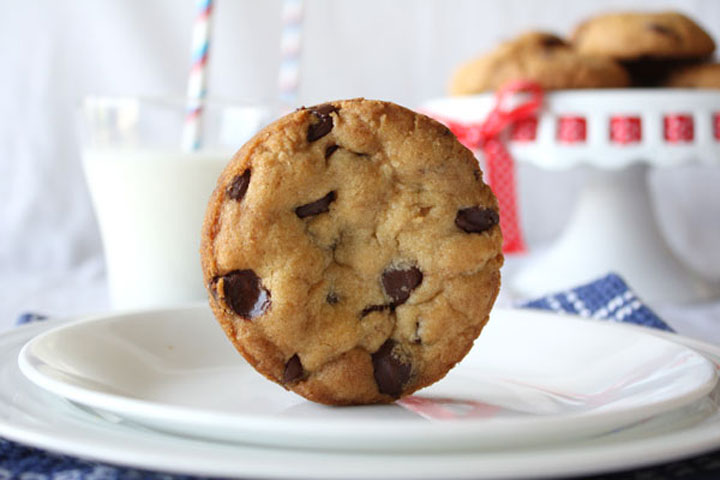 Every baked good in their shop was perfectly shaped and equally sized from the butter cookies to the scones and even the fig chocolate chip cookies.
I think this made all the difference in the appeal of their baked goods. I definitely had a hard time choosing something out of that display case. She had the most perfectly round and thick fig chocolate chip cookies.
That's not a cookie flavor that I would normally eat but I think the way they looked made me want one anyway.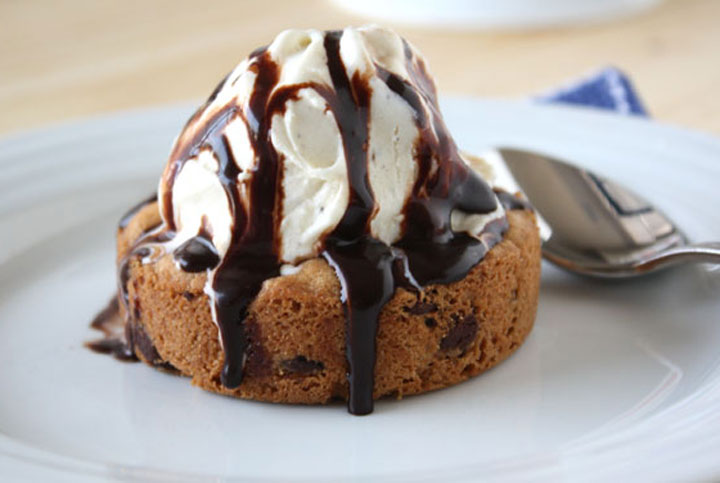 I baked a few of the cookies in ramekins and ended up with perfectly round thick cookies that were still soft on the inside. They were like little mini warm cakes. Top that with a scoop of ice cream and some chocolate sauce and you've got yourself one fabulous sundae treat.
The Chocolate Chip Cookie Recipe:
There's a lot of copycat recipes out there for Levain's cookies. I don't really have the patience to try to crack that code, so I've made my perfectly round cookies from my go to chocolate chip cookie recipe.
You may know it as the "New York Times" chocolate chip cookie recipe. This recipe was adapted from Jacques Torres and requires that the cookie dough chills for 24-72 hours to achieve the best flavor. I refer to it as "marinating" my dough.
Ways to Make A Perfectly Round Cookie:
There's more than one way to make chocolate chip cookies perfectly round. Here's a list of things you can try. Some readers have had success with these other ways too.
Bake cookies in a ramekin. (This is what I did)
Bake cookies in a whoopie pie pan.
Bake cookies in a muffin top pan.
Bake cookies in English muffin rings.
More Recommended Cookie Recipes:
If you like chocolate chip cookies, you may also want to try making these other cookies.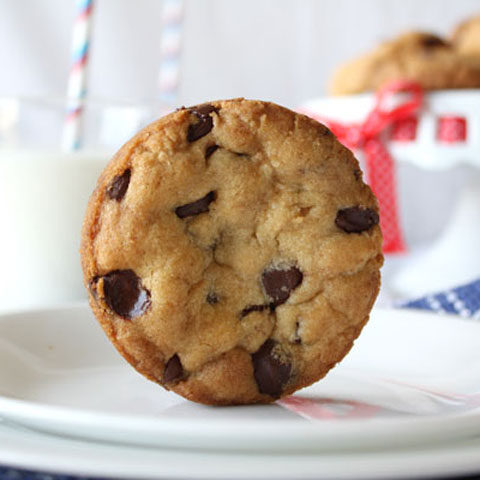 Perfectly Round Chocolate Chip Cookie
What's the secret to getting a perfectly round chocolate chip cookie? Read on to find out my tips and tricks and make these beautifully round and delicious chocolate chip cookies. (Cookie recipe adapted from Jaques Torres.)
Ingredients
8.5 ounces cake flour, (2 cups minus 2TBS)
1 ⅔ cups bread flour, (8.5 ounces)
1 ¼ teaspoons baking soda
1 ½ teaspoons baking powder
1 ½ teaspoons coarse salt
1 ¼ cup unsalted butter
1 ¼ cups light brown sugar, (10 ounces)
8 ounces sugar, (1 cup plus 2 TBS)
2 large eggs
2 teaspoons natural vanilla extract
1 ¼ pounds bittersweet chocolate chips, at least 60 percent cacao content*
Sea salt.
Instructions
Sift flours, baking soda, baking powder and salt into a bowl. Set aside.
Using a mixer fitted with paddle attachment, cream butter and sugars together until very light, about 5 minutes. Add eggs, one at a time, mixing well after each addition. Stir in the vanilla.
Reduce speed to low, add dry ingredients and mix until just combined, 5 to 10 seconds. Drop chocolate pieces in and incorporate them without breaking them.
Press plastic wrap against dough and refrigerate for 24 to 36 hours. Dough may be used in batches, and can be refrigerated for up to 72 hours.
When ready to bake, preheat oven to 350 degrees. Line a baking sheet with parchment paper or a nonstick baking mat. Set aside.
Scoop 6 3 ½-ounce mounds of dough (the size of generous golf balls) onto baking sheet, making sure to turn horizontally any chocolate pieces that are poking up; it will make for a more attractive cookie. (Or press 1 ¾ oz size pieces of dough into ramekins)** Sprinkle lightly with sea salt and bake until golden brown but still soft, 18 to 20 minutes.
Transfer sheet to a wire rack for 10 minutes, then slip cookies onto another rack to cool a bit more. Repeat with remaining dough, or reserve dough, refrigerated, for baking remaining batches the next day.
Notes
*I just used Ghirardelli bittersweet chocolate chips.
**Let them cool slightly in the ramekin. Use a sharp knife to loosen around the edges and unmold it from the ramekin.
Nutrition Information:
Yield:

16
Serving Size:

1 cookie
Amount Per Serving:
Calories:

697
Total Fat:

37g
Saturated Fat:

21g
Trans Fat:

0g
Unsaturated Fat:

12g
Cholesterol:

62mg
Sodium:

412mg
Carbohydrates:

77g
Fiber:

12g
Sugar:

29g
Protein:

14g
This nutrition information is only an approximate provided for convenience and as a courtesy only. Information comes from Nutritionix, an automated nutrition calculator.