These deliciously soft baked pumpkin chocolate chip cookies are loaded with chocolate chips, spices and bursts of cinnamon. This is the only pumpkin cookie recipe you will need!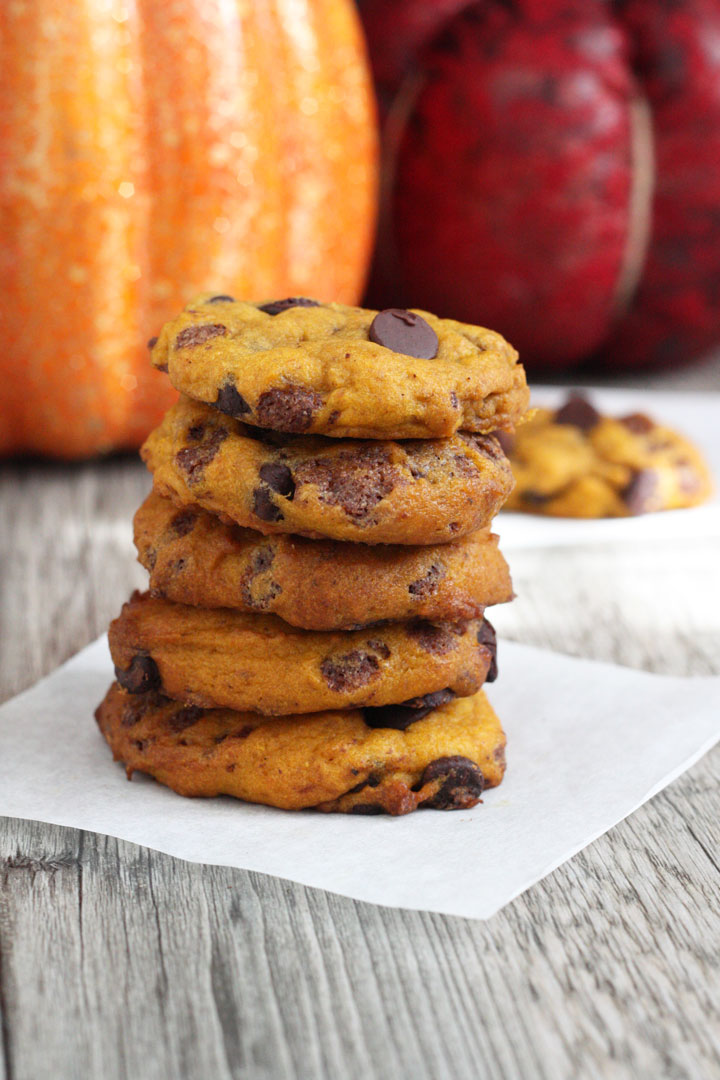 I know. Pumpkin cookies are always cakey. Are these cookies going to be cakey?
Well, yes and no. I definitely wouldn't call this a recipe for crispy pumpkin chocolate chip cookies. We are dealing with pumpkin! It's never going to be crispy.
There is just too much moisture. It's very possible that you may classify them as cakey but they are not as cakey as some other pumpkin cookie recipes.
I also found that the longer they sit, the less cakier they seem. Sure, right out of the oven, they kind of remind me of muffin tops but a few hours later they just seemed like a soft cookie to me.
I also tried to reheat them the next day  in the oven (5 minutes at 350°F) and this seemed to re-crisp the outer edges a bit and make them more cookie like.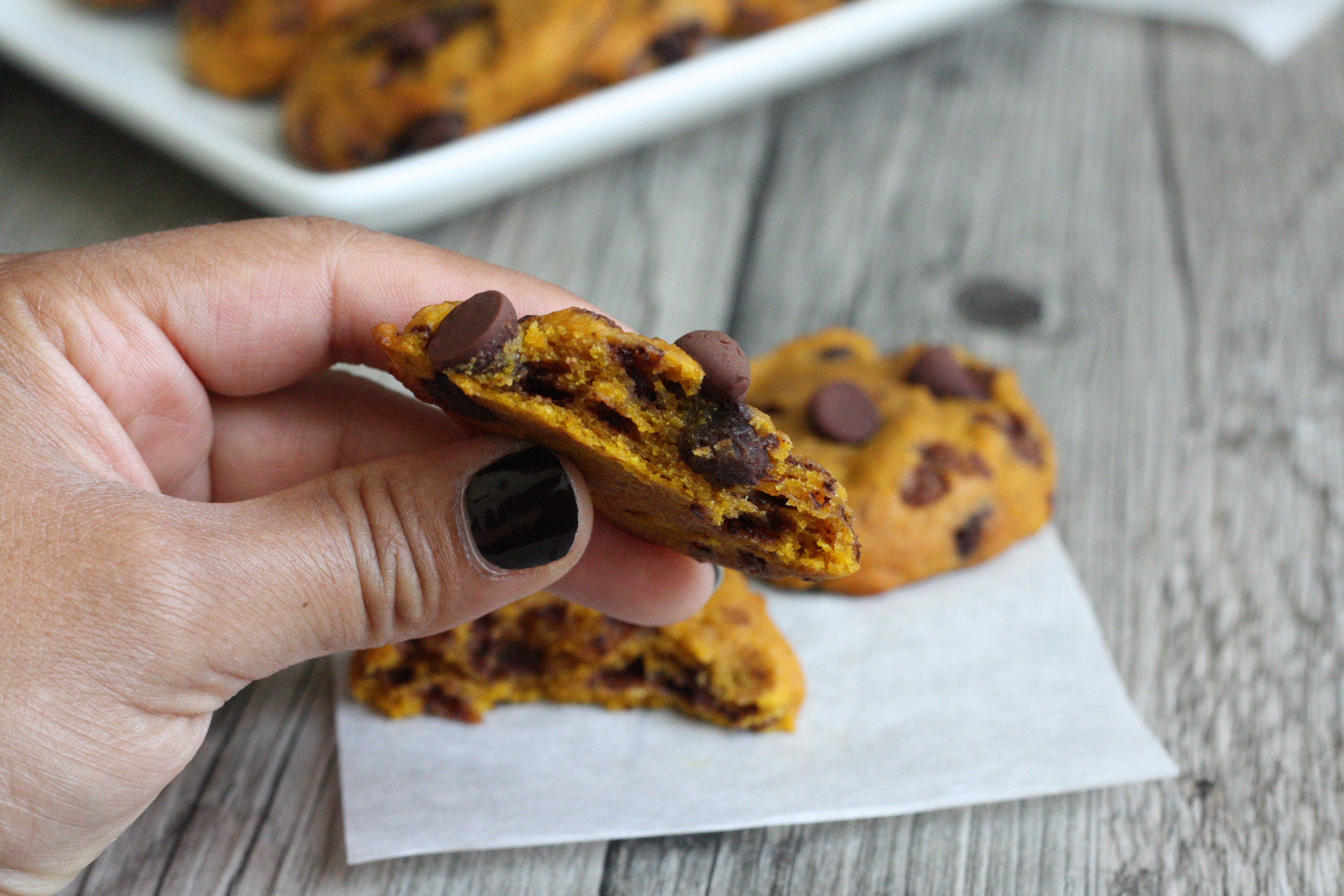 Now. Let me tell you why this soft baked pumpkin chocolate chip cookies recipe rocks.
All you need is a whisk…
For once the recipe instruction does not begin with "in an electric mixer…" All you need is your whisk and a few mixing bowls.
You don't want to cream the butter and sugar here because we are trying to avoid getting a cakey cookie. An electric mixer puts way too much air into the batter. Your whisk will gently do the job of blending and sifting your dry ingredients together.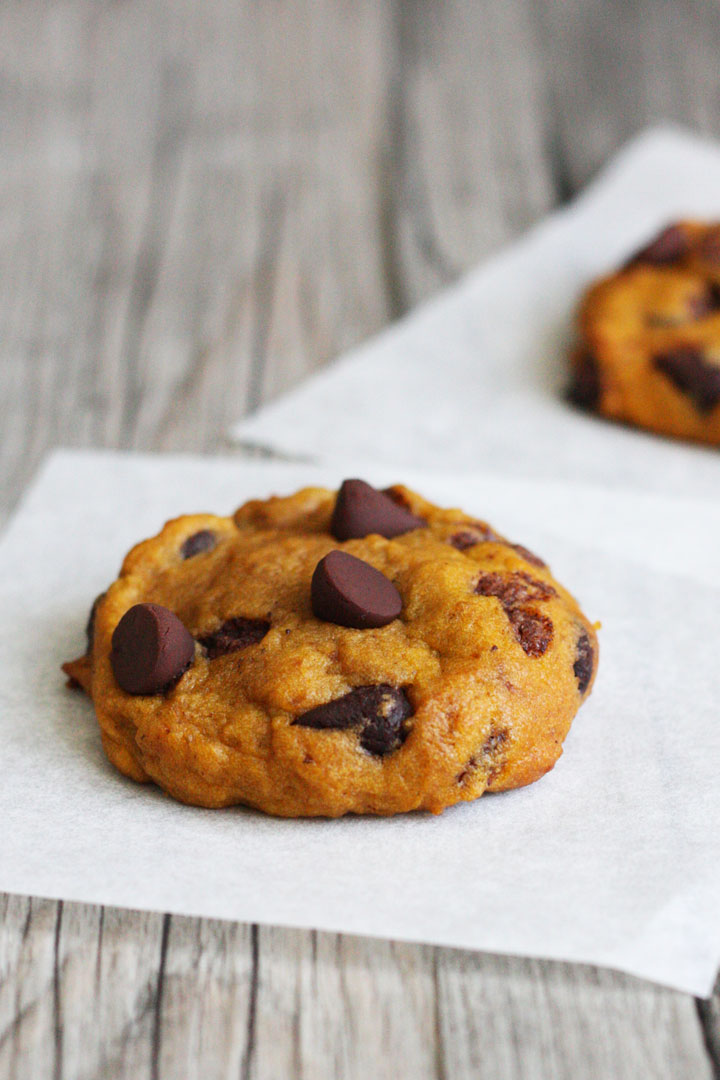 This pumpkin cookie recipe uses the whole can!
The next best part about this recipe is that you don't have any leftover pumpkin from a can. Seriously, how annoying is it when the recipe says to only use a few tablespoons or a cup?
Ok. Fine. I too am guilty of posting a recipe that uses only part of a can of pumpkin (ahem, mini bourbon pumpkin cheesecakes and butterscotch pumpkin cake bars recipes) but I am thrilled to present to you a recipe that uses the whole can! These truly are pumpkin cookies. That all being said, you do end up with 5 dozen cookies.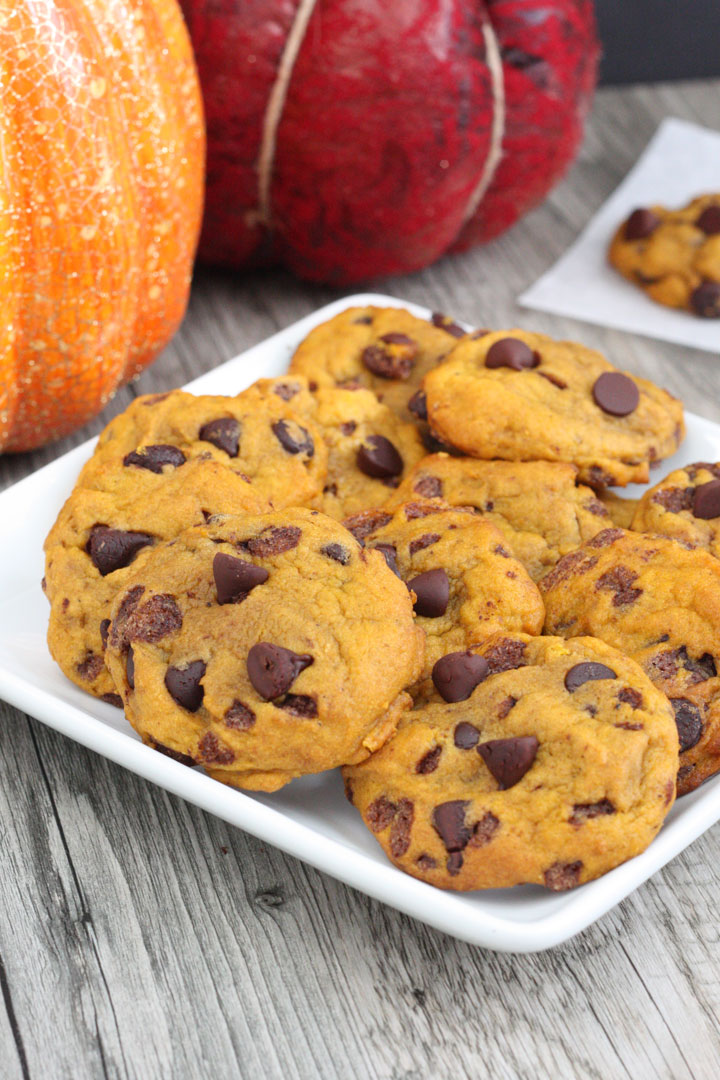 The recipe uses Cinnamon Sweet Bits...
I discovered this gem of an ingredient while looking through my King Arthur Flour catalog. I finally added it to my order one day and did not regret it!
These little cinnamon bits are basically a combination of cinnamon and sugar. When you add it to a recipe, whether it be cookies, a pear upside down cake or my whole grain pumpkin spice pancakes, you end up with little bursts of melted cinnamon sugar. If you can't get a hold of it, just add some extra cinnamon along with the rest of the spices. You can also use pumpkin pie spice in place of the individual spices.
Can't get enough of pumpkin? You might also want to try out my pumpkin brookies. It's the best pumpkin chocolate chip cookie dough mixed into my favorite brownie recipe.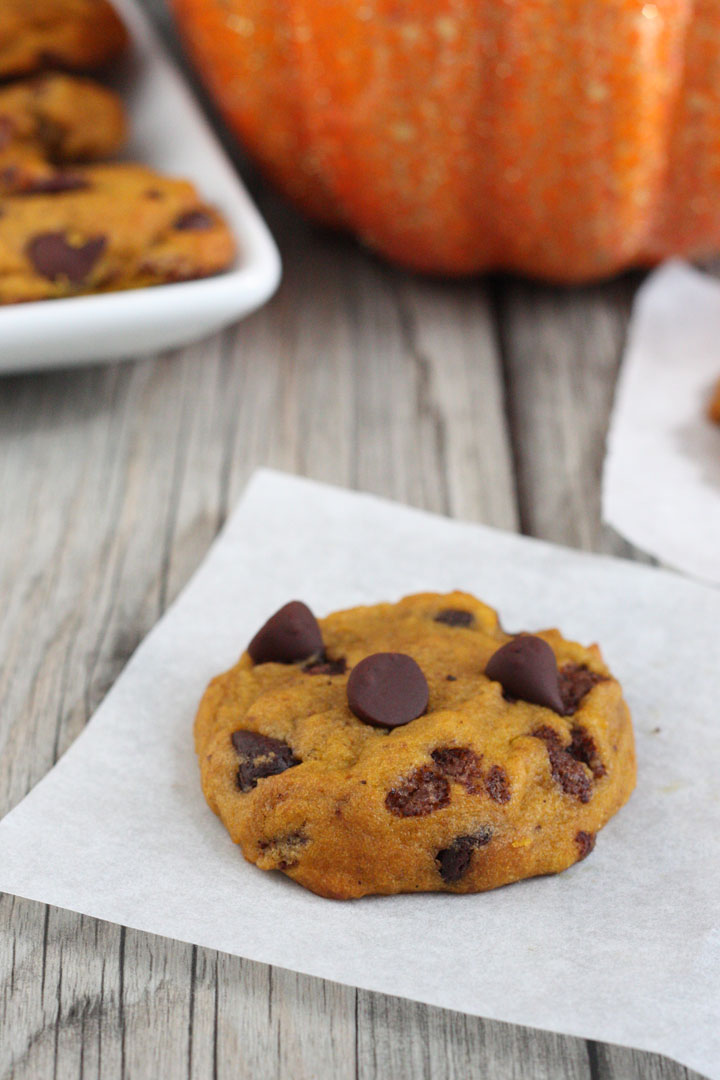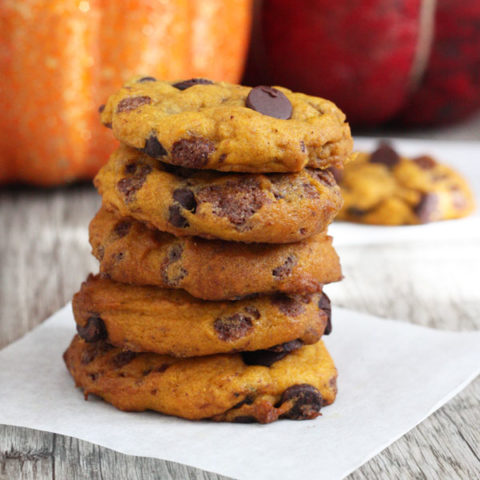 Soft Baked Pumpkin Chocolate Chip Cookies
Additional Time:
30 minutes
These deliciously soft baked pumpkin chocolate chip cookies are loaded with chocolate chips, spices and bursts of cinnamon. This is the only pumpkin cookie recipe you will need!
Ingredients
2 ¼ cups all purpose flour
½ teaspoon baking powder
½ teaspoon baking soda
½ teaspoon salt
½ teaspoon ground ginger
½ teaspoon nutmeg
¼ teaspoon ground cloves
1 cup unsalted butter, melted
½ cup brown sugar
½ cup granulated sugar
15 ounce can of pumpkin puree
1 egg yolk
1 teaspoon vanilla extract
1 cup semisweet chocolate chips
¾ cup King Arthur Flour cinnamon sweet bits
Instructions
Prepare a cookie sheet with parchment paper and preheat the oven to 350F.
In a small bowl, whisk together the flour, baking powder, baking soda, salt, ginger, nutmeg, cloves.
In a separate mixing bowl, whisk together the melted butter, brown sugar and granulated sugar.
Add the egg yolk and vanilla to the butter mixture and mix to combine.
Stir in the pumpkin puree until smooth.
Add the flour in 3 batches, mixing in between each addition until you get a soft dough.
Stir in the chocolate chips and the cinnamon bits.
Chill the dough for at least 30 minutes or overnight.
Scoop 1 Tablespoon balls of cookie dough onto the parchment lined sheet pan.
Gently press the the balls with your three middle fingers. Rotate your fingers 90 degrees and give them a press again.
Bake the cookies for 10-12 minutes or until the tops are lightly browned.
Notes
You can add 1 ½ teaspoons of cinnamon with the rest of the spices instead of adding cinnamon sweet bits at the end.
You MUST press the balls down twice with your fingers. These cookies do not spread much. This will give your cookies a flatter rounder shape.
Nutrition Information:
Yield:

30
Serving Size:

2 cookies
Amount Per Serving:
Calories:

160
Total Fat:

8g
Saturated Fat:

5g
Trans Fat:

0g
Unsaturated Fat:

3g
Cholesterol:

22mg
Sodium:

68mg
Carbohydrates:

21g
Fiber:

1g
Sugar:

10g
Protein:

2g
SaveSave