Do you want a brownie or a cookie? How about a brownie cookie? A chocolate indulgence with a fudgy brownie flavor but a crisp cookie exterior.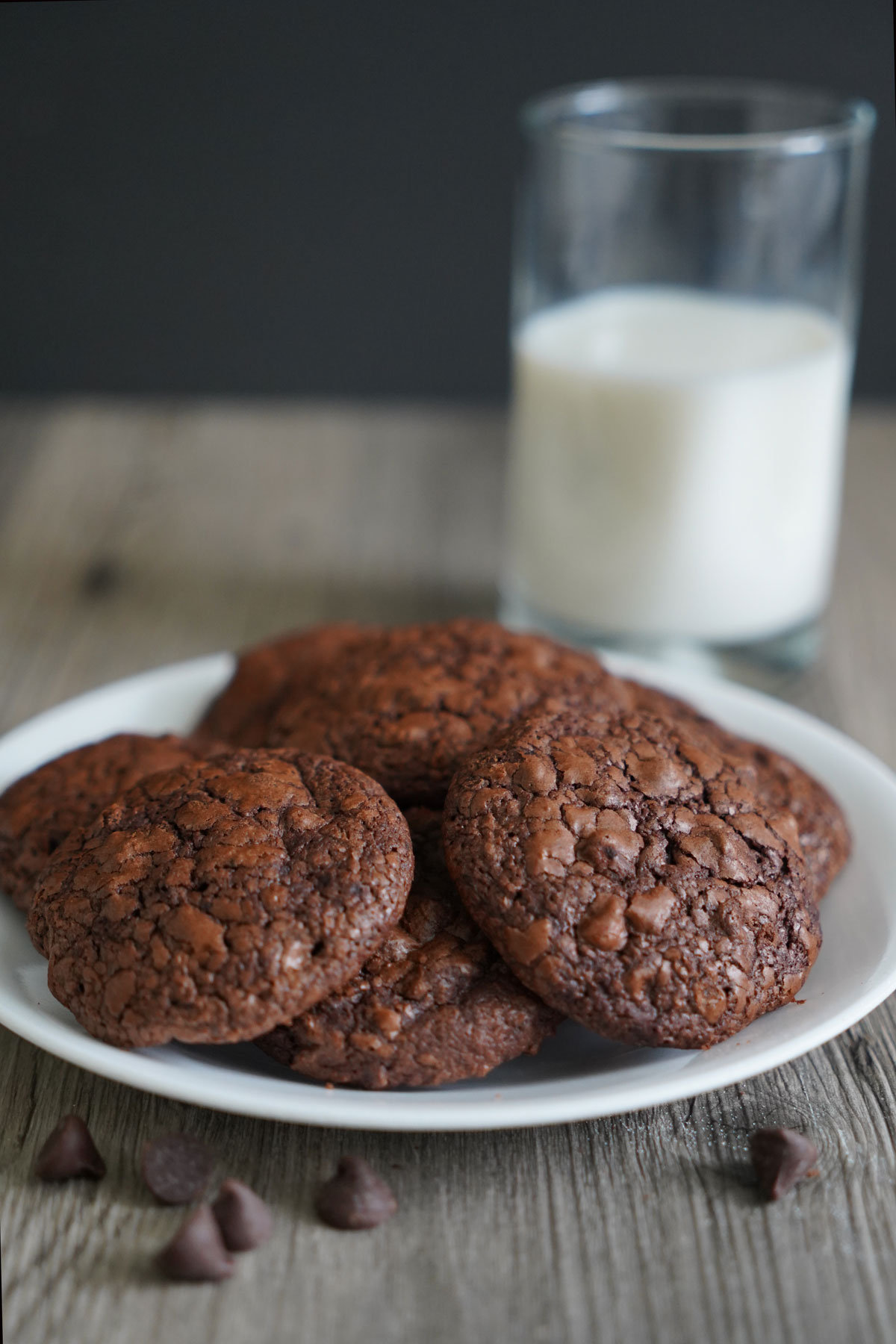 I love chocolate. A classic fudge brownie totally hits the spot when I have a craving but sometimes I want something a little lighter. This brownie cookie has all the richness of a fudgy brownie but does not feel as heavy. Be careful though, it's really hard not to eat the whole plate!
To make brownie cookies you will need these ingredients:
Unsalted butter: Always use unsalted butter so you have complete control over the amount of salt. Be sure to use room temperature butter so it melts into the chocolate quickly.
Bittersweet chocolate: Adding melted chocolate in addition to the cocoa powder makes this cookie extra rich. I used 60% cacao dark chocolate.
All purpose flour and salt
Baking powder: Use baking powder not baking soda. They do not react the same way!
Unsweetened cocoa powder: I used Dutch processed cocoa powder. Be sure to sift it as cocoa powder tends to clump.
Espresso powder: This is totally optional. I like to use a little in all my chocolate recipes as it enhances the flavor. 
Mini semisweet chocolate chips: Because of the size of my cookie scoop and the amount which these cookies expand, I like using mini chips over regular sized chips. If you only have regular ones, that's fine too.
Granulated sugar
Eggs
Vanilla extract: For best flavor, always use a quality extract not imitation vanilla.
Other tools you need:
Stand mixer or an electric hand mixer and bowl
Whisk, spatula, bowls
Parchment paper and cookie scoop (optional but helpful)
Cookie sheet
Microwave or double boiler setup on stove to melt chocolate
Oven
Putting the dough together is simple but you will need three bowls. The melted chocolate and butter will be mixed into one, the dry ingredients in the second and the eggs, sugar and vanilla into the third.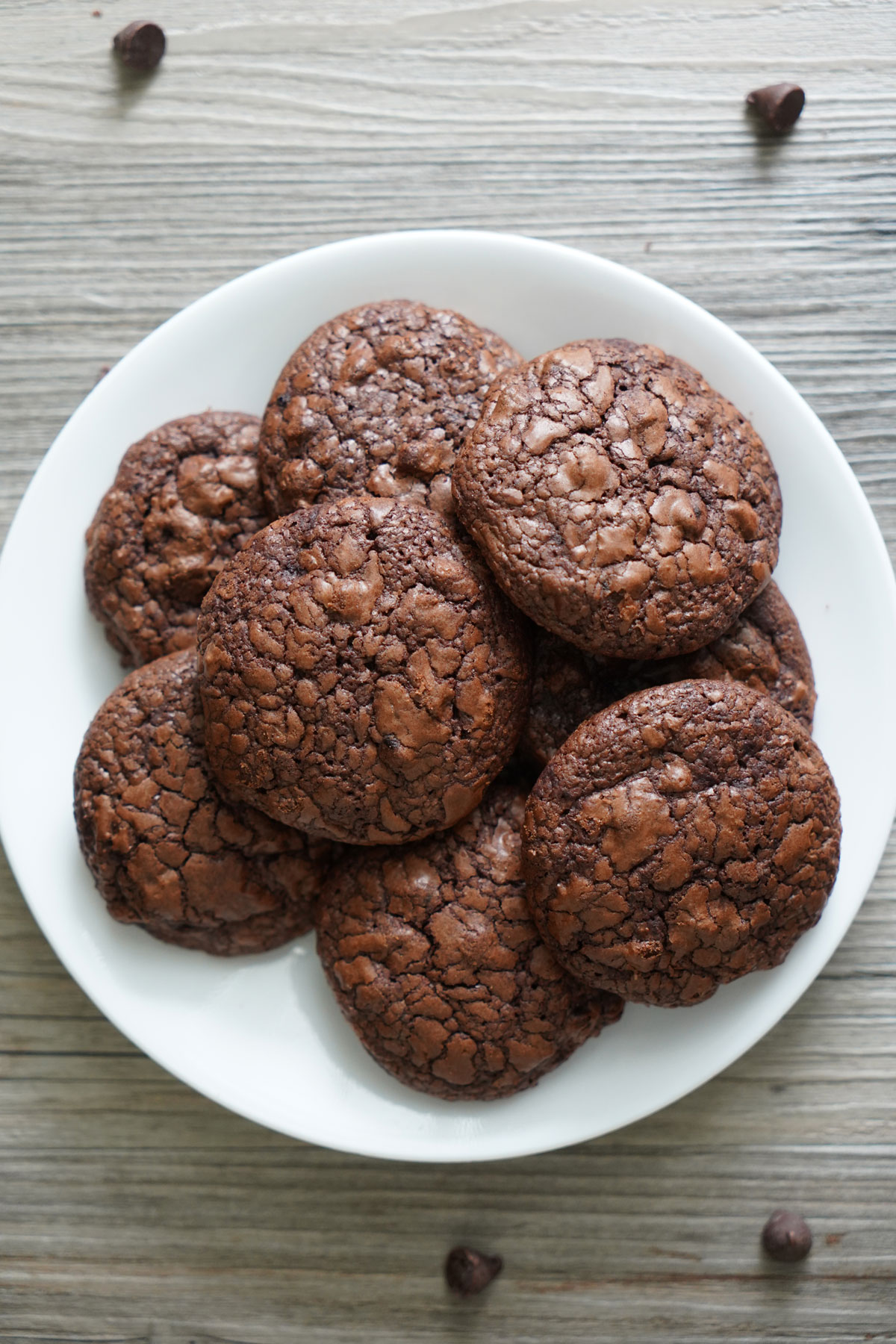 How to make brownie cookie batter
When mixing the sugar, eggs and vanilla, beat until it becomes smooth and pale in color. This may take a few minutes. Then you will first gently fold the chocolate mixture into the egg mixture and then the dry ingredients second.  
Why do I have to chill this cookie dough?
You will find that the batter is VERY liquidy after you are finished mixing. This is because there is very little flour in it compared to the other ingredients. Remember, a lot of melted chocolate went into the batter and it needs to firm up again. Chilling is required to make it stiff enough to scoop the dough into balls.
How do I know when my cookies are done baking?
I always find it more difficult to tell when a chocolate cookie or chocolate cake is done baking. Usually you take cookies out when they are "golden brown" but with chocolate it's difficult to tell. Plus, oven temperatures vary so I can not give you the exact minutes for baking.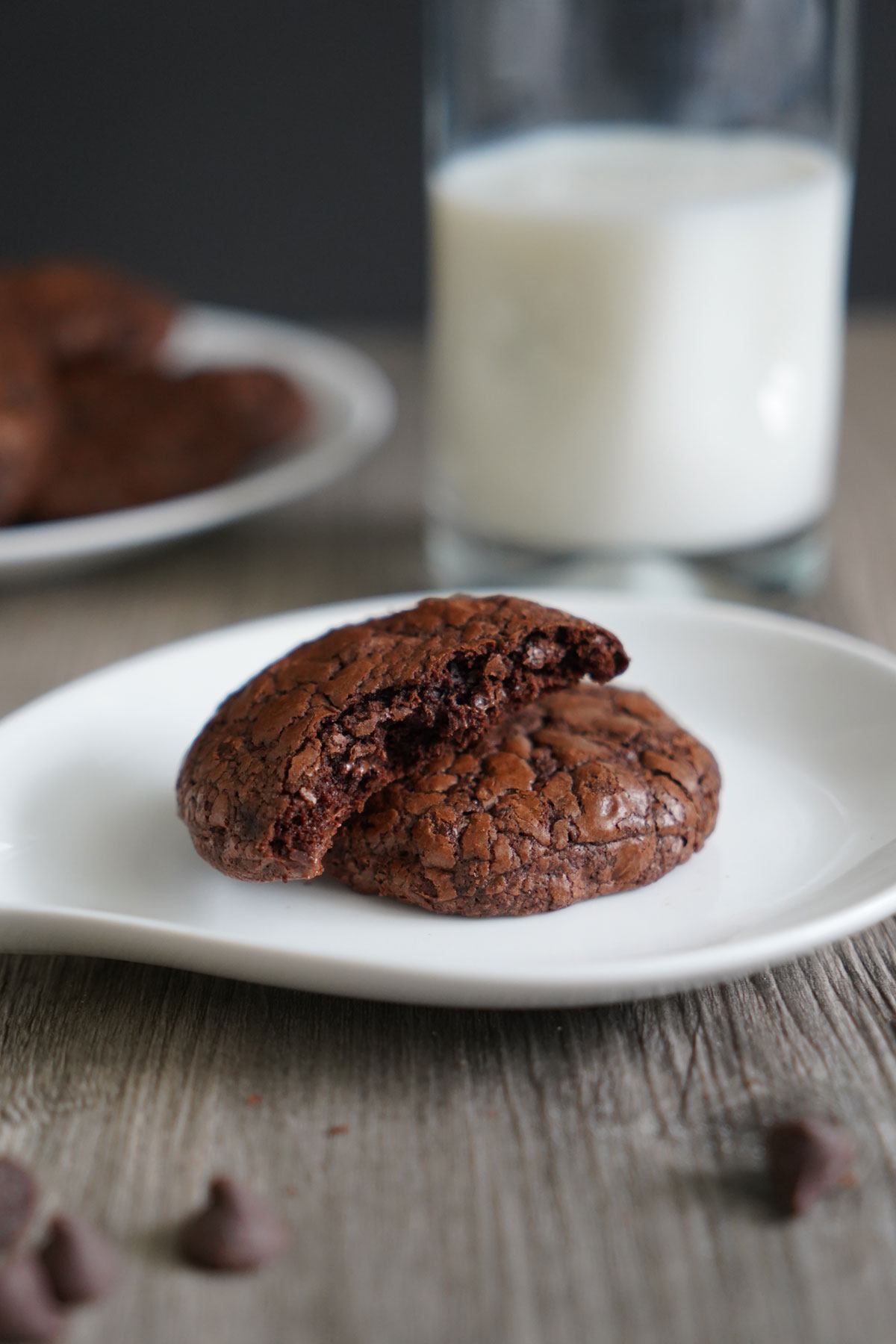 This is why my recipes always have a range for baking times. For these cookies it's 8-10 minutes but it still could be more or less. So I suggest baking only 3-4 cookies first and figuring out the timing for YOUR oven. This is your test batch and will allow you to judge how long you want to bake them for.
I know it's an extra step but when you get it right and to your personal taste, you will not be disappointed! Enjoy!!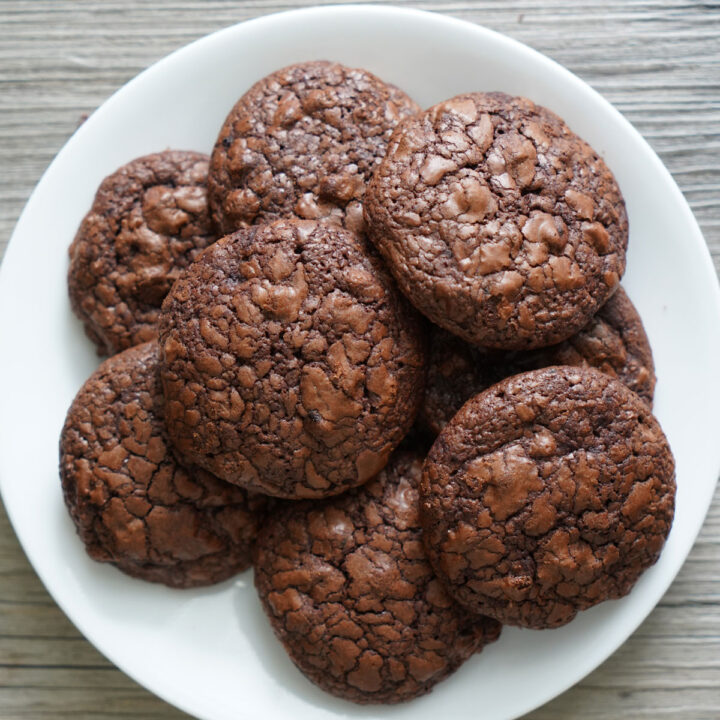 Brownie Cookies
Additional Time:
30 minutes
Do you want a brownie or a cookie? How about a brownie cookie. Fudgy brownie flavor with a crisp cookie exterior. 
Ingredients
8 ounces bittersweet chocolate
½ cup plus 2 Tablespoons unsalted butter, room temperature
⅜ cup all purpose flour
¼ teaspoon salt
1 teaspoon baking powder
½ Tablespoon espresso powder (optional)
½ cup plus 1 Tablespoon cocoa powder
1 cup semisweet chocolate chips
1 cup sugar
3 eggs
1 teaspoon vanilla extract
Instructions
In a small bowl, melt the bittersweet chocolate in the microwave in 10-20 second increments until completely melted.
Chop the butter into smaller pieces and stir it into the chocolate until everything is melted and smooth.
Sift together the flour, salt, baking powder and cocoa powder in a medium bowl. Mix in the espresso powder if using.
In a large bowl, beat the sugar, eggs, and vanilla together with an electric mixer until it's smooth and pale. About 3-4 minutes.
Fold the chocolate butter mixture into the egg sugar mixture.
Fold in the dry ingredient mixture until evenly mixed. Chill batter in refrigerator for 30 minutes. Preheat the oven to 350F and line a baking sheet with parchment paper.
Using a small cookie scoop, evenly place mounds of batter about two inches apart on the cookie sheet.
Bake for 8-10 minutes. Cool for 2 minutes and then transfer cookies to a cooling rack.
Notes
1. Be sure to use room temperature butter so it melts easily into the chocolate. If you are melting the chocolate over a water bath on the stove, you can melt the chocolate and butter together.
2. Espresso powder enhances the flavor of chocolate but is not necessary.
Nutrition Information:
Yield:

24
Serving Size:

2 cookies
Amount Per Serving:
Calories:

154
Total Fat:

9g
Saturated Fat:

5g
Trans Fat:

0g
Unsaturated Fat:

3g
Cholesterol:

26mg
Sodium:

55mg
Carbohydrates:

17g
Fiber:

2g
Sugar:

12g
Protein:

3g
This nutrition information is only an approximate provided for convenience and as a courtesy only. Information comes from Nutritionix, an automated nutrition calculator.