Here are five ways to get room temperature butter quickly. It's not a step you should skip if you are trying to bake a cake or cookies. So, give one of these a try the next time you forget to leave the butter out.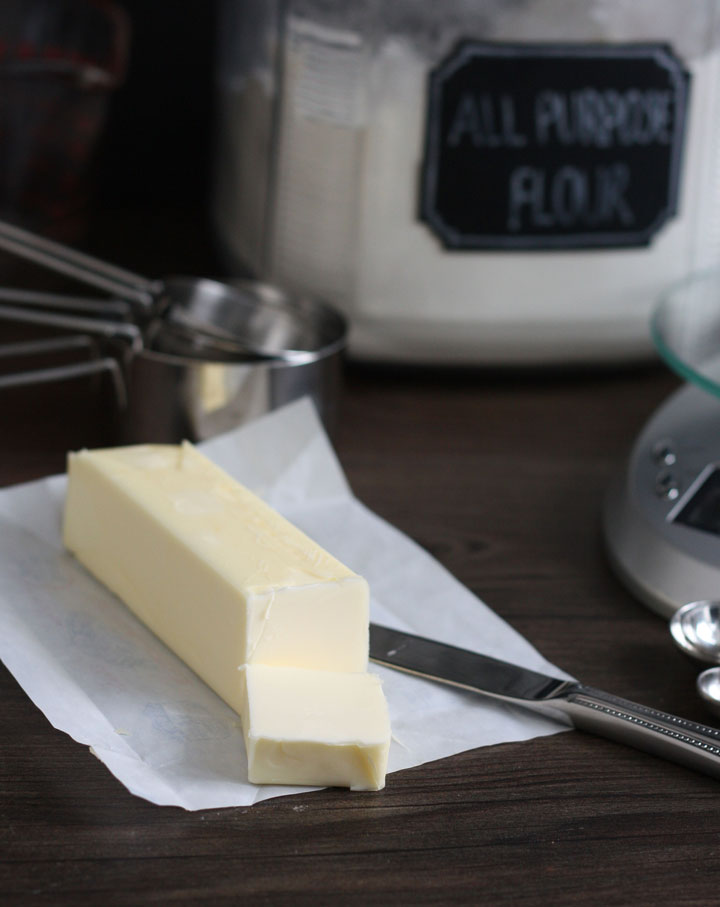 When your recipe calls for room temperature butter, don't ignore it! Those instructions are there for a reason. Cakes are a great example of a recipe calling for room temperature butter. When the recipe asks you to "cream the butter and sugar", the sugar crystals are cutting into the butter to make small air pockets. This happens more easily when the butter is not cold. Small air pockets created in the butter expand in the oven to give you a nice fluffy cake. Room temperature butter also mixes better with other ingredients leaving your batter free of lumps.
Let me guess, you're ready to bake and forgot to leave the butter out and don't have time to wait around right? It's happened to me too. Getting butter to room temperature normally takes at least 30 minutes or more if you let it just sit out. Don't have time to wait around?
Here are 5 ways to get butter to room temperature fast:
Microwave
This is my least favorite because you risk your butter turning into a pool of liquid. If you insist on this method, I recommend that you put the whole stick in the microwave and heat it in 10 second increments. Be sure to give the stick a turn (flip its side) between heating and leave the paper wrapper on.
Warm Water Bath
Place your butter in a small bowl and then place the small bowl in a larger bowl full of very hot water. Let it sit until the butter is soft enough to leave an indent when touched.
Cube It
Cube the butter and allow it to sit out. Cutting the butter up into cubes increases its surface area and allows the butter to warm up faster. You can also grate your butter (best if butter is frozen) to increase surface area.

Warm Glass Cover
Fill a glass bowl with very hot water. Wait until the glass is warm, dump it, dry it and quickly cover the butter with it.
Cube and Cover
This is my favorite. Cube the butter AND cover it with a warm glass. More surface area and heat flow gives you the best of both worlds. Place it on the stovetop while preheating the oven so it's in a warm environment.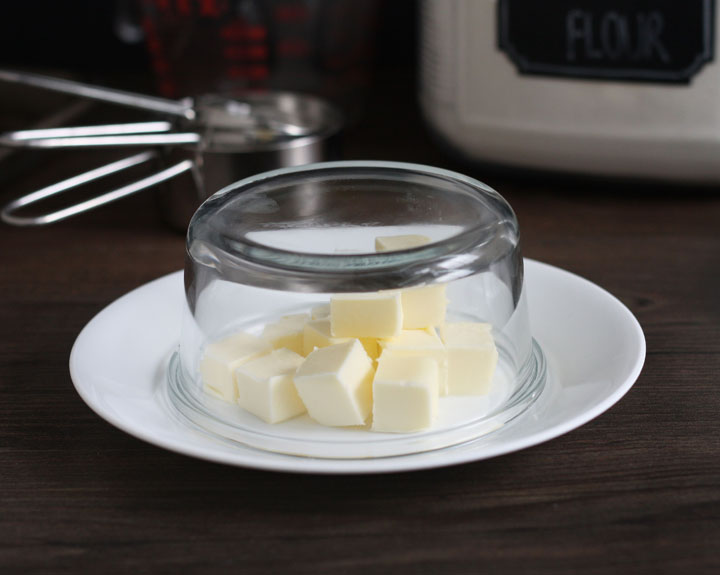 I didn't time these but they are definitely faster than waiting around 30 minutes or more. I use the last method and if I had to guess, it's good to go after 15 minutes. I'm thinking I should turn this into a science experiment to do with V. What do you think? Maybe we will use the butter to make cookies when we are done with the experiment. I'll save it for a rainy day and get back to you!
Do you have any tips or tricks for bringing ingredients to room temperature? Please share them in a comment below.
For more quick baking tips you may also want to check out these other posts:
Are Dry and Liquid Measuring Cups the Same?
How to Keep Cake from Sticking to the Pan
SaveSaveSaveSave
SaveSave
SaveSave
SaveSave
SaveSave
SaveSave
SaveSave
SaveSave
SaveSave
SaveSave
SaveSave
SaveSave
SaveSave
SaveSave
SaveSave
SaveSave
SaveSave
SaveSave
SaveSave