Liquid and dry ingredients are measured with different types of measuring cups. Learn why the right tool for the job matters.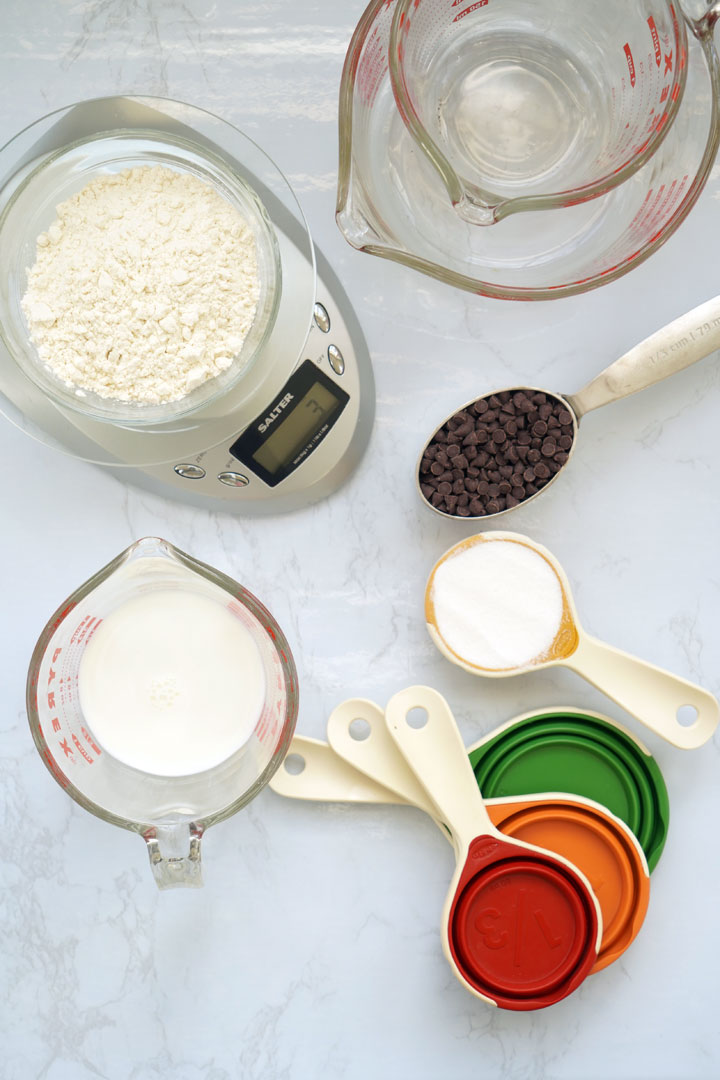 Baking is a science. Specifically, it's chemistry and chemical reactions require precision. It takes just the right amount flour, sugar, eggs and heat to make your baked goods rise to perfection and have good texture.
This is why measuring your ingredients correctly is essential to most recipes. Many people are not aware that liquid measuring cups and dry measuring cups differ.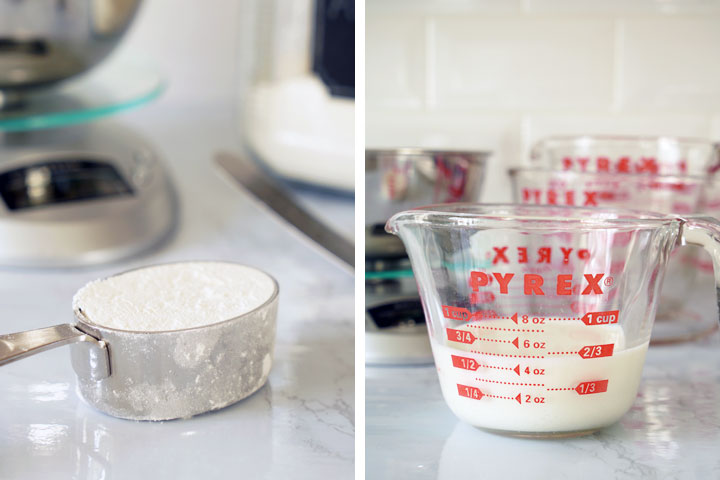 What's the difference between liquid and dry measuring cups?
A dry measuring cup can be leveled off when measuring dry ingredients only. A liquid measuring cup can't be leveled off for dry ingredients because it allows room for liquids to slosh around.
Can you use a liquid measuring cup to measure dry ingredients?
Technically, yes. They both measure the same amount of volume. There is no liquid to dry measuring cup conversion.
1 cup in a dry measuring cup is the same as 1 cup in a liquid measuring cup. It's still probably not wise to interchange them. Still in doubt? Let's look at this very scientific example.
Let's say a recipe calls for 3 cups of flour and ½ cup of milk. I measured 1 cup of flour with my dry measure by dipping and leveling off. I then weighed it on my scale. 4 and ⅜ ounces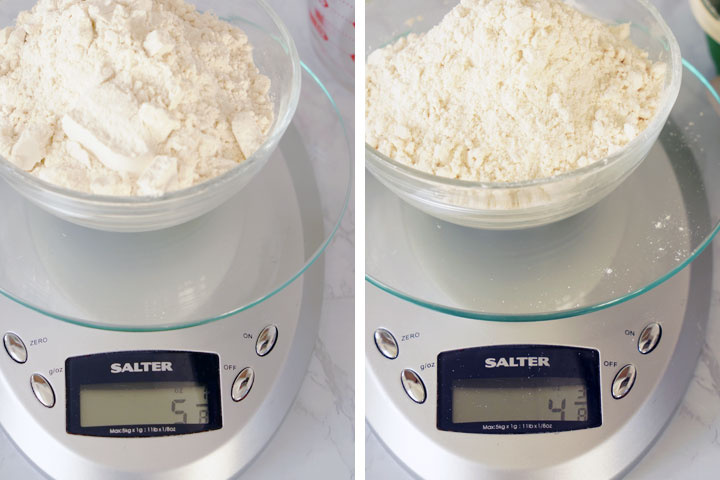 I then measured 1 cup of flour in my liquid measure Pyrex. It weighs 5 and ⅛ ounces.
That's a difference of ¾ ounce. My recipe calls for 3 cups not 1 cup. So multiply your error by 3 and you are now over by 2 and ¼ ounces. That's about a ½ cup of flour. Yikes!
You can't level off a liquid measuring cup so it's possible that I could have been off by even more every time I measured out 1 cup. In a cake, too much flour can lead to a dry, tough crumb.
Now let's look at our liquid ingredient. I measured ½ cup of milk with my liquid measure. It weighs 4 ounces. Then I measured ½ cup milk (very carefully to not spill) with my dry measure.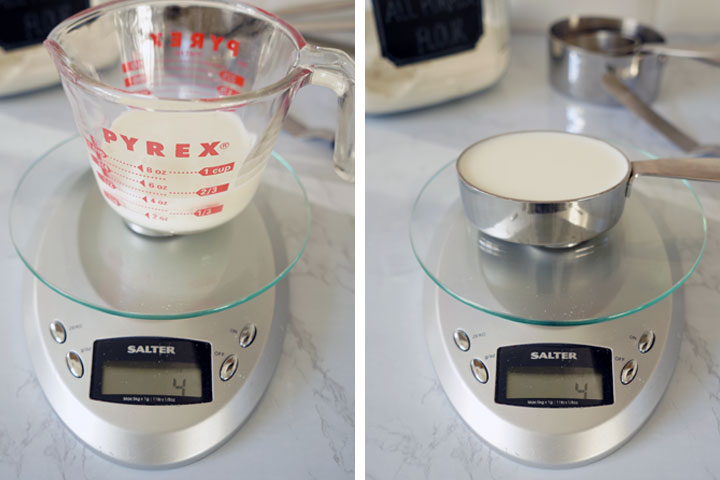 They both weigh 4 ounces. Ok fine, that works but let's think this through. You can't level off a liquid in a dry measuring cup but you can pour carefully all the way to the brim.
NOT A GREAT IDEA THOUGH! It's very hard not to spill a liquid when you fill the dry measure to the brim. This is not practical.
What's the best way to measure baking ingredients?
The example above should have led you to conclude that the best and most consistent way to measure ingredients is by weighing them.
This is especially true with dry ingredients like flour which can be packed down to varying degrees to fill the volume of the measuring cup.
However, since most recipe sites, including this one, do not measure by weight, it's important to have both liquid measuring cups and dry measuring cups handy.
For dry ingredients, you may also want to ask the recipe writer what method they use to measure out dry ingredients.
Do they scoop and level? Do they spoon it into the measuring cup? Do they sift first? Personally, I fluff with the measuring cup, then scoop and level off.
If you're serious about baking, it's time you have a set of each type of measuring cup and get a scale. I hope this small lesson has been helpful to you!
For more quick baking tips you may also want to check out these other posts:
How to Get Room Temperature Butter Quickly
How to Keep Cake from Sticking to the Pan