Calling all cookies and cream fans! The perfect alternative to ordinary sugar cookies: Cookies and Cream Cut Out Sugar Cookies!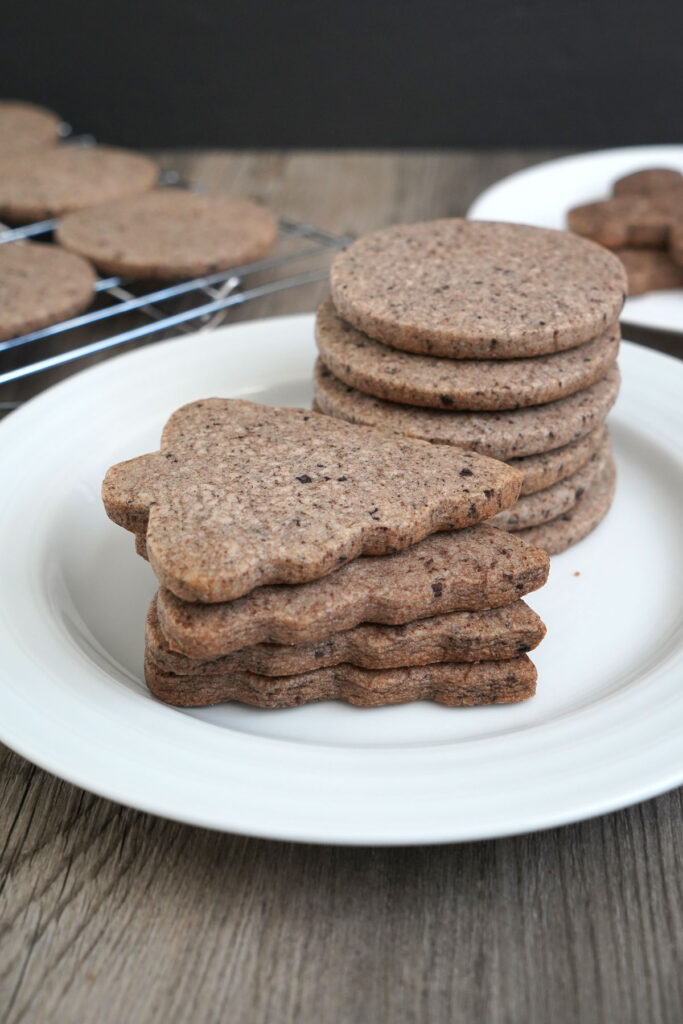 I love my original classic sugar cookie dough, but I thought the holiday cookies needed a shake up this year. So I made these cookies and cream sugar cookies with mixed in Oreo crumbs and they are soooooo good.
Not only were they tasty, but they also met all the other requirements of a good cookie. The baked cookies came out with perfect edges and texture.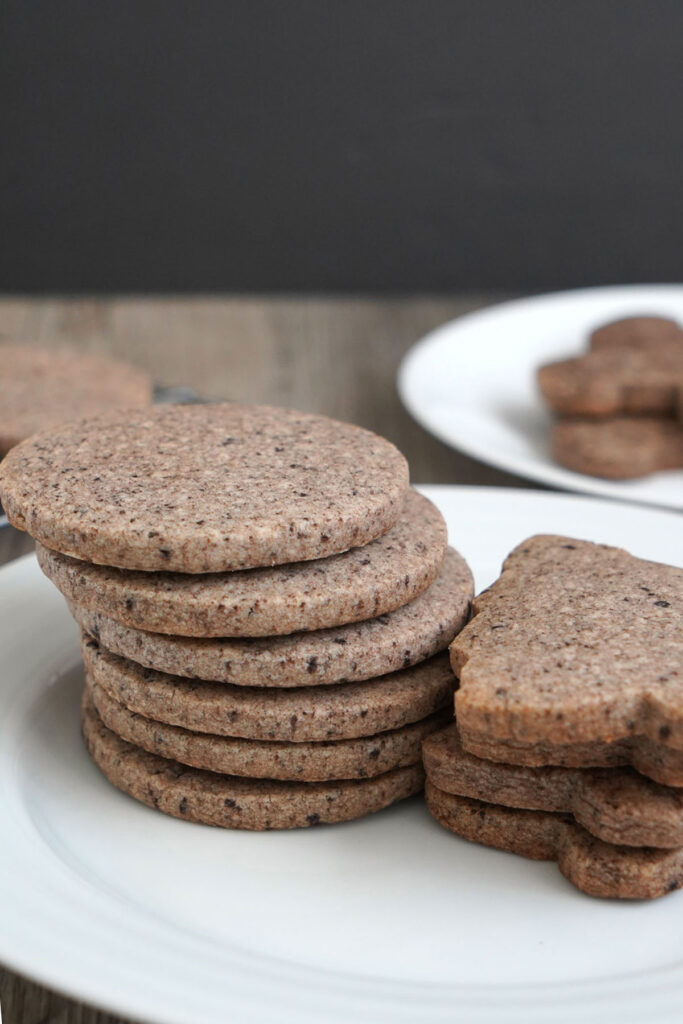 They also stayed flat on top so they can be decorated with cookie icing easily. Basically, they are everything you want in a good cut out cookie!
Adding crushed cookies to the dough also makes them darker and speckled. The speckled cookie look is perfect for my melted snowman cookies. It reminds me of all the poor snowmen melting on the dirty snowy ground.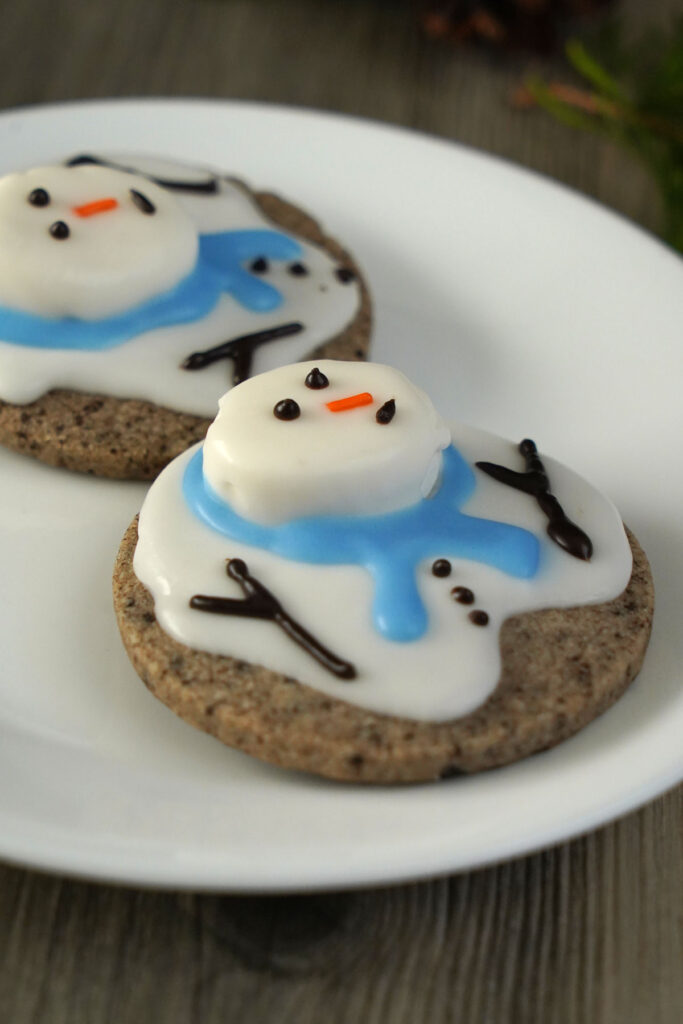 They were also great for making these pine tree cookies! I felt like I could be more lazy about decorating the one on the bottom of this picture. The cookie was already the color of tree branches so no need to fill it in completely, right?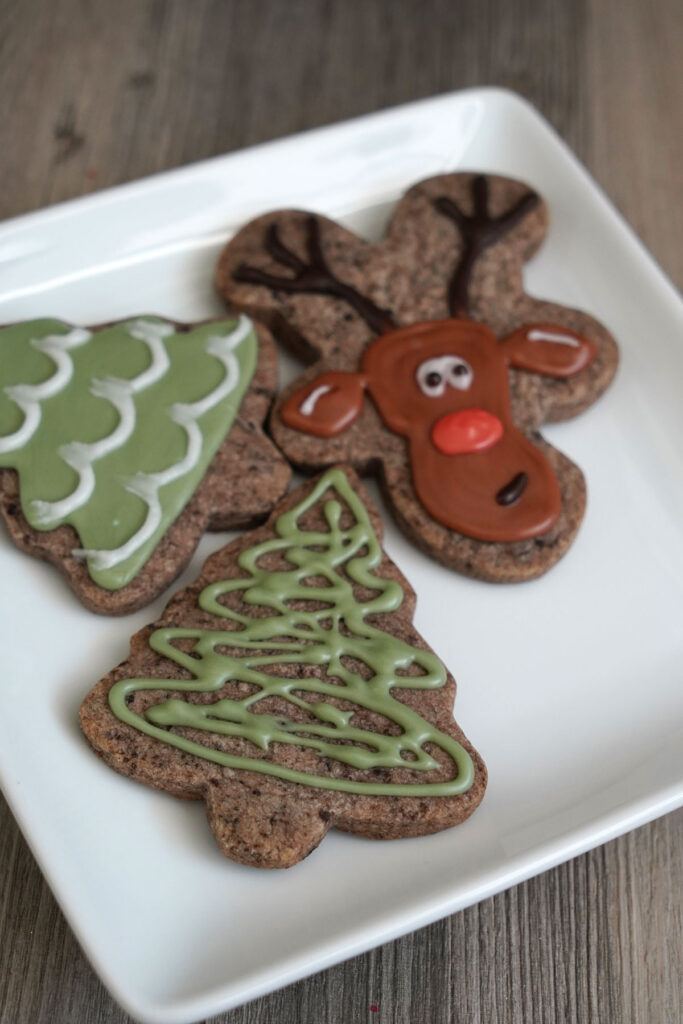 How to Make the Dough
I based the recipe off of my rolled sugar cookie dough which I usually make in a food processor.
Since I had to crush my Oreo cookies anyway, I used the food processor for this dough too. You can use a stand mixer too, but the recipe instructions are for a food processor.
When crushing the cookies, be sure not to leave large chunks but don't make it too fine either. If it's too fine, it will turn the dough too dark and more streaky.
To make the dough, cream the butter and sugar in the food processor. Then add the egg and vanilla and pulse to combine. Add all the dry ingredients last.
It helps to mix all the dry ingredients together first in a bowl to make sure everything is evenly distributed.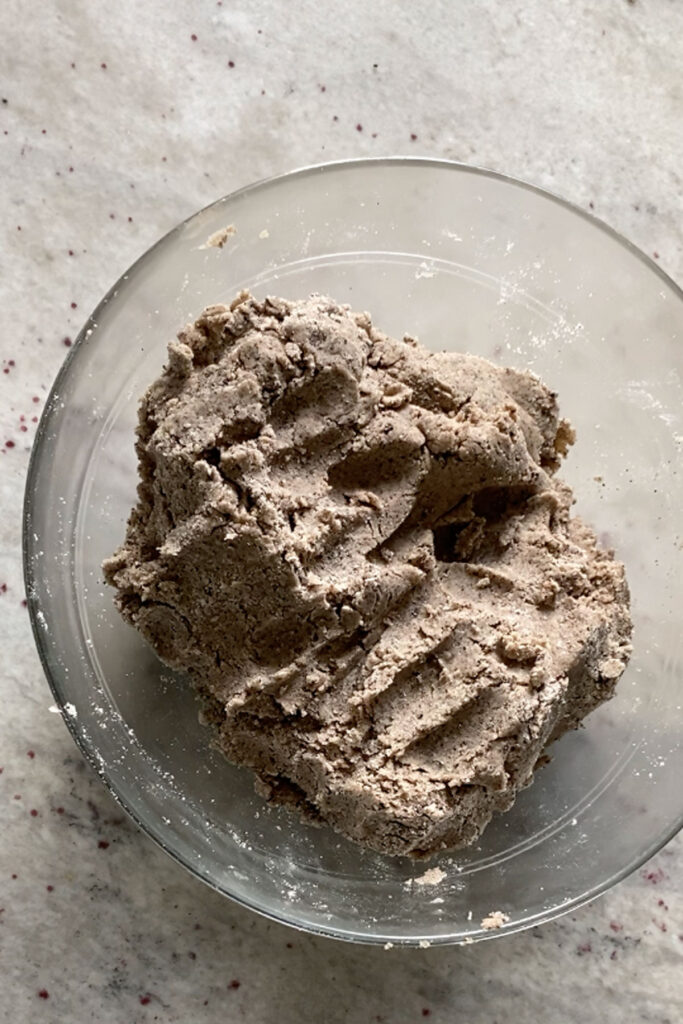 If you find that the dry mixture is not mixing well with the rest of the ingredients in the food processor, then turn it out into a large bowl and mix by hand. There is no need to chill the dough yet.
Rolling the Dough
Divide the dough into two. Roll out each half on a sheet of parchment paper to a quarter inch thickness. It helps to use rolling pin guides to roll evenly.
You can also use two ¼ inch dowels on either side to prevent your dough from getting too thin. Just make sure the rolling pin is always rolling over the dowels.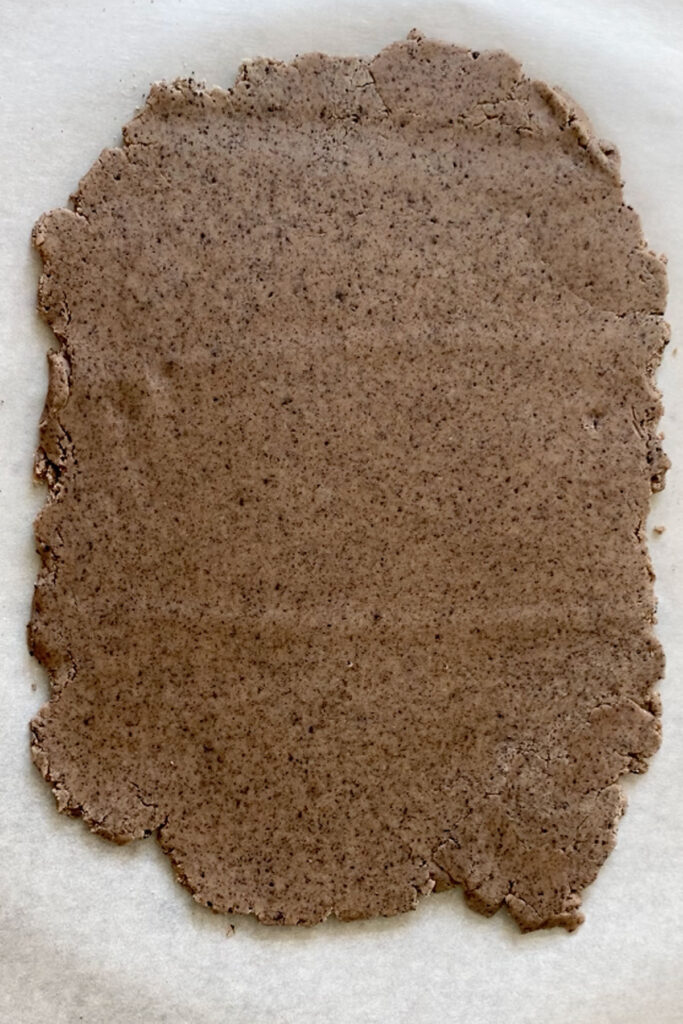 Once both portions of dough are rolled out, they should be chilled for at least 30 minutes. Don't skip this step! This is how you will get perfect edges and shapes. Preheat the oven while the dough chills.
Cutting and Baking
Once the dough is chilled, quickly make your cut outs and bake the cookies while the dough is still firm and cold. If the dough is no longer cold, you should chill the cookies again after cutting them out.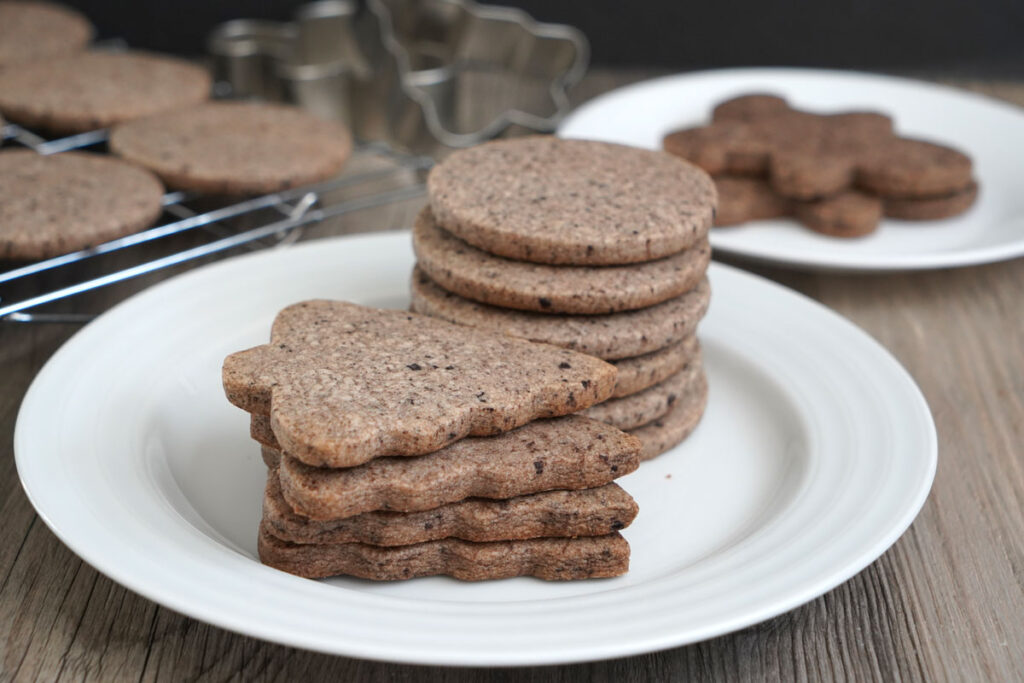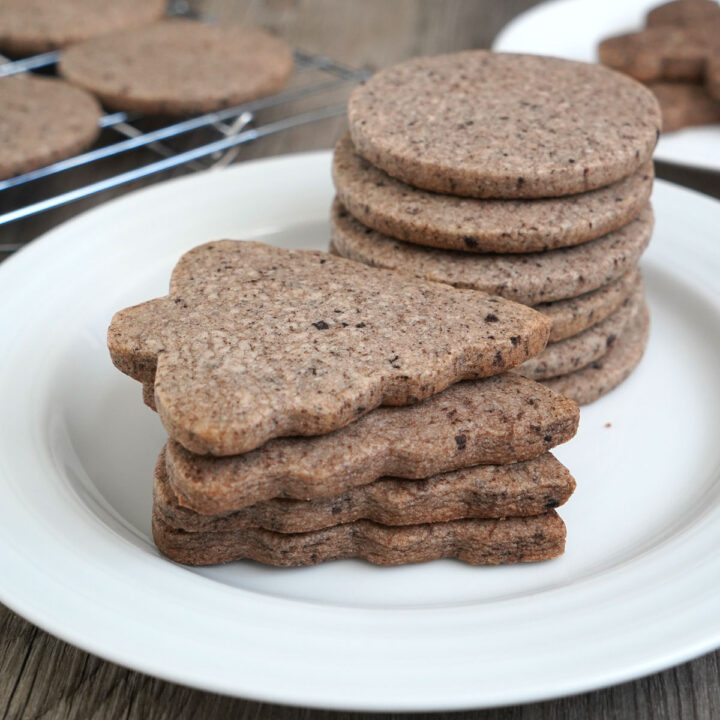 Cookies and Cream Sugar Cookies (Cut Out)
Additional Time:
30 minutes
Total Time:
1 hour
10 minutes
Calling all cookies and cream fans! The perfect alternative to ordinary sugar cookies: Cookies and Cream Cut Out Sugar Cookies!
Ingredients
3 cups all purpose flour
2 teaspoons baking powder
¼ teaspoon salt
¾ cup Oreo cookie crumbs
1 cup unsalted butter, cold and cubed
1 cup sugar
1 egg
1 teaspoon vanilla extract
Instructions
Whisk together the flour, baking powder, salt, and cookie crumbs in a large bowl. Set aside.
In a food processor, combine the butter and sugar and process until light and fluffy. Scrape down the sides in between mixing at least once.
Add the egg and vanilla and process until just combined.
Add the flour mixture and pulse until just combined. If it does not mix well in the food processor, return the dough to your mixing bowl and bring the dough together by hand.
Turn the dough out onto a piece of parchment paper or floured surface. Form a ball and then divide the ball into two halves.
Roll each half out to ¼ inch thickness on a sheet of parchment paper. If it's sticky, place another piece of parchment on top and roll the dough between the two sheets of parchment.
Chill the dough for at least 30 minutes in the refrigerator or 15 minutes in the freezer.
Cut out your cookies with your favorite cookie cutter and bake at 350F until golden. About 10 minutes.
Repeat steps 5-8 with the scraps of dough.
Notes
Pulse whole cookies in the food processor to get crumbs before creaming the butter and sugar.
Scraps can be re-rolled at least twice before the cookie starts to get less tender. The more you re-roll, the darker the cookie becomes from the dark cookie crumbs spreading around.
If the cookies are no longer cold after cutting, chill the cut out cookies for at least 15 minutes before baking.
Cookie yields depend on the size of your cookie cutter.
Nutrition Information:
Yield:

36
Serving Size:

1 cookie
Amount Per Serving:
Calories:

115
Total Fat:

6g
Saturated Fat:

3g
Trans Fat:

0g
Unsaturated Fat:

2g
Cholesterol:

19mg
Sodium:

52mg
Carbohydrates:

15g
Fiber:

0g
Sugar:

6g
Protein:

1g
This nutrition information is only an approximate provided for convenience and as a courtesy only. Information comes from Nutritionix, an automated nutrition calculator.