Making black frosting is easier than you think! This black buttercream recipe is tasty and doesn't have to use any food coloring.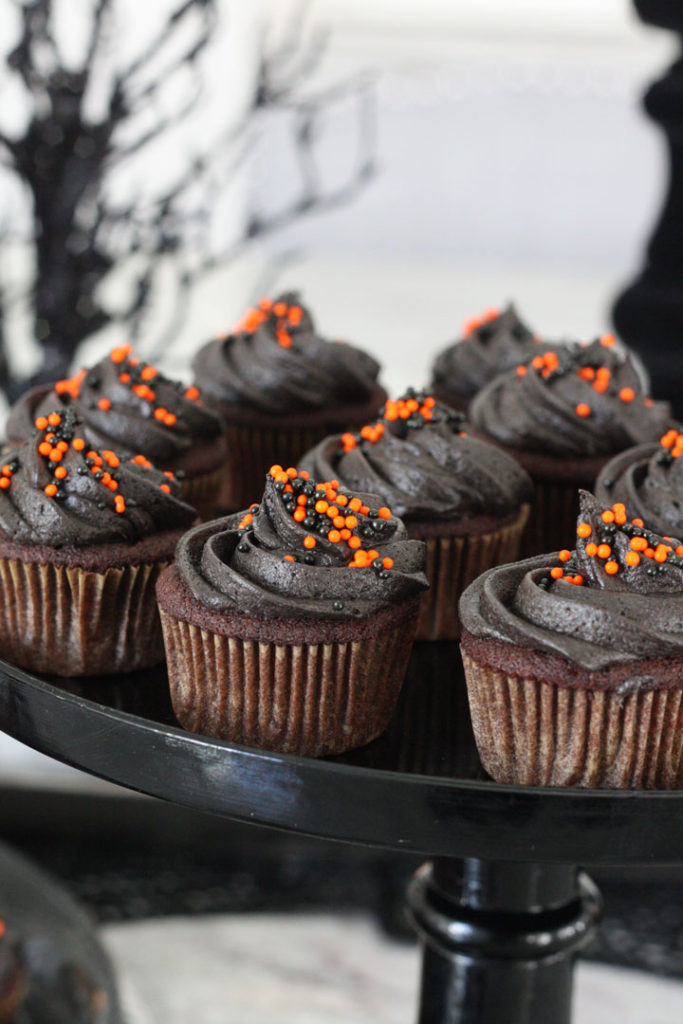 If you've tried to make black frosting before, you may know that it's hard to get a good black color. Sometimes, no matter how much food gel you add, you just end up with gray!
With Halloween around the corner, you may be thinking about making some spooky themed cupcakes and cakes. What's spookier than black buttercream? The best part about this recipe is that it can be 100% naturally colored.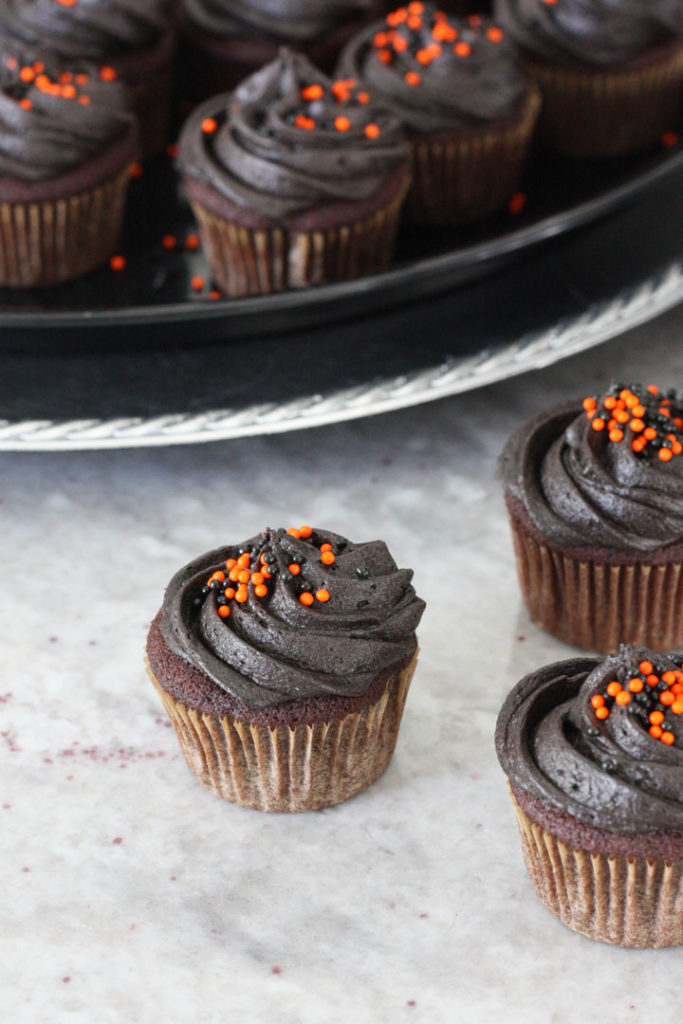 How do you make black icing?
There's a little trick to getting it really black. It's call BLACK cocoa powder. Black cocoa powder is much darker and more intense in flavor than regular cocoa. Black cocoa powder is how many bakers get their chocolate cake to be super dark.
The buttercream definitely has a cocoa flavor to it so if you really want pure vanilla, I would stick with food dyes. The cocoa flavor is distinct from typical fudge frosting or chocolate frosting too. I'd say it is less sweet and more like an Oreo cookie flavor. In fact, I've used this black buttercream combined with vanilla buttercream for my Oreo cupcakes!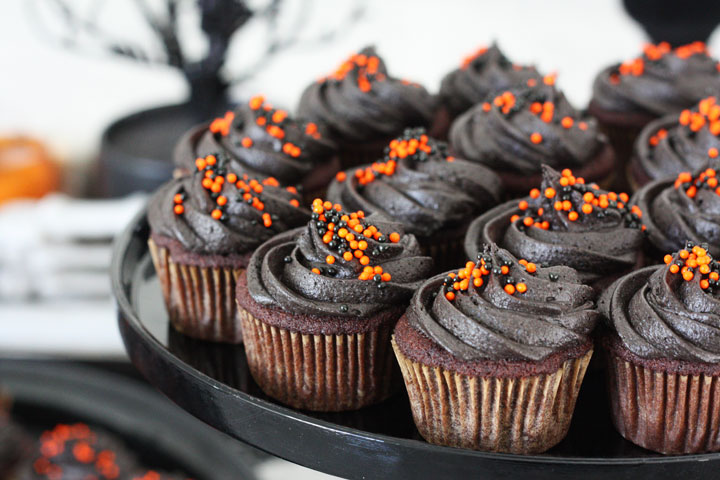 It's about as black as an Oreo cookie too. Now, you can make this buttercream even more black. To get really really black buttercream you need black food gel in addition to black cocoa powder.
Personally, this shade of black is good enough for me because I like that I don't have to add any dye. Again, the choice is yours. If you're unhappy with the color, just add a few drops of black food gel and mix again.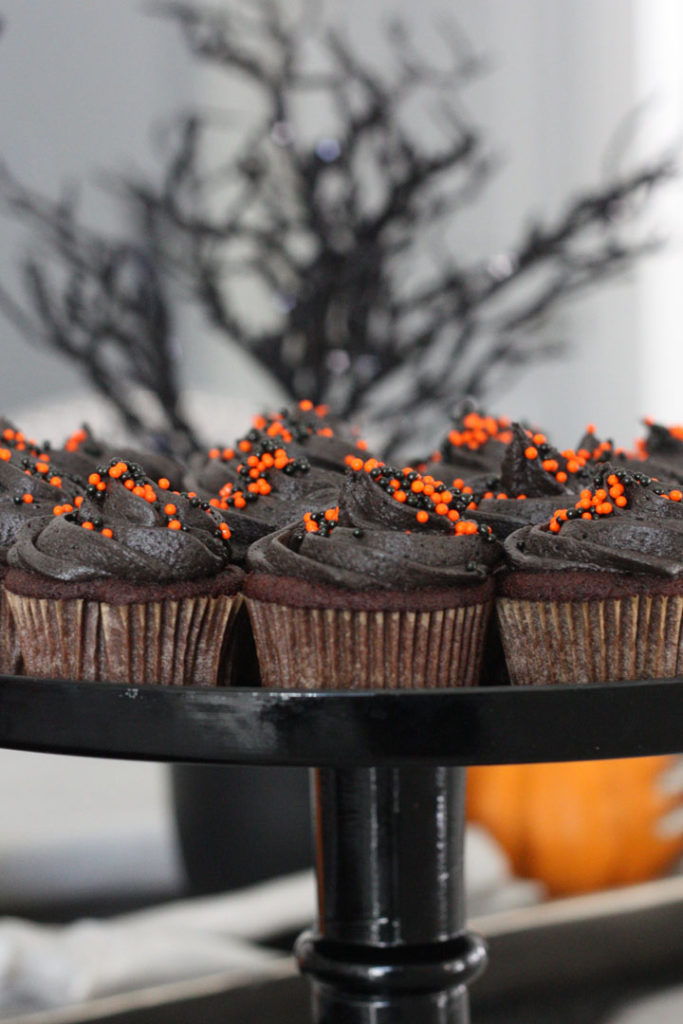 To Make This Frosting, You Will Need:
Unsalted butter, at room temperature: Always use unsalted so you are in control of the salt. See my tips for getting butter to room temperature quickly if you forgot to take it out.
Confectioner's sugar: This is what makes it sweet and smooth.
Black cocoa powder: The secret ingredient to getting it black!
Salt: Just a pinch is good in anything sweet.
Vanilla extract: Flavors the frosting. Use other extracts if you are going for a specific flavor- coconut, orange, peppermint etc.
Milk: Liquid needed to create the frosting consistency.
Optional- Black food dye gel: This will get the frosting extra black.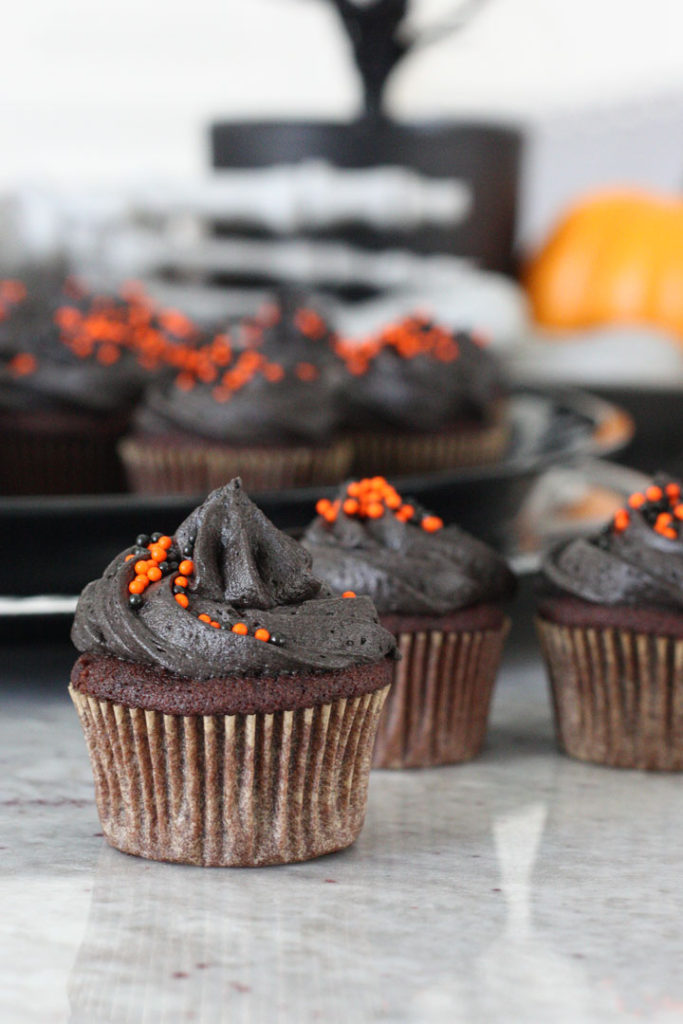 How to Make Black Buttercream Frosting
First, you will need to beat the butter with an electric mixer paddle attachment for about 1 minute. Then add the sugar and cocoa powder gradually over the lowest speed. Finally, add the milk, vanilla, and a pinch of salt.
If the frosting is too thick, you may need to add more milk a little at a time. If the frosting is too thin, you may need to add more powdered sugar.
Black Buttercream Frosting
Making black frosting is easier than you think! This black buttercream recipe is tasty and doesn't have to use any food coloring.
Ingredients
½ cup unsalted butter
2 cups confectioners sugar
¼ cup + 2TBS black cocoa
2 teaspoons vanilla
¼ teaspoon salt
3 TBS milk
Instructions
Using an electric mixer, beat the room temperature butter for a few minutes with the paddle attachment until the butter is smooth, creamy and lighter in color, about 3 minutes. Stop and scrape down the sides with a spatula
Turn the mixer speed to low and gradually add the cocoa powder and then the sugar ½ cup at a time. Once it is mixed in, stop and scrape down the sides with a spatula.
Add the vanilla, salt, and milk. Beat on medium speed for about 2 minutes.
Adjust the consistency of your buttercream by adding either milk a tablespoon at a time for thinner frosting or by adding more sugar a ¼ cup at a time for thicker frosting. Scrape down the sides as needed.
Notes
To achieve an even deeper shade of black, you can add few drops of black food gel.
Store the frosting on the counter top overnight or in an air tight container in the refrigerator for up to 1 week. You can also freeze it for up to 2 months.