This is my classic go-to vanilla buttercream frosting! It's sweet and fluffy and easy to whip up. Use it to frost cakes, cupcakes and make beautiful piping decorations.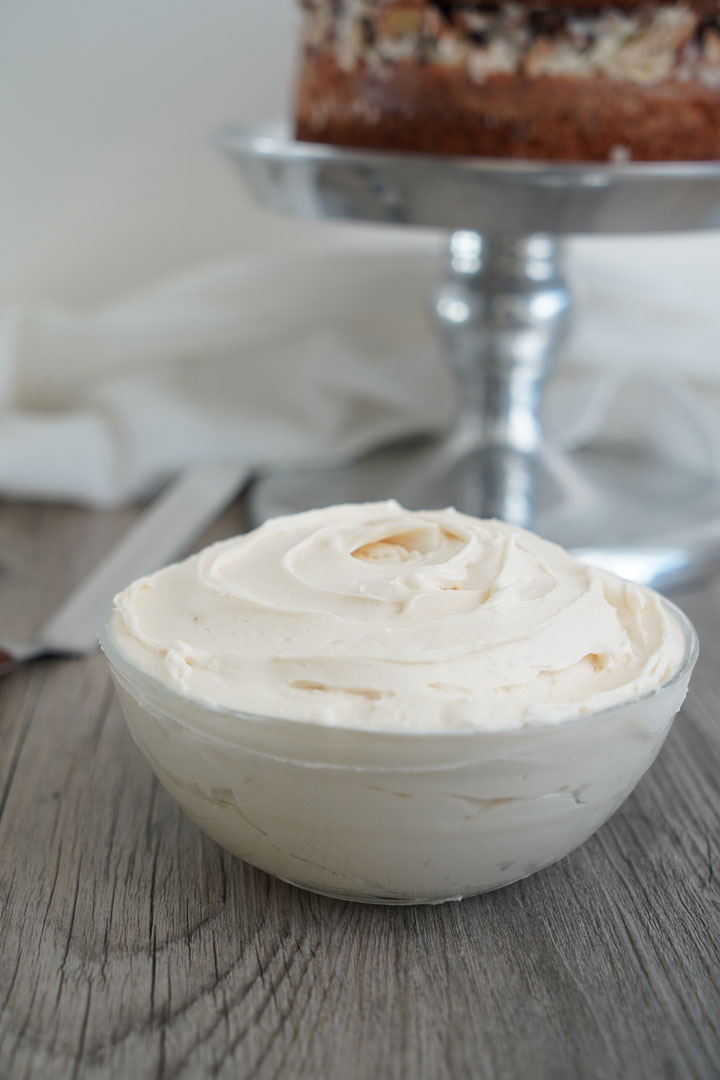 I've said it many times and I'll tell you again. Store bought frosting is a big no no! If you think making your own cupcake frosting is too hard, I'm here to tell you that you're wrong. Follow the steps and tips for this vanilla buttercream and you will never put store bought frosting on your cakes again.
Because you all loved my classic fudge frosting recipe so much (and because I don't want you to use store-bought), I'm going to share my go-to vanilla frosting with you today. So, now you will have two, no fail, classic buttercream flavors for all your cakes and cupcakes!
This one is perfect for an orange cake recipe, mango cupcakes or as a contrast to a classic chocolate cake.
I love this vanilla buttercream frosting because it's so simple to make. I'll let you in on some secrets that make it easy and reliable. First, make sure your butter is at room temperature. If you forgot to take it out ahead of time, check out my tips on how to get room temperature butter quickly.
Do I Have To Sift Powdered Sugar For Frosting?
I don't sift my sugar. Whhaaaattt? Yeah, no sifting and it works out just fine every time. I get beautiful, delicious, buttercream that I can pipe onto my cakes and cupcakes with no issues. When I add my sugar, I just use my ½ cup measuring scoop to fluff the sugar a little before I fill the scoop and add it to my butter.
How Do I Make My Frosting Smooth?
While many people prefer to use their wire whip or whisk attachment when making buttercream, I prefer to use my flat beater attachment. This is the method that was also taught to me in culinary school. It's also recommended by Kitchen Aid, the maker of the most popular stand mixer, on their site under Stand Mixer Tips and Tricks.
The whisk attachment incorporates too many air pockets. If you're frosting a cake, these air pockets will be visible and won't give you a smooth finish.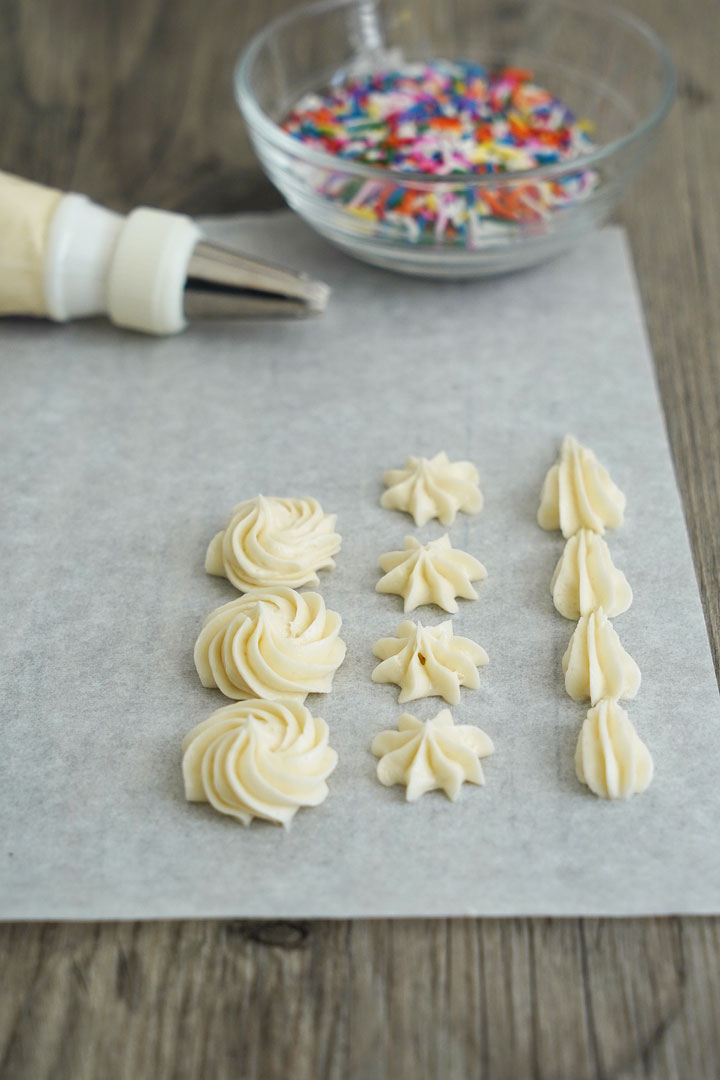 It's hard to avoid air pockets completely but the flat beater attachment definitely helps. Adding your sugar on a very slow speed will also help with this. You should end up with a silky smooth buttercream that's easy to pipe.
I hope you will give my go-to vanilla buttercream recipe a try. I know you will just love it. Let me know how it goes or ask questions by leaving me a comment below!
Dessert Sauces to Use with Vanilla Buttercream Desserts
Use these sauces to complement your desserts that use this vanilla buttercream frosting. Add them to the plate for decoration or drizzle it over your buttercream desserts.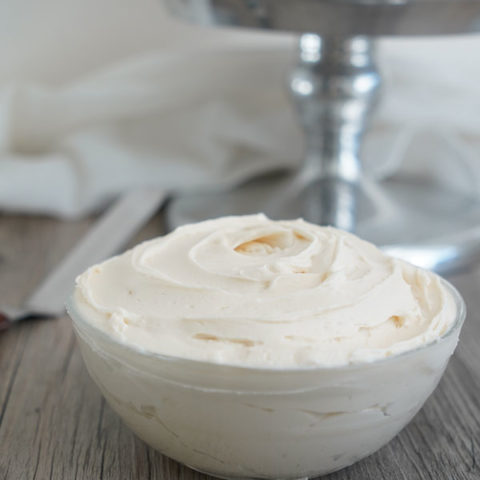 Vanilla Buttercream Frosting
Make this classic go-to vanilla buttercream frosting! Use it to frost cakes, cupcakes and make beautiful piping decorations. 
Ingredients
1 cup unsalted butter, at room temperature
3 cups confectioners sugar , plus extra
¼ teaspoon salt
1 Tablespoon vanilla extract
4 Tablespoons milk
Instructions
Using an electric mixer, beat the room temperature butter for a few minutes with the paddle attachment until the butter is smooth, creamy and lighter in color, about 3 minutes. Stop and scrape down the sides with a spatula.
Turn the mixer speed to low speed and gradually add the sugar about a ½ cup at a time. Once the sugar is mixed in, stop and scrape down the sides with a spatula.
Add the vanilla, salt, and 2 Tablespoons of milk. Beat for 2 minutes on medium speed.
Adjust the consistency of your buttercream by either adding milk a tablespoon at a time for a thinner frosting or by adding more powdered sugar a ¼ cup at a time for a thicker frosting. Scrape down the sides as needed.
Nutrition Information:
Yield:

12
Serving Size:

⅙ cup
Amount Per Serving:
Calories:

248
Total Fat:

15g
Saturated Fat:

10g
Trans Fat:

0g
Unsaturated Fat:

5g
Cholesterol:

41mg
Sodium:

49mg
Carbohydrates:

28g
Fiber:

0g
Sugar:

27g
Protein:

0g
Nutrition information is not always accurate.