A step by step tutorial on how to make vanilla custard sauce or creme anglaise. Use this sauce to plate desserts, pour over fresh berries, apple crisps, poached pears and more.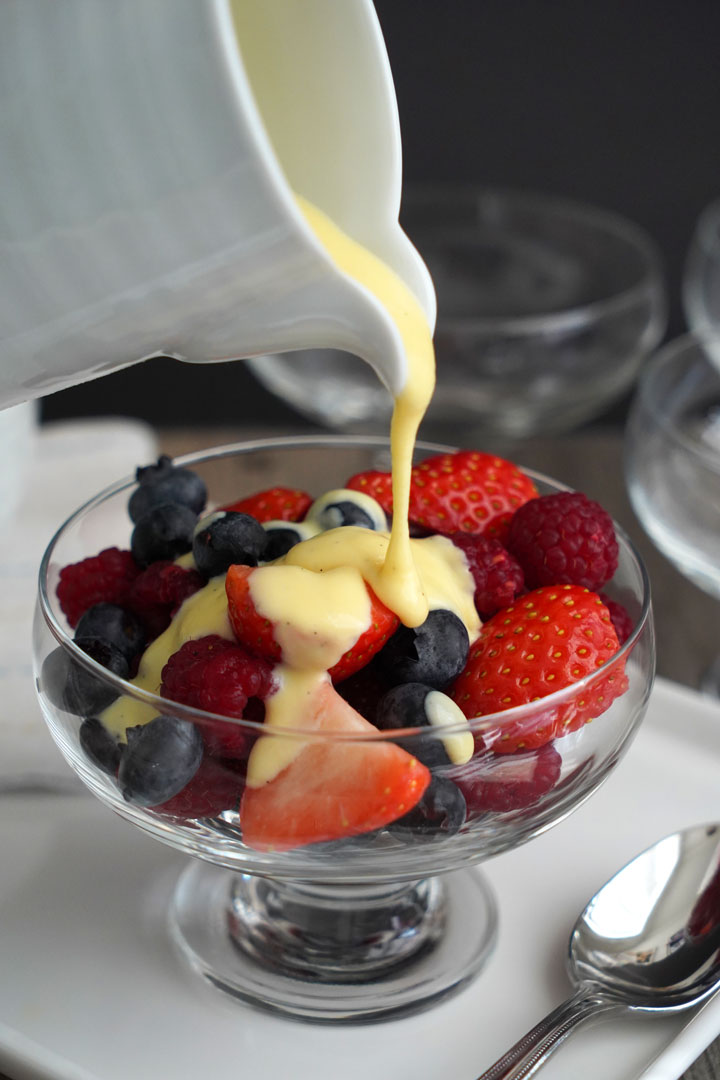 Please read through the entire post before trying the recipe. It includes some important information for a successful custard!
Creme anglaise is a French term for English custard or cream. It's a vanilla dessert sauce that's used in many plated desserts such as floating islands, apple crisp, and as a side for many cakes.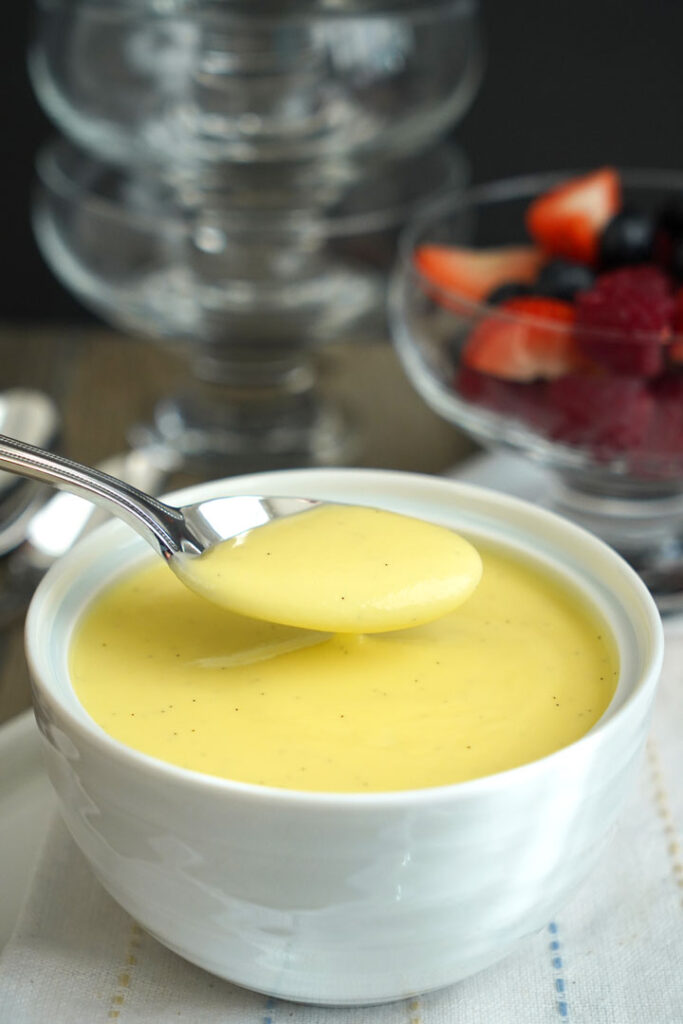 Like pastry cream, custard sauces are easy to make but can be tricky if you don't have all your materials ready to go. You need to be able to work quickly. So, having all your materials on hand is the key to moving quickly!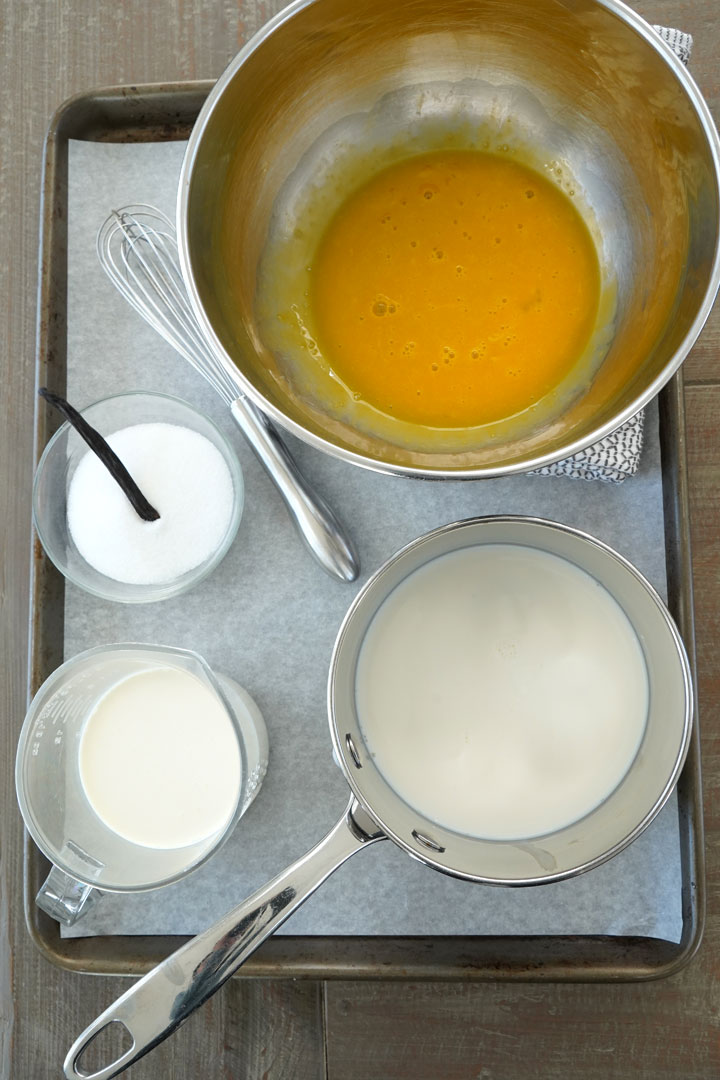 You will need the following ingredients:
Milk, heavy cream, vanilla bean or pure vanilla extract, egg yolks, and granulated sugar.
Have the following materials ready to go:
Large Pot: Use a larger pot than what you think you will need. Once all the ingredients have been added to one pot it can be difficult to stir if it's filled almost to the top.
Large Bowl: It may seem like 4 egg yolks don't take up a lot of space, but you will be adding the liquids to this bowl as well. So crack your egg yolks into a LARGE bowl.
Whisk: Needed for whisking yolks.
Wooden Spoon: (not shown in picture) Needed to stir the cream and the wooden spoon check for thickness.
Large Fine Mesh Sieve: Needed for a final strain to catch any unwanted curdled bits of egg. It will strain slowly because of its thickness so the larger the better but it must be a fine mesh. I used a large metal tamis.
Kitchen Towel: A wet towel under your bowl can keep your bowl from slipping while whisking. Plus, it's always a good idea to have a towel around for spills and holding hot handles.
Ice Bath: (not shown in picture) Set a bowl inside another bowl of ice water. This will stop the eggs from cooking as you strain it out of the pot.
Because you are heating up eggs, it's easy to go from a smooth sauce to a pot of sweetened scrambled eggs. So to avoid those scrambled eggs, I am going to lead you through making a custard sauce STEP BY STEP.
How to Make Vanilla Custard Sauce
STEP 1. Whisk the egg yolks and sugar
Whisk the yolks and sugar together in a LARGE bowl. Whisk until paler in color. Do not let the sugar sit on the eggs yolks without whisking.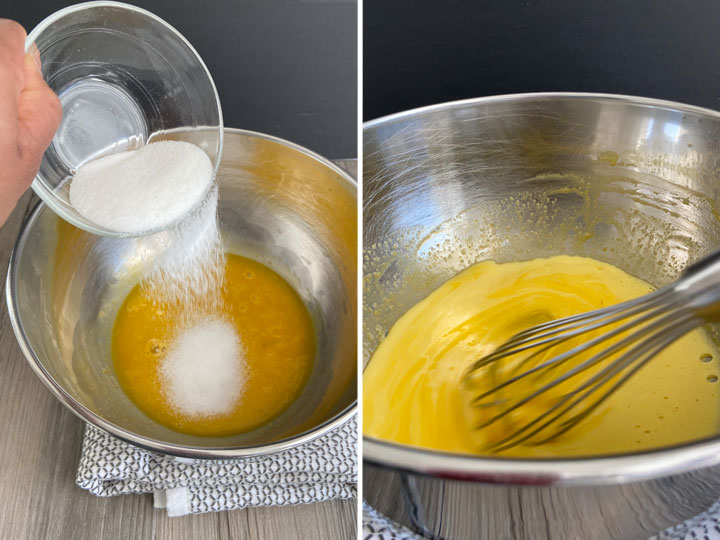 STEP 2. Heat the milk, cream, vanilla bean and remaining sugar.
Add the mentioned ingredients to a large pot and heat it over medium heat until just shy of boiling. Do not let it come to a full boil. You are just trying to get the mixture very hot and melt the sugar.
I used a vanilla bean and you can see the seeds coming out into the milk mixture here. Vanilla bean gives your final custard a speckled look, which I like.
Once the mixture is heated, you can remove the bean pod halves, scrape and return the vanilla seeds to the pot, and discard the pod.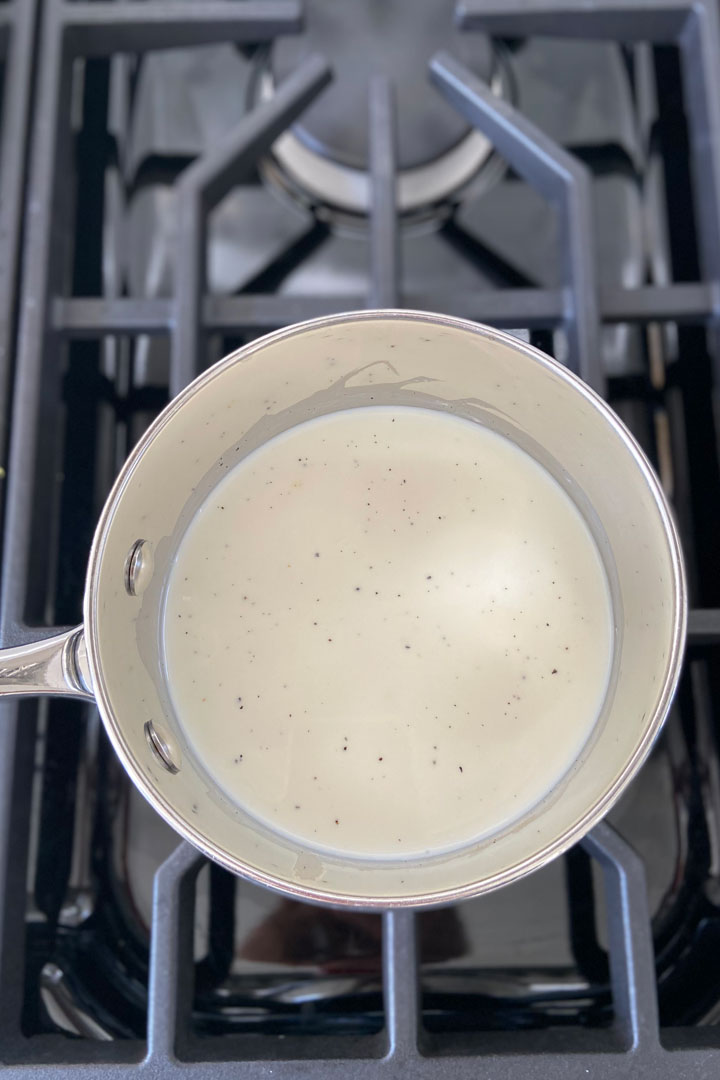 STEP 3. Temper the egg mixture.
Add about half of the hot milk mixture to the egg mixture very slowly while whisking.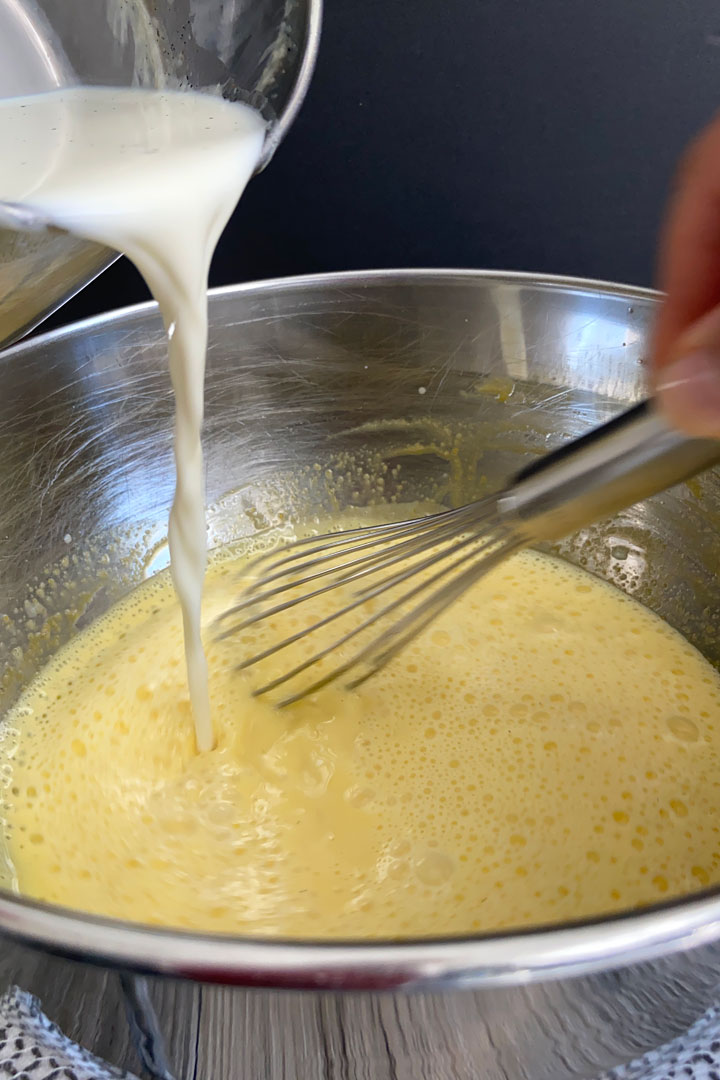 STEP 4. Thicken the mixture.
Return the tempered egg-milk mixture to the pot with the rest of the milk and stir over low heat. The mixture will become thick.
This is where you may get scrambled eggs so be careful! As soon as you are able to draw a line on a wooden spoon coated with the mixture, it is done. The line should stay and not drip down. Remove the pot from the heat immediately.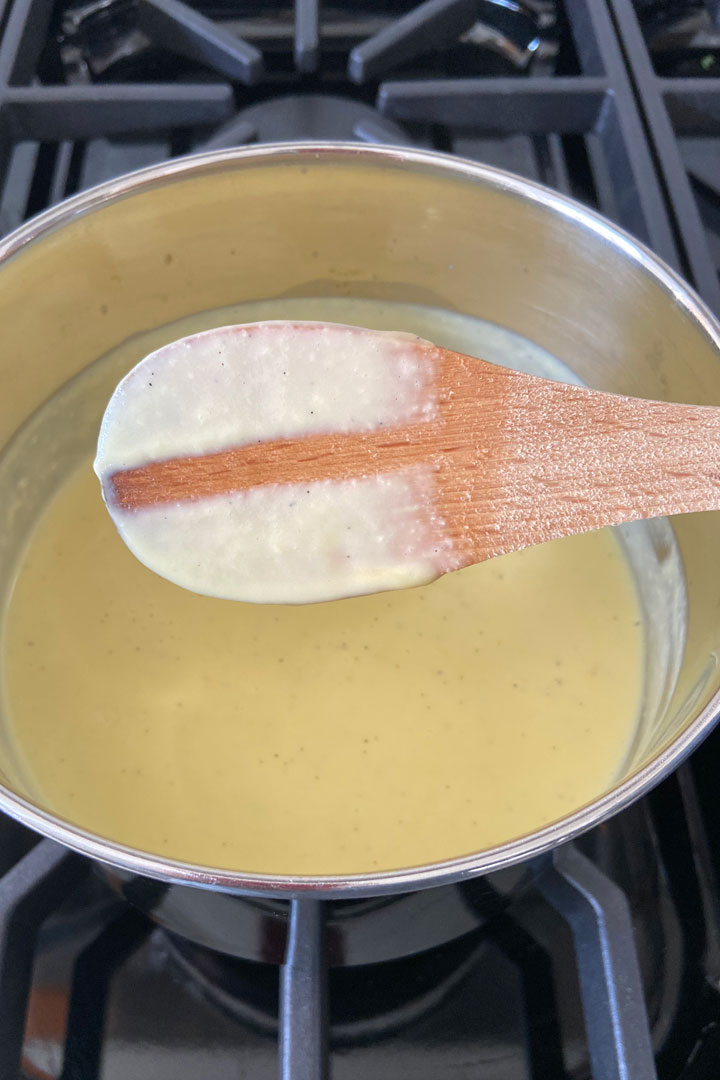 A slow gentle heat is key to this step and a gas burner would work best. If you only have electric, I suggest using two burners. Set one on high to get the heat going and then move to a medium/low burner to avoid over cooking.
STEP 5. Strain the mixture.
Pour the mixture through a large sieve into a bowl set over an ice bath. Let it cool. Stir in vanilla extract now if using it in place of vanilla bean.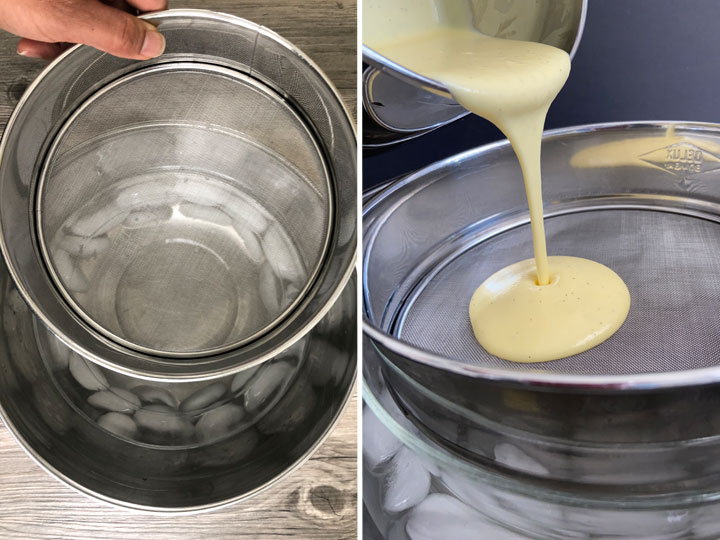 The custard sauce can be stored in an air tight container in the refrigerator for 3-4 days.
How to Use Vanilla Custard Sauce
There are so many ways to serve this sauce! Below are some suggestions on how to use creme anglaise.
To read more about using sauces in plating desserts, you can check out my guide: Introduction to Dessert Sauces.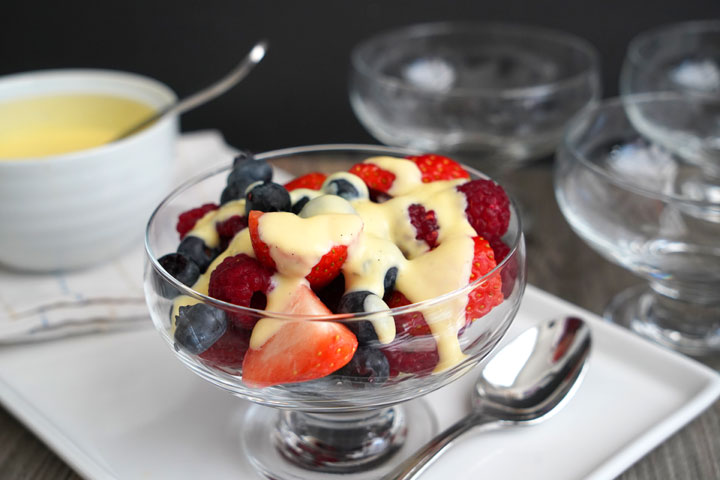 You can pour creme anglaise over fresh berries. This is simple and great way to elevate a bowl of berries.
Other fruit desserts such as apple crisps or even pears poached in wine would go great with a little drizzle of this sauce.
A custard sauce can also provide a quick fix to a dry or flavorless cake! My first try at making this orange cake did not go so well, but that didn't stop me from eating it with a little creme anglaise. You can drizzle it over the cake slice or lay the cake in a pool of sauce.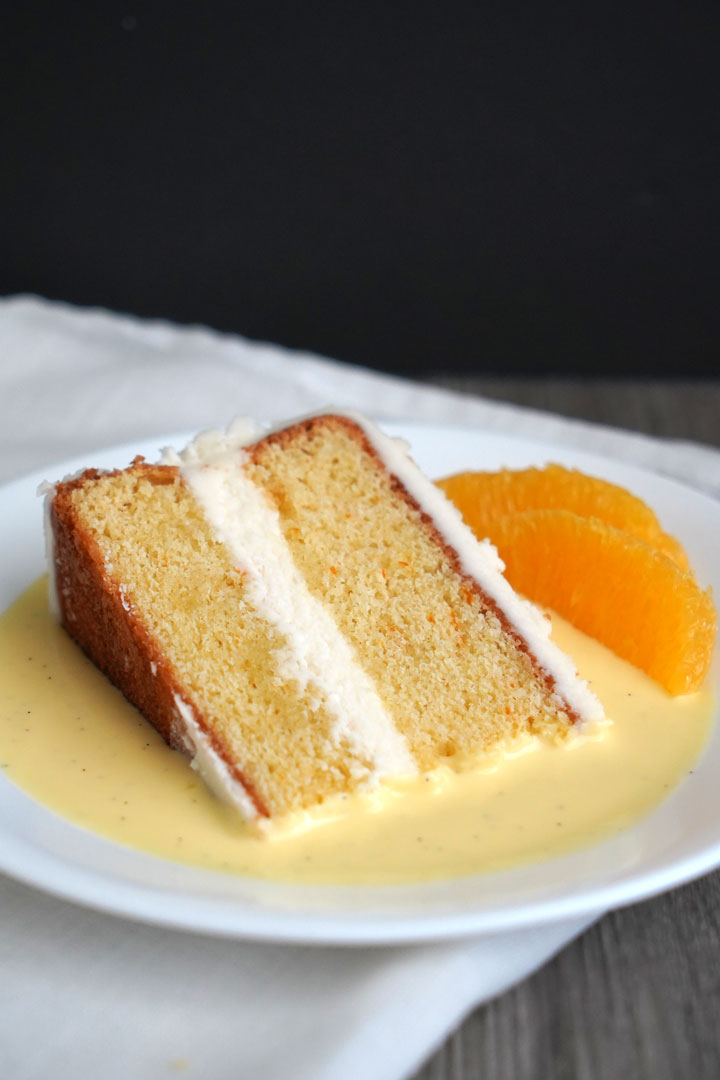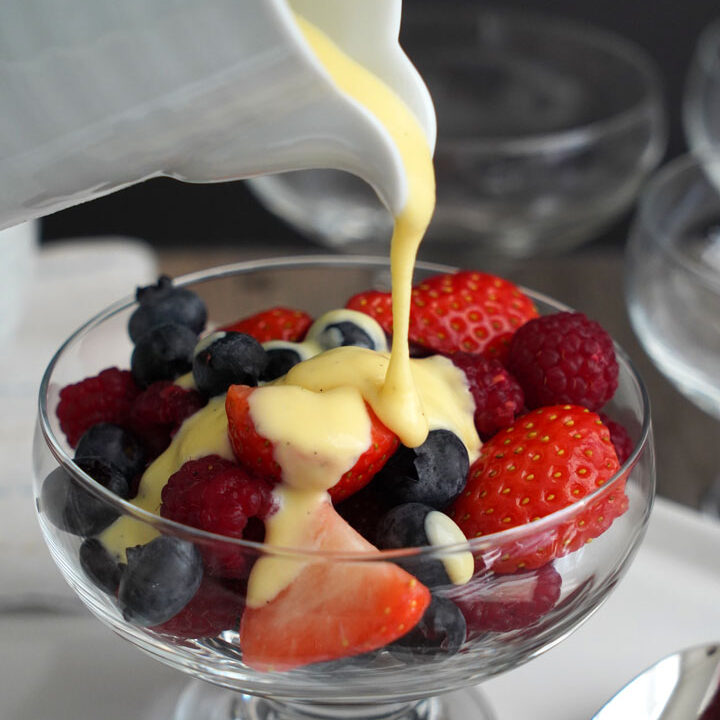 Vanilla Custard Sauce (Creme Anglaise)
A step by step tutorial on how to make vanilla custard sauce or creme anglaise. Use this sauce to plate desserts, pour over fresh berries, apple crisps, poached pears and more.
Ingredients
1 cup milk
1 cup heavy cream
½ vanilla bean OR ½ teaspoon of extract
4 egg yolks
¼ cup plus 2 Tablespoons sugar
Instructions
Wash and split the vanilla bean in half length wise. (If using)
Set a bowl in ice and set aside a large fine mesh strainer.
Whisk together the yolks and half the sugar in a large bowl and set aside.
Heat the milk, cream, vanilla bean (if using) and the remaining sugar in a large saucepan to just boiling. (See notes for flavor options)
If using, remove the bean halves, scrape out the seeds and return the seeds to the pot.
Slowly add about half of the hot milk mixture to the yolks while whisking continuously.
Pour the tempered egg mixture back into the sauce pan and heat on low and stir until the mixture thickens and coats the back of a wooden spoon. You should be able to draw a line on the spoon through the sauce with your finger.
Strain it through a fine mesh sieve into the bowl sitting in the ice bath. Let it cool and stir in vanilla extract (if using).
Cover and refrigerate until ready to serve.
Notes
The hot milk mixture can be flavored before the thickening process by steeping it with a spice, nuts, or herbs. For example, you could make a cinnamon custard sauce by letting cinnamon sticks steep in the hot milk mixture for an hour. (off the stove) Remove or strain it and reheat your mixture before continuing with the recipe. 
If using an extract or a liquor for flavoring, stir it in at the end after the custard is strained and cooled so that it does not burn off during the cooking process.
The custard will keep in the refrigerator, store in an air tight container for 3-4 days.
Nutrition Information:
Yield:

8
Serving Size:

1
Amount Per Serving:
Calories:

156
Total Fat:

14g
Saturated Fat:

8g
Trans Fat:

0g
Unsaturated Fat:

5g
Cholesterol:

128mg
Sodium:

28mg
Carbohydrates:

6g
Fiber:

0g
Sugar:

4g
Protein:

3g
This nutrition information is only an approximate provided for convenience and as a courtesy only. Information comes from Nutritionix, an automated nutrition calculator.