Do you find dessert wines too sweet to drink? I have one too many bottles and have finally found another use for them. Let's poach pears in wine and make dessert!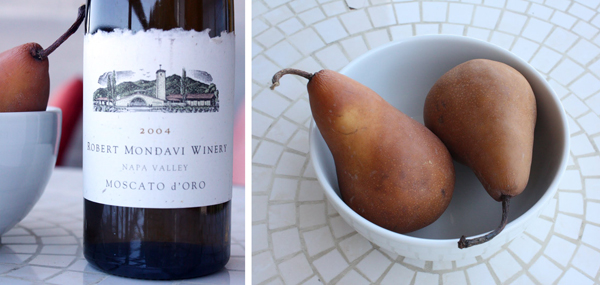 Every time I open the wine cabinet the dessert wines are staring at me. Mostly all of them were gifts.
I like drinking wine, but we never seem to open these because they are overwhelmingly so sweet to drink.  I should have thought of it sooner but I finally had an idea for another way to consume them...by poaching fruit!
The best fruits to poach are the ones that are not ripe enough to eat anyway.  Poaching fruit makes them soften up and the poaching liquid helps to make them sweeter.
How to Poach Fruit in Wine
Combine equal parts wine and water and then add as much sugar as you like.
You can also add spices such as cinnamon, cardamom, cloves etc. to enhance the flavoring.
Bring the mixture to a boil and then add your fruits.
Gently simmer until the fruit becomes soft but not mushy.
Cool the pears and the poaching liquid separately.
Store the fruit in the poaching liquid until ready to use.
For my pears, I used a bottle of the Moscato d'Oro with a cup of sugar, teaspoon of vanilla, cinnamon sticks and cloves.
Tips for Poaching Pears
Brush with lemon juice after peeling and coring to prevent discoloration.
Leave the stalk to keep it decorative if you are plating whole fruit.
An Easy Way to Serve and Eat Poached Pears
Poached pears can be eaten alone or become part of another dessert like a pear frangipane tart.
I made these Pink Peppercorn Roasted Pears with Vanilla Ice Cream and Chocolate Sauce...(Poached pears were pan roasted with butter, cinnamon powder, clove powder and ground pink peppercorn until slightly browned.)
Warm pears were plated with a drizzle of chocolate sauce and a scoop of vanilla ice cream.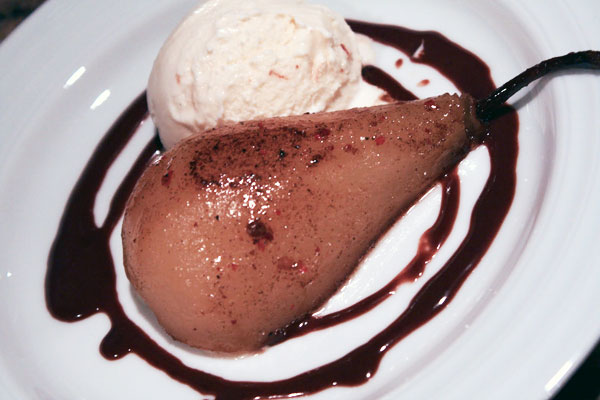 A sweet homemade ending to last night's take out dinner. Now, what should I do with the next bottle of dessert wine?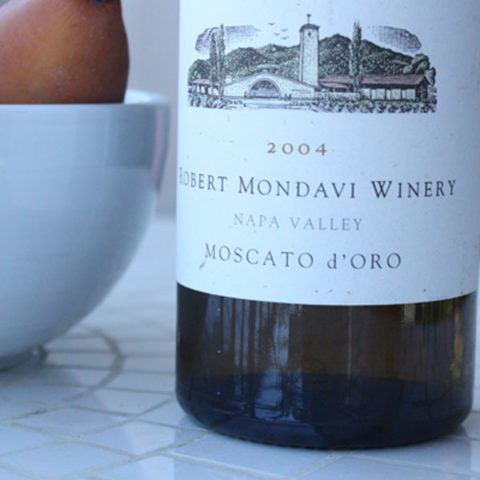 Poached Pears in Wine
Do you find dessert wines too sweet to drink? Let's poach pears in wine and make dessert!
Ingredients
2 pears
3 cups white wine
3 cups water
1 cup sugar
1 teaspoon vanilla extract
2 cinnamon sticks
5 cloves
lemon juice, for brushing
Instructions
In a large pot, combine all of the ingredients except the pears. Heat the mixture to a boil.
While the liquid is coming to a boil, peel the pears and slice them in half keeping the stems intact. Brush them with lemon juice.
Add the fruits to the boiling liquid. Keep the pears in the liquid until they become soft but not mushy.
Remove the pears from the poaching liquid and let them cool. Cool the liquid separately.
Store the pears in the cooled liquid until ready to use.
Nutrition Information:
Yield:

4
Serving Size:

1 pear half
Amount Per Serving:
Calories:

401
Total Fat:

0g
Saturated Fat:

0g
Trans Fat:

0g
Unsaturated Fat:

0g
Cholesterol:

0mg
Sodium:

25mg
Carbohydrates:

71g
Fiber:

4g
Sugar:

61g
Protein:

1g
This nutrition information is only an approximate provided for convenience and as a courtesy only. Information comes from Nutritionix, an automated nutrition calculator.