You won't believe how simple it is to make sugared cranberries! It just takes two ingredients and you can use them in so many ways.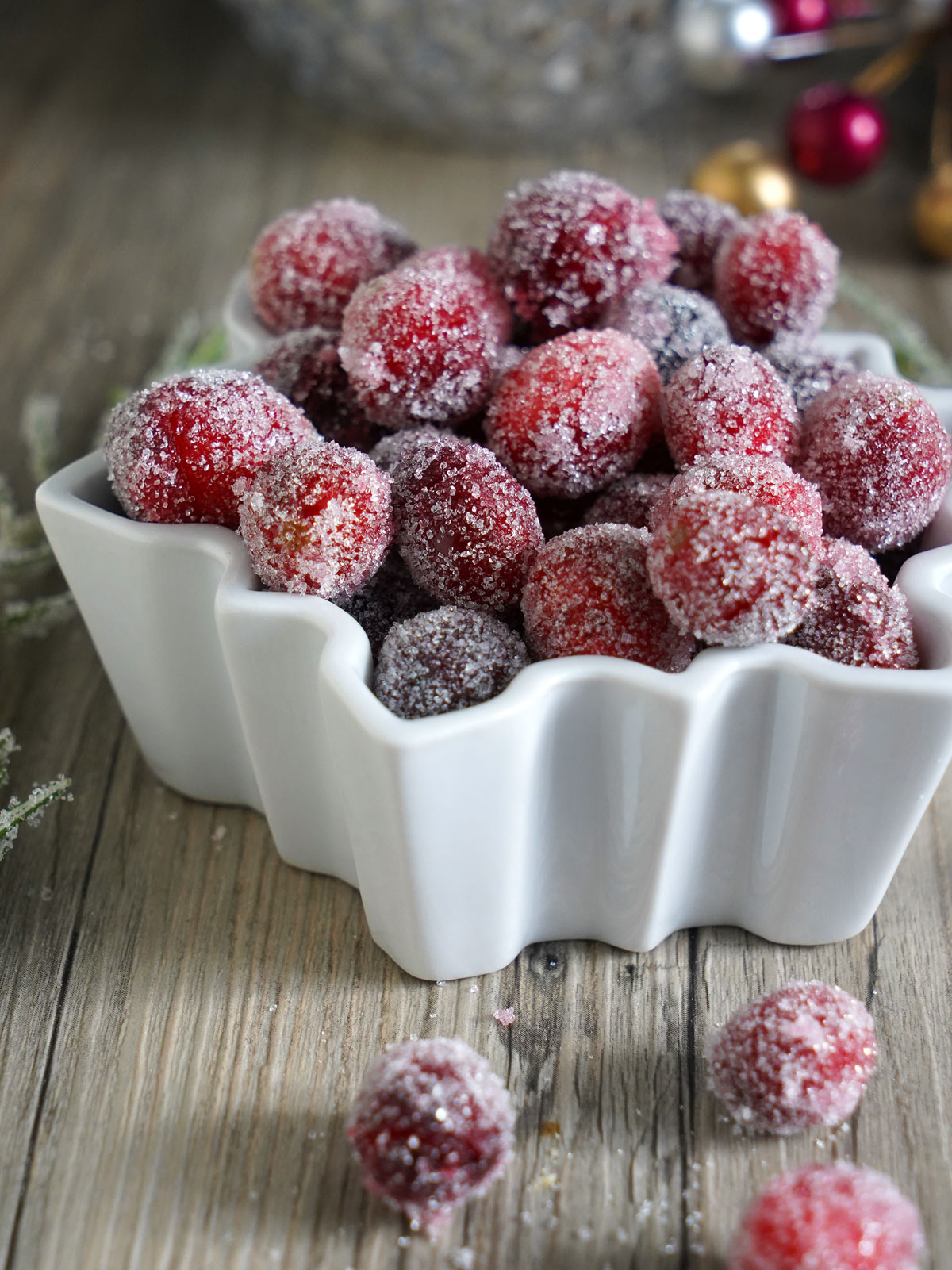 Use these candied cranberries to decorate cakes, cupcakes, cookie platters, or garnish holiday drinks. Elevate any Thanksgiving or Christmas dessert. Or, just snack on them!
Sugared cranberries can be made in just a few steps. All you have to do is coat them in a sugar syrup and then roll them around in sugar to give them that sparkly festive look. Other than having to wait a little for them to dry, it's a very easy and quick recipe.
Tips for Making Sugared Cranberries
Pick out any bad berries first and make sure they are completely dry after washing.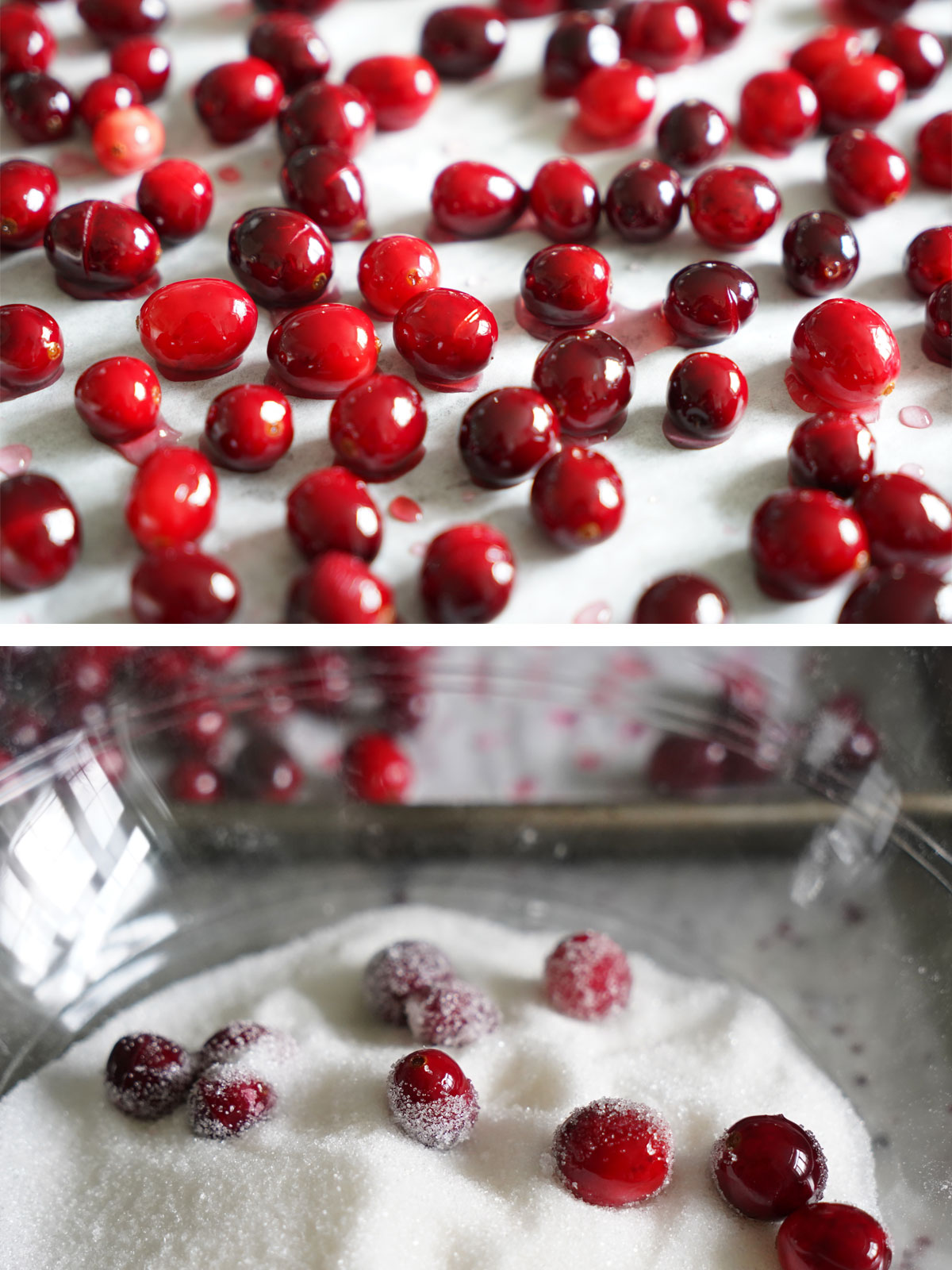 Make sure you allow enough time to make these berries. The syrup on the berries needs to dry for at least an hour before rolling in sugar. It should be sticky but not so sticky that you can't touch it.
Keep the cranberries separated from each other while cooling so they don't stick to each other.
How to Use Sugared Cranberries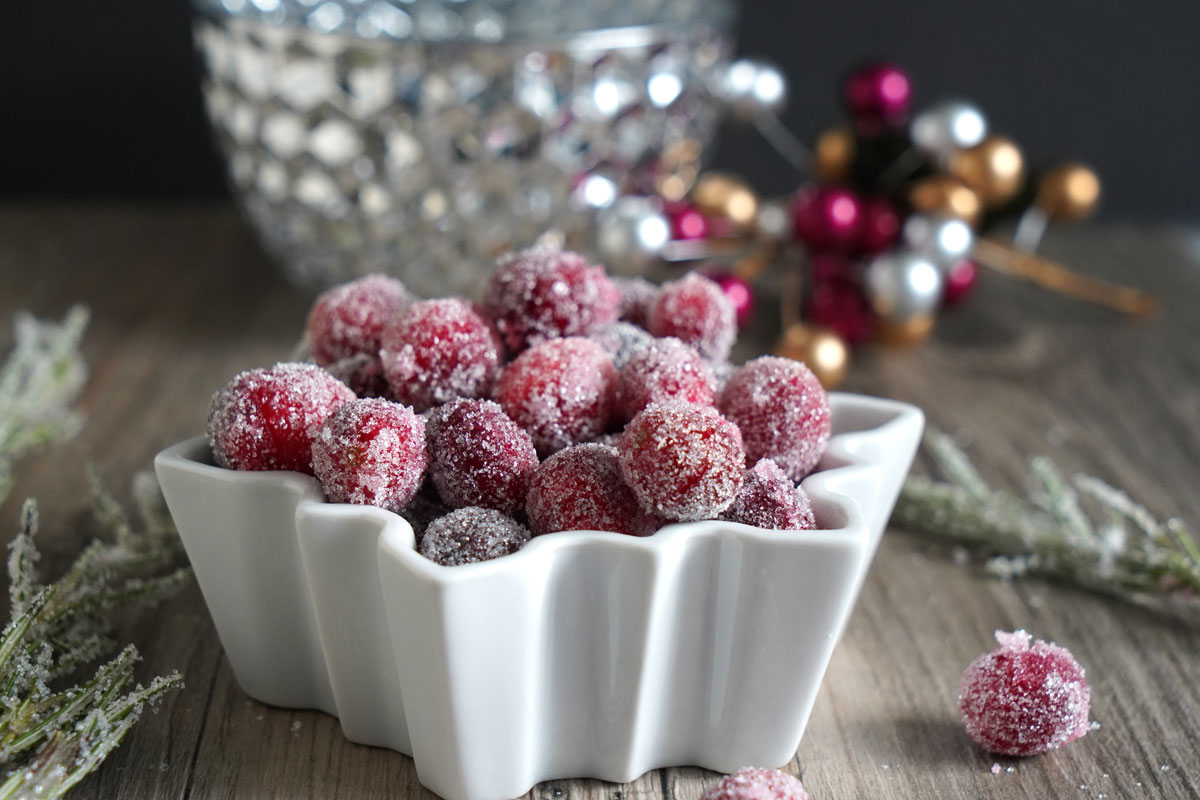 Just eat them!
Garnish your cocktails. This looks so pretty during the winter holidays along with a sprig of rosemary.
Dress up a cookie platter or a cheese plate by scattering them around the plate.
Use them to decorate a frosted cake or as a cheesecake topping.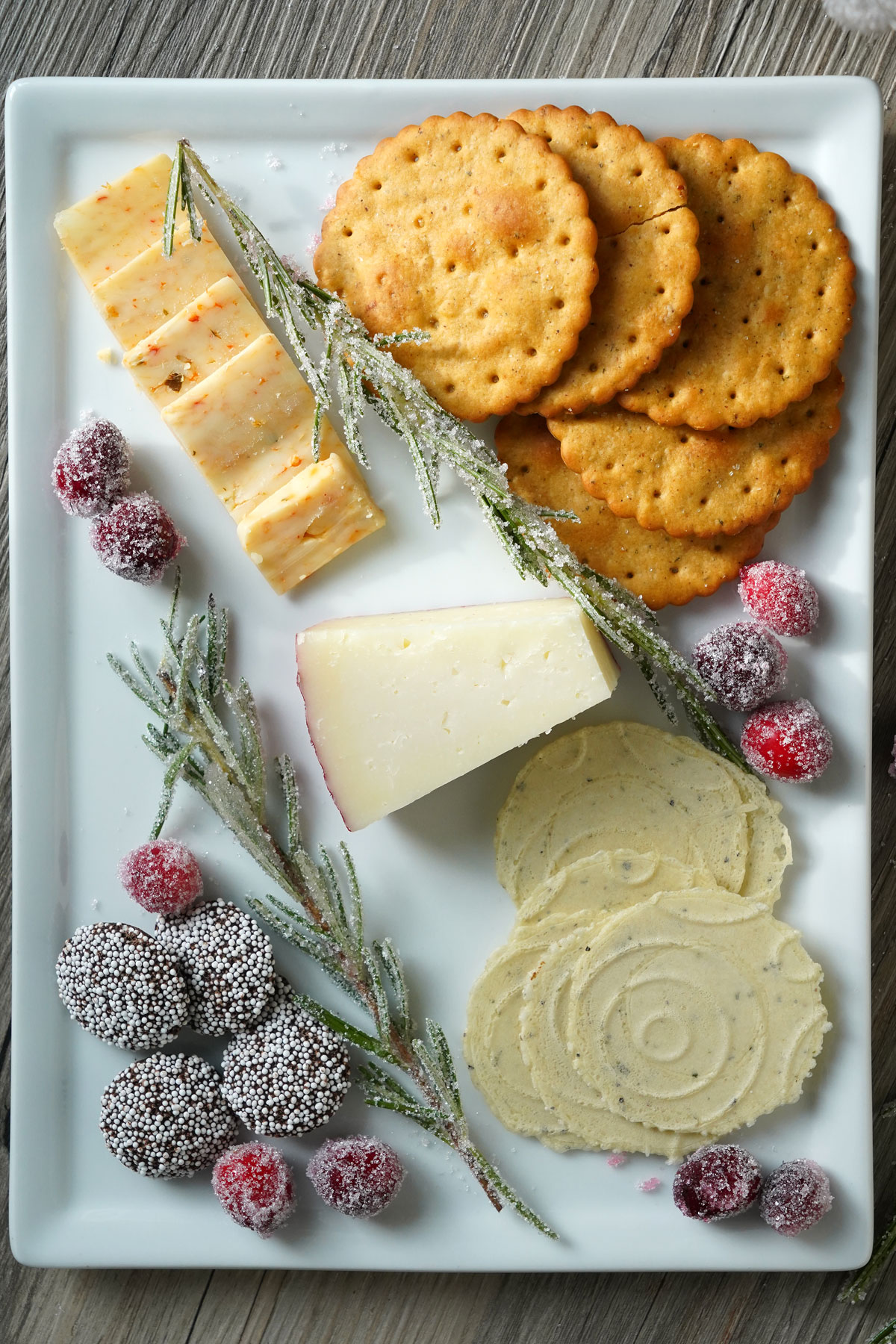 Can You Use Frozen Cranberries?
I'd say no. Frozen berries hold more moisture and you want as little moisture as possible to get all the sugar to stick. In fact, I'd even advise drying the fresh cranberries with a paper towel after washing to get rid of any excess water.
How to Store Sugared Cranberries
These are best if used the day you make them but you can store them covered in an airtight container at room temperature for a day or two. You may need to re-roll them in sugar.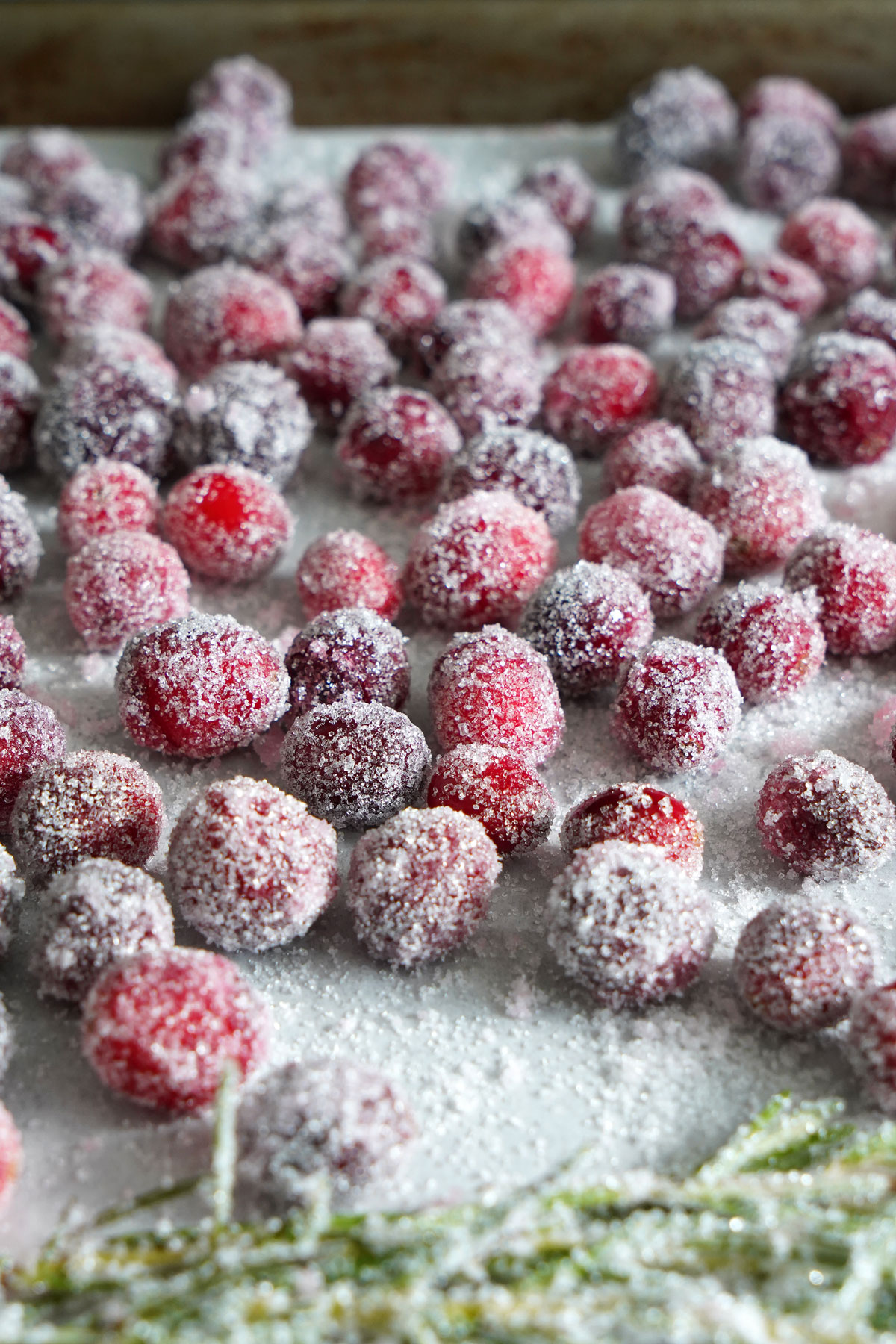 What Should I Do with the Syrup?
Use the syrup to sweeten a cocktail recipe. Then use sugared cranberries as a garnish! Place a few onto a cocktail toothpick to garnish your drinks.
Making a cake? Brush the syrup between cake layers to keep the cake moist.
Candy other things! Candy some orange peels or rosemary sprigs. Frosted Rosemary sprigs also make beautiful decorations. As you can see in the pictures, I did a few along with this batch of cranberries.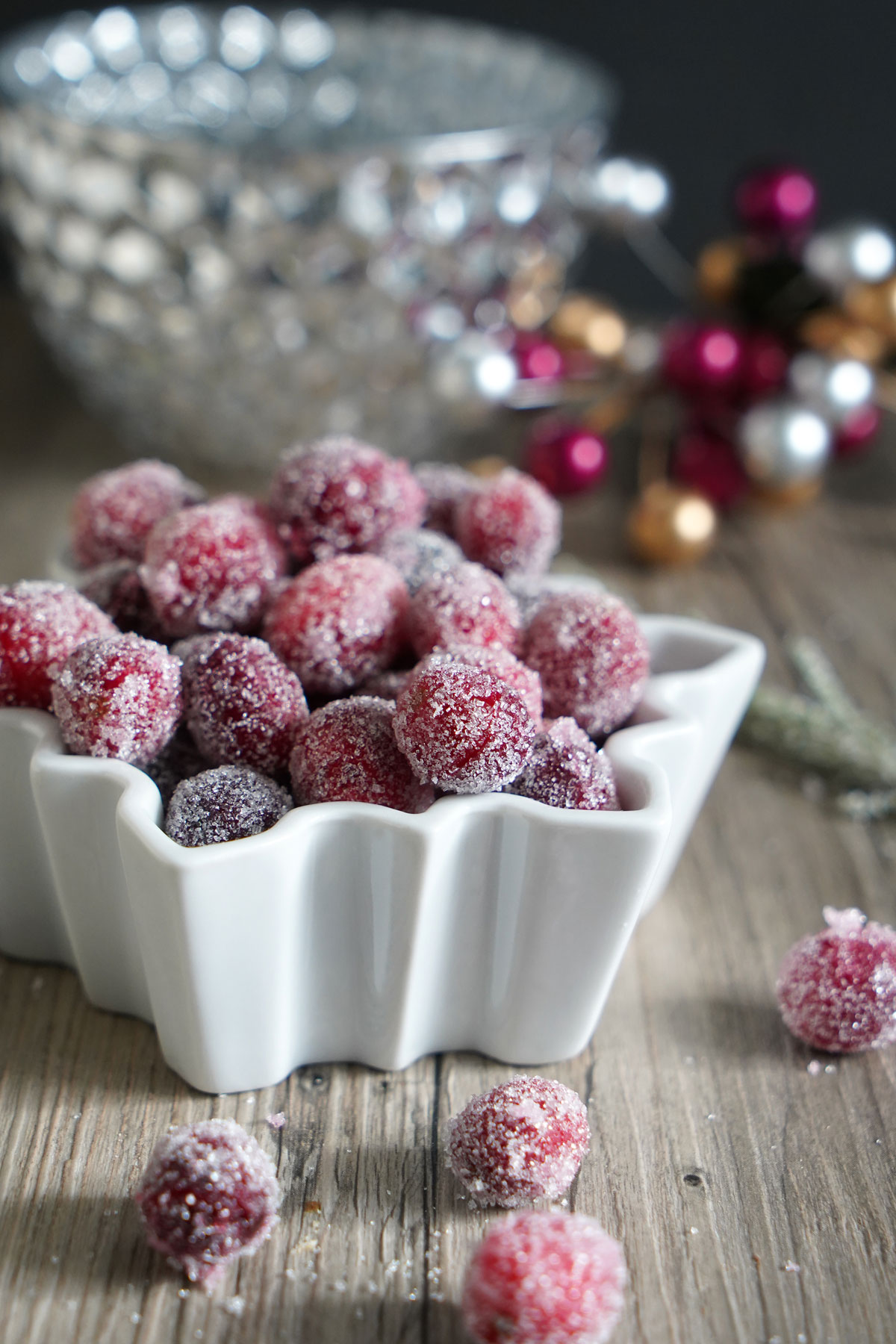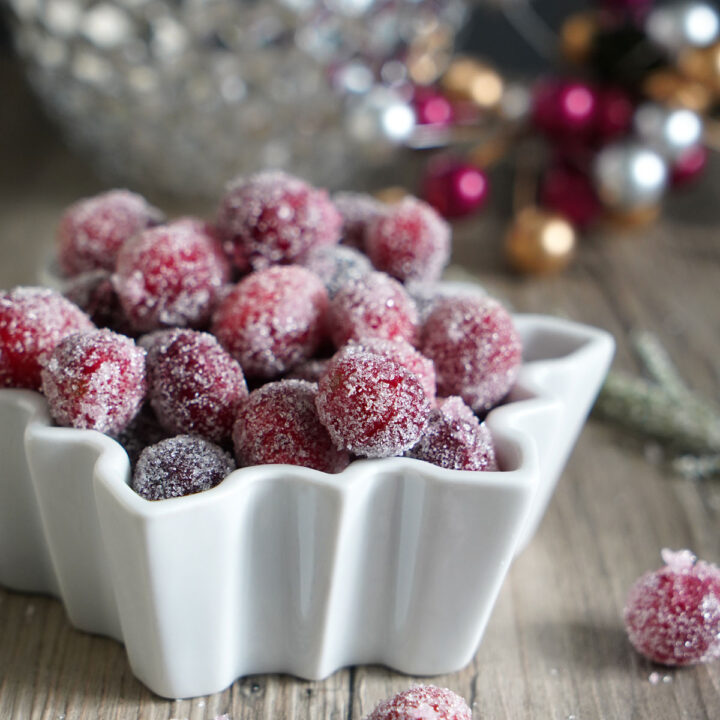 Sugared Cranberries
Yield:
12 ounces cranberries
Total Time:
1 hour
15 minutes
Use these pretty candied cranberries to decorate cakes, cupcakes, cookie platters, and garnish holiday drinks. Or, just snack on them!
Ingredients
2 cups sugar
12 ounces of fresh cranberries
Instructions
Combine ½ cup of water with ½ cup of sugar in a medium pan. Cook on medium heat until the sugar is dissolved. Turn off the stove.
Add the cranberries and stir to make sure all the cranberries get coated in syrup.
Remove the cranberries from the pot using a slotted spoon and transfer them to a wire rack or parchment paper to cool. Let them dry on the rack for at least 1 hour. You may need to flip them over to get the bottoms to dry if they are too wet. Make sure the cranberries are separated from each other.
Once the cranberries are dry but still tacky, roll and coat the cranberries in the remaining sugar in small batches.