For the perfect fall dessert, make these salted caramel apple pie bars. Serve as snack size bars or elegant bite size pieces for easy stylish entertaining.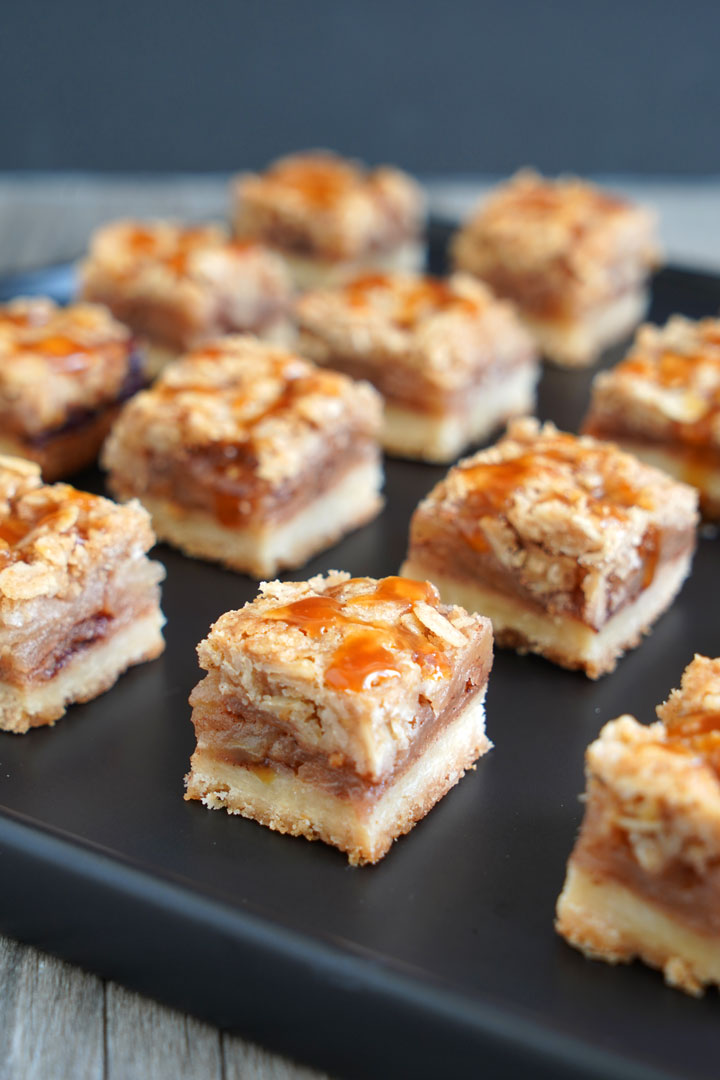 These apple pie bars are the perfect solution for those of you who don't want to bother with making an entire apple pie. They can be made ahead and frozen too. Make them, cut them down to bite sizes and put them in the freezer during the fall baking season. Then, just pull out as many as you need for easy entertaining.
Don't they look so cute all lined up on a serving tray? Who knew apple pie could look so elegant?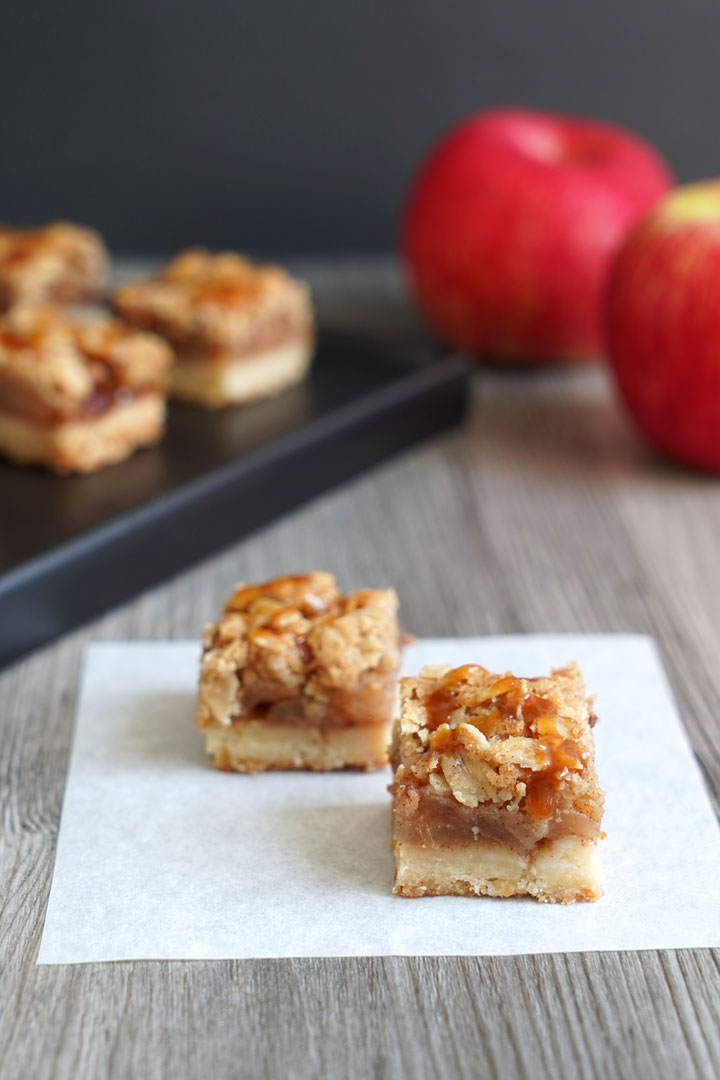 How to Make Mini Salted Caramel Apple Pie Bars
First, don't even worry about getting that perfect flaky crust. The buttery shortbread crust on these mini apple pie bites is to die for and so easy to make. Simply mix the dough ingredients in a bowl and stir with a spatula or your hands until it comes together. Press it into the bottom of an 8x8 parchment lined buttered pan and bake it for about 15 minutes.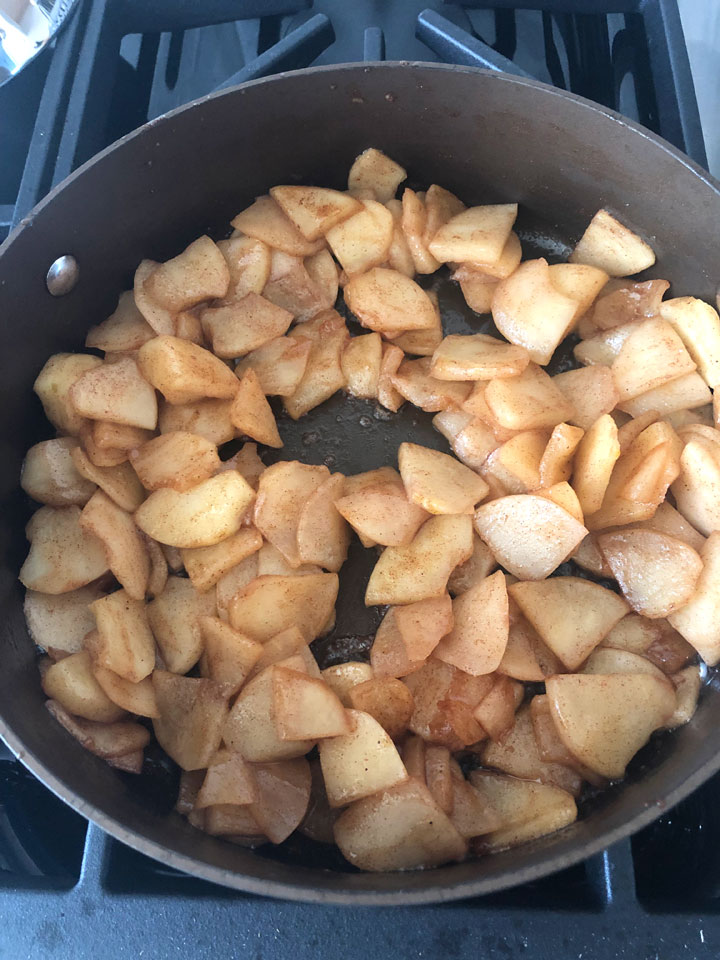 Next, you will have to prepare the apple pie filling. Get this started while your crust bakes.
Melt the butter in a large pan over medium high heat and then toss in all the other filling ingredients except the vanilla and zest. Cook it down until the apples are soft and you no longer have liquid in the pan. Then mix in the vanilla and zest.
Finally, you need to make the top streusel layer. Prepare it while your apples are cooking or cooling. Mix it all together in a bowl and work the butter in with a fork until you have a crumbly mixture.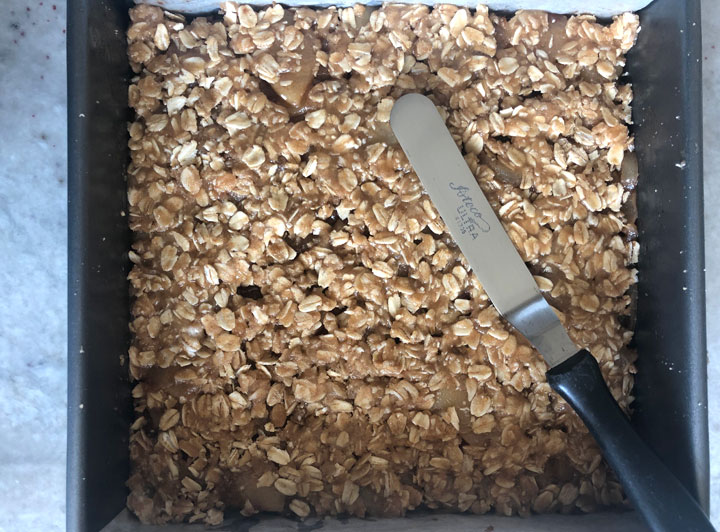 Once all the parts are made just layer the apples over the crust, and then sprinkle the streusel over the apples. I like to use my offset spatula to get everything nice and smooth. Smooth down the apples first and once you sprinkle over the streusel, move the spatula around gently to make sure everything is nice and flat. Return the pan to the oven and bake it again to get everything nicely browned and set.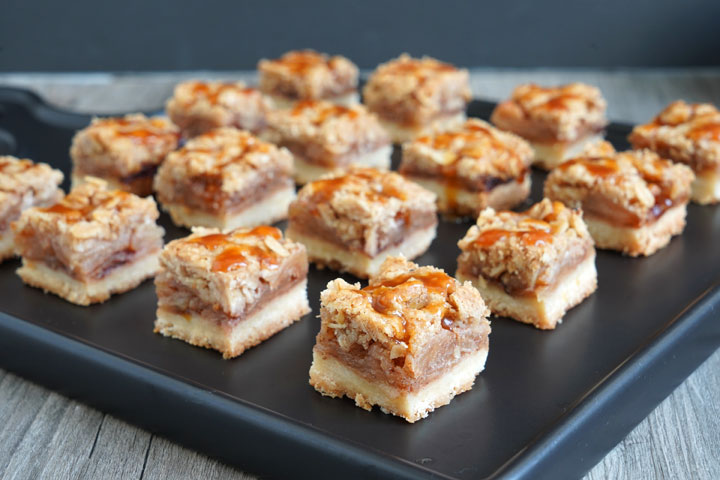 Don't make these while you are hungry! The smell coming from the oven will drive you insane.
Once the pan has cooled and been chilled, you can cut them into whatever size pieces you want. Drizzle the pieces with either store bought or homemade salted caramel sauce just before serving. They taste great without it, but a little salted caramel sauce just gives them that extra wow!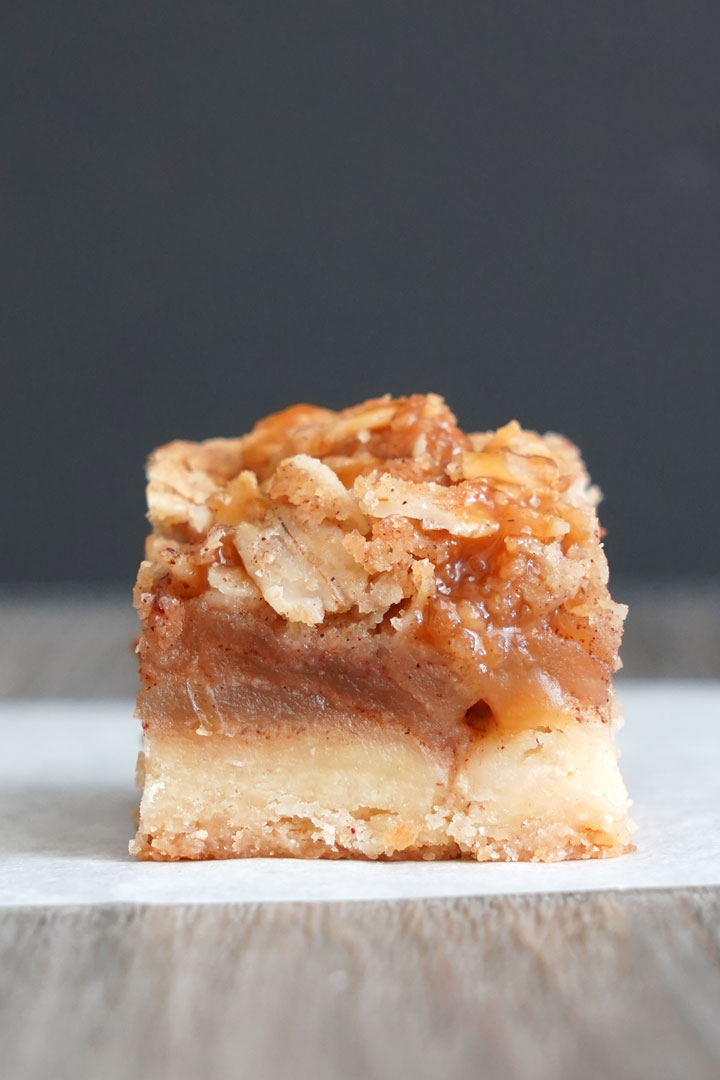 Freezing Salted Caramel Apple Pie Bars
You can make these ahead of time and freeze them . Be sure to wrap the whole slab tightly in plastic. If you cut them up in squares first, then place a piece of parchment paper between layers in an airtight container. Cut them while still cold if you had not already cut it but bring it to room temperature before serving. I don't recommend adding the salted caramel sauce until it's time to serve. This is only because it makes layering them in your freezer container difficult from the stickiness.
What type of apple should I use for apple pie bars?
I used Gala apples but I would also recommend Honeycrisp or Pink Lady apples.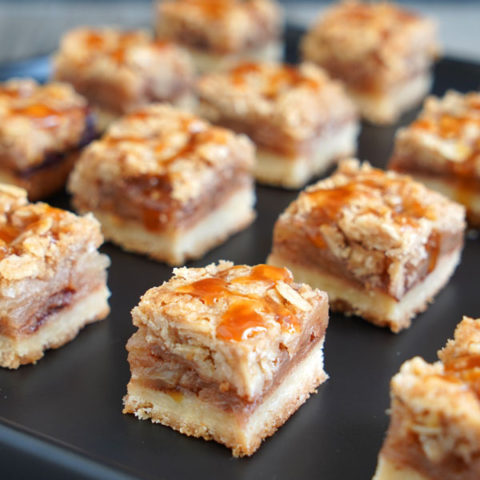 Salted Caramel Apple Pie Bars
Additional Time:
30 minutes
Total Time:
1 hour
35 minutes
For the perfect falldessert, make these salted caramel apple pie bars. Serve as snack size bars or elegantbite size pieces for easy stylish entertaining.
Ingredients
For the crust:
1 cup all purpose flour
¼ cup sugar
¼ teaspoon salt
½ cup butter, melted
For the apple layer:
3 tablespoons unsalted butter, cubed
2 Tablespoons brown sugar
4 apples, peeled, cored thinly sliced
1 teaspoon cinnamon
¼ teaspoon nutmeg
¼ teaspoon ground cardamom
1 Tablespoon vanilla
1 teaspoon lemon zest
For the topping:
½ cup oats
¼ cup brown sugar
¼ cup flour
½ teaspoon cinnamon
pinch of salt
¼ cup unsalted butter, cubed
Instructions
Preheat the oven to 350F.
Grease an 8x8 pan with butter and line it with parchment paper or foil, leaving an overhang on two opposite sides.
Combine the all purpose flour, sugar, and salt in a large bowl. Stir in the melted butter to form a soft dough. You may need to use your hands to bring it together.
Press the dough in the the bottom of the pan and smooth it out with the back of an offset spatula.
Bake the crust for 15 minutes until lightly browned and set.
In a large skillet, melt the butter over medium high heat. Add the sugar, apples, cinnamon, nutmeg and cardamom and stir to coat the apples. Cook the apples until they are soft and there is no longer any liquid. If you need to add a bit of water to prevent sticking, then do so. Let the apples cool. Stir in the vanilla and lemon zest.
In a large bowl, mix the oats, brown sugar, flour, cinnamon and salt. Add the butter cubes and work it in using a fork until the ingredients are blended and crumbly.
Spread the apple filling over the crust.
Spread the streusel topping over the apples, pressing them down slightly.
Bake for 30-35 minutes or until the topping is golden.
Cool completely. Chill in the refrigerator for 1 hour or overnight.
Carefully lift the entire apple pie out of the pan and on to a cutting board.
Cut out small bite size squares or larger squares if you want with a sharp knife.
Drizzle the bars with salted caramel sauce.


Notes
Time Saver Tip: If you want to skip the chill time, you can but it will make cutting the squares neatly more difficult.
Food Prep: To cut your apples, cut them in half first and remove the
core. Then place each half flat side down and cut ¼ inch slices the long way and then one more cut perpendicular through the middle.
Variations: You can substitute oats for crushed nuts or use
a combination of both.
Nutrition Information:
Yield:

25
Serving Size:

2 mini bars
Amount Per Serving:
Calories:

125
Total Fat:

7g
Saturated Fat:

4g
Trans Fat:

0g
Unsaturated Fat:

2g
Cholesterol:

18mg
Sodium:

57mg
Carbohydrates:

15g
Fiber:

1g
Sugar:

8g
Protein:

1g
This nutrition information is only an approximate provided for convenience and as a courtesy only. Information comes from Nutritionix, an automated nutrition calculator.