Celebrate the States this fourth of July with a states themed dessert buffet. Read on for the best 4th of July dessert ideas plus a surprise flag cake for Uncle Sam's Birthday.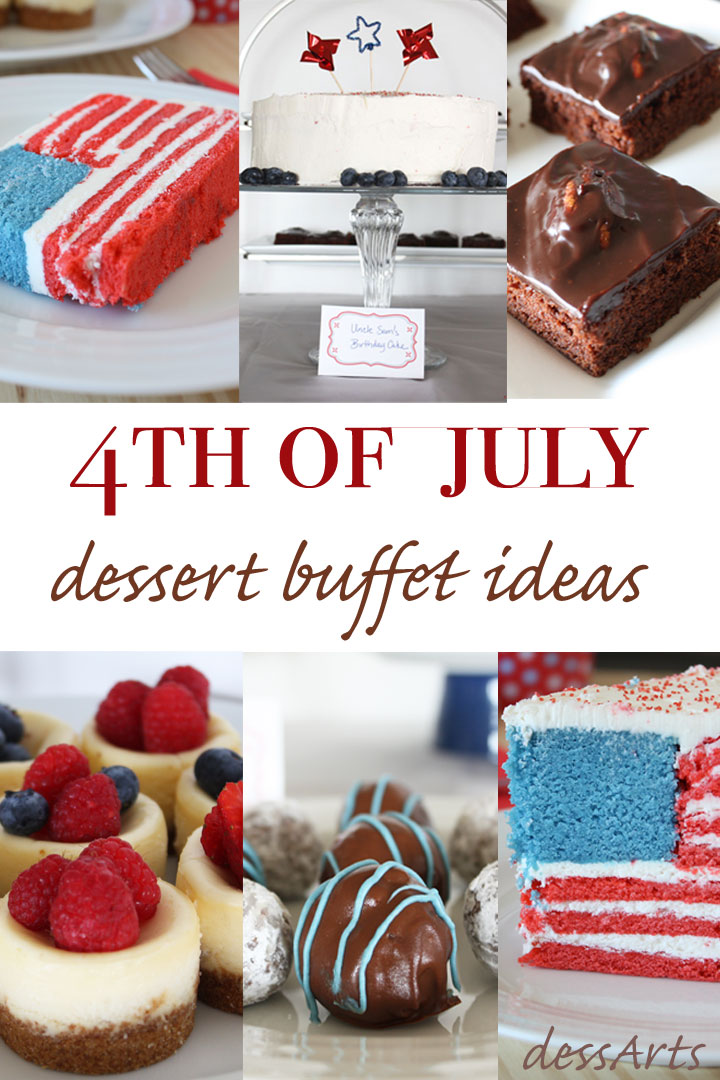 Last week was a busy one of planning and prepping a 4th of July dessert buffet for our annual fireworks viewing party. I truly admire the great bloggers out there that posted a 4th of July dessert idea for their readers everyday last week.
While it would have been nice to post my ideas before the holiday, it's much easier to capture my dessert buffet in the moment. So, you will just have to file away the ideas for next year.
Last year's dessert buffet was designed around the idea of desserts that really said "America" to me. You can see my mini apple pies, Boston cream pies, brownies, and red velvet cupcakes on my post, American Dessert Buffet.
This year, I went with the theme of "States" and made a birthday cake for Uncle Sam too. So what exactly was on the menu?

New York Style Cheesecakes
A New York cheesecake by definition is plain and simple- no fancy ingredients or toppings. Yes, I did use some toppings. You see, I have a serious problem with cheesecakes of all sizes- they almost always crack and/or sink. So, until I learn how to repair a cracked cheesecake, my cheesecakes will have toppings! 

Kentucky Bourbon Balls
If you like bourbon and your looking for an easy boozy dessert treat, this one is for you. I first found and used the recipe from Joy of Baking. These confections are made of mostly of ground nuts, sugar, a generous amount of bourbon.
You garnish the outside with whatever you want. Mine are coated with milk chocolate or rolled in powdered sugar. The nice thing about them is that they involve no baking and you can make them days in advance.

Mississippi Mud Cakes
There are so many versions of Mississippi mud pies and cakes out there. The name originally comes from a cake that resembles the muddy banks of the Mississippi river.
So as long as its rich in chocolate and gooey, I suppose it qualifies. Topped with pecans and glazed with bittersweet chocolate, these were the perfect gooey cakes for any chocolate lover.

Vermont Cheddar and Wisconsin Goat
These were not part of the dessert buffet but I'm including my cheese board since we picked out some cheeses to go with the state theme. I have to say it was tempting to pick up some manchego and brie but I'm glad I didn't. The Cabot sharp cheddar from Vermont and Montchevré herb and garlic goat from Wisconsin were both really good.
Uncle Sam's Birthday Cake
I normally don't leave my cakes so boring looking on the outside. But it gave people something to talk about and left them with wondering what was on the inside. That makes cutting it open much more exciting.
If you are regular reader of food blogs, you've probably seen flag sheet cakes and even this hidden flag cake idea. I've never attempting anything like this before so I thought I'd give it a try. It was surprisingly easy!
The red stripes were all baked individually in nine inch cake pans. I have three and just reused them to make 7 cakes. The white stripes are layers of  buttercream frosting. The blue is a six inch round cake trimmed down to four and a half inches. I baked everything the night before and froze the layers (separated with parchment).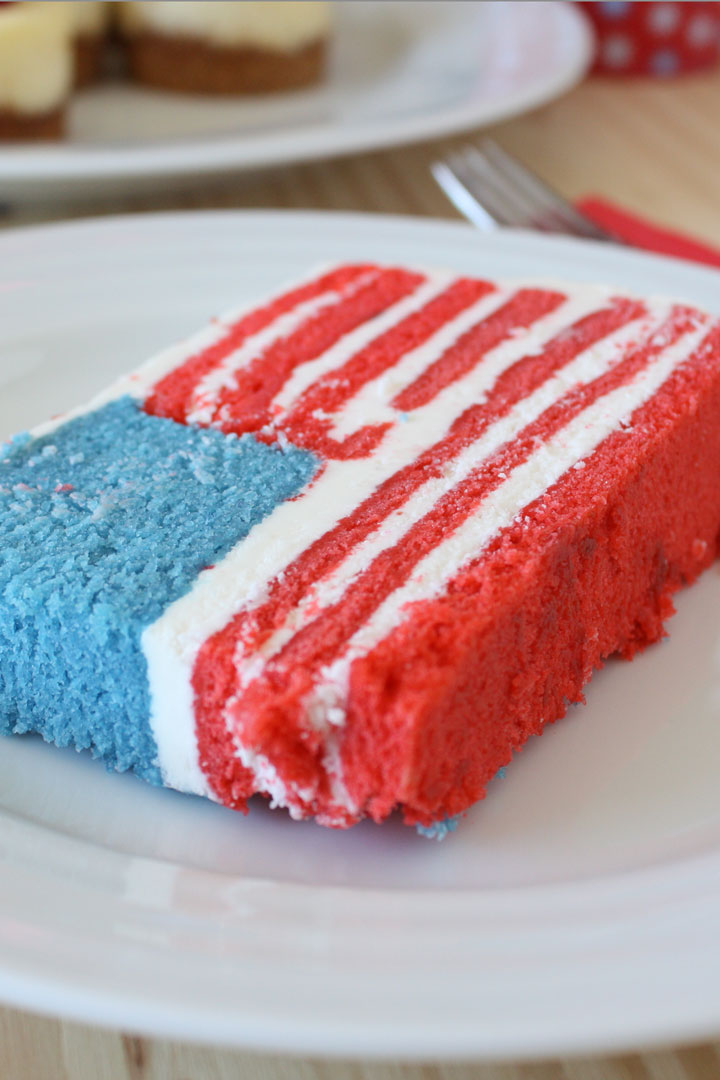 Freezing makes it easier to work with since they are so thin. You use the blue cake to size a hole to cut in the center of four of the red cakes. Then stack the cakes with buttercream and drop the blue cake into hole. Cover with buttercream and that's it! For more details see my post How to Make a Hidden Flag Cake.
I have not included recipes in this post because it is already a very long post. However, if you would like recipes or more details on any of the above, please feel free to contact me by email. I'm always happy to share. Happy Birthday America!
Want to remember this post for the next Fourth of July? Pin it now so it's saved for later!
SaveSave
SaveSave