Caramel walnut pumpkin pie is made with a layer of caramel coated walnuts topped with pumpkin pie filling. The perfect twist to pumpkin pie.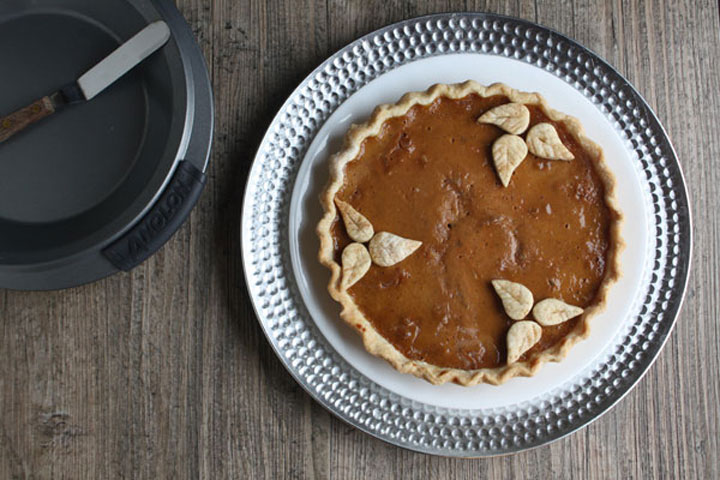 It's that time again! I just came back from one of the best food events of the year. That's right, I'm talking about Pie Party Potluck Live 2015. Jackie, The Diva That Ate New York, and Ken of Hungry Rabbit have been planning this annual event since 2011.
WHAT'S PIE PARTY?
Thanks to our hosts and the many sponsors, Pie Party Potluck Live (#PiePartyICE) is a free event open to food bloggers, writers and food professionals. There's only one other catch to get in...you must bring a pie! Pies can be savory or sweet. For the first time ever, the number of savory pies was the same as the number of sweet pies. Of course, I was team "Sweet" all the way. Here's the table of sweet pies...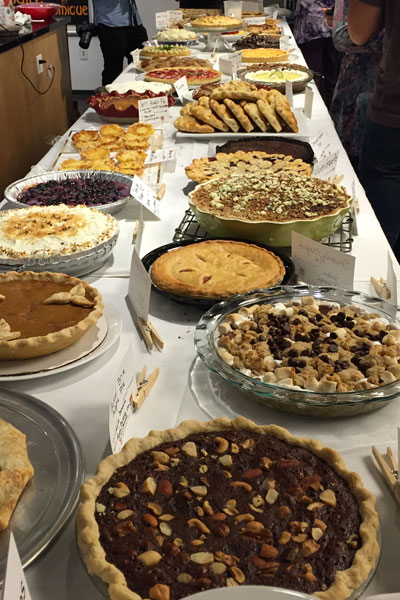 Believe it or not, that photo was taken before all the pies got there too! I brought my twist on pumpkin pie- Caramel Walnut Pumpkin Pie. My pie has a classic flaky pie crust topped with a layer of caramel coated walnuts and pumpkin filling. People say not to mess with pumpkin pie, but this variation was fantastic.
Besides, you can't bring a boring 'ole pumpkn pie to a pie party. The variety of pies that people come up with for this event is amazing. This photo shows a small sampling but you can see Jackie's site for the whole parade of pies.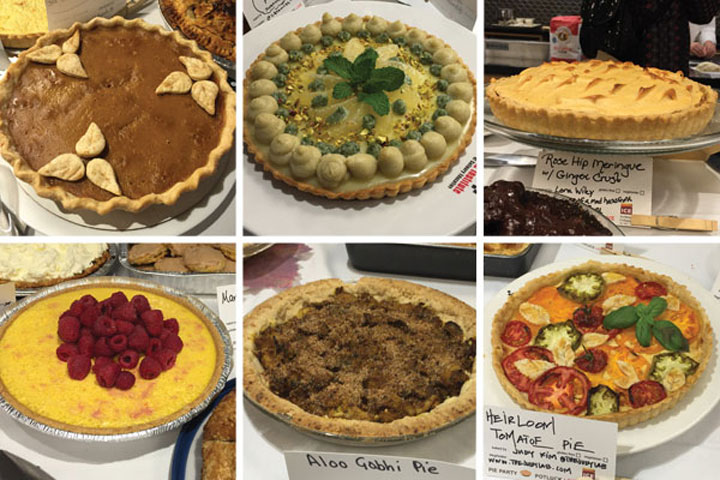 PIE PARTY SPONSORS:
This year's event could not have been possible without generous sponsors. Pie Party Potluck Live 2015 was held at the Institute for Culinary Education's brand new facility in downtown Manhattan at Brookfield Place. They provided their fabulous event space and gave guests a gift card and tours of their new facility. Cabot Cheese and King Arthur Flour provided myself and other guests with free products to use in their pies before the event.
They also had samples of cheese and tastings of apple cheddar pie during the event. Speaking of pie tastings, DUB pies was also there again with their awesome mini pies. (They had a vegetarian option too!).
A representative from Anolon was there showcasing their cookware and baking pans. Anolon was also at Pie Party Potluck Live 2014 and had given guests their nonstick pie pan to take home. I finally used it for the first time to make my pumpkin pie. Their pan cooked my pie very nicely and it popped right out with no issues. I love that it has silicone handles on the side too.
Many of the sponsors had giveaways and contests and guess who won? Me! Last year I won a ton of butter and cheese from Kerrygold and this year I won a covered cake pan from Anolon. That's two years in a row!
Wüsthof provided enough of their gourmet serrated cake servers to serve all the pies. Those things are awesome and I totally want some! The Wüsthof rep was also explaining to me which knives were for what purpose. Did you know that some knives have those large holes in the blade so the food does not stick while you are chopping?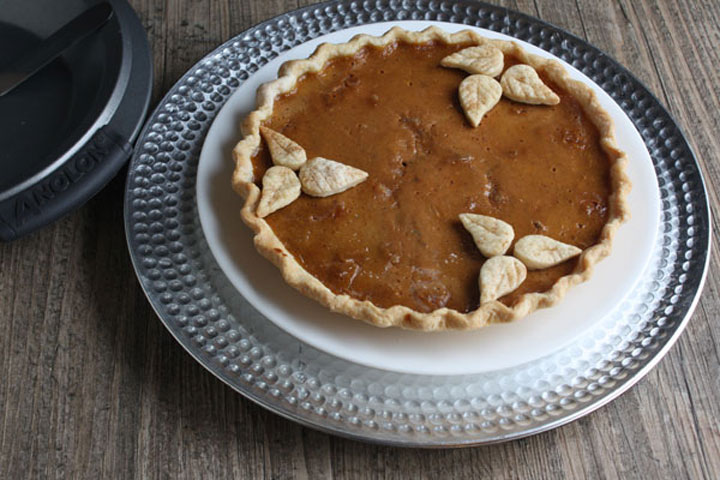 A party is not a party without drinks. Reyka Vodka, Tromba Tequila, and Mizu Shochu were the event's beverage sponsors. I had a "Ringo, I Love You" featuring Mizu Shochu mixed with apple and cinnamon. So good!! This year's goodie bag included some gifts from a few more sponsors as well including Wild Hibiscus, Honey Ridge Farms, Half Pops and Tovolo home. Thank you to all the sponsors that made Pie Party Potluck Live! 2015 so much fun!
(You may want to read How To Make A Flaky Pie or Tart Crust for more details on this recipe)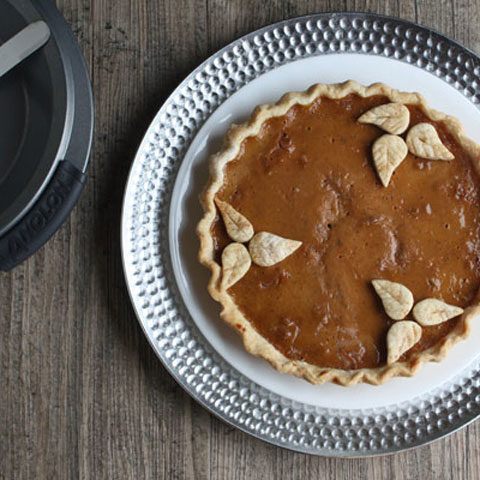 Caramel Nut Pumpkin Pie
Caramel walnut pumpkin pie is made with a layer of caramel coated walnuts topped with pumpkin pie filling. The perfect twist to pumpkin pie.
Ingredients
for the crust:
1 ⅔ cup cake flour
½ cup unsalted butter, cubed into ½ inch pieces, and chilled
½ teaspoon salt
½ teaspoon sugar
ice cold water, prepare a little over ¼ cup…only you will be able to judge how much is actually needed
for the filling:
125 g sugar
1 Tbs glucose or corn syrup
75 ml heavy cream
125 g chopped walnuts
1 cup canned pumpkin puree
2 eggs
½ cup dark brown sugar
½ Tbs corn starch
¼ teaspoon salt
1 teaspoon cinnamon
¼ teaspoon ginger
¼ teaspoon nutmeg
⅛ teaspoon clove
⅛ teaspoon pepper
½ cup heavy cream
⅛ cup milk
Instructions
In an electric mixer, mix the flour, salt and sugar together on slow speed with a paddle attachment. Add the chilled butter cubes and paddle it on low speed until the butter is the size of peas.
Next, add the ice water a tablespoon at a time while mixing. You want the dough to be wet but not formed into a ball. Remove the mixture onto the tabletop and check the texture by hand. The crumbly mixture should form clumps when you press some of it with your hand.
Chill the dough for at least an hour or overnight. Roll out the dough to ⅛ inch thickness. Line the pie pan with the dough and wrap and save the excess for decorations or more pies. Chill the lined pie pan in the refrigerator while the oven preheats to 350ºF.
Combine the sugar with just enough water to cover in a saucepan and place it over high heat. Cook the sugar until it becomes the color of maple syrup. Add the glucose then the cream, milk and walnuts. (Make sure you pan is large enough. It will bubble some when you add these ingredients.) Cook the mixture while stirring until it becomes thick like a batter. Let the mixture cool. In a medium sized bowl whisk together the pumpkin and remaining ingredients. Set aside.
Spread the cooled walnut mixture over the bottom of the chilled pie shell. Next add the pumpkin mixture leaving about ¼-1/2 inch of space at the top. Bake the pie at 350ºF for about 25-30 minutes or until the pumpkin mixture is set. Let the pie cool completely before removing from the pan.
Notes
My leaf decorations were prepared and baked separately from the pie. I find that if you bake it together, the decorations sometimes burn before the pie is cooked. If you wish to make these decorations, roll out your dough to ⅛ inch thickness, cut your pieces, chill them on a parchment lines pan, and then bake at 350ºF until lightly browned.
Nutrition Information:
Yield:

12
Serving Size:

1 slice
Amount Per Serving:
Calories:

356
Saturated Fat:

9g
Cholesterol:

70mg
Sodium:

169mg
Carbohydrates:

37g
Fiber:

1g
Sugar:

22g
Protein:

5g