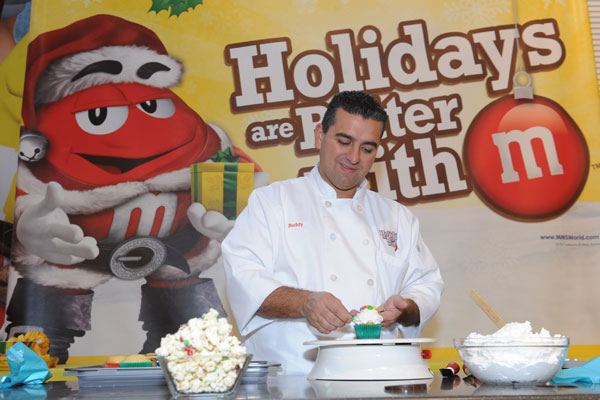 Photo courtesy of Diane Bondareff
Holidays are about making memories. What better way is there to do that than through food, right? Buddy Valastro, aka Cake Boss, partnered with M&M's to showcase how to make the holidays "better with M" and guess who got a front row seat? That's right. Me! A small group of bloggers met with Buddy at the M&M's World store in New York City earlier this week for a mini decorating class.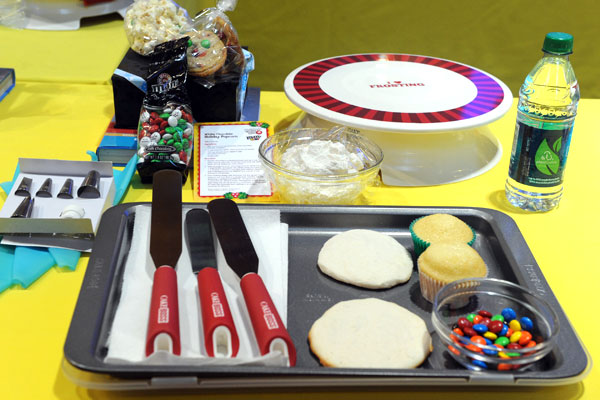 Photo courtesy of Diane Bondareff
While I don't normally cover these events, I just couldn't help myself this time. M&M's are the first things we reach for when decorating cookies or eating ice cream with kids. (If you ask V, he'll say his favorite cookies are M&M's cookies.) Moreover, being a Hobokenite myself, I thought it was about time I met the Cake Boss of the famed Carlo's Bakery of Hoboken.
In a quick 45 minutes, Buddy showed us how he frosts cupcakes and cookies and shared some wonderful tips and tricks for fun holiday baking. Buddy believes that cooking at home should be easy, fun and include family and friends. He says one of the easiest ways to decorate your holiday baked goods is to reach for the candy. I couldn't agree more. M&M's are so colorful and festive.
Here are some quick decorating tips Buddy shared with us…
Always use a turntable for frosting cakes and cupcakes. The Cake Boss line of products turntable has this nifty red stop button so it's steady for times when you want it to stay put.
The easiest way to melt chocolate is in the microwave using 30 second increments and stirring in between.
When placing tips into a pastry bag make sure it is completely free and clear of the bag. Snip off a little more of the bag if you need to. (Buddy prefers a pastry bag to the ready made writing tubes. I totally agree with this because I believe it's easier to control too.)
When writing with icing, place the middle finger of your free hand just over the tip. (See picture below) This allows you to keep your piping bag steady.
Skip trying to pipe a border. Reach for the candy and make a border with it instead. It's easier and the kids can help too.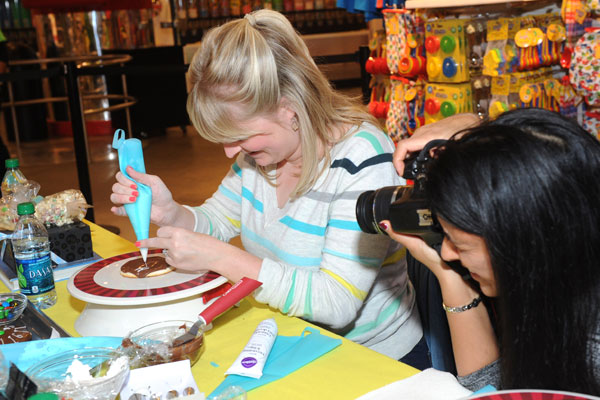 Photo courtesy of Diane Bondareff
Here are some of the cupcakes Buddy frosted and decorated with M&Ms…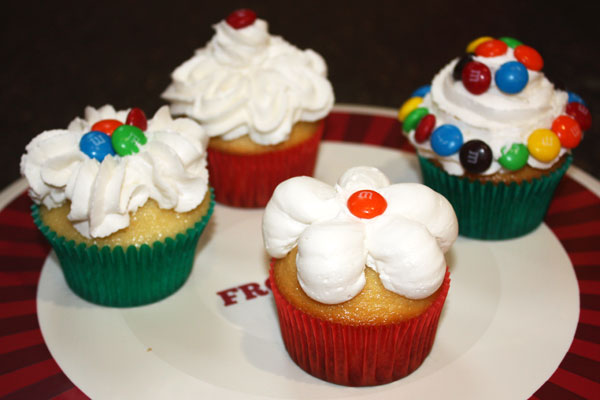 White Chocolate Holiday Popcorn made with M&Ms…You can find the recipe in Buddy's book, Family Celebrations with the Cake Boss: Recipes for Get-Togethers Throughout the Year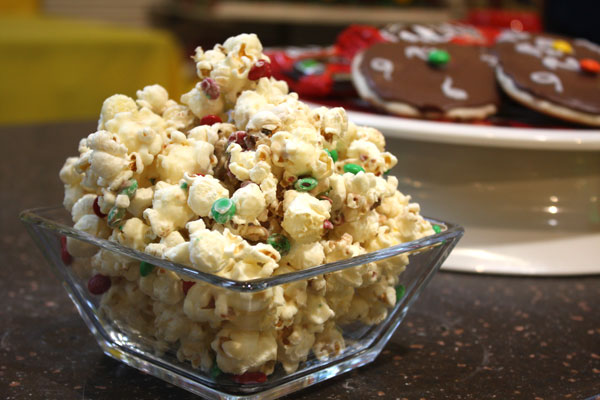 Oh and don't forget, M&Ms are customizable. Check out these with Buddy's face on them!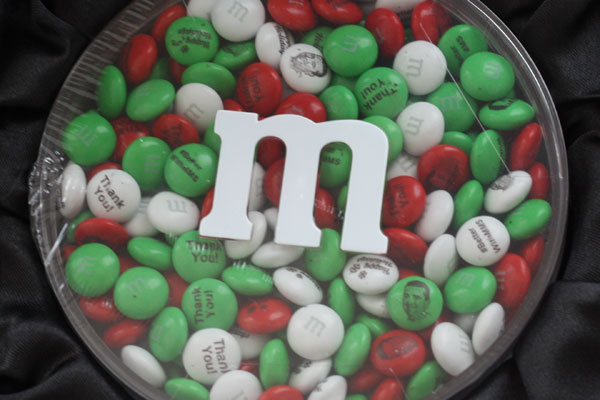 SaveSave
SaveSave