It's spring! That's why these mini strawberry tarts are perfect for the season. They are filled with a refreshing light basil cream that you are going to love!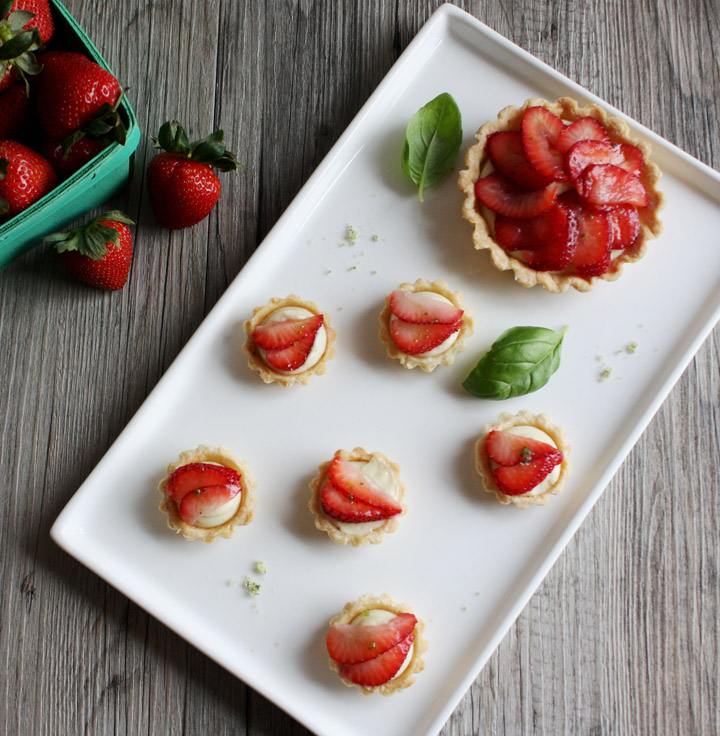 It's spring! That's why these mini strawberry tarts are perfect for the season. They are filled with refreshing light basil cream that you are going to love!
A few weeks ago, I attended a NYC event organized by Jackie (aka The Diva That Ate NY) and Ken (aka Hungry Rabbit). If you've been following me on twitter you probably know that I'm talking about Pie Party Potluck Live (#PiePartyGE)!
As always, they put together a fantastic event. Unfortunately, I don't have tons of photos from it. I was way too distracted by all the fabulous pies to take pictures. In fact, I don't even have a decent picture of my own chocolate orange tart at the event.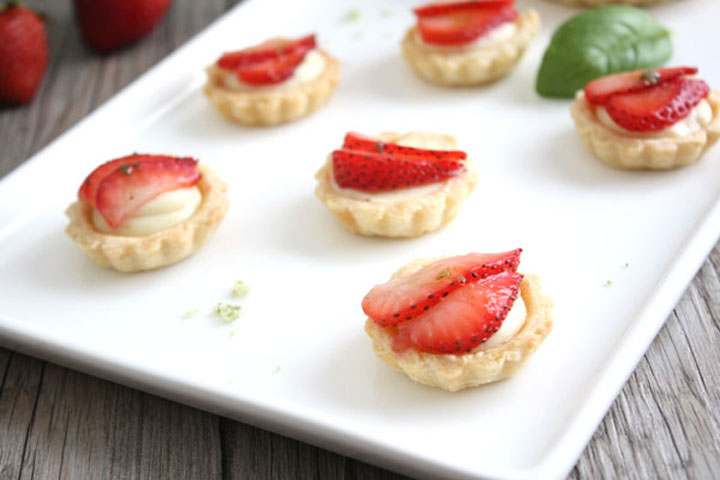 I can't tell you how much fun it is to be in a room full of people that, like myself, just love good food. There were savory pies, sweet pies, wine, cheese and even a pie making demo. It all took place in the GE Monogram Design Center, a kitchen setting full of luxury appliances.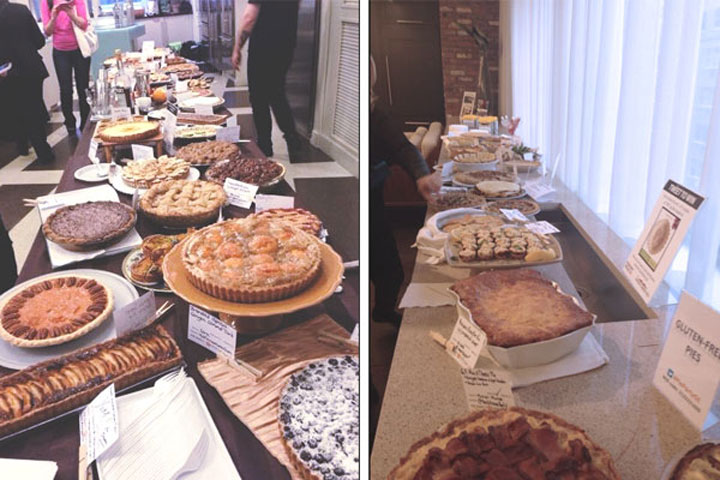 The event was free thanks to the generous sponsors. Some of them even provided itemsto help with the pie baking the week before…buter and cheese from Kerrygold, tools from OXO, and Snapware gave us containers to pack up leftovers.
Other sponsors were at the event to showcase their products and provided us with some goodies too. So I'd like to once again thank Anolon, Wüstoff, Jarlsberg, Dub Pies, and Harvard Common Press for their generous support. (In case you were wondering, that's my Tattly from OXO in the photos.)

A few of them also gave out prizes for posting a snapshot on Instagram during the event. And guess what? I actually won something! A big gift basket full of cheeses and butter from Kerrygold. I couldn't believe it because I never win anything.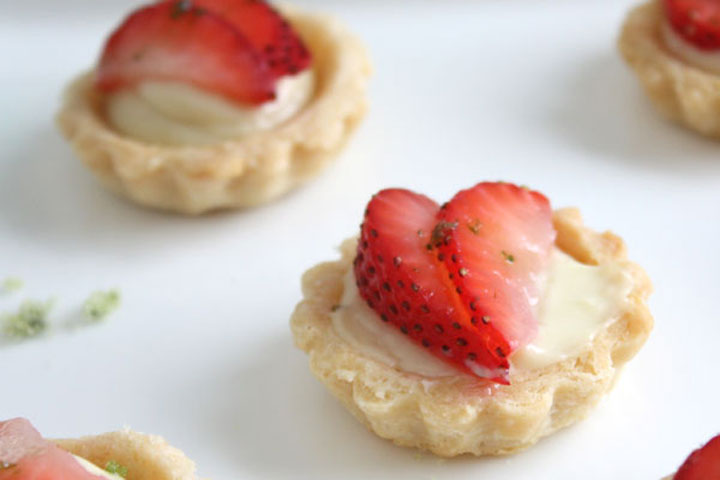 So….what's with the strawberry basil tarts today? Well, I guess I did not have my fill of pie and I needed to make more! I was excited to use some of my Kerrygold butter, my new OXO strawberry huller, and Wüstoff paring knife from Pie Party. Plus I have a ton of basil growing on my balcony so why not? Aren't they cute?
Each buttery mini crust is filled with a basil flavored pastry cream, topped with fresh strawberries and a sprinkling of basil sugar. If you haven't tried the strawberry-basil combo, I highly recommend it. To get a taste for it, try these mini pies or my berry salad with mint and basil.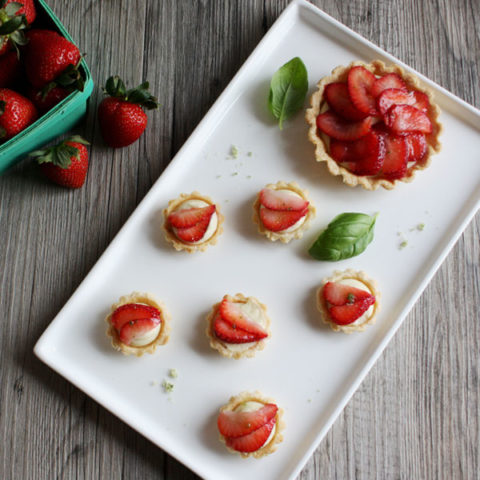 Strawberry Basil Tarts
Chilling Time:
1 hour
30 minutes
Total Time:
2 hours
30 minutes
These mini strawberry tarts are perfect for the season. They are filled with are refreshing light basil cream that you are going to love!
Ingredients
For the tart dough
125 g cake flour
¼ cup  unsalted butter, cubed into ½ inch pieces, and chilled
¼ teaspoon salt
¼ teaspoon sugar
ice cold water, prepare about 50mL to start …only you will be able to judge how much is actually needed
For the filling
1 cup milk
1 cup chopped basil
62 g sugar
25 g corn starch
2 yolks
½ teaspoon vanilla
¼ cup heavy cream
sliced strawberries
Instructions
Sift the flour, salt and sugar together into a cold mixer bowl. Add the chilled butter cubes to the dry mix.
Using the paddle attachment, mix the butter and dry ingredients on a low speed until the butter pieces are about pea sized.
Next, add about ½ the ice water, mixing by hand. Quickly work the water into the dough. You want the dough to be wet but not sticky. Add more ice water to the drier ingredients if needed. The crumbly mixture should form clumps when you press some of it with your hand.
If you think it is too dry, sprinkle your hands with cold water and work the dough. This way you don't accidentally add too much moisture. Do not knead it too much, just enough to be able to wrap up the dough in plastic. Streaks of butter are okay.
Chill the dough for at least an hour or overnight. Roll out your dough and fit it into an 8 inch tart ring or 4 inch molds or mini tart molds. Chill it again for at least 30 minutes.
With a fork, make holes in the tart dough to prevent it from rising. Bake at 350°F for 15-20 minutes or until the crust is lightly browned. Let it cool. (If you are making mini tarts, the cooking time will be about half.)
In a saucepan, heat the milk and chopped basil until the milk begins to just boil. Remove from the heat and let the mixture steep for a few minutes before straining out the basil. In a separate bowl, whisk together the sugar and corn starch and then whisk in the egg yolks and vanilla until smooth.
Slowly pour the hot milk into the egg mixture while stirring. Return the entire mixture to the sauce pan and bring it to a boil over medium heat. The mixture will thicken and you must continue to stir. Continue to let it boil for about 2 minutes while stirring.
Remove the mixture to a cool bowl. It should be smooth not clumpy. Cover with plastic wrap until ready to use or refrigerate if using next day.
10. Whip the heavy cream to medium peaks and fold it into the pastry cream. (If you made the pastry cream the day before, be sure to whip it smooth first.)
11. Fill each cooled pastry shell with the basil cream. Top it with sliced strawberries and sprinkle with basil sugar. (There is no recipe for the basil sugar. I just crushed up a few clean and dried fresh basil leaves with some sugar in my mini food processor.)
Notes
This recipe can also make 4 four inch tarts or 1 eight inch tart.
Nutrition Information:
Yield:

24
Serving Size:

1 tart
Amount Per Serving:
Calories:

72
Saturated Fat:

2g
Cholesterol:

25mg
Sodium:

30mg
Carbohydrates:

8g
Sugar:

3g
Protein:

1g
SaveSave