A good basic pastry cream can be used for filling pies, tarts, cakes and many other desserts. This recipe shows you how to make a basic pastry cream with suggestions on how to make it unique as well.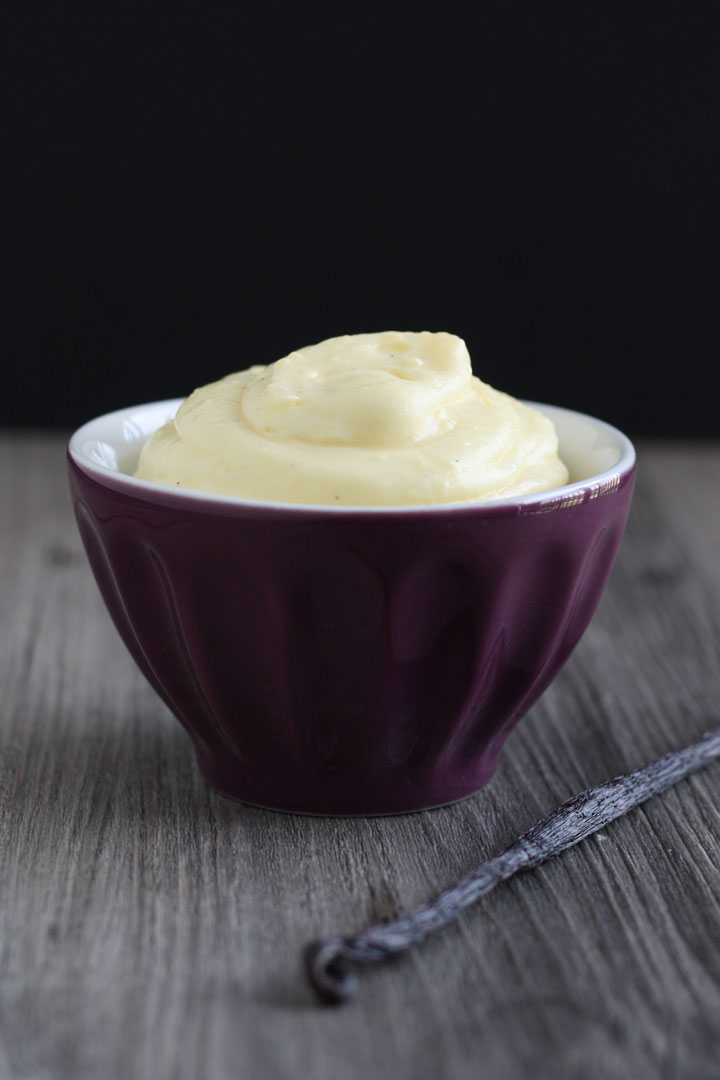 What is pastry cream or creme patissiere?
Pastry cream or creme patissiere is a type of custard. A custard is a mixture of liquid and egg that thickens when heated. There are stirred custards (vanilla sauce), starch bound custards and baked custards (creme brûlée). Pastry cream is an example of a starch bound custard and is found in many classic French desserts.
How do you use pastry cream?
It's used as filling for those shiny fruit tarts you see in pastry cases, and for choux puffs, éclairs and Napoleons. More familiarly, you may have had it in Boston cream pie. It can also be used in fillings for cakes. It's actually perfect for layering between a stack of French crepes to create an elegant crepe cake. As you can tell, it's very versatile and the flavor possibilities are endless.
What is pastry cream made of?
A good basic pastry cream is just that- basic. There's no butter, no cream or half and half in the recipe. Just eggs, milk, sugar, and corn starch for thickening. The tricky part is cooking it.
If you do it right, your mixture will be smooth and creamy and you will not need to strain it. You need to have some basic tools like a good whisk, a towel and a strong arm. You will be constantly stirring so your eggs don't turn into a lumpy scramble!
The first time I made pastry cream, I was a bit flustered and it did turn into a scrambled mess. However, once you've done it a few times and remember to follow some rules, it takes no time at all and feels very easy.

Here are some basic tips to making a successful creme patissiere:
Mise en place is key! Having all your ingredients and tools ready is important because you have to work quickly to control the cooking of the pastry cream. You cannot stop once you have started. The only part not shown in the picture is the saran wrap. You will need this to prevent a skin from forming on your cream.
Do not add sugar to eggs without immediately mixing. This dries out the yolks and makes it difficult to mix.
Be sure to add the milk to the eggs very slowly while stirring. You don't want the hot milk to curdle the eggs.
A wet towel will keep the bowl from slipping while you whisk during the egg during the tempering process. (Mine is not shown wet in the picture)
Constantly mix while the pastry cream is on the burner! This mixture burns easily.

Once you've mastered basic pastry cream, you can play around with the recipe to create all sorts of flavors.
Add flavored liqueurs to complement the other elements of your dessert. For example you may want to add Frangelico to a chocolate dessert, like the filling for this mille crepe cake. The liqueur can be added at the end of the process.
Infuse the milk for flavor. For example, you can boil the milk with tea leaves, coffee beans, cinnamon sticks or other spices. Just remove them before adding the milk to the eggs. I recently made a fantastic basil pastry cream for a strawberry tart.
For chocolate pastry cream, add melted chocolate at the end of the cooking process.
Finally, a few other tips before you make pastry cream...
Be aware that cooled pastry cream is not creamy. It's rubbery and must be re-mixed or "relaxed". I usually beat it with the paddle attachment on my electric mixer. Also, if you want to lighten the pastry cream (as shown in the first picture), fold in whipped cream to your relaxed pastry cream. This gives it a much smoother, fluffier texture. Good luck and get creative! Share your pastry cream flavors in a comment below.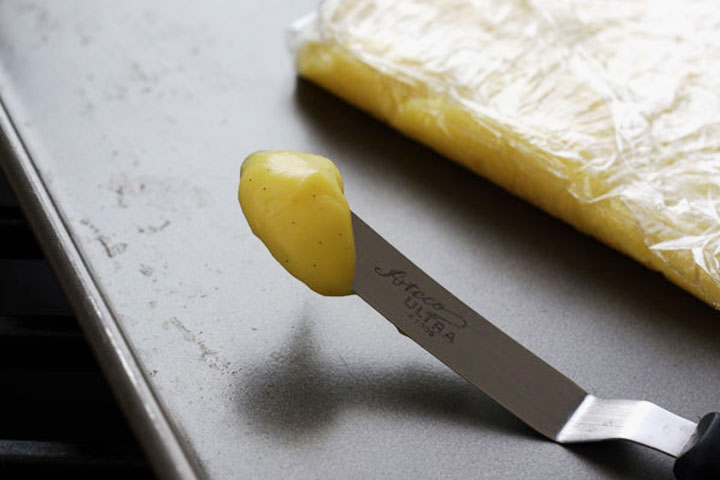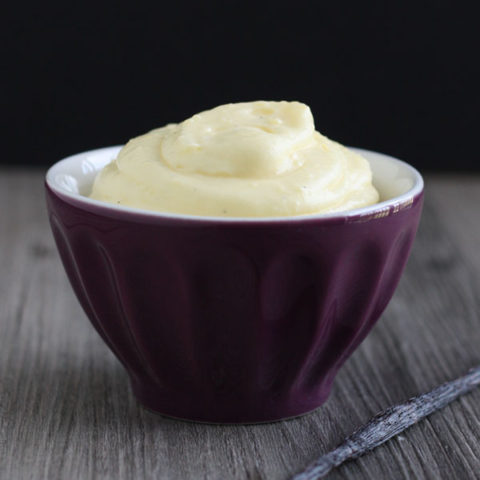 Creme Patissiere Recipe
A good basic pastry cream can be used for filling pies, tarts, cakes and many other desserts. This recipe shows you how to make a basic pastry cream with suggestions on how to make it unique as well.
Ingredients
2 cups milk
130 grams sugar
4 yolks, whisked
50 grams corn starch
1 vanilla bean, washed
Instructions
Lay out an 18 inch piece of saran wrap in a large sheet pan or on a heatproof surface.
In a large pot, stir the milk with about half of the sugar. Slit the vanilla bean lengthwise and scrape the seeds. Stir the seeds into the milk and add the pods to the pot.
Heat the mixture over medium-high heat until it comes to a boil. Then turn off the heat and remove the pods.
While you are waiting for it to boil, place the yolks in an extra large bowl. Whisk together the corn starch and remaining sugar. Add the sugar-corn starch mix to the eggs and immediately whisk it into a smooth pale mixture.
Once the milk has boiled, VERY slowly pour the milk mixture into the eggs while whisking. It helps to have your bowl on a wet towel while whisking so it doesn't slip. Return the entire mixture to the large pot and heat over medium-high heat while continuously whisking. The mixture will thicken and begin to boil. Lower the heat and let the mixture continue to boil for 2 minutes. Never stop stirring!
Spread the pastry cream on the saran wrap and fold over the wrap so that it is covered and let it cool. Wrap and refrigerate unless using immediately.
Notes
Makes 1 pint of pastry cream.
Nutrition Information:
Yield:

16
Serving Size:

1 TBS
Amount Per Serving:
Calories:

77
Cholesterol:

51mg
Sodium:

15mg
Carbohydrates:

12g
Sugar:

9g
Protein:

1g
SaveSave
SaveSaveSaveSave