A fool proof easy French crepe recipe is great to have on hand. Make these buttery delicate pancakes for breakfast, brunch, lunch, dinner or dessert! This recipe works for both a sweet or savory crepe.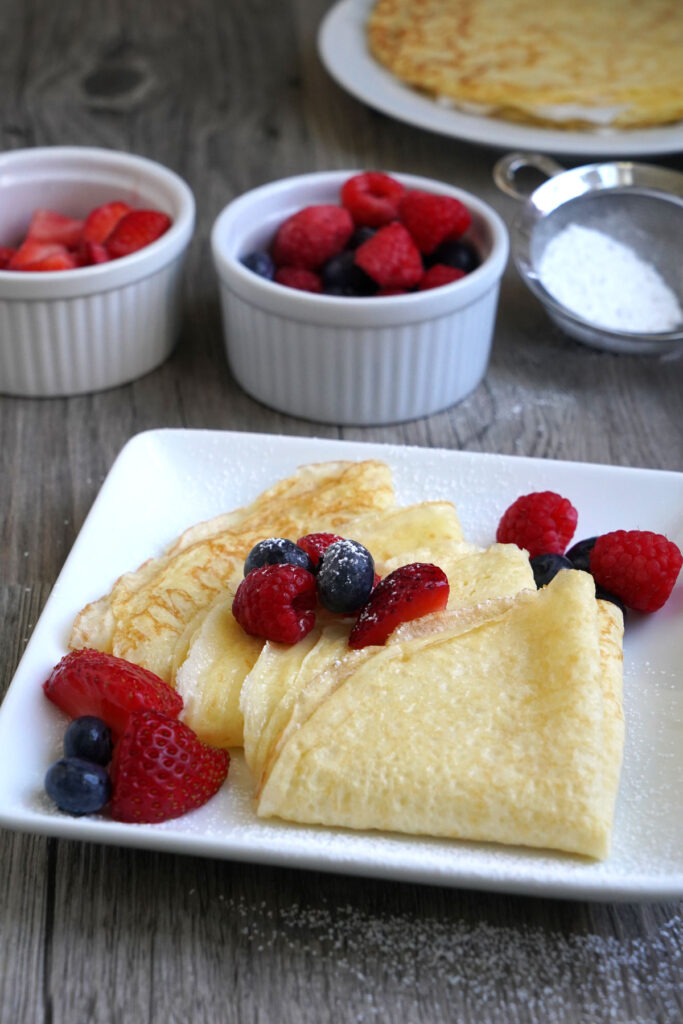 What are Crepes?
The crepe is France's version of pancakes, a batter that is spread in a pan and then fried. What makes crepes distinctive is that they are unleavened, thin and delicate.
Its tender texture comes from resting the batter before cooking in order for the gluten to relax and air bubbles to dissipate. This thin delicate texture is also what makes French crepes such a joy to eat!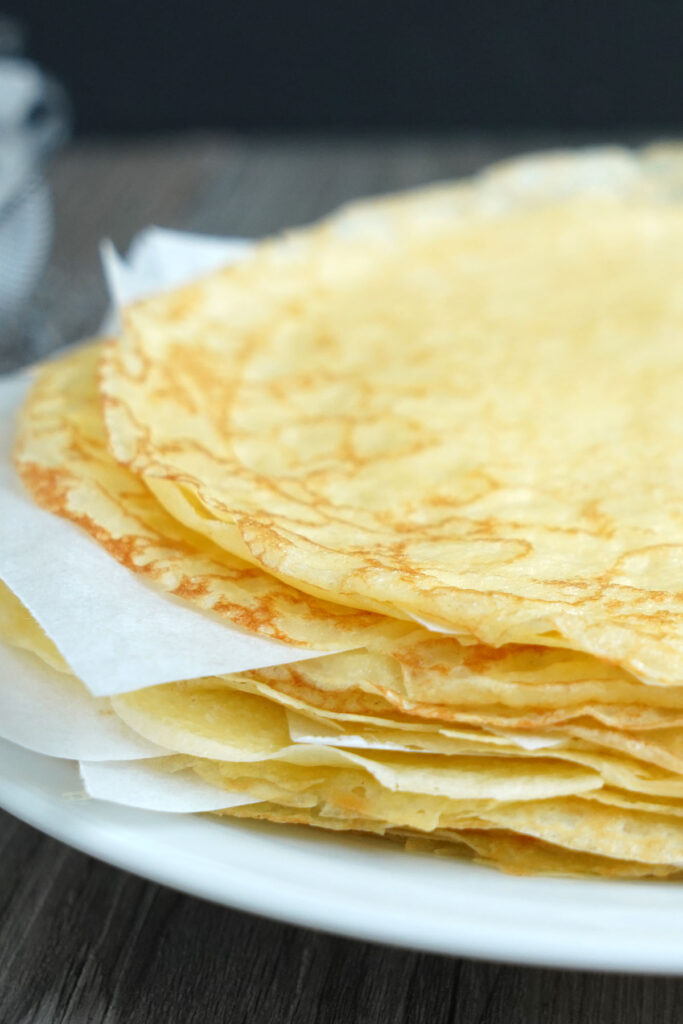 Types of Crepes
French crepes can be sweet or savory depending on their fillings and this basic recipe happens to work as both a sweet crepe recipe and a savory crepe recipe. Traditional French cooking included savory crepes filled with ingredients like bechamel sauce or cheese. The French region of Brittany is especially known for its savory buckwheat crepes.
However, the crepes familiar to most today are those that are prepared as a dessert and made with all purpose flour.
Making crepes sounds like a daunting task but it is actually quite simple especially when you use this blender method.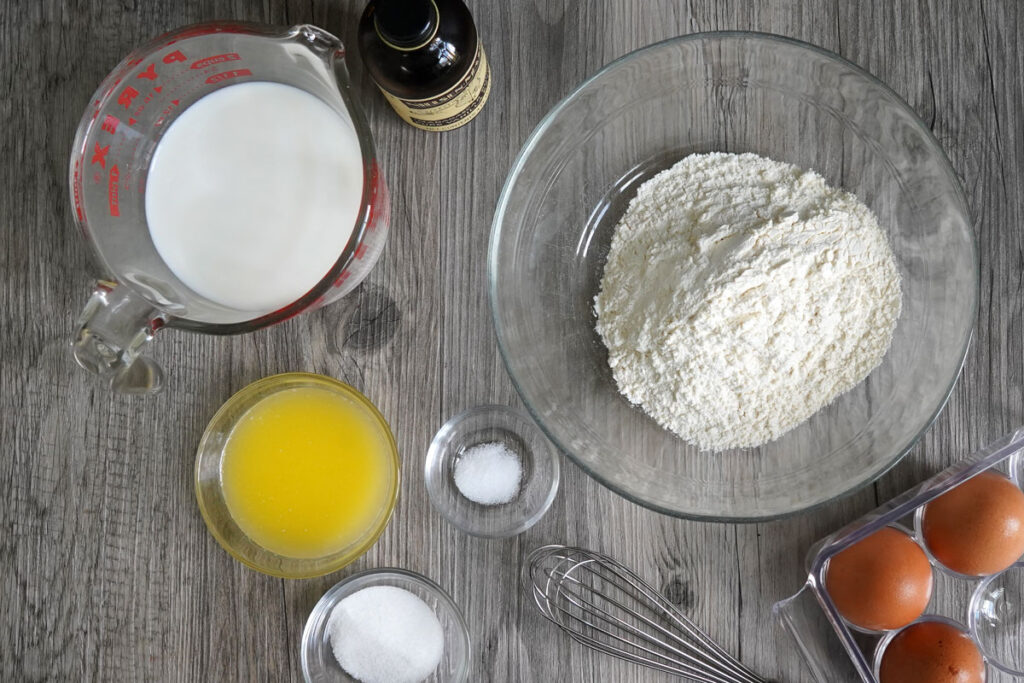 How to Make Crepes (See Video for Details)
Gather your equipment: I recommend using a blender. (See recipe notes for mixing without one.) You will also need an 8 or 10 inch non-stick frying pan, plate and spatula. I prefer to use an 8 inch pan because it's easier to maneuver but it doesn't matter if you go bigger. Also, there is no need to buy a specialized crepe pan to make crepes.
Make the batter: Measure out your ingredients- eggs, milk, sugar, salt, flour, and melted unsalted butter. Add the eggs and milk (and a bit of vanilla if using) to the blender and mix briefly. Add in the remaining ingredients and blend. (Make sure the butter is melted but cooled.) Let the crepe batter rest for at least 30 minutes to 1 hour or overnight in the refrigerator.
Prepare your cooking area: Before you heat up your pan, make sure you have butter or ghee nearby for brushing on your pan between each crepe. If you have ghee (clarified butter), I would use that instead because it has a higher smoking point and burns less easily. Have your spatula handy and a plate nearby for stacking cooked crepes. Also, have a ¼ cup measuring cup for pouring your batter. You will want to use the following depending on your pan size:

8 inch pan: 3 tablespoons or scant ¼ cup
10 inch pan: ¼ cup batter

Fry the crepes: Heat an 8 inch non stick pan over medium heat and brush with butter. Add three tablespoons of batter to the center of the pan and quickly swirl the pan to cover and bring the batter to the edge of the pan. (If you miss a few spots, just add small drops of batter to fill them.) Once the top looks dry and the edges slightly brown, flip the crepe over for a few seconds. Then, remove it from the pan onto a plate. Repeat, brushing the pan with butter between each crepe. Continue to stack your crepes on the plate.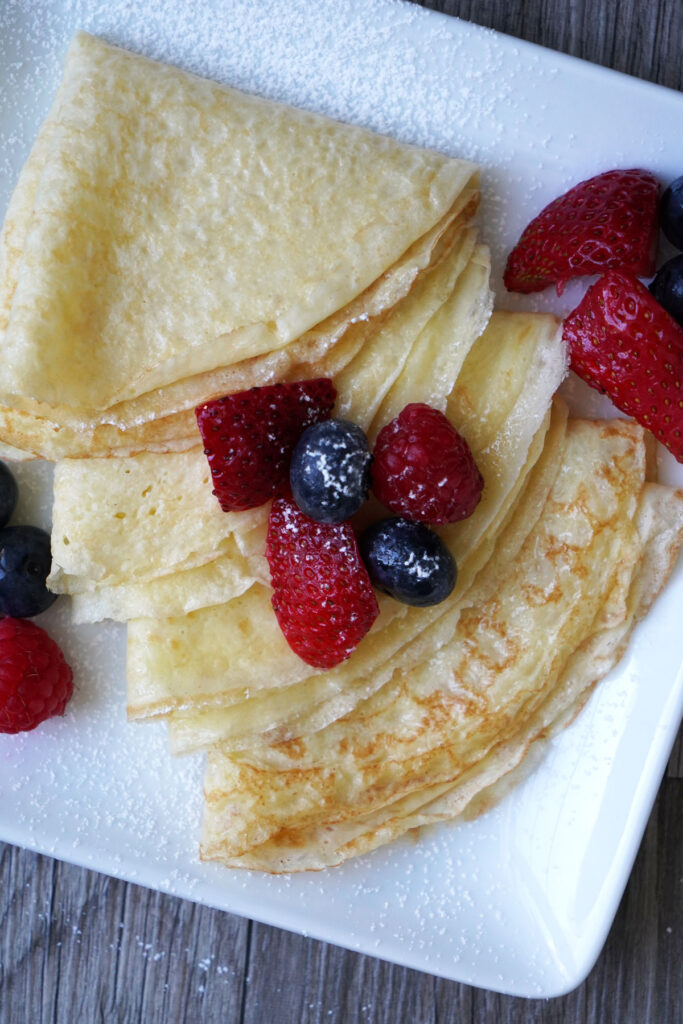 Frying crepes may take practice and the first two crepes may not come out right. That's ok. Just don't serve them. It takes one or two to get the swirling technique right and adjust your stove temperature. Start with a medium temperature or flame. You may find that the crepe is cooking too fast or too slow but once you set your temperature, you will find yourself cooking the crepes very quickly.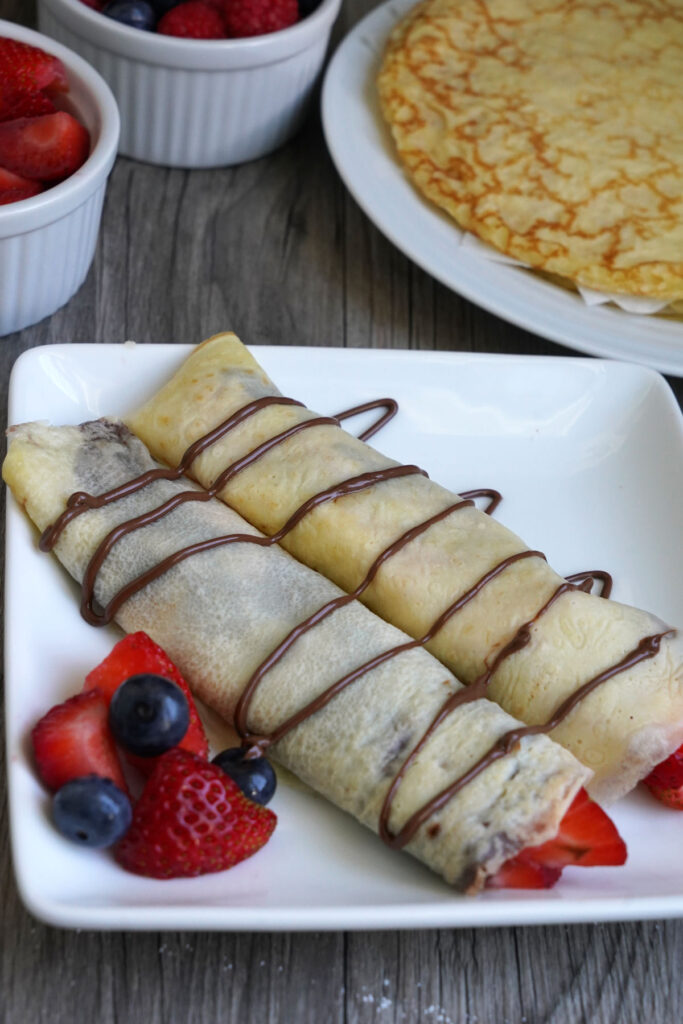 Exactly how long should you fry each side a crepe? Well, it's really up to you on how brown you want your crepes to be. You can have them barely browned or browned on both sides. Both ways are delicious!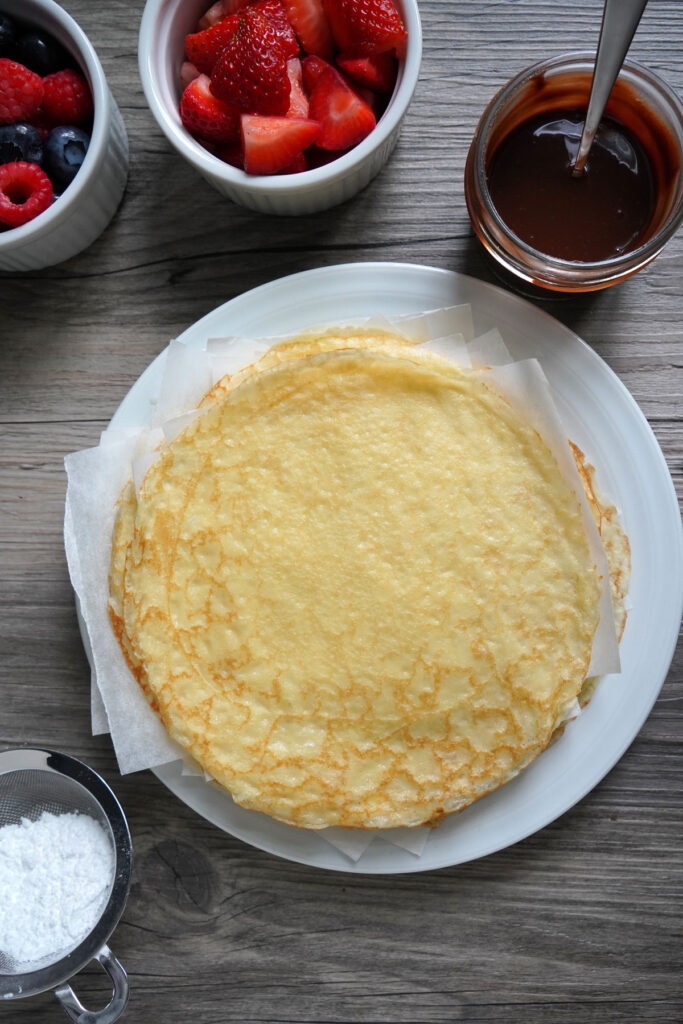 Suggested Fillings or Sprinklings
Powdered Sugar and Lemon Juice
Nutella
Nutella and Strawberries
Sliced Bananas and Nutella
Cooked apples and peanut butter drizzle
Mixed Berries
Jam
Honey
How to Serve Crepes
Crepes taste the best when they are still warm. You can fill and fold your crepes into triangles, roll them, or even just fold them in half. For sweet crepes, consider sprinkling them with powdered sugar or citrus zest. You can also serve dessert crepes alongside a scoop of your favorite ice cream.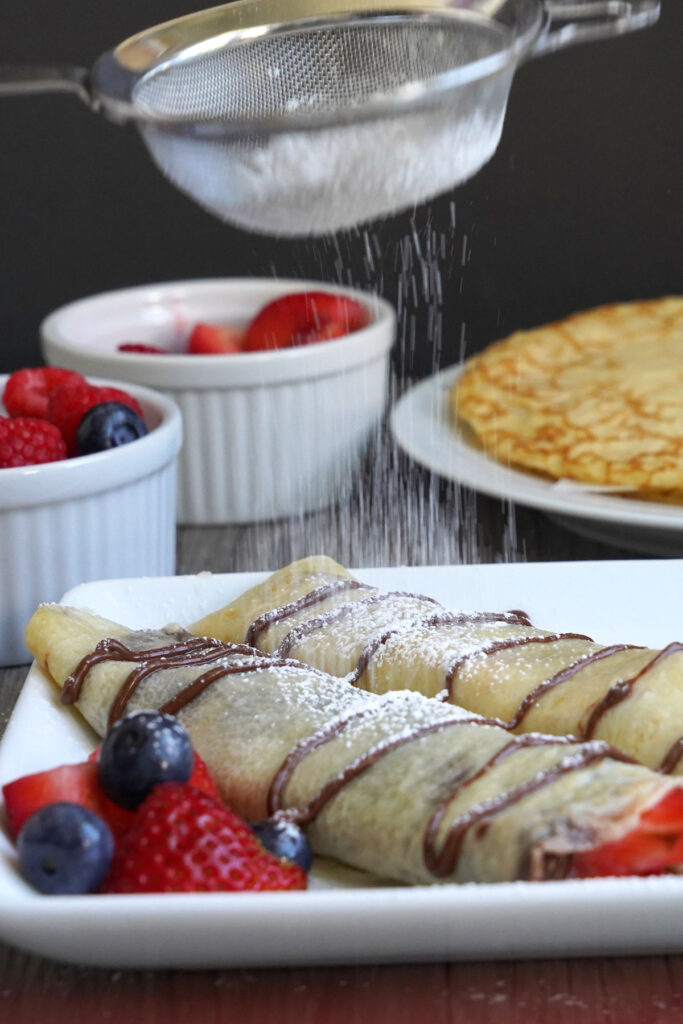 Alternatively, you can turn your crepes into a cake! A crepe cake is made by layering crepes between a thin amount of filling. Try making a hazelnut chocolate crepe cake with a chocolate crepe recipe. Be sure to check out my tips on making a crepe cake for more details.
Storing Crepes
Layer crepes with parchment paper or wax paper between crepes. Wrap the stack tightly in plastic wrap or place in a plastic storage bag. Store crepes in the refrigerator for up to 3 days. Alternatively, they can be frozen this way for up to 2 months.
Reheating Crepes
Allow frozen crepes to thaw first before reheating.
Oven: Arrange the crepes on a baking sheet (it's okay to overlap), cover with foil and bake in a 250F oven for about 10 minutes
Stovetop: Preheat a non-stick skillet and lightly brush it with butter. Warm the crepes one at a time in the skillet for about 20-30 seconds on each side.
Microwave: Place the crepe on a microwave safe plate and heat on high for 20 seconds. If it's still cool or unevenly heated, reheat for another 10 seconds.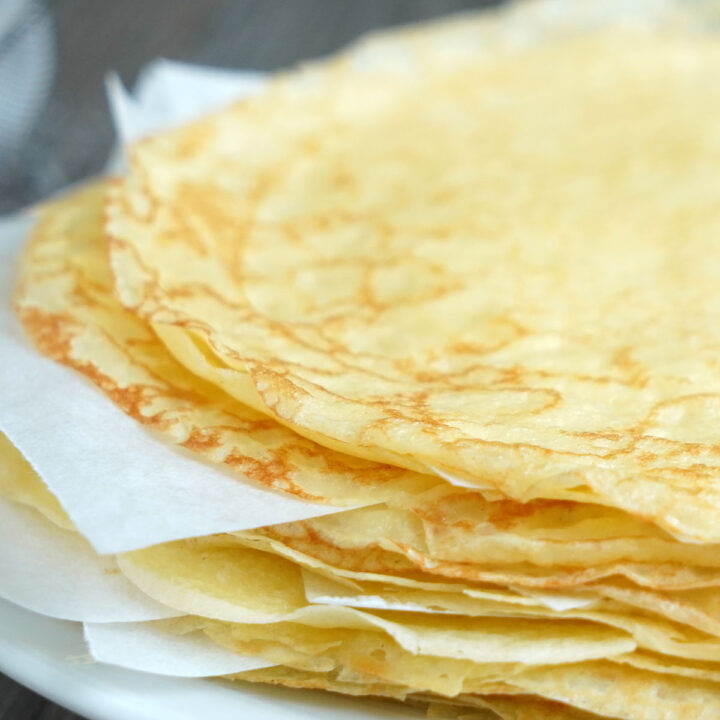 French Crepe Recipe
Additional Time:
30 minutes
A fool proof easy French crepe recipe is great to have on hand. These buttery delicate pancakes can be made for breakfast, brunch, lunch, dinner or dessert! This recipe works for both a sweet or savory crepe.
Ingredients
1 ⅓ cup milk
3 eggs
1 cup all purpose flour
3 Tablespoons unsalted butter, melted
1 Tablespoon sugar
¼ teaspoon salt
½ teaspoon vanilla extract, optional
Instructions
Combine the milk and eggs in a blender and mix briefly.
Add the flour, butter, sugar, salt and vanilla extract to the blender and mix until smooth.
Transfer the batter to a bowl or container and let it rest for 30 minutes to an hour or overnight in the refrigerator.
Preheat a non-stick skillet over medium to low heat. Brush the pan with butter or clarified butter.
Pour scant ¼ cup of batter into the pan and swirl to cover the pan to the edges.
Flip the crepe once it looks dry on top and the edges start to just brown. Cook for another 30 seconds and remove from the pan.
Brush the pan with butter again and repeat with more batter, stacking the finished crepes on a plate.
Notes
Non-Blender directions: Add the flour to a large bowl and create a well. Combine the remaining ingredients in another bowl and then pour some into the well. Whisk the liquid ingredients into the flour and then add the remaining liquid slowly while whisking and incorporating the flour. Whisk until there are no lumps. Rest the batter and proceed as directed above.
Nutrition Information:
Yield:

20
Serving Size:

1 crepe
Amount Per Serving:
Calories:

60
Total Fat:

3g
Saturated Fat:

2g
Trans Fat:

0g
Unsaturated Fat:

1g
Cholesterol:

34mg
Sodium:

46mg
Carbohydrates:

6g
Fiber:

0g
Sugar:

1g
Protein:

2g
This nutrition information is only an approximate provided for convenience and as a courtesy only. Information comes from Nutritionix, an automated nutrition calculator.