Chocolate and hazelnut are a match made in heaven. If you love this pair up, this delicate and spongy chocolate hazelnut crepe cake is for you!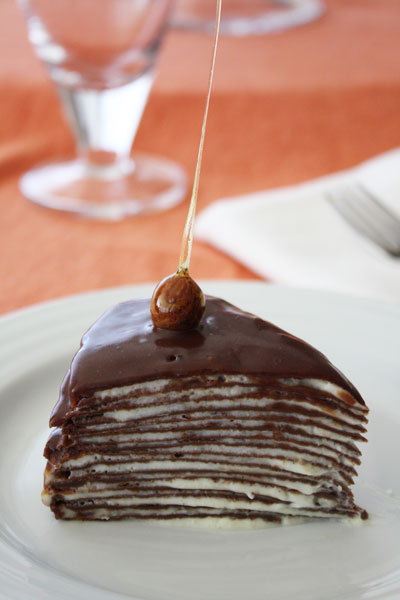 Making a crepe cake was on the top of my to do list ever since I started this blog. It only took me this long because I had not yet bought a crepe pan. Of course, like most things I mean to purchase, I never bought it.
Do You Need A Crepe Pan to Make Crepes?
Surprise, surprise, it turns out you do not need a fancy electric crepe maker or a pricey made in France steel crepe pan to make good crepes.
I was able to make great crepes in the same trusty ten dollar nonstick Farberware pan I use to cook my omelets. I'll spare you the photo of my ugly nonstick pan and let you check out the layers instead...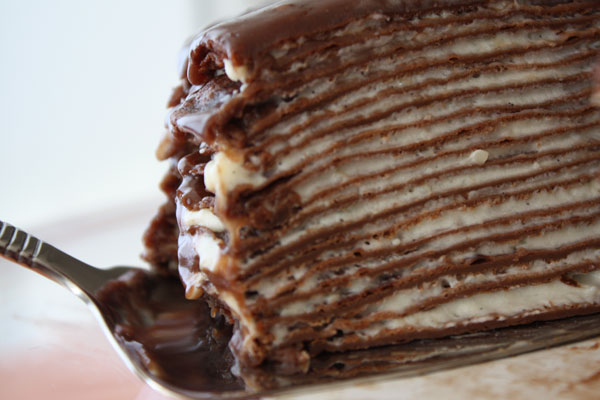 How to Make Crepes
Making the crepes thin enough for the cake was easier than I thought. Pour, swirl, wait, flip and wait again...done! Use plenty of butter and there's not a chance it will stick.
This cake was made with a chocolate crepe batter but you can also use plain crepes with this basic french crepe recipe. I've detailed more about how to make crepes in that post (with a video).
Update (March 2018): This chocolate hazelnut crepe cake post is one of my very first attempts in making this type of cake. Please see Tips for Making a Crepe Cake for more detailed advice on how to make a crepe cake. 
Filling and Glaze for a Crepe Cake
I went with chocolate crepes because I really wanted to flavor my pastry cream with hazelnut liquor and everyone knows that chocolate and hazelnut are a match made in heaven! The cake was then coated with a fudge glaze.
Interestingly, no matter how much liquor I put into the filling, I could not seem to get the flavor to really come through. I think next time I will have to use either a hazelnut paste or Nutella based filling.
Although the hazelnut flavor was more subtle than I wanted, it was still delicious. I love the mouth feel of mille crepe cakes...delicate, spongy and no overwhelming gobs of buttercream or other frosting.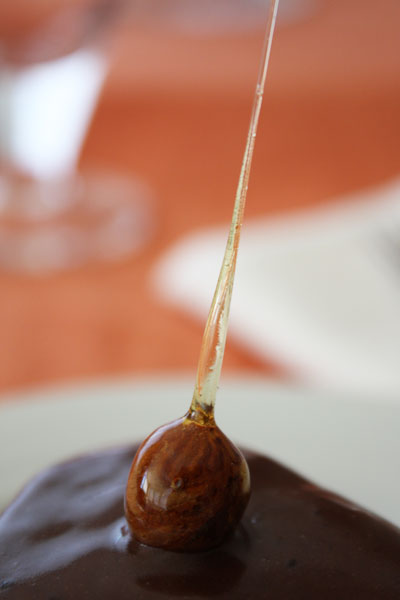 Curious about my candied hazelnut garnish? Really easy to do...But I'll refer you to Martha on this one. Here's the recipe for the crepe cake...
My apologies in advance if this recipe seems complicated. You will have to make adjustments depending on what you want. Please read the recipe notes included at the bottom.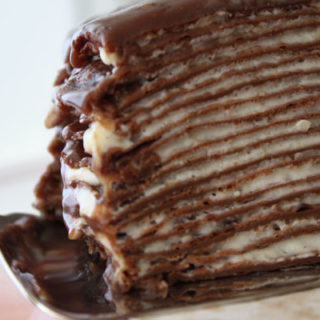 Chocolate Hazelnut Crepe Cake
Total Time:
1 hour
55 minutes
Chocolate and hazelnut are a match made in heaven. If you love this pair up, this delicate and spongy chocolate hazelnut crepe cake is for you!
Ingredients
For the chocolate crepes...(SINGLE BATCH-makes 10-15 crepes)
¼ cup sugar
⅓ cup plus 1 Tbs all purpose flour
¼ cup cocoa powder
3 eggs
150 mL whole milk
100 mL heavy cream
½ Tbs vanilla bean paste or extract
pinch salt
3 Tbs melted cooled butter plus more for brushing on pan
For the filling...(more than enough for 20-30 layer 8 inch cake)
1 pint milk
1 ½ teaspoon vanilla bean paste or extract
⅝ cup sugar
1 egg
2 yolks
⅓ cup corn starch
½ cup hazelnut liquor, Frangelico
200 ml heavy cream, whipped to medium to stiff peaks.
For the fudge icing (enough for an 8 inch cake)
¼ cup butter
1 ½ Tbs heavy cream
1 Tbs cocoa powder
⅜ cup powder sugar
Instructions
For the chocolate crepes...(SINGLE BATCH makes 10-15 crepes)
Mix together the dry ingredients in food processor or blender and mix briefly. Mix the eggs, milk, cream, vanilla and salt in a bowl and then add it to the food processor and mix until combined.
Refrigerate for at least an hour or overnight to let the batter rest. Bring the batter to room temperature when ready to use. Gently stir in the melted butter and strain the mixture through a fine sieve.
Stack the crepes in a dish with squares of wax paper or parchment in between so they do not stick. Brush the pan with butter in between making each crepe. Crepes can be stored in the refrigerator for five days if you don't want to use them the same day. Just make sure they are separated with paper and wrapped tightly.
Heat an 8 inch nonstick pan over a medium flame. Brush with plenty of butter. Lift the pan from the flame as you add a little over an ⅛th cup to the pan. Swirl to cover the pan and cook on the flame for about 30-40 seconds. Gently lift and flip the crepe to cook the other side for about 20 seconds. (Don't worry if the first one looks strange-it usually does!)
For the filling...(more than enough for 20-30 layer 8 inch cake)
Combine the milk, vanilla, and half the sugar in a sauce pan and heat until it starts boiling. Whisk together the rest of the sugar, egg, yolks, and cornstarch in a large bowl.
Pour half the hot milk mixture into the egg mixture while stirring. Pour the egg mixture back into the sauce pan. Heat the mixture while stirring with a whisk until the mixture has been boiling for a few minutes. It will thicken as you stir. Do not stop stirring or it will burn.
Pour the mixture onto a baking sheet or in wide large bowl to let it cool. (At this point the pastry cream can be stored in the refrigerator for up to five days if you do not want to use it immediately. However, you will have to beat it in a mixer to make it spreadable again.) Once it has cooled you can add the hazelnut liquor and then fold in the whipped cream.
For the fudge icing (enough for an 8 inch cake)
Combine the ingredients in a pan, warm and stir until smooth. Cool slightly before using.
Assembly and cutting
I assembled my cake on top of a cardboard round the size of my crepes so that I could move it easily after glazing it. Spread a thin layer of filling between each crepe as you stack them.
Pour the fudge icing over the center top of the cake. It should be liquid enough to spread itself nicely over the top and drizzle down the sides. I recommend doing this on top of parchment or in a tray so you don't have to clean up the mess from the glaze running off the sides.
When serving, cut the cake straight down with a large chef knife. (Do not use a serrated knife) You will get nice neat slices showing off all your layers.
Notes
The amount of filling you need depends on how many layers of crepes you use and this in turn probably depends on how thin and wide you are able to make them. I made my crepe batter in two batches and got 10-12 crepes from each batch.
The filling recipe is more than enough to make a 20-30 layer cake. If you are making it smaller, you can divide the pastry cream in half and save it for another use before you add the whipped heavy cream.
Pastry cream alone is good for about a week if refrigerated and wrapped tightly. However, I would not save it for more than a day if you've added the whipped cream to it. It will not hold up well. (Be sure to add only half the amount of whipped cream if you do this.)
Nutrition Information:
Yield:

10
Serving Size:

1 slice
Amount Per Serving:
Calories:

435
Total Fat:

28g
Saturated Fat:

15g
Trans Fat:

1g
Unsaturated Fat:

11g
Cholesterol:

175mg
Sodium:

149mg
Carbohydrates:

37g
Fiber:

1g
Sugar:

27g
Protein:

8g
This nutrition information is only an approximate provided for convenience and as a courtesy only. Information comes from Nutritionix, an automated nutrition calculator.
SaveSave