Stovetop cooked apples coated in cinnamon and spice are easy to make! Layer them into a yogurt parfait, add them to crepes, or mix them into your morning oatmeal. The possibilities are endless.
In the next few weeks, you will be seeing recipes like this cooked apples cinnamon parfait that were inspired by a very special person in my life. In December 2015, we had learned that my aunt had been diagnosed with leukemia. Over the next 10 months, my aunt spent countless weeks in and out of the hospital for chemotherapy, at home therapy, and doctor visits.
I would bring her home cooked food to the hospital and sometimes at home. We were forced to learn a lot about food and cancer. Eating while on chemotherapy can be challenging. Patients go through taste and flavor changes that can be difficult to understand.
There are also a ton of eating related side-effects like metallic taste, mouth sores, nausea, loss of appetite, and difficulty chewing and swallowing. We wanted her to eat things she liked while still making it comfortable for her to enjoy.
My cousin came up with these simple healthy cinnamon apples that my aunt really enjoyed. We wanted to share it with you on DessArts. The apples are cooked nice and soft in a blend of her favorite spices-cinnamon, cardamom and nutmeg.
My aunt would eat these apples with plain Greek yogurt. Greek yogurt is an excellent source of protein, which chemotherapy patients really need. Like me, my aunt was a vegetarian and we wanted to make sure she was getting enough protein.
On October 7, 2016, my aunt lost her battle with acute myeloid leukemia. She died not due to her spirit or will to fight, but because of a disease that is not yet curable. Every 3 minutes someone is diagnosed with a blood cancer while more than 1.3 million people are living with or are in remission from leukemia, lymphoma, and other blood cancers.
How You Can Help
I'm sharing this healthy cinnamon apple parfait recipe with you as part of my kick off for a fundraising campaign for The Leukemia & Lymphoma Society® (LLS). The mission of LLS is: Cure leukemia, lymphoma, Hodgkin's disease and myeloma, and improve the quality of life of patients and their families. My team and I are spending the next 10 weeks to raise as much money as we can.
This site, like many food blogs, offers you FREE recipes and tips. All I'm asking you to do is pay it forward. Help me give other blood cancer patients a better chance by making a donation to LLS today. You can donate by visiting my fundraising page.
Ingredients for Cooked Apple Cinnamon Parfait
This is a really simple ingredient list to make a satisfying treat for yourself, a friend or even your kids! You only need a few things which I'm betting you already have in your pantry. Here's what we used and why we used it.
Apples: This is the star of the recipe! We used gala apples because they are sweet, crisp and hold up well after cooking.
Butter: Yes, butter. Chemotherapy patients need their calories and little bit of butter makes everything taste good. You can also substitute it for ½ TBS of coconut oil.
Cinnamon, Cardamom & Nutmeg: These are some of my aunt's and my favorite spices. They are perfect with apples.
Brown Sugar: This is optional and you need just a touch. A little extra sweetness brings everyone joy.
Salt: Everything needs a pinch of salt for good flavor.
Greek yogurt: Greek yogurt is high in protein, something all cancer patients need.
How to Make Cooked Apples
Cooking apples couldn't be easier. You have the option to peel or not peel them. Cut the apples into whatever size pieces you want but just make them all uniform so they cook evenly. Toss the apples with the spices and sugar in a large bowl and mix until the apples are well coated.
Heat a large skillet over medium heat and add the butter to it. Once the butter melts, add the apple-spice mixture with ¼ cup of water. Cook until they become soft but not mushy. It should take about 8-10 minutes.
That's it! You can layer the apples with greek yogurt to make a parfait. You can add some granola or muesli to it as a topping also. Alternatively, they can be used as a crepe filler or an addition to your morning oatmeal.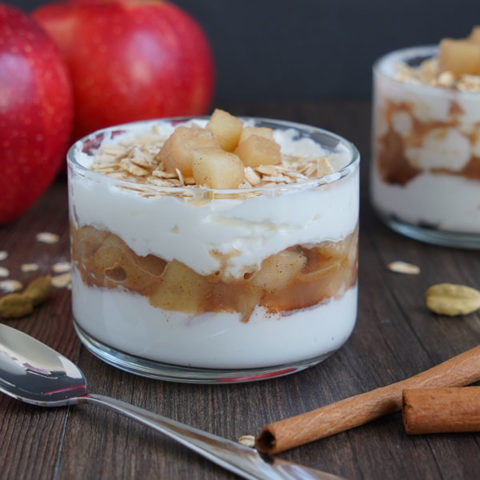 Cooked Apples with Yogurt
Stovetop cooked apples coated in cinnamon and spice are easy to make! Layer them into a yogurt parfait, add them to crepes, or mix them into your morning oatmeal. The possibilities are endless.
Ingredients
2 apples, diced
1 TBS brown sugar, optional
¼ teaspoon cinnamon
⅛ teaspoon nutmeg
¼ teaspoon cardamom
½ TBS butter, unsalted
¼ cup water
2 teaspoons vanilla extract, optional
2 cups Greek yogurt
Instructions
Combine the apples, sugar, cinnamon, nutmeg, and cardamom in a large bowl and mix to coat the apple pieces with sugar and spices.
Heat a large skillet over medium heat. Add the butter to the pan and wait for it to melt.
Add the apple mixture to the pan along with ¼ cup of water and a pinch of salt. Add the vanilla if you are using it. Cook over medium low until the apples are soft and most of the water has evaporated. About 8-10 minutes.
Layer the yogurt and apples in glasses with one layer of yogurt at the bottom, apples in the middle and more yogurt on top.
Notes
Brown sugar is optional. You may not need it if your apples are already sweet or you are using a vanilla yogurt.
Consider topping the parfait with granola also for an added crunchy texture. 
Nutrition Information:
Yield:

4
Serving Size:

1 parfait
Amount Per Serving:
Calories:

145
Total Fat:

2g
Saturated Fat:

1g
Trans Fat:

0g
Unsaturated Fat:

1g
Cholesterol:

9mg
Sodium:

44mg
Carbohydrates:

20g
Fiber:

2g
Sugar:

16g
Protein:

12g
This nutrition information is only an approximate provided for convenience and as a courtesy only. Information comes from Nutritionix, an automated nutrition calculator.