This four ingredient salted caramel sauce takes just 10 minutes to make. Elevate your ice cream, sliced apples, cakes, cupcakes and more to the next level.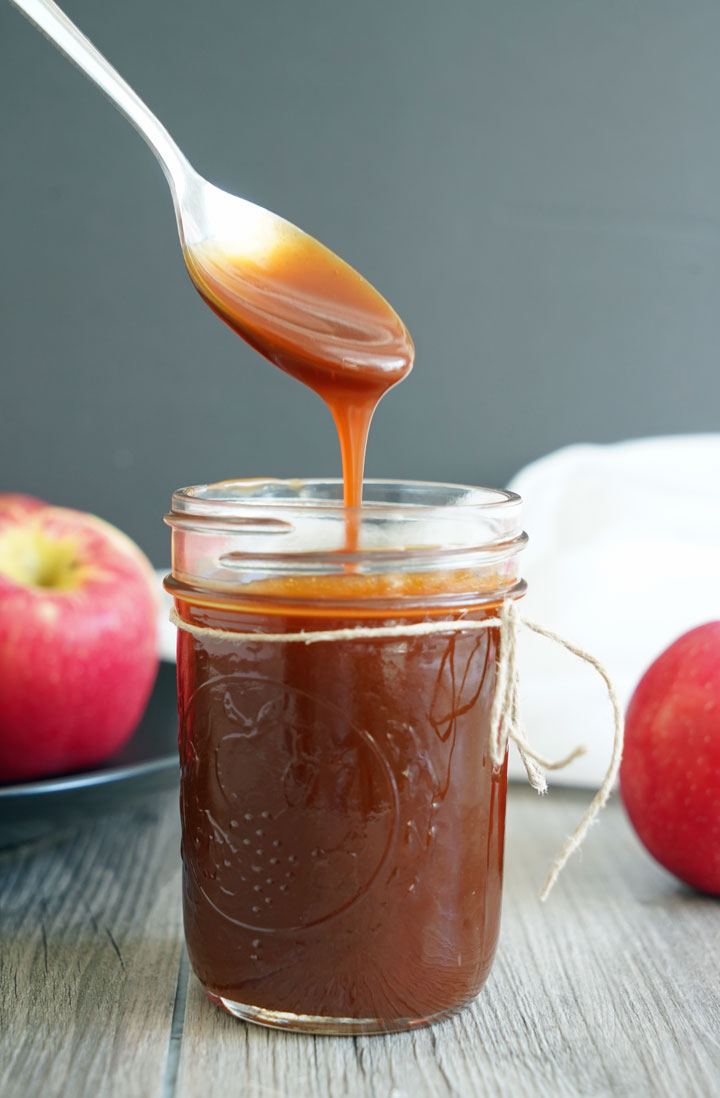 This salted caramel sauce recipe is a must add to your dessert sauce repertoire. You can use caramel sauce the same way you use other sauces such as chocolate sauce and raspberry sauce. Plate beautiful desserts or use as a topping on almost anything.
What is salted caramel sauce made of?
Caramel is simply cooked sugar. To turn it into a sauce, we add butter and cream which give it a milder taste and also keep it fluid. Finally, we add salt for that sweet and salty combination that everyone loves. Of course, if you are not a fan of salted caramel, you can always use this recipe to make a plain caramel sauce. Just add a small pinch of regular table salt in place of the sea salt.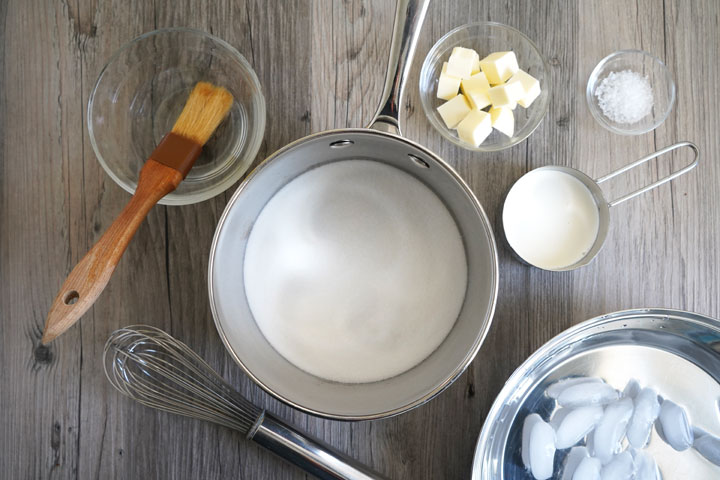 I can't emphasize enough how it important it is to have everything in place before you begin making this sauce. Caramel comes together very quickly and can go from cooked to burnt in a matter of seconds. So you want your ingredients and tools ready and by your side before you begin.
How do you make caramel sauce?
Begin by caramelizing the sugar over the stove with a small amount of water. Some recipes do not add water to the sugar and this method is referred to as a dry caramel. I prefer to make a wet caramel even though it takes a little longer. The water helps prevent crystallization and burning which can lead to a more bitter and grainy caramel sauce.
This method also requires almost no stirring. Just keep the sides of the pot clean of any sugar crystals by brushing it down with a wet pastry brush.

You also don't need a candy thermometer to make this caramel sauce. Simply watch the color of the caramel. You want it to be a deep amber but not burnt. It's a fine line between the two but after you've done it a few times, you will get the hang of it. It's also better to stop the cooking earlier than later.
Caramel will continue to cook in a hot pot even after removing it from the stove. That's another reason why you should have your butter and cream ready to cool things down quickly.
TIP: You can also have a bowl full of ice water ready by your side so you can quickly cool down your pot. Place the entire pot bottom in the ice water bath for a second or two to stop the cooking of caramel.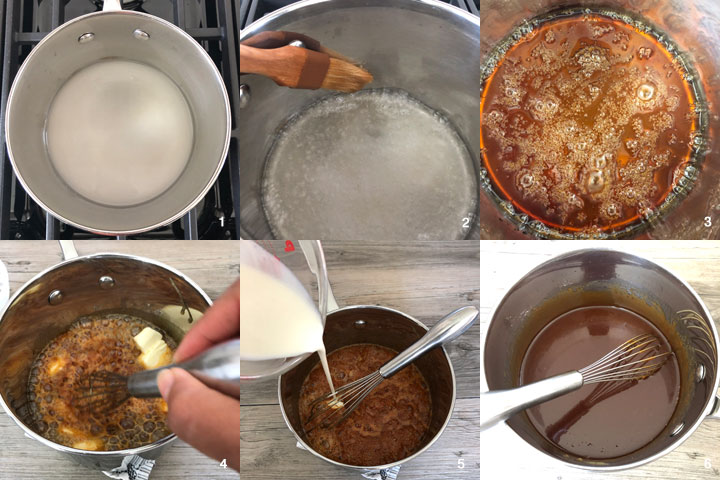 Once the sugar has reached that dark amber color, add the butter all at once, whisk and cream quickly and whisk. The mixture will bubble up when adding these ingredients because of the temperature difference but will quickly settle down. It's important to use a larger pot for this reason so it does not overflow.
Once the butter and cream are incorporated, you just need to stir in the salt and let it cool slightly. That's it!
How long will salted caramel sauce keep?
I would keep the sauce in a sealed jar in the refrigerator for up to two weeks.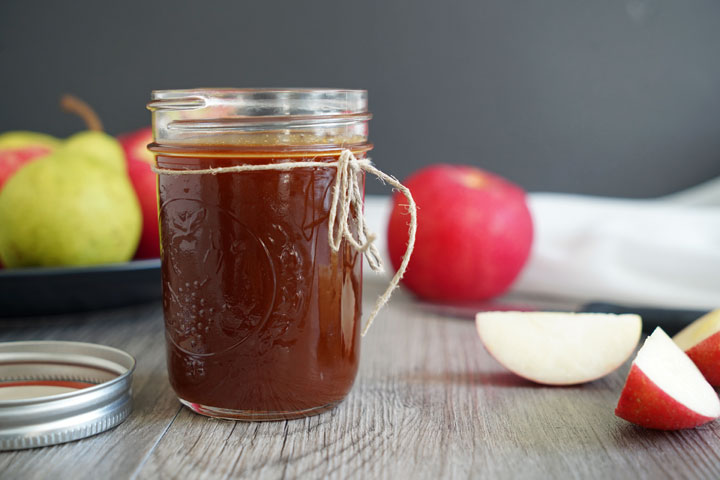 How do you heat up caramel sauce?
If you are using a squeeze bottle, you can warm it up by placing the squeeze bottle in a hot water bath for a few minutes. If the caramel is in a glass jar, you can reheat it in the microwave using 10 second increments and stirring in between.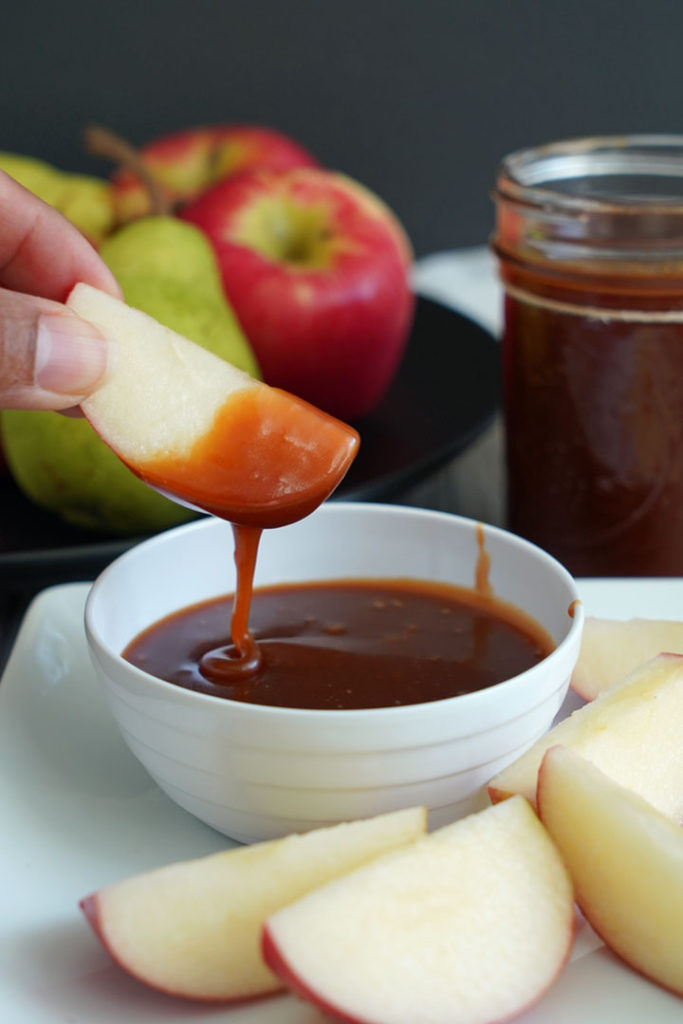 What can I use salted caramel sauce on?
Pretty much anything! Here are some ideas.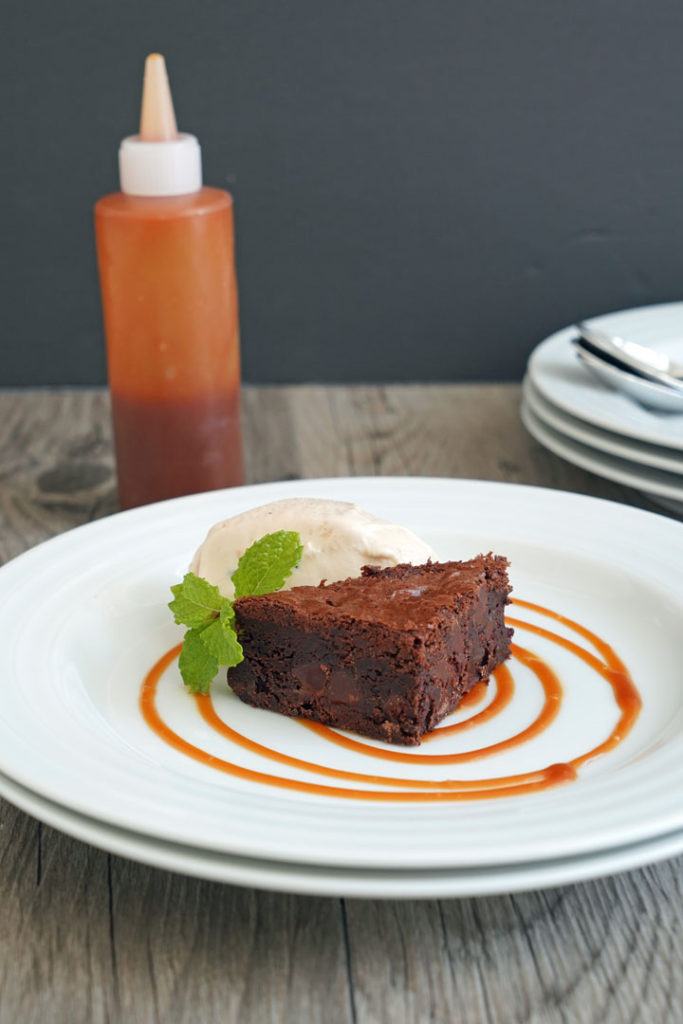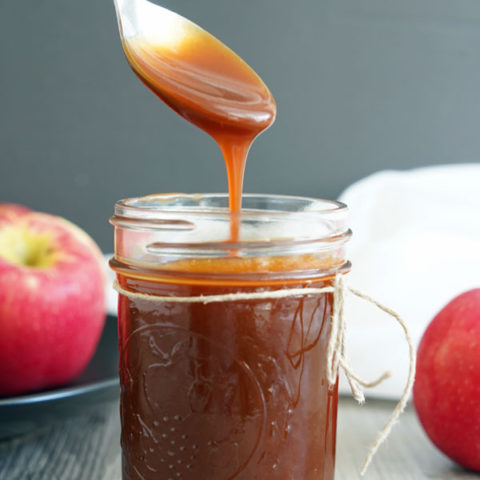 Salted Caramel Sauce Recipe
This four ingredient salted caramel sauce takes just 10 minutes to make. Elevate your ice cream, sliced apples, cakes, cupcakes and more to the next level.
Ingredients
1 cup granulated sugar
6 Tablespoons unsalted butter, cubed
½ cup heavy cream
½ Tablespoon flaky sea salt
Instructions
To work quickly, prepare by measuring out all of your ingredients first and having them by your side, along with a whisk and an optional pastry brush and small cup of water.
Add the sugar to a medium sized sauce pan. Make sure the sugar is evenly covering the bottom of the pan. Add ¼ cup of water and make sure all the sugar is wet.
Heat the sugar-water over medium high heat. As it heats, dip your pastry brush in the cup of water and brush around the sides of the pot above where the sugar-water is melting. Only do this to keep the sides clean. This is to wipe down any stray sugar molecules that have found their way to the side of the pot.
Swirl the pan occasionally only if you need to as the sugar cooks and caramelizes. It will turn from a clear color to a deep amber color.
Remove the pan from the heat and immediately add the butter all at once and whisk until melted. The mixture may bubble up when the butter is added.
Slowly pour the cream into the caramel, being careful while the mixture bubbles up.
Whisk the cream until the sauce is smooth. Add the salt and mix well.
Transfer the sauce to a glass jar and let it cool before using or capping and storing in the refrigerator.


Notes
The amount of salt you want to add depends on your taste. ½ Tablespoon of seas salt is the maximum that I would add. If you prefer it to be a little less salty, I would start with half the amount and adjust it accordingly. As long as you adjust the salt before it completely cools, it should be easy to incorporate.

Nutrition Information:
Yield:

20
Serving Size:

1 Tablespoon
Amount Per Serving:
Calories:

89
Total Fat:

6g
Saturated Fat:

4g
Trans Fat:

0g
Unsaturated Fat:

2g
Cholesterol:

16mg
Sodium:

161mg
Carbohydrates:

10g
Fiber:

0g
Sugar:

10g
Protein:

0g
This nutrition information is only an approximate provided for convenience and as a courtesy only. Information comes from Nutritionix, an automated nutrition calculator.