These churros are baked not fried. Make them in the traditional shape or rounded into donuts. They're delicious either way.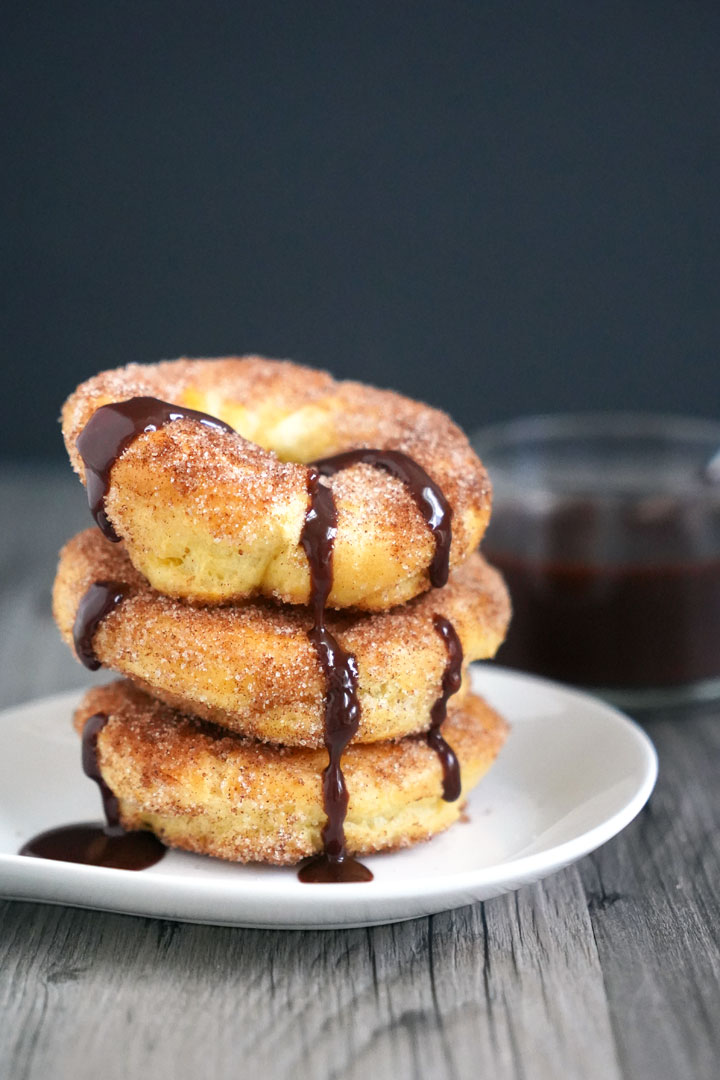 Ahh frying. I hate frying anything. That's why I was determined to make baked churros. True, nothing turns out as crispy as it does why you fry it but these still taste pretty darn good. Plus, baking instead of frying is a lot less work! I'll let you in on a related secret...I don't actually fry my popular Mexican Fried Ice Cream recipe either!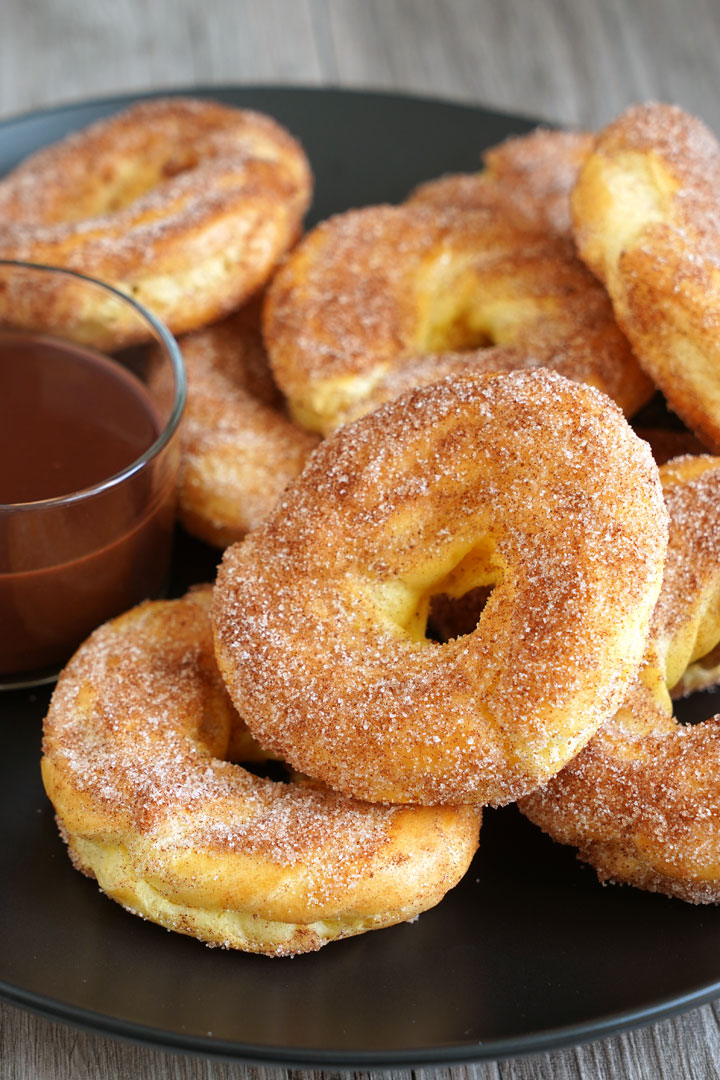 Baked churros are basically made with a choux paste dough. That's the same dough you would use to make eclairs and cream puffs.
For smooth sailing on making your baked churros, first gather all of your ingredients and equipment before starting. The ingredients come together quickly so it's important to have everything ready.
To Make Baked Churros You Will Need:
butter
sugar
salt
flour
eggs
vanilla (optional)
cinnamon
medium pot
wooden spoon
stand mixer or hand mixer with paddle attachment
piping bag with piping tip
sheet pan with parchment paper
pastry brush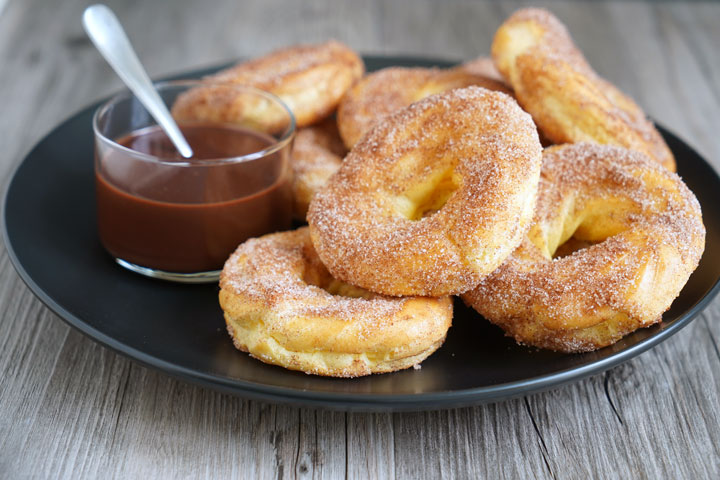 How to Make Dough for Churros
The first step in making the dough requires you to bring the water, butter, salt and sugar to a boil over the stove. It's essential that your butter is cut up into small pieces so it melts before the water boils.
As soon as it boils, remove the pot from the heat and add in all the flour. Stir and bring it back to the stove. Keep stirring until the dough comes away from the sides and you start to see a film on the bottom of the pot as shown in the last picture below.

Transfer the dough to a mixer and beat it with the paddle to release steam and get it to cool. I wait until my metal mixing bowl is no longer hot to the touch. Warm is ok. The goal here is to cool it enough so your eggs don't cook in the mixture!

Slowly add the eggs to the mixer on slow speed. It will break apart the dough at first but then it will come together to form a smooth shiny dough. If you can cut a channel in the dough with a spoon and the channel slowly closes in, your dough is ready. See the last picture in the sequence just above.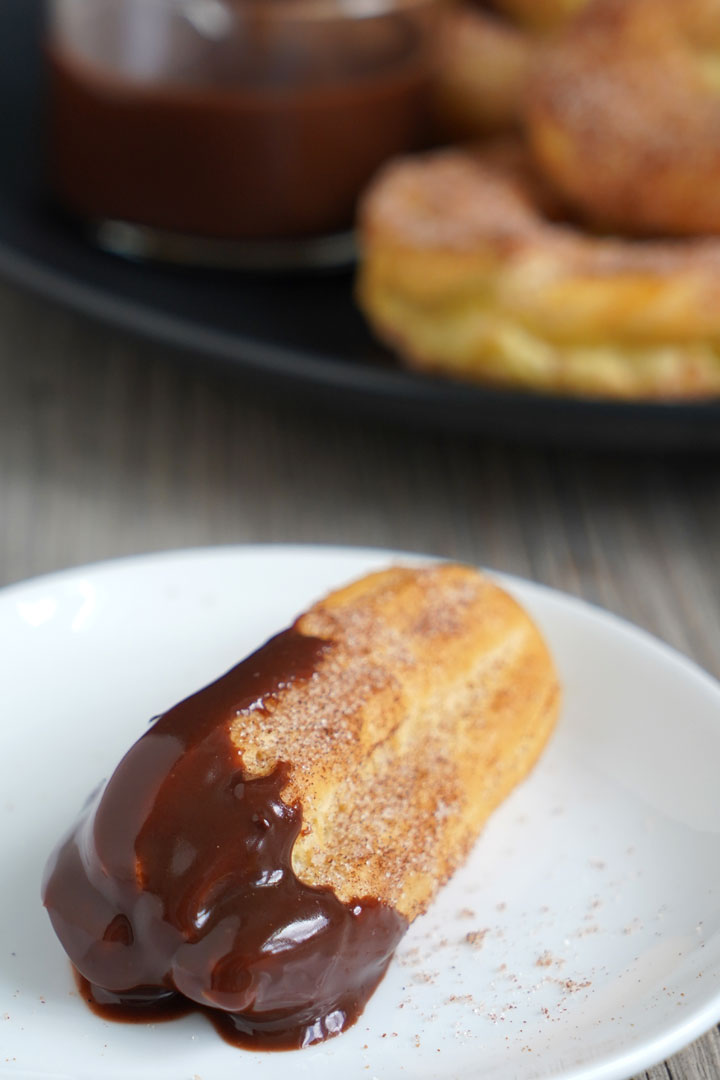 How to Pipe Churros
Next, prepare your piping bag. I used a 16 inch piping bag with an Ateco 827 tip. This tip actually produced churros that were too wide in my opinion (as shown in the picture above). This is why I changed my shape into rings or donuts. You can still pipe long sticks but I would use a slightly smaller tip and pipe longer so they don't end up looking like eclairs.

Baking and Sugar Coating Churros
I baked these churros off by setting a high oven temperature and turning the oven off as soon as I put them in the oven. The high heat gets them to puff up but they don't have time to burn because the oven starts to cool down. After 15 minutes, I maintain the heat at 350°F and finish the baking until they turn golden brown. Brush them with melted butter, roll them in some cinnamon sugar and they are ready to eat!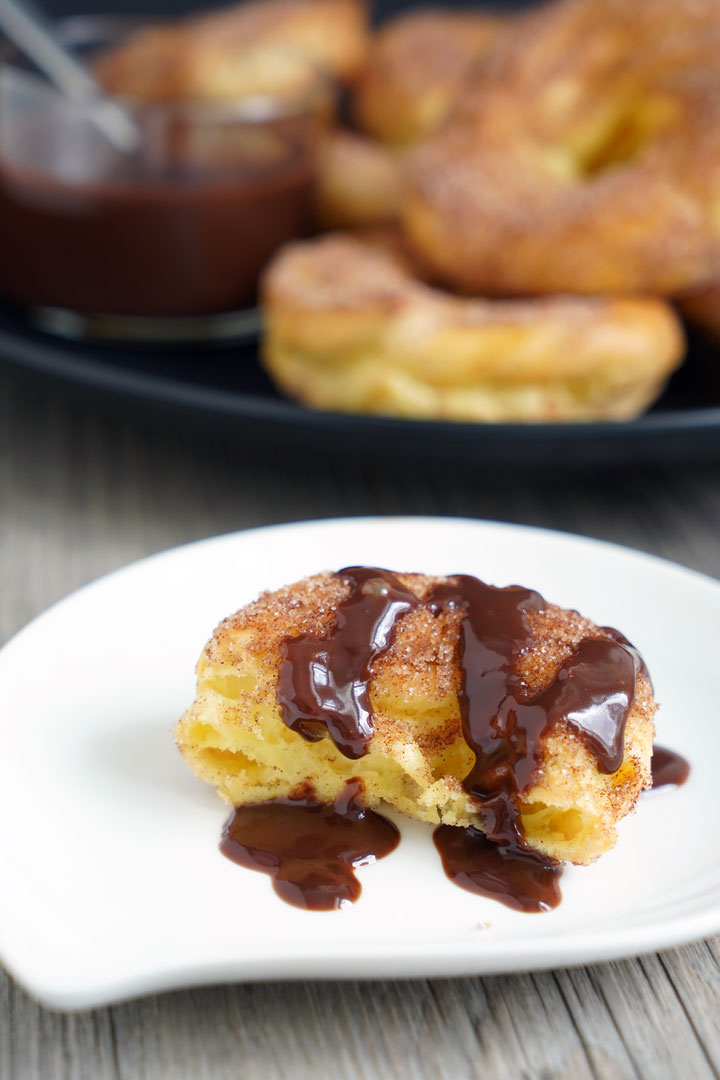 Can You Make Churros in Advance?
You can store baked churros in an air-tight container for 2-3 days. Churros are best eaten as soon as they are made but if you need to reheat them you can do so in the oven. Heat your oven to 350F and let them reheat in there for about 5 minutes.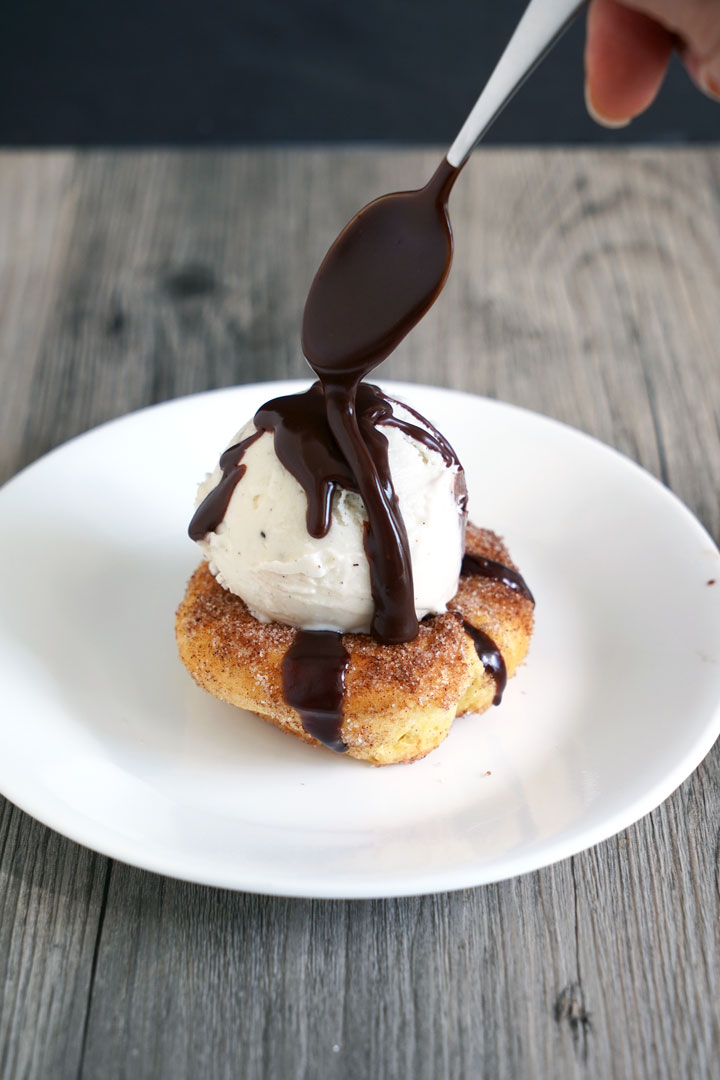 How to Serve Baked Churros
Churros are usually served with chocolate sauce for dipping but you can also use salted caramel sauce, dulce de leche or really ANY dessert sauce you love. Better yet, turn it into a sundae! You won't believe how delicious a warm churro with ice cream and chocolate sauce tastes!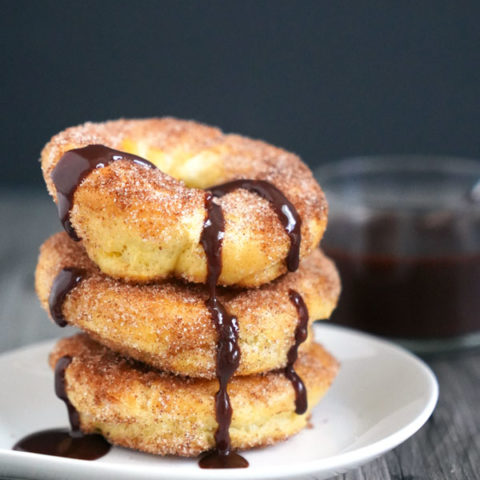 Baked Homemade Churros Recipe
These churros are baked not fried. Make them in the traditional shape or rounded into donuts.
Ingredients
For the Dough
1 cup water
½ cup unsalted butter, cubed
½ teaspoon sugar
1 cup all purpose flour
4 eggs, lightly beaten
1 teaspoon vanilla extract, optional
For Sugar Coating
2 Tablespoons butter, melted
3 Tablespoons sugar
1 Tablespoon cinnamon
Serving Sauce Options
salted caramel sauce
dulce de leche
Instructions
1. Preheat the oven to 500°F. Prepare a piping bag fitted with a tip and set it aside to fill later. Line a sheet pan with parchment paper.
2. Add water, sugar, salt, and butter to a medium sized pot. Place it over high heat and bring it to a boil.
3. Remove the pan from the heat, add the flour all at once and stir.
4. Return the pan to the heat and cook and stir continuously until it dries out. When you notice a thin film on the bottom of the pan and the dough will begin to clump.
5. Transfer the dough to a mixing bowl. Beat the dough with a paddle attachment to release any steam and cool down the dough.
6. When your mixing bowl is no longer too hot to the touch, add the eggs a little at a time while mixing with the paddle attachment. The dough is ready when a spoon run through the batter leaves a channel that slowly fills in.
7. Mix together the sugar and cinnamon for the coating in a shallow dish and set aside.
8. Fill a piping bag fitted with the desired piping tip with the batter.
9. Slowly pipe 3-4 inch long lines for churros or round circles for donut shaped churros.
10. Place the sheet pan in the oven and immediately turn the oven off. Let the dough bake for 15 minutes. Turn the oven back on at 350°F and bake until golden brown.
11. Brush the churros with melted butter while they are still warm and roll them in the cinnamon sugar mixture.
12. Serve with chocolate sauce for dipping.
Notes
Cutting the butter into small pieces allows it to melt completely before the water boils.
Releasing the steam and sufficiently cooling the dough before adding the eggs keeps the eggs from cooking after they are added.
If your dough is not the right consistency, you may need to add an additional egg
Nutrition Information:
Yield:

15
Serving Size:

1 churro
Amount Per Serving:
Calories:

212
Total Fat:

15g
Saturated Fat:

9g
Trans Fat:

0g
Unsaturated Fat:

5g
Cholesterol:

87mg
Sodium:

47mg
Carbohydrates:

16g
Fiber:

1g
Sugar:

8g
Protein:

3g
This nutrition information is only an approximate provided for convenience and as a courtesy only. Information comes from Nutritionix, an automated nutrition calculator.