This Mexican fried ice cream is actually made without frying but tastes just as good. See how you can impress your guests with this easy to make plated dessert.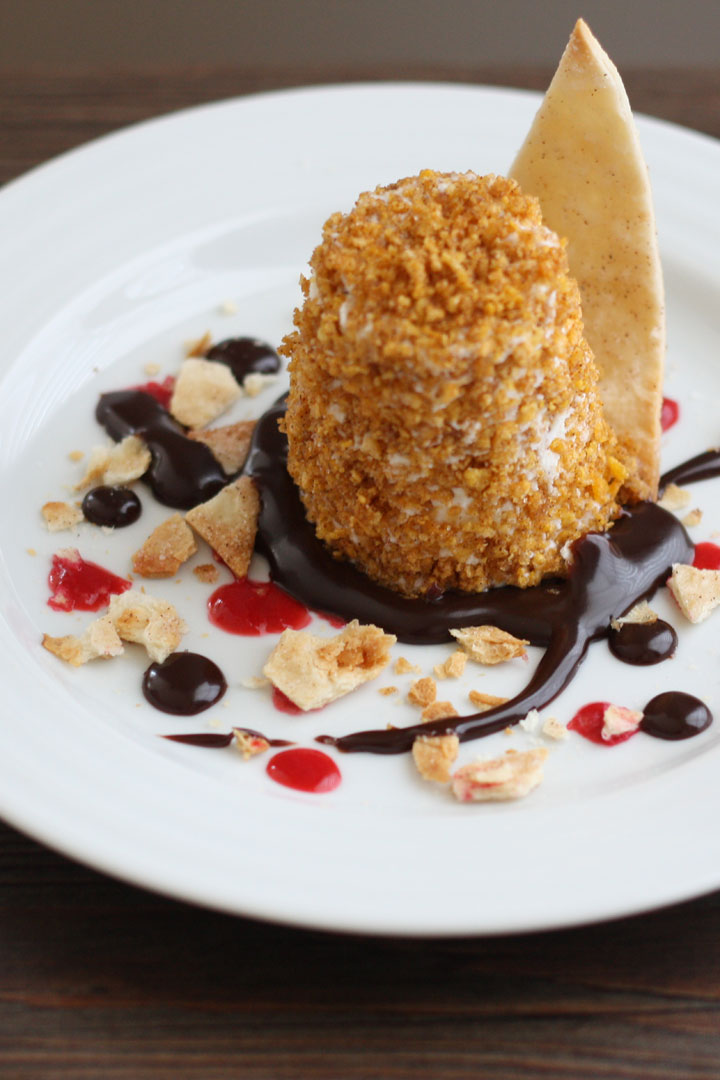 My whole family loves Mexican food. So if there's ever a reason to have some nachos, margaritas, guacomole, salsa, or whatever else, we are totally in. Cinco de Mayo, another perfect excuse, is coming up! So I thought I'd share with you my favorite Mexican dessert choice- fried ice cream.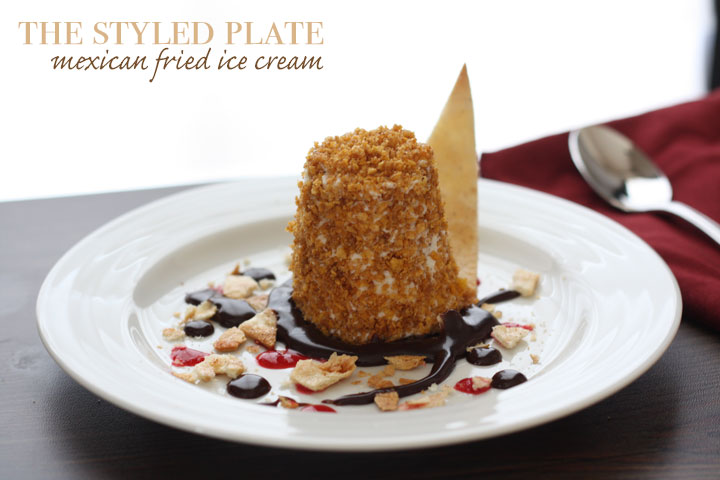 Is Fried Ice Cream Mexican?
That got me thinking. Is fried ice cream really a Mexican dessert? So after some quick searching, it turns out that fried ice cream might actually have Chinese origins.
Oh well. That may be true, but for me it will forever be associated with ChiChi's, a Mexican restaurant chain. That was the first place that I had eaten it and I always looked forward to having some. Too bad the chain no longer exists.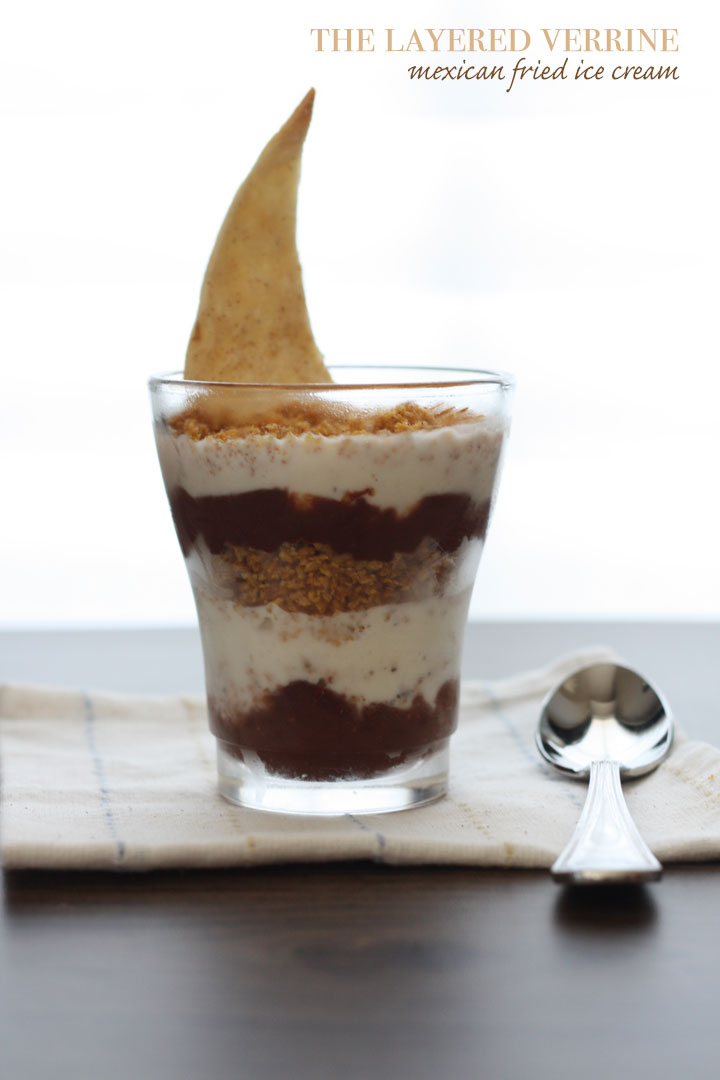 How Do You Make Fried Ice Cream?
Fried ice cream is made by first freezing the ice cream balls at a low temperature. The balls are then coated in a crunchy topping which acts as an insulator when deep fried. The insulation keeps fried ice cream from melting!
The good news is that this recipe requires no frying. (You know I don't like to fry.) It's really easy to make and you can make all the components ahead of time and put it together when you're ready to eat it.
In fact, I've given you three different ways to eat it! Choose your favorite or create your own style. You'll love it no matter how you have it.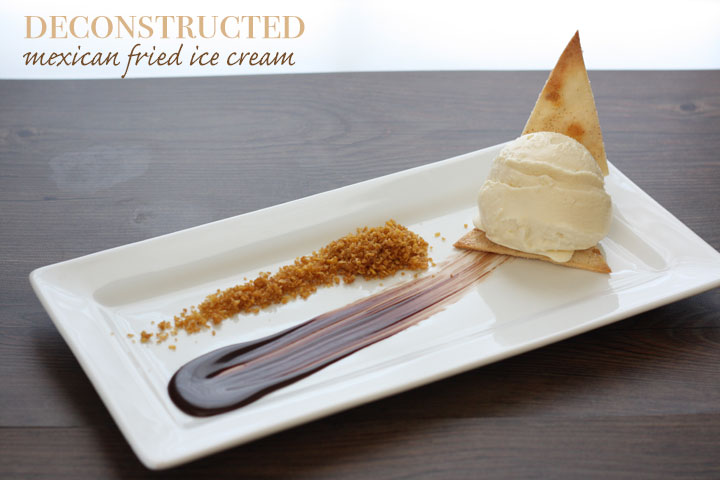 What Are the Ingredients for Fried Ice Cream?
The coating on fried ice cream is simply a mix of cornflakes, sugar, cinnamon, butter, honey and corn syrup. These are all easy ingredients that I bet you already have!
Simply add my easy chocolate sauce or buy some ready made when you pick up your favorite ice cream and you will be ready to go!

If you are looking for more Mexican recipes for Cinco De Mayo, be sure to check out my mini churro cupcakes  and baked churro recipes.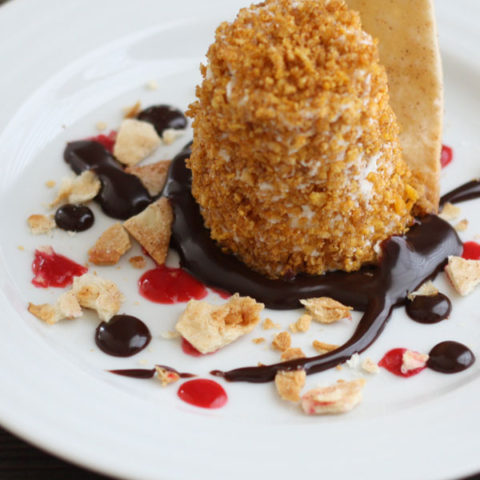 Unfried Fried Ice Cream
This Mexican fried ice cream is actually a no-fry ice cream but tastes just as good. See how you can impress your guests with this easy to make plated dessert.
Ingredients
12 scoops Vanilla ice cream
For the "fried" topping
6 cups cornflakes
2 tablespoons sugar
3 teaspoons cinnamon
3 tablespoons unsalted butter, melted
2 tablespoons honey
3 tablespoons corn syrup
For the cinnamon chips
¼ cup sugar
½ teaspoon cinnamon
4 to rtillas
3 tablespoons unsalted butter, melted
For the chocolate sauce
5 oz semisweet chocolate
½ cup cream
1 tablespoon unsalted butter
½ tablespoon light corn syrup
Instructions
For the crunchy topping:
Place corn flakes in a food processor and process until finely crushed. Stir in the remaining ingredients. Set aside or store in an airtight container.
For the cinnamon chips:
Combine the sugar and cinnamon. Brush melted butter onto each tortilla. Generously sprinkle with the cinnamon sugar. Cut each tortilla into triangles. Place the triangles sugar side up on a parchment lined sheet tray.
Bake at 350°F for 10 minutes or until lightly browned and crunchy. Cool and store in an air tight container until ready to use.
For the chocolate sauce:
Combine the ingredients in a double boiler and stir until the ingredients melt and come together. It should be smooth and shiny. Use immediately or cool and store in the refrigerator and warm slightly before use.
For the ice cream:
Create scoops or mold to a shape of your choice. Place the scoops on wax paper and freeze again for at least an hour.
Assembly:
Roll the scoops in the crunchy mixture to coat. Drizzle with chocolate sauce and serve with cinnamon chips. If you prefer, you can warm the crunchy mixture in pan on low heat and then coat the frozen ice cream balls. This creates a wonderful warm/cold contrast for your dessert.
Nutrition Information:
Yield:

12
Serving Size:

1 scoop
Amount Per Serving:
Calories:

391
Total Fat:

21g
Saturated Fat:

13g
Trans Fat:

0g
Unsaturated Fat:

7g
Cholesterol:

58mg
Sodium:

164mg
Carbohydrates:

50g
Fiber:

2g
Sugar:

36g
Protein:

4g
This nutrition information is only an approximate provided for convenience and as a courtesy only. Information comes from Nutritionix, an automated nutrition calculator.
SaveSave