This raspberry sauce only requires two ingredients and a few minutes of time. Use this smooth seedless sauce to create a beautiful plated dessert or to top your favorite cakes, cheesecakes, ice cream and more.
My easy raspberry sauce recipe is going to become your favorite magic trick for your next dinner party. It's smooth, delicious and so versatile.
Can we just stop and admire that gorgeous color? Remember, we eat with our eyes too! That pop of deep red over a nice smooth cheesecake or a dark chocolate cake will make anyone drool. 
Pastry professionals refer to this type of raspberry sauce as a coulis (pronounced koo-lee). A coulis is just a thickened puree made from fruits or vegetables. The beauty of making a raspberry coulis is that there is no cooking involved because raspberries are already soft.
Raspberry puree is also naturally thick so you can also make this raspberry sauce without corn starch. All you need is two ingredients, a blender and a strainer. So let's get started!
Raspberry Dessert Sauce Ingredients
To make this easy dessert sauce, you will need:
Raspberries: I used fresh raspberries, but you can also use frozen as long as you thaw them first.
Confectioner's Sugar: This type of sugar dissolves quickly without having to heat the mixture.
Optional Liqueurs: You can flavor your raspberry coulis with a dash of your favorite liqueur such as Chambord or Grand Marnier.
Kitchen Tools You Will Need:
Blender: Any blender will work for this recipe. Since I was only making a small batch of raspberry sauce, I used a mason jar and attached it to my Oster blender. The blade and cap screws perfectly on top of the jar and then you place the jar onto the motor. This is a handy trick to know if you have one of these blenders. This is how I make my individual size smoothies too!
Fine Mesh Sieve: Any strainer with holes small enough to hold back the raspberry seeds will do. I prefer this Oxo Good Grips 8-Inch Fine Mesh Strainer because it's nice and big.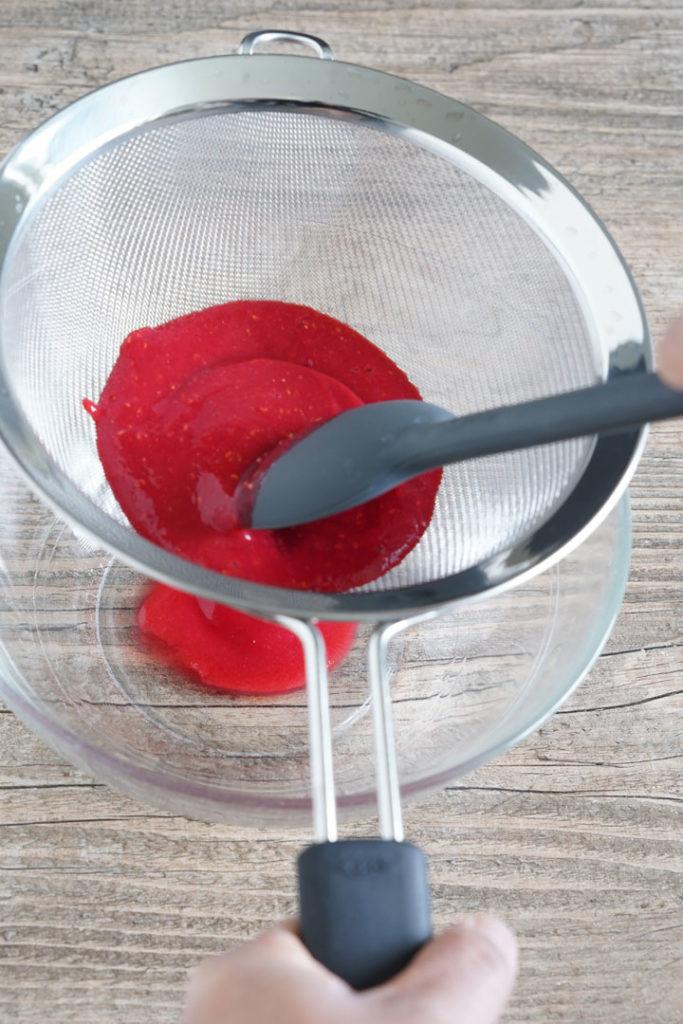 How To Make Raspberry Dessert Sauce:
Ready…. 1,2,3. This is so easy!
Blend the raspberries. Give your berries a quick rinse and toss them into the blender. Blend until smooth, but don't over blend or it will become frothy. You also don't want the seeds to end up like fine sand particles in your smooth sauce.
Transfer the puree into your sieve to remove any seeds. Be sure the sieve is set up over a bowl. Use a spatula, moving it back and forth, to push the puree out of the sieve and into the bowl, leaving the seeds behind.
Combine the puree with sugar. Mix the puree with enough sugar to suit your taste. Add any optional liqueurs.
That's it!
How to Use Raspberry Dessert Sauce:
There is so much you can do with this one sauce! If you want to read more about using sauces, check out my guide- Introduction to Dessert Sauces. For now, here are some quick suggestions.
Serve it over vanilla ice cream.
Use raspberry sauce as a cheesecake topping.
Top a baked brie with this sauce and add more fresh berries.
Pool it onto a plate and put a slice of cake right on top of it. This is one of my favorite ways to eat plain cheesecake!
Drizzle it over a slice of cake. You can do this with a spoon, but I like to transfer the raspberry coulis into a small squeeze bottle. This give me more control.
Use it to decorate your plate. There are soooo many ways to decorate a plate with sauce! Get creative and create lines, drops, or brushed effects. Believe me, once you start adding it to your plates, you will feel like a true food artist.
Pair the sauce with lemon flavors! I made a circular pattern and then placed a slice of meyer lemon poundcake on top. I then added a candied lemon garnish.
If you enjoyed this post about using sauces to plate a dessert, you may also want to read about the basics of How to Plate a Dessert.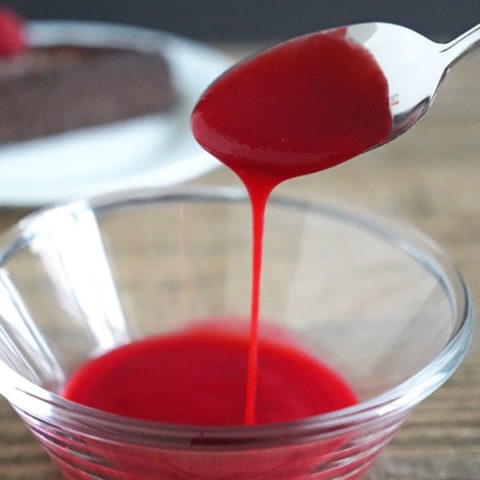 Easy Raspberry Dessert Sauce
This raspberry dessert sauce only requires two ingredients and a few minutes of time. Use this smooth seedless sauce to create a beautiful plated dessert or as a topping on your favorite cakes, cheesecakes, ice cream and more.
Ingredients
6 ounces raspberries
2 Tablespoons confectioner's sugar, plus extra
Instructions
Rinse your raspberries and place them in the container of your blender. Puree the berries, taking care not to over process it or it will become frothy and gritty.
Place a large sieve over a bowl and transfer the puree into the sieve.
Using a rubber spatula or wooden spoon, push the puree through the sieve leaving only the seeds behind. Move the spatula in a back and forth motion to push the puree. This may take you a few minutes but it will eventually all go through the sieve.
Get a clean spatula or rinse off the one you are using. Carefully lift the sieve over the bowl and scrape off any puree that is stuck to the underside of the sieve and add it to the rest of your smooth puree.
Mix the sugar with the puree until it is completely dissolved. Check the taste and add more if needed. The amount of sugar varies depending on the natural sweetness of the berry.
If you are using any liqueurs to flavor the coulis, mix them in now a teaspoon at a time and adjust for taste.
Use the puree over your desserts however you desire.
Store the remaining puree in a closed container in the refrigerator.
Notes
If you decide to use frozen raspberries, be sure to let them thaw first.
Keeps in the refrigerator for 3 days.
Total yield of raspberry sauce is ½ cup.
Nutrition Information:
Yield:

4
Serving Size:

4 servings
Amount Per Serving:
Calories:

37
Carbohydrates:

9g
Fiber:

2g
Sugar:

5g